Oracle and Walmart tout TikTok partnership, Nikola founder and chairman resigns, and brands silent after Ruth Bader Ginsburg's death
Also: Walmart pledges zero carbon emissions by 2040, Twitter looks into potential racial bias in its algorithm, employees value remote working across demographics, and more.
Hello, communicators:
Supreme Court Justice Ruth Bader Ginsburg died on Friday from complications of metastatic cancer of the pancreas. She was 87.
The news has trended across social media platforms and dominated headlines, and people gathered in large numbers at the Supreme Court to honor Ginsburg's memory
I have been in D.C. for about 13 years now, and I have never seen a bigger crowd in front of the Supreme Court. Ever. Nothing comes close. #RBG pic.twitter.com/hyT0bhGHNA

— Charlotte Clymer 🏳️‍🌈 (@cmclymer) September 20, 2020
New York Governor Andrew Cuomo tweeted the city's landmarks, lit in blue as a tribute:
To honor Justice Ginsburg, landmarks throughout NY were lit blue last night, the color of justice and #RBG's favorite color. Her extraordinary legacy is celebrated. pic.twitter.com/BL5tUTANZj

— Andrew Cuomo (@NYGovCuomo) September 20, 2020
Others tweeted quotes and efforts to honor the late justice:
If you didn't know…#RuthBaderGinsburg #RBG pic.twitter.com/KhNJc5STkR

— TheraPink for Girls Inc. (@TherapinkI) September 20, 2020
How lovely is this! Someone in NYC put a lace collar on the statue of The Fearless Girl. 😢 Oh my heart. RIP RBG. pic.twitter.com/DAm9uBfke2

— Kirsty Bain 🌊🌊🌊🌊 (@KirstyBain65) September 21, 2020
Missing from much of the conversations were brand managers' content—and for a good reason. Especially with Ginsburg's death becoming a political hot-button issue before the presidential election, organizations would do well to stay silent, lest a tweet or Facebook post appears insensitive or comes off as a callous newsjacking effort.
Here are today's top stories: 
Oracle and Walmart announce deal with TikTok
The companies gleefully announced the agreement, which will secure the social media app's presence in the United States.
In the deal announced on Saturday, which was spurred by Mr. Trump's national security concerns over TikTok, the social media app said it would separate itself from its Chinese parent company, ByteDance, and become an independent entity called TikTok Global. Oracle would become TikTok's new cloud provider, while Walmart would offer its "omni-channel retail capabilities," the companies said.
TikTok tweeted messages of thanks to its members for their support, including a video address from the app's interim head, Vanessa Pappas:
#WeAreTikTok and we are here to stay! pic.twitter.com/AaA8OhpvGx

— TikTok (@tiktok_us) September 19, 2020
— TikTok (@tiktok_us) September 19, 2020
Walmart and Oracle tweeted celebratory messages and links to press releases:
We are excited about our potential investment in and commercial agreements with TikTok Global. Read more: https://t.co/Nf4HBu1q2l https://t.co/IA732XUYHD

— Walmart Inc. (@WalmartInc) September 20, 2020
TikTok chose us! https://t.co/nNlanLHJK9

— Oracle (@Oracle) September 19, 2020
In a press release, Oracle's chief executive, Safra Catz, said:
We are a hundred percent confident in our ability to deliver a highly secure environment to TikTok and ensure data privacy to TikTok's American users, and users throughout the world. This greatly improved security and guaranteed privacy will enable the continued rapid growth of the TikTok user community to benefit all stakeholders. 
Why it's important: President Donald Trump has signed off on the deal, so the removal of TikTok from U.S. app stores won't be permanent. However, the arrangement leaves TikTok's parent owner, ByteDance, holding 80% of the company, meaning privacy concerns might surface again in the future. As with any social media platform, don't put all your engagement and content eggs in one basket.
---
SOCIAL BUZZ
Twitter recently responded to criticisms that its algorithm exhibited racial bias when prioritizing images to show within tweets.
The social network's Liz Kelley said the company had "more analysis" to do after cryptographic engineer Tony Arcieri conducted an experiment suggesting Twitter's algorithm was biased in prioritizing photos. When attaching photos of Barack Obama and Mitch McConnell to tweets, Twitter seemed to exclusively highlight McConnell's face — Obama only popped up when Arcieri inverted the colors, making skin color a non-issue.
Kelley also promised that Twitter would keep its work open source, so "others can review and replicate."
Her response is an example of a short, measured and effective crisis response. She thanks those who found the issue and raised awareness, touches upon past steps taken, accepts responsibility and commits to working on the solution in a transparent way that can also be evaluated by outsiders.
---
MEASURED THOUGHTS
Zippia published its 2020 Generation Z Job Seeker Report, which revealed that remote work is highly prized throughout employee demographics.
Gen Z workers' most-desired benefits include health insurance (32%), remote work (25%) and retirement benefits (25%):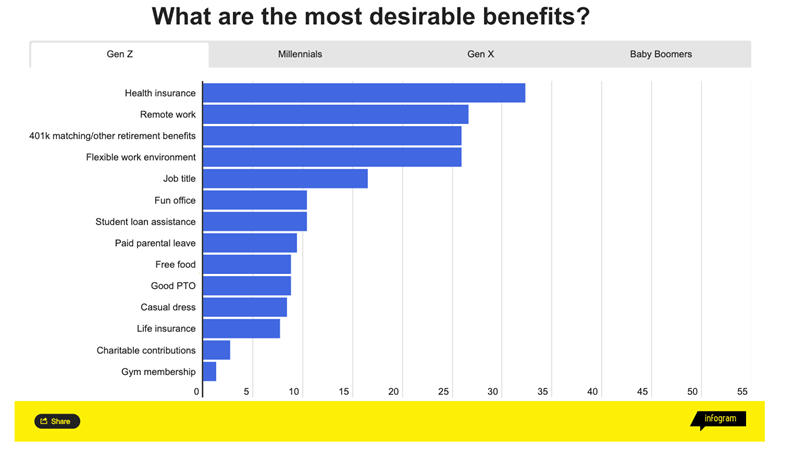 The three benefits remain the top selections for all employee demographics, but with fluctuations.
Millennial employees also list health insurance as their top benefit (41%), with remote work (32%) and retirement benefits (29%) also on top, while Gen X employees want retirement perks such as 401k plans (39%) before health insurance (32%) and remote work (30%).
More than half (53%) of Baby Boomers surveyed said remote work ranks No. 1 on their list of job perks, followed by health insurance (33%) and retirement benefits (28%):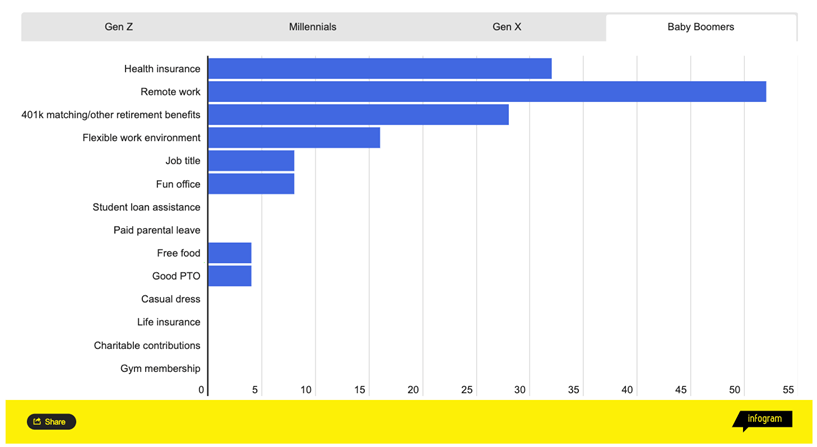 You can read the entire report here.
---
CRISIS LEADERSHIP NETWORK
Looking for more insight on how to address the current global crisis and lead your organization into a strong recovery?
Join Ragan's Crisis Leadership Network to network and brainstorm with peers, get the latest intelligence and research, and start to strategize for the future of your organization.
Learn more about this exclusive membership here. 
Nikola founder resigns
The company's founder and chairman of the board, Trevor Milton, stepped down after a report by Hindenburg Research was published titled, "Nikola: How to parlay an ocean of lies into a partnership with the largest auto OEM in America."
The report alleged that Nikola made false claims about its technology to partner with companies including General Motors. Though Nikola said the report contained inaccuracies, the U.S. Department of Justice and the Securities and Exchange Commission are investigating the claims.
In a press release, Milton said:
Nikola is truly in my blood and always will be, and the focus should be on the Company and its world-changing mission, not me. So I made the difficult decision to approach the Board and volunteer to step aside as Executive Chairman. Founding Nikola and growing it into a company that will change transportation for the better and help protect our world's climate has been an incredible honor.
The stock, which has had volatile swings, plunged nearly 30% in premarket trading Monday.

The electric truck maker said the board accepted Milton's resignation, adding that Stephen Girsky, former vice chairman of General Motors and a member of Nikola's board, has been appointed chairman of the board, effective immediately.
Why it's important: Strong leadership is crucial for any organization, especially during times of crisis. If any of your leaders are associated with actions or statements that could irrecoverably damage your brand's image, do your best to distance your organization from that leader. Then, your work on building up trust through transparency and accountability begins.
---
DOWNLOAD OUR REPORT
Though 70% of communicators are not looking beyond 2020 in terms of strategic planning, they also don't expect our current state of crisis to ease up by the end of the year. Operating in a constant state of crisis and rapidly responding to events throughout the world are top challenges for communicators, our recent report, Ragan Survey of Internal Communicators, revealed.
The survey sheds light on top challenges, with insights including top issues, what the "return to the office" looks like, which departments internal communicators will collaborate with the most and more.
To learn more about how to rise to the challenges facing organizations across industries, join us at Ragan's Internal Communications & Employee Experience Virtual Conference on Oct. 14. You'll learn from internal and employee communications experts from National DCP, Deloitte, Charles Schwab, American Psychological Association and more.
---
TACTICALLY SPEAKING
Walmart announced a goal of zero emissions by 2040, "without the use of carbon offsets." To do this, the retail chain aims to completely power its facilities with renewable energy by 2035, transitioning to electric and low-impact cooling systems by 2040 and change its vehicles to electric energy by 2040.
Today, building on 15+ years of sustainability leadership, we commit to becoming a regenerative company. We're targeting zero emissions by 2040 and, with @WalmartOrg, committing to help regenerate natural resources. https://t.co/4VV3RMjFZq pic.twitter.com/45WJA7Es8l

— Walmart Inc. (@WalmartInc) September 21, 2020
In a press release, Doug McMillon, Walmart's president and chief executive officer, said:
We want to play an important role in transforming the world's supply chains to be regenerative. We face a growing crisis of climate change and nature loss and we all need to take action with urgency. For 15 years, we have been partnering to do the work and continually raising our sustainability ambitions across climate action, nature, waste and people. The commitments we're making today not only aim to decarbonize Walmart's global operations, they also put us on the path to becoming a regenerative company–one that works to restore, renew and replenish in addition to preserving our planet, and encourages others to do the same.
The sustainability goals were delivered with a clear strategy on achieving them, which makes the promise more meaningful and keeps Walmart accountable—all wins when it comes to transparency, trust and reputation.
---
EDITOR'S PICKS
Mondays can mark a challenging transition as communicators catch up on emails, meetings and other important tasks after the weekend. If you prize your coffee maker or teapot as much as you do your laptop, grab one of these mugs to start your week with a smile (and sass).
---
SOUNDING BOARD
Outside of crisis communications, what efforts are taking up the largest portion of your budget(s)?
Outside of crisis communications, what efforts are taking up the largest portion of your budget(s)?

Share your insights with us below and we'll share in tomorrow's #DailyScoop.

— PR Daily (@PRDaily) September 21, 2020
Share your thoughts with us below and under the hashtag #DailyScoop. Is there a question you'd like us to ask in an upcoming poll? Let us know!
Editor's note: Ragan Communications may earn a commission through our affiliate partnerships when purchasing items through links in our content.
COMMENT