PBS execs defend record of diversity with data, ViacomCBS reevaluates mental health portrayals in its programming, and Walgreens announces vaccine education TV special
Also: Washington Nationals issue statement on positive COVID-19 cases, Facebook gives users more control over news feeds, journalists share thoughts on what makes a story sharable, and more.
Hello, communicators:
The Washington Nationals and New York Mets postponed their opening game on April 1 with team managers citing "an abundance of caution" after three Nationals players tested positive for COVID-19.
The team followed strict contact tracing protocols following one player's diagnosis to confirm at least two other players had also tested positive.
"We don't want this thing to spread any further," Nationals GM Mike Rizzo said Thursday night according to the MLB. "We want to make sure that everybody's healthy."
"It's a shame that we can't play today, but we need to stay positive," added the Nationals' skipper Dave Martinez. "I've talked to a lot of players, and my concern is about their health and safety. … We're going to get through this — this isn't the first time we've been through some bumpy roads. We've been there, and we're going to come back from this and we're going to play baseball."
Communicators should take note that statements about positive COVID-19 cases within your brand or organization should always outline steps taken around contact tracing. Remember to put the health of your internal stakeholders front and center and end with a positive, optimistic message.
Here are today's top stories:
PBS execs rebuff accusations about lack of creator diversity with data  
Over a hundred high-profile filmmakers called out PBS in a letter to executives, arguing the network provides a disproportionate level of support to white content creators over creators of color and has systemically failed to fulfil its own expectations for providing a platform to a diversity of voices.
The letter explicitly references white filmmaker Ken Burns, who has created over 211 hours of programming for PBS over four decades and has a contract that extends to 2022, and claims that Burns' relationship with the network creates less space for programming by creators of color.
PBS has released a statement with data pushing back on the letter's assertions, saying 35 percent of the 200 hours of non-fiction programming planned for primetime this year was produced by diverse filmmakers. According to a spokesman, over the past five years, PBS has aired 58 hours of programming from Burns and 74 hours of projects by Henry Louis Gates, Jr., an African American scholar, director, executive producer and host of programs like The Black Church and Finding Your Roots.

Still, Kerger agrees that PBS should examine where its funding and resources are going to ensure that BIPOC filmmakers are being treated equitably.

"This is an important moment for all of us to really take a hard look at what we're doing and make sure that we are pursuing all opportunities," says PBS' president, adding that she hopes to meet with the group and discuss their concerns.
Why It Matters:
Conduct audits and collect benchmark data around your purpose-driven initiatives and be ready to present your findings when your efforts are inevitably challenged. Yet, be sure to push back without being combative.
This is best accomplished by acknowledging the concerns being lobbed at your brand or organization before gently refuting those concerns with data and results. Express a genuine intention to keep channels of communication open, create an opportunity for follow-up dialogue, and make sure to honor those commitments.
---
TAKE OUR SURVEY
We are running a short survey to find out how we can better serve readers like you. Your feedback will help us plan new editorial initiatives, direct our resources for industry research and analysis, and let us know what parts of the site are most valuable. Your answers will be held confidential.
Please take this 3-minute survey by Thursday, April 8. As a thank you, you will receive a $150 voucher to apply to a Ragan/PR Daily event and you'll be entered to win one of five $25 gift cards from Amazon.
Take the survey here.
We look forward to learning more about the PR community and how PR Daily can best serve your needs, interests and career growth. Thank you in advance for your time and feedback.
---
SOCIAL BUZZ
Facebook announced a new feature designed to give users more control of their news feed by allowing them to control who sees what they share, what comments they see and understand why they see certain posts.
Facebook's press release says, in part:
Now, you can control your commenting audience for a given public post by choosing from a menu of options ranging from anyone who can see the post to only the people and Pages you tag.

By adjusting your commenting audience, you can further control how you want to invite conversation onto your public posts and limit potentially unwanted interactions. And if you're a public figure, creator or brand, you too can choose to limit your commenting audience on your public posts to help you feel safe and engage in more meaningful conversations with your community.
Communicators, take note that amid looming privacy regulations, consumers are  looking for ways to take control of their online interactions. You should always be transparent enough with audiences to let them know why you are reaching out to them in the first place, and give them options to control how their data is used.
---
CRISIS LEADERSHIP NETWORK
Looking for more insight on how to address the current global crisis and lead your organization into a strong recovery?
Join Ragan's Crisis Leadership Network to connect and brainstorm with peers, get the latest intelligence and research and start to strategize for the future of your organization.
Learn more about this exclusive membership here.
---
TACTICALLY SPEAKING
United Airlines sent a memo to its staff announcing plans to start rehiring pilots as travel demand increases. The company is the first large U.S. airline to announce the rehiring of its pilots.
The Chicago-based airline is the first of the large U.S. carriers to announce it will resume pilot hiring, the latest sign it's preparing for a recovery. The airline will start with hiring about 300 pilots who had conditional job offers or training scheduled last year before the airline called off hiring.

"With vaccination rates increasing and travel demand trending upwards, I'm excited to share that United will resume the pilot hiring process that was halted last year," Bryan Quigley, United's senior vice president of flight operations, wrote in a staff note on Thursday, which was viewed by CNBC. "We'll start with the approximately 300 pilots who either had a new hire class date that was canceled, or who had a 2020 conditional job offer."
Always inform employees of good company news first and foremost, as it fosters a culture of celebration and corporate success that can improve employee performance, increase engagement toward meeting shared company goals and activate those employees to become a megaphone of goodwill for your brand or organization.
---
MEASURED THOUGHTS
In its 2021 State of Journalism study, PR tech platform Muck Rack asked journalists what they think makes a story more shareable. Most respondents (70%) cite subject matter relevance to trending news topics, while 64% are more likely to share a story that contains an image or infographic, and 59% said they are more likely to share exclusive and or surprising data and 54% cited localized relevance to their target audience.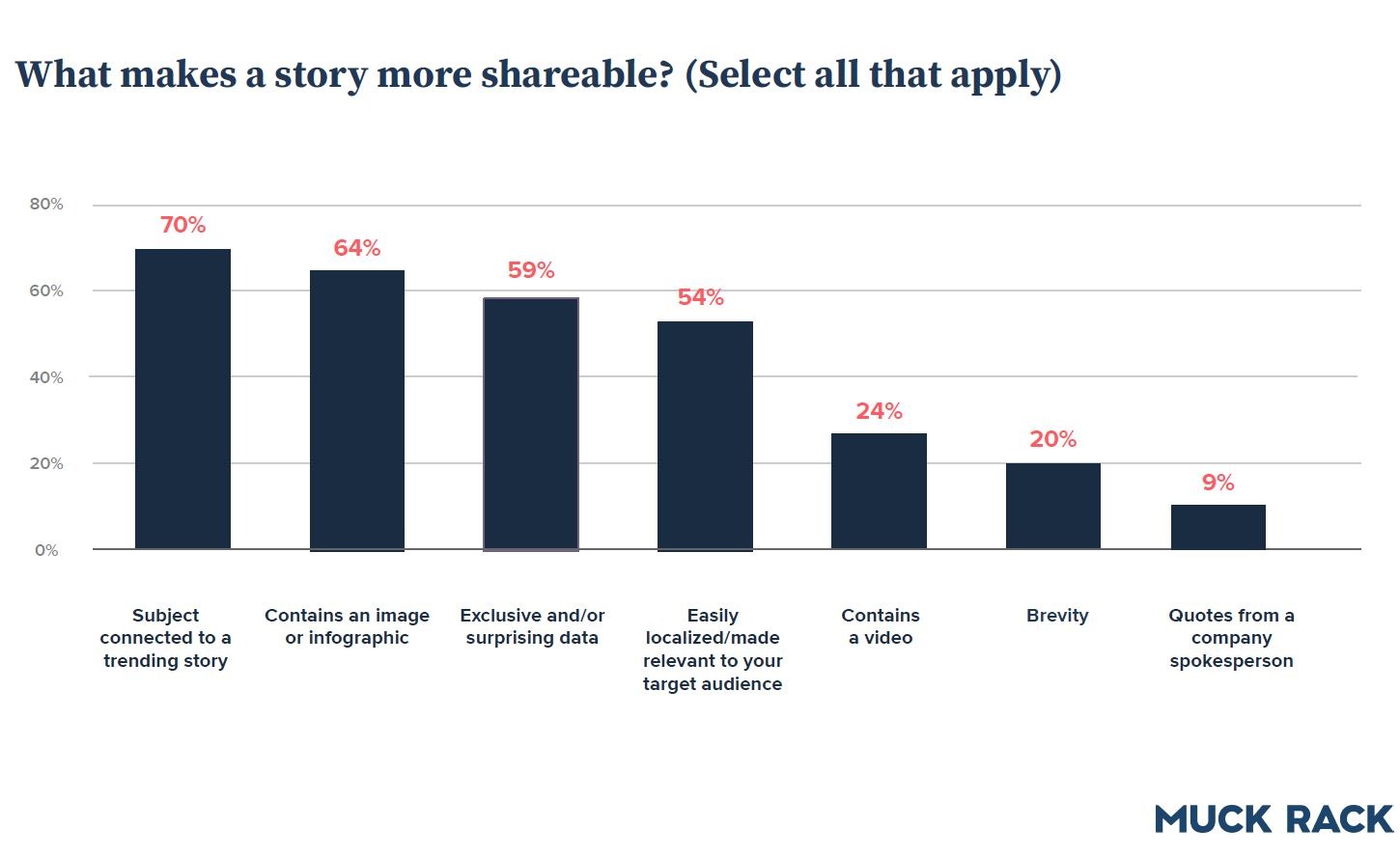 Remember that journalists aren't nearly as impressed by pre-packaged quotes from a company spokesperson, brevity and video assets in your pitches. Keep it relevant and hyper-targeted, include exclusive or newsworthy statistics they can use and offer them image assets to increase your likelihood of getting the story picked up and shared.
---
TACTICALLY SPEAKING
Walgreens is partnering with production studio ATTN on an hour-long vaccination special that will air Sunday, April 18 on NBC.
The press release says, in part:
"The ability to get people back to work and kids back in school, getting us reunited with family and friends and attending concerts, sporting events and many other activities we hold dear is contingent upon people getting vaccinated," said Matthew Segal, the Co-Founder of ATTN:. "At ATTN: we believe in the power of entertainment to inform audiences, and we're thrilled to partner with NBC, Civic Nation, Walgreens and many great public figures and performers to get out this critical message."

"Walgreens is proud to be the presenting sponsor of Roll Up Your Sleeves, as we continue our critical role helping our customers, patients and communities during the pandemic and beyond," said Roz Brewer, CEO of Walgreens Boots Alliance. "Bringing together trusted voices, including celebrities, community leaders and our pharmacists, we can help answer questions and dispel myths surrounding vaccinations and ensure that the U.S. emerges from this very challenging time as quickly as possible."
Communicators should always consider partnerships with companies or organizations that have shared goals and resources to help you carry your message further than the landing page of your brand newsroom. Always state those shared intentions upfront with a focus on serving your external stakeholders.
ViacomCBS takes action on negative mental health portrayals in its programming
MTV Entertainment Group and numerous other cable networks in the ViacomCBS group, including Comedy Central, VH1 and Paramount Plus will undertake a new plan to reframe narratives and language in their programming that negatively stigmatize mental health struggles.
Chris McCarthy, the president of MTV Entertainment Group and overseer of numerous ViacomCBS cable networks, believes such language contributes to a stigmatization of mental health and leads to fewer people seeking help.

"Having reality stars say someone is 'really messed up'—well, that's not the proper way to reflect that story. It sends the wrong message about somebody's mental health," McCarthy said in a phone interview, adding that he believes it makes people less likely to take struggles seriously in their own lives. "We need to do better."

His plan, which is expected to be announced by ViacomCBS on Thursday, is to turn all negative portrayals of mental health challenges on his networks' shows into positive ones, then double those number of instances. Instead of characters slinging around clinical terms in an argument, for example, they'd acknowledge a person is struggling and want to know more.
A study conducted by the USC Annenberg Inclusion Initiative found that only 7% of TV characters in 100 top-rated titles experienced a mental health condition, and that many portrayals were not positive. In 2020 MTV Entertainment Group commissioned the Annenberg Initiative to study mental health representation across both its scripted and unscripted programming slates.
Why It Matters:
It's PR pros' responsibility to acknowledge the power that narrative has to stigmatize or de-stigmatize societal norms. Keep open channels with leadership to share the feedback and sentiment you receive from audiences and stakeholders. Consult experts and conduct research to audit your content, then trust the data enough to act on it. Work with your leadership to help them be the spokespeople for the change your brand or organization wants to enact in your industry.
---
CONFERENCE ALERT
As the news cycle continues to rapidly shift and communicators grapple to create strategies that overcome content exhaustion and misinformation, it's crucial to embrace new best practices grounded in measurement, data and insights that can both build engagement and boost brand awareness.
Learn how to build stronger relationships with journalists to tell your story, and measure the results at Ragan's Media Relations & Measurement Virtual Conference on Wednesday, April 7.
Attendees will discover new and smart opportunities to overcome crisis challenges, pitch stories that reporters crave, better understand and deliver to target audiences through analytics and insights, enhance media relations efforts through the PESO model and brand journalism, prove the ROI of your efforts, and more.
Learn powerful insights and secrets from speakers at organizations including NAACP, PepsiCo, Goodwill, Pfizer, Hilton and Britannica Group.
---
WHAT YOU SAID
Yesterday, we asked if your company issued any guidance and/or provided any resources to ensure that employees have time and access to receive a vaccine. A majority 56% of you said no, while 44% of you said yes.
Has your company issued any guidance and/or provided any resources to ensure that employees have time and access to receive a vaccine?
As a reminder, your response is totally anonymous. We'll share the results of the poll in tomorrow's #DailyScoop.

— PR Daily (@PRDaily) April 1, 2021
Is there a question you would like to see asked? Let us know by tagging it with #DailyScoop!
---
SOUNDING BOARD
Now that spring is here and summer is right around the corner, do you plan on taking many half-day Fridays, PR pros and communicators?
Now that spring is here and summer is right around the corner, do you plan on taking many half-day Fridays, PR pros and communicators? #DailyScoop

— PR Daily (@PRDaily) April 2, 2021
Let us know under the hashtag #DailyScoop. We'll share the results in Monday's roundup.
COMMENT