Pfizer says third dose protects against Omicron, business travel meets hesitancy, and an alliance forms to combat AI hiring bias
Also: The largest marijuana brownie grabs headlines, AT&T and Verizon respond to 5G restrictions from the FAA, and more.
Hello, communicators:
To mark National Brownie Day on Dec. 8, cannabis edibles company MariMed introduced its "Bubby's Baked" brand of THC-infused brownies with what is says is the world's largest weed brownie ever made. The brownie measures 3 feet wide by 3 feet long, is 15 inches tall, weighs 850 pounds and contains 20,000 milligrams of THC.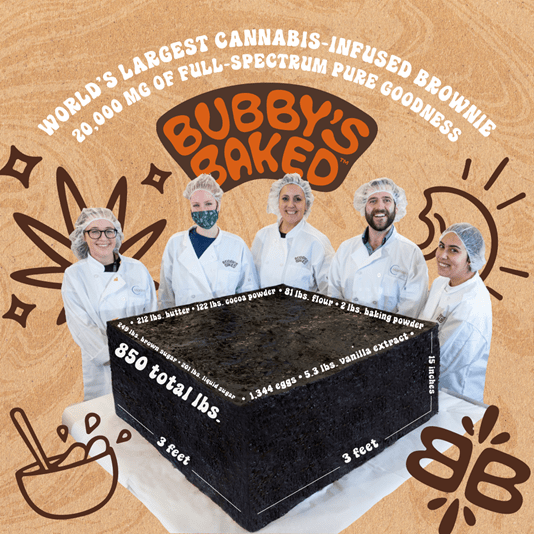 "Bubby's Baked fills a big hole in the edibles market that cannabis consumers crave—high-quality, delicious baked goods that stay moist and chewy," said MariMed CPO and SVP of sales Ryan Crandall. "For many of us, homemade brownies were our first taste of cannabis-infused edibles. Bubby's recreates and elevates that nostalgic experience, infusing full-spectrum, craft-quality cannabis into timeless recipes, for a reliable high reminiscent of simpler times."
Crandall's statement illustrates how your brand or organization can come across as relatable in its nontraditional campaigns with personal quotes and anecdotes. When in doubt, evoking nostalgia always works.
Here are today's top stories:
Pfizer explains vaccine effectiveness against Omicron
Pfizer announced yesterday that three doses of the Pfizer-BioNTech Covid-19 vaccine are effective in neutralizing the Omicron variant, but noted that two doses might not be enough to stop the spread of the new variant. The company says it will continue to develop an Omicron-specific vaccine and plans to have it market ready by March.
Pfizer emphasized that its findings are preliminary results, and that it will continue to collect more data and evaluate real-world effectiveness of its vaccine against Omicron.
According to its press release:
"Although two doses of the vaccine may still offer protection against severe disease caused by the Omicron strain, it's clear from these preliminary data that protection is improved with a third dose of our vaccine," said Albert Bourla, Chairman and Chief Executive Officer, Pfizer. "Ensuring as many people as possible are fully vaccinated with the first two dose series and a booster remains the best course of action to prevent the spread of COVID-19."
What it means:
Though Pfizer's data revealed that a third dose booster shot is currently the only surefire safeguard against Omicron, Bourla's statement tactfully suggests that the original vaccines still provide protection before emphasizing the importance of a third dose.
Bourla demonstrates how the company's communication strategy translates insight into action. The structure of his message also demonstrates why the order of your words matters.
---
MEASURED THOUGHTS
A newly released study by Morning Consult found that 39% of American travelers who traveled at least three times a year pre-pandemic said they would never go on a business trip again. Another 14% said it would be more than a year before they travel again, while 13% said it would be 7-12 months.
Amid optimism about travel rebounding to pre-pandemic levels, these numbers serve as a reminder that employees may not be willing to travel for work with the same enthusiasm that they travel for pleasure. Survey employees to learn how comfortable they are traveling for work, then communicate those findings up to leaders and adjust your expectations for work travel accordingly.
Check out the full study here.
---
TAKE OUR SURVEY
If you're looking to further your understanding of your industry to navigate what's ahead in 2022, lend us a hand—and help yourself and your peers identify shared benchmarks in areas such as budgets, team structure, ESG and DE&I efforts, and more. Participate in Ragan Communications Leadership Council's 2022 Benchmark Survey, a comprehensive look at how to negotiate budgets with your executives, how to best reach deskless workers and foster culture among a hybrid workforce, and more.
Both internal and external communicators are encouraged to participate.
By taking part, you'll be entered to win one of three $100 gift cards. All who complete the survey will receive a full report on the findings. Responses are anonymous.
Survey takers will receive an executive summary of the findings.
---
TACTICALLY SPEAKING
This week, the Federal Aviation Administration (FAA) outlined flight restrictions that will take effect in January when an expanded 5G service debuts. AT&T and Verizon have reinforced their commitments to work with the FAA to avoid U.S. air traffic disruptions that may come when the telecom providers debut the expanded service. The launch was originally set for Dec.5, but the companies agreed to a delay after the FAA expressed aviation safety concerns.
The Wall Street Journal reports:
"The FAA plans to use data provided by telecommunications providers to determine which airports within the United States have or will have C-band base stations or other devices that could potentially impact airplane systems," the agency's order said.

The U.S. telecom industry has maintained that the new 5G service doesn't pose a safety threat to aircraft, pointing to other countries' experience with similar wireless services. A Verizon spokesman said the company is on track to reach 100 million Americans with the new service in the first quarter of 2022 and was confident the FAA's further analysis will find C-band service "poses no risk to air safety." An AT&T spokeswoman said the carrier recognizes the "paramount importance of air safety, and our use of the C-band spectrum will not undermine that imperative."
AT&T and Verizon initially pledged their support for the FAA's investigation under the condition that the process was informed by data. AT&T's statement emphasizes the carrier's commitment to the investigation while communicating confidence in the eventual 5G rollout. Verizon's statement shows how your brand can reposition a potential setback as an opportunity to promote company values and progress.
---
Announcing the PR Daily Leadership Network
PR Daily is launching the PR Daily Leadership Network, a unique membership group from Ragan Communications offering peer-to-peer advisory and team training along with a unique slate of resources and events to help public relations professionals break through the noise, increase their visibility and forge meaningful connections.
The Network provides daily insights and coverage on a range of topics including media relations, social media, measurement, Diversity, Equity & Inclusion, branding, thought leadership and crisis communications.
"The fast pace of change coupled with the demand on public relations professionals to protect and sometimes defend their company's reputation make it imperative for leaders to tap into the wisdom of other communicators and continue to learn and grow," says Diane Schwartz, CEO of Ragan Communications. "The PR Daily Leadership Network provides the answers but also encourages members to question the status quo and push for positive change."
Visit leadership.prdaily.com to learn more.
Corporations unite to combat bias in AI hiring tools
Several companies, including Meta, Walmart, Nike, IBM and Mastercard, have joined the Data & Trust Alliance, a new organization focused on mitigating hiring bias and discrimination in artificial intelligence (AI), algorithms and technology. The alliance's work will focus on how AI is implemented in talent recruitment to evaluate résumés, conduct interviews and more. The group is focused on developing a rating system for AI software that involves a 55-question evaluation to identify algorithmic bias.
"This is not just adopting principles, but actually implementing something concrete," said Kenneth Chenault, co-chairman of the group and a former chief executive of American Express, which has agreed to adopt the anti-bias tool kit. "We've got to move past the era of 'move fast and break things and figure it out later.'"

"Every algorithm has human values embedded in it, and this gives us another lens to look at that," said Nuala O'Connor, senior vice president for digital citizenship at Walmart. "This is practical and operational."
Why it matters:
These statements demonstrate how major companies can prioritize the ethical use of emerging technology, particularly artificial intelligence, to understand how it intersects with equitable business practices. Chenault's statement doubles as a commitment to moving past gesture to action, emphasizing the importance of communicating intention in your external messaging.
O'Connor's words underscore the role that you can play in communicating how technology intersects with corporate social responsibility (CSR) and diversity, equity and inclusion (DEI&) initiatives to your HR and digital teams.
COMMENT
One Response to "Pfizer says third dose protects against Omicron, business travel meets hesitancy, and an alliance forms to combat AI hiring bias"
Ronald N Levy

says:

Pfizer protects against Omicron but what will protect Pfizer?

Even heroic saviors face accusations and accusatory questions. Fauci, some politicians say, should be jailed. Statues are being taken down of Thomas Jefferson who wrote our Declaration of Independence. Presidents Dwight Eisenhower, John F. Kennedy and Bill Clinton protected all America but are faulted over their social lives.

Pfizer is even easier to attack because they admit to making billions of dollars so they my face accusatory questions like these:

.1. Why does Pfizer make billions off the death and misery of helpless human beings losing their life savings and their lives?

.2. Does Pfizer deny that taxpayer money was used to help educate Pfizer doctors but now Pfizer charges taxpayers as much as unlawful immigrants and foreigners?

.3. Isn't it true that some minority groups have received huge support from Pfizer while many white's rights groups received nothing?

Dozens of additional questions like these can lead to proposals to make Pfizer pay billions more in taxes. . .break up Pfizer so smaller drug companies can compete. . .give billions in bonuses to Pfizer employees since they deserve to profits as much as shareholders. . .make public, so more lawyers can sue Pfizer, reasons for product introduction delays that cost thousands of human lives. . .and many more accusatory proposals.

Our great PR firms are brilliant at handling such challenges—and even better, at often averting them—but publicity-seeking politicians could ask why "so much money is spent on PR instead of just telling the truth."

Reality is that Tom Brady and other quarterbacks get scores of millions a year but that kind of money may not be paid to even a whole PR firm for protecting a whole huge corporation against activist allegations that could cost a company billions a year and cost many innocent people their lives.

It doesn't have to be this way. If a company announces it will try to save over a million American lives by giving a billion over the next ten years to a heart health research team at Cleveland Clinic, to world-leading hemolytic anemia
doctors at Johns Hopkins or to doctors hunting for cancer vaccine at Memorial Sloan Kettering Cancer Center (which already has FDA approval for a limited-use cancer vaccine), some stockholder groups could call it "ridiculous PR extravagance" and even sue!

So even our great PR firms are not proposing billion dollar budgets, even our greatest American corporations are taking billion dollar hits (one was just fined $1.3 billion by Italy), and even Pfizer which saves millions of lives worldwide may not have a surefire way to save its own.