PGA cuts ties with Trump, organizations pause political donations and Twitter permanently bans Trump's account
Also: AWS pulls social media app Parler's hosting, General Motors launches redesign focused on an electric-driven future, Purcotton apologizes for ad, and more.
Hello, communicators:
 Chinese brand Purcotton issued a mea culpa after backlash over its recent ad, which shows a woman being followed down a dimly-lit street by a man wearing a mask. As the man approaches, the woman uses a Purcotton wipe to remove her makeup, which scares away the would-be attacker.
… Purcotton originally defended the advertisement as a creative way to advertise the "cleaning function of the product," but as the calls for a boycott grew, the company removed the video from their accounts and eventually apologized on January 8.

"We have set up a team to hold people to account for the problem and, in the meantime, we will improve content production and the review process to prevent similar incidents from happening again," the company's post said. Purcotton posted a second apology letter to their Weibo account on Monday.
Here are today's top stories:
 PGA cuts ties with Trump as brands pause political donations
 The PGA of America announced that it won't play its 2022 Championship tournament at the Trump National Gold Club Bedminster, quickly distancing itself from President Donald Trump as political and business fallout continues after last week's riots at the U.S. Capitol building. Five people died in the attacks and several more were wounded.
"The PGA of America Board of Directors voted tonight to exercise the right to terminate the agreement to play the 2022 PGA Championship at Trump Bedminster." — Jim Richerson, PGA of America President

— PGA of America (@PGA) January 11, 2021
"It's become clear that conducting the PGA championship at Trump Bedminster would be detrimental to the PGA of America brand and would put at risk the PGA's ability to deliver our many programs and sustain the longevity of our mission," Jim Richerson, PGA of America's president, said in a video message.
 The Washington Post's Jonathan O'Connell tweeted a response from the Trump organization's spokesman: 
"As an organization we have invested many, many millions of dollars in the 2022 PGA Championship at Trump National Golf Club, Bedminster. We will continue to promote the game of golf on every level and remain focused on operating the finest golf courses anywhere in the world."

— Jonathan O'Connell (@OConnellPostbiz) January 11, 2021
Several organizations, including Goldman Sachs, Citigroup, Marriott, Blue Cross Blue Shield, and JPMorgan Chase are also distancing themselves from last week's attacks by suspending some or all of their political donations.
The Wall Street Journal reported:
JPMorgan, the largest bank in the country, made the decision to pause political giving for the next six months because of the growing political crisis following the violence at the Capitol alongside health and economic crises, said Peter Scher, JPMorgan's head of corporate responsibility, in an interview.

"The focus of business leaders, political leaders, civic leaders right now should be on governing and getting help to those who desperately need it most right now," said Mr. Scher, who is also chairman of the bank's Mid-Atlantic region. "There will be plenty of time for campaigning later."
Why it's important: The House of Representatives is pushing for Vice President Mike Pence to invoke the 25th Amendment and is planning to carry out impeachment legislation this week, according to NPR. Yet, lawmakers are far from the only ones to respond to last week's violence. Many executives have condemned the riots, while others have called for unity ahead of President-elect Joseph Biden's inauguration. Brands such as Ben & Jerry's and Axe have also spoken out on Twitter.
As the political fallout for the Trump administration continues, you can expect more organizations to cut ties with both Trump's brand as well as potentially reputation-damaging political partnerships. Forbes' chief content officer and editor, Randall Lane, even published an article titled: "A truth reckoning: Why we're holding those who lied for Trump accountable."
---
TACTICALLY SPEAKING
General Motors overhauled its design and launched a new campaign that focuses on its goal of a zero-emissions future. The automobile company says its "Everybody in" tagline is a "call to action meant to reflect a movement that's inclusive and accessible."
Transforming the world begins with transforming ourselves. pic.twitter.com/7kCGzWu0Qj

— General Motors (@GM) January 8, 2021
As we embark on the next stage of our electric evolution, we're bringing #EVerybodyIn. Welcome to Generation E. https://t.co/YGPAuVoHPj pic.twitter.com/3iOGblX4e3

— General Motors (@GM) January 8, 2021
In a press release, GM's global chief marketing officer, Deborah Wahl, said:
There are moments in history when everything changes. Inflection points. We believe such a point is upon us for the mass adoption of electric vehicles. Unlike ever before, we have the solutions, capability, technology and scale to put everyone in an EV. Our new brand identity and campaign are designed to reflect this.
General Motors is underlining its new look along with its vision for the future at the Consumer Electronic Show, which is debuting virtually this week:
Join us at CES for a virtual showcase of our talent, technology and commitment to putting #EVeryoneIn an EV. #GMExhibitZero https://t.co/S7ewMPlMoW pic.twitter.com/qKo5gvmffy

— General Motors (@GM) January 10, 2021
---
MEASURED THOUGHTS
Taking advantage of holidays can help PR and marketing pros expand their reach and connect with new audiences. Linqia created a marketing calendar for 2021 that highlights major holidays in the United States as well as seasons and "holidays" such as "International Dog Day."
It's organized by both month and quarter, for your strategic planning sessions: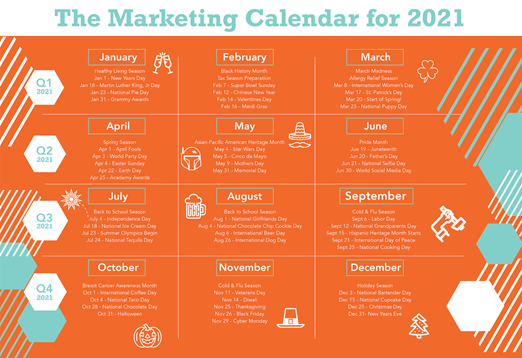 You would do well to consider what content you can create or share before deciding to take part in a holiday, lest you make a lame branded reference that makes social media users cringe instead of cheer.
Also take care not to use occasions such as "Black History Month" as a way to appear you're taking a stand on social issues or supporting diversity, equity and inclusion for the Black community, when the rest of the year your efforts are lackluster or absent.
---
CRISIS LEADERSHIP NETWORK
Looking for more insight on how to address the current global crisis and lead your organization into a strong recovery?
Join Ragan's Crisis Leadership Network to connect and brainstorm with peers, get the latest intelligence and research and start to strategize for the future of your organization.
Learn more about this exclusive membership here.
Twitter bans Trump and Amazon cuts off Parler
Twitter has permanently suspended President Trump's Twitter account after what it called a "close review of recent tweets":
After close review of recent Tweets from the @realDonaldTrump account and the context around them we have permanently suspended the account due to the risk of further incitement of violence.https://t.co/CBpE1I6j8Y

— Twitter Safety (@TwitterSafety) January 8, 2021
In a blog post, Twitter wrote:
In the context of horrific events this week, we made it clear on Wednesday that additional violations of the Twitter Rules would potentially result in this very course of action. Our public interest framework exists to enable the public to hear from elected officials and world leaders directly. It is built on a principle that the people have a right to hold power to account in the open.

However, we made it clear going back years that these accounts are not above our rules entirely and cannot use Twitter to incite violence, among other things. We will continue to be transparent around our policies and their enforcement.  
Twitter's move is one in a running list of social media platforms suspending Trump or banning pro-Trump accounts and campaigns, such as #StoptheSteal groups or Reddit's "r/DonaldTrump" subreddit. Axios reported that Shopify, Twitch, YouTube, Instagram, Facebook, TikTok, Snapchat, Stripe, Pinterest and Discord have either cut ties with Trump or banned related content.
Amazon Web Service also terminated hosting services for social media app Parler, following both Google and Apple banning Parler from their app stores.
Parler launched in 2018 presenting itself as a free-speech haven and an alternative to other social media sites. The site saw its user numbers spike in recent months, as Twitter and Facebook tightened their moderation policies, especially around election and coronavirus information. The "Stop the Steal" campaign challenging President Trump's loss gained momentum among Parler users, as did other conspiracy theories around the election. Parler's less-strict moderation policies were part of its appeal for many users, but the lack of content moderation is a big part of why companies suspended their services.
Why it matters: As organizations across industries scramble to distance themselves from both the riots and from the Trump administration, social media and tech companies have continued to grapple with content that promotes or incites violence, as well as growing misinformation. Recent suspensions and bans aren't just to protect their brands' images, either. Rather, the companies are doing what they can ahead of impending regulations that could make them more liable for the content published on their platforms.
---
SOCIAL BUZZ
The social media team for Innocent Drinks recently tweeted a thread promoting vitamin D supplements, using a humorous story about the company's resident nutritionist, Louisa:
ATTENTION EVERYONE

Our resident nutritionist Louisa is pestering us to "tweet about how people should take vitamin D supplements at this time of year" so please accept this as us tweeting that you should take vitamin D supplements at this time of year.

HAPPY NOW LOUISA?

— innocent drinks (@innocent) January 6, 2021
Well apparently that wasn't the right tone either and now we're just "massively undermining an important public health message".

Don't know why we bother sometimes.

— innocent drinks (@innocent) January 6, 2021
Oh no, Sales have caught wind of this. They're demanding the crowbar. It's all getting pretty ugly. We won't repeat what Louisa has called them. It was harsh, but not entirely inaccurate.

— innocent drinks (@innocent) January 6, 2021
Our boss: "Are you trying to tear this company apart one tweet at a time?"

Us: "No. That's what we use LinkedIn for."

— innocent drinks (@innocent) January 6, 2021
Today, Innocent Drinks referenced its thread with a clever throwback as "vitamin D" trended on Twitter:
This is the best day of Louisa's life, probably. pic.twitter.com/bJ9q3AJ0Ao

— innocent drinks (@innocent) January 11, 2021
The tweets highlight a clever social media marketing tactic: humorously showing your fans a peek behind the curtain within your organization.
---
TAKE OUR SURVEY
We've created The State of Communication survey and want to know which channels of communication work best for you, along with how your internal communications is transforming.
Please share with us your insights in this short, three-minute survey. As a thank you, all participants will receive the report with results.
---
FROM THE EXPERTS
Tearing down silos and effectively collaborating across departments can produce outstanding efforts for your organization. Kari Wethington, senior director of external communications for E.W. Scripps, and Beth Welter, Scripps' vice president of internal communications, reveal how they communicate often and openly to ensure silos don't stand in the way of their campaigns and business goals.
Learn how you can do the same, along with 11 benefits of a "mixternal" communications approach, here.
---
SOUNDING BOARD
How are you transforming your media relations strategy for the first half of 2021?
How are you transforming your media relations strategy for the first half of 2021?

Weigh in below with your goals and efforts, and we'll share in tomorrow's #DailyScoop.

— PR Daily (@PRDaily) January 11, 2021
Please weigh in below and share your insights on Twitter, and we'll share in tomorrow's #DailyScoop. Is there a question you'd like us to ask in an upcoming poll? Let us know!
COMMENT
One Response to "PGA cuts ties with Trump, organizations pause political donations and Twitter permanently bans Trump's account"
Ronald N. Levy

says:

PR wisdom is that action will succeed more and sooner if the action not only relocates a golf tournament, pauses donations and cancels a website account but if two additions are made to federal and state law.

.1. If a rioter causes a police officer to fear for his life, the officer has the right and duty to shoot the rioter to death.

.2. If a rioter breaks into a government building, the penalty can be life in prison.

Our law should warn what the Bible warns: the wages of sin is death.