Singles' Day poised to break records, WarnerMedia announces layoffs, and Whole Foods partners with Progressive to offer a 'Turkey Protection Plan'
Also: 'Jeopardy' honors the late Alex Trebek, the European Commission files antitrust claims against Amazon, brands tweet Veterans Day messages, and more.
Hello, communicators:
ABC's "Jeopardy" announced that it would air the final 35 episodes featuring Alex Trebek, who died on Sunday after fighting pancreatic cancer. He was 80 years old.
The show's executive producer, Mike Richards, also issued an emotional dedication to the late host this week—and "Jeopardy's" social media team has been sharing memories of Trebek:
Today we honor Alex Trebek. For over three decades he brought integrity, humor and intelligence to his duties as host of Jeopardy! He will be in our hearts forever.

Thank you, Alex. Love from us all. 💜 pic.twitter.com/w8abYY8SX5

— Jeopardy! (@Jeopardy) November 10, 2020
Today's show features a special message on behalf of everyone in the Jeopardy! family. 💜

Alex taped shows through December 25th, 2020. They will air as he intended, in his honor.

— Jeopardy! (@Jeopardy) November 9, 2020
Along with headlines about Trebek and the future of "Jeopardy" following the late host's final episodes, the Pancreatic Cancer Action Network is also receiving increased engagement and donations as fans honor Trebek.
Our hearts are so heavy with the news of Alex Trebek's passing from #pancreaticcancer. We will continue the fight against pancreatic cancer, in honor of Alex. Please visit our honor wall to share your memories and love for Alex. #WeLoveYouAlex 💜 https://t.co/X13ri0OaDz https://t.co/oLnGLPA7SY

— PanCAN (@PanCAN) November 8, 2020
The Pancreatic Cancer Action Network, a leading pancreatic cancer nonprofit organization, announced that it has seen a 450% increase in web traffic and more than $55,000 in donations since Trebek's death.
Here are today's top stories:
Singles' Day to break shopping records
The unofficial holiday is China's answer to Black Friday, but as retailers and other businesses struggle to stay afloat through COVID-19, more brands around the world are taking part in the holiday shopping kickoff.
The event already appears to be on pace to break records again: Alibaba said early Wednesday morning that the annual sales frenzy has so far pulled in 372.3 billion yuan ($56.3 billion). The total includes the first 30 minutes of the event, along with an earlier three-day period that was added to boost post-pandemic sales.

… A survey from market research firm Oliver Wyman found that 86% of Chinese consumers are willing to spend the same as or more than what they did during last year's Singles Day.
Retailers in the U.S. are also getting into the action this year, and the day of online shopping is getting a boost from livestreaming events showcasing products for sale.
"Within five years in America, if you don't do livestreaming, your company will just disappear and get left behind," [influencer Mark Yuan] said. "Right now, if you're a business, you have a website. In the future, if you're a company in retail, you will do livestreaming."
Why it's important: Black Friday and holiday shopping look different this year amid COVID-19, but the changes—especially the focus on e-commerce and social media shopping—will remain. PR, marketing and social media pros should watch for strategies and efforts that see success, because they'll offer important lessons for capturing and keeping consumers' attention (not to mention their pocketbooks).
---
TACTICALLY SPEAKING
Whole Foods Market is partnering this year with Progressive Insurance to offer consumers the "Turkey Protection Plan":
Want some peace of mind while you cook the turkey this year? Our Turkey Protection Plan may do just that. But maybe don't try the Birdazzled technique like Jamie from @Progressive. https://t.co/8evCdSmO00

Coverage quantities limited. pic.twitter.com/qJtZOzwZko

— Whole Foods Market (@WholeFoods) November 10, 2020
Consumers who purchase a turkey from Whole Foods Nov. 11-22 are eligible for the "insurance," which requires you to visit the website on Nov. 26 and 27 to submit your receipt, a picture of your turkey fail, and an explanation of what went wrong. Whole Foods will give the first 1,000 consumers who submit their disasters a $35 gift card for future shopping trips.
"As we anticipate more smaller Thanksgiving gatherings and first-time cooks tackling turkey preparation this year," Theo Weening, vice president of meat and poultry at Whole Foods, said in a statement, "the Thanksgiving Turkey Protection Plan allows customers the freedom of culinary exploration, knowing all is not lost should their cooking go astray."
Along with the insurance, Whole Foods is dishing out culinary advice:
Sometimes two cooks in the kitchen are better than one. pic.twitter.com/KyBtz9DhXN

— Whole Foods Market (@WholeFoods) November 9, 2020
"Feel free to spend [the gift card] on whatever you like, but if you need some advice for cooking turkey number two, check out these tips from our experts," Whole Foods wrote on its website for the PR stunt.
---
CRISIS COMMUNICATIONS
AT&T's WarnerMedia announced layoffs on Tuesday, with its chief executive, Jason Kilar, telling employees the news was "a very painful email to write."
A WarnerMedia spokesman declined to comment on the exact number of layoffs, though a person familiar with the matter said it was more than 1,000 and possibly in the thousands. AT&T's stock was up 1.9% after the news but was trading near a five-year low.
The restructuring and job cuts are meant to help the WarnerMedia focus on HBO Max, as well as align the efforts of Warner Bros., HBO and Time Warner, as organizations struggle to create content that stands out to consumers.
Kilar closed his memo to employees with the following sentiment:
To our colleagues who are leaving, I wish there were words to lessen today's pain. Your contributions are a permanent part of this great company and today's news does not change that. I am extremely thankful for all that you have done for this team and this mission. I hope that at some point you will look back on all of it with immense pride.
---
MEASURED THOUGHTS
Digital Marketing Philippines' infographic "Search Engine Optimization and Marketing Trends in 2020" revealed that up to 88% of B2B digital marketing pros use content marketing to build credibility with targeted audiences, and 81% of B2C digital marketers use the strategy to increase customer loyalty.
Along with optimizing your content for Google and other search engines through keywords and phrases—and optimizing your website for an outstanding user experience—communicators should also consider other ways of searching, including visual and video queries.
Here's an overview of several video types and what to consider to extend your content's reach: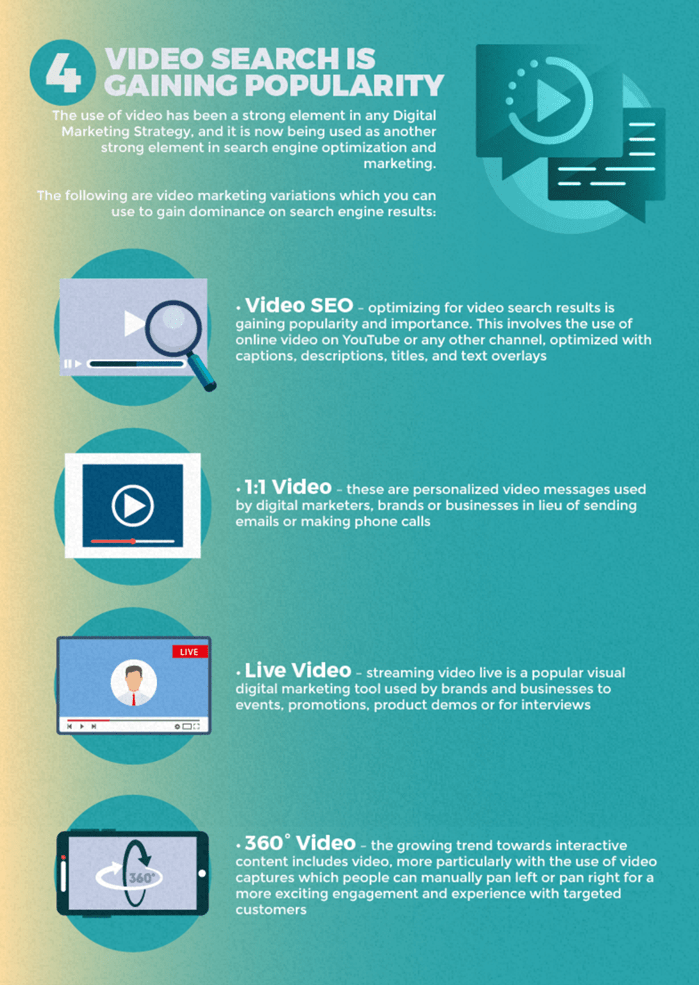 Image courtesy of Digital Marketing Philippines.
Learn the SEO and analytics secrets that can boost both your website and social media presences at Ragan's Google & SEO for Communicators Bootcamp on Nov. 19. Speakers from Condé Nast, MIT's Sloan School of Management, Google Brazil, PMG, Lewis Global Communications and Klarna will show you ways to rank high with your content and increase traffic. Join us here.
You can view the entire infographic here.
---
CRISIS LEADERSHIP NETWORK
Looking for more insight on how to address the current global crisis and lead your organization into a strong recovery?
Join Ragan's Crisis Leadership Network to network and brainstorm with peers, get the latest intelligence and research and start to strategize for the future of your organization.
Learn more about this exclusive membership here.
EU files antitrust charges against Amazon
The European Commission recently brought charges against the e-commerce giant, claiming the company is using its size and seller data to unfairly edge out its retail competitors. 
The EU regulator looked into how Amazon collects data on competitors that sell on its platform, offering everything from electronics and toys to food and kitchenware. It says that Amazon uses that sensitive information, which shows what is proving popular or not, to better target its own products.

"The use of these data allows Amazon to focus on the sale of the best-selling products and it marginalises third-party sellers and caps their ability to grow," European Competition Commissioner Vestager told a news conference.
You can view the European Commission's Statement of Objections here.
Why it matters: The charges can affect Amazon's prominence and competitive advantage within Europe, but a similar investigation could also take place in the United States. Communicators should watch this space for updates, especially as organizations across industries turn to e-commerce platforms and launch their own online shopping portals to meet consumer demands and shifting behaviors.
---
SOCIAL BUZZ
Though some brands might sit out for Veterans Day, others are recognizing the holiday and engaging their followers on Twitter, Facebook and more.
The U.S. Army, Dunkin' and The Coca-Cola Co. give examples of a few best practices when taking part in today's holiday:
#VeteransDay is a time for us to pay our respects to those who have served. On this day, we stand united in respect for our #veterans of all services.

Retweet with the name or picture of a Veteran who has made a difference in your life!#ServeWithHonor | #Soldier4Life pic.twitter.com/6EvwWM15oM

— U.S. Army (@USArmy) November 11, 2020
We're Cheersin' to Veterans & Active Military Service guests with a free donut in honor of Veterans Day today, 11/11. 🍩 If you'd like to join in, honor a hero with an e-gift card from https://t.co/JVIKFwoYKw. 🧡 Limit one per guest while supplies last. pic.twitter.com/jmmgdZy746

— Dunkin' (@dunkindonuts) November 11, 2020
During WWII, we made a commitment to the troops no matter where they were in the world, they'd have a taste of home with a Coca-Cola for only a nickel. Thank you to the those who serve our country. Learn more about our long-standing support for the troops https://t.co/98vEptCEcO pic.twitter.com/gNPVyhJTfB

— The Coca-Cola Co. (@CocaColaCo) November 11, 2020
Make sure your content matches your brand's tone and mission, whether you're sharing stories from your workforce and community, announcing freebies and discounts for veterans, or sharing CSR initiatives.
---
CATCH UP WITH OUR REPORT
More than half (57%) of social media managers say they plan to leave their current position within two years, according to a new survey from the Institute for Public Relations, Ragan Communications and the University of Florida. Though these managers are ambitious, the career path to social media leadership roles remains unclear.
The report sheds light on social media pros' career trajectory as well as the challenging lack of resources and employee burnout that's on the rise. Check out the findings here.
To learn more about how to prepare for the future of social media and more, join us at Ragan's Future of Communications Conference, Nov. 10-11.  You'll learn from PR, social media, marketing and internal communications experts about the top trends and what's on the horizon for the industry.
---
EDITOR'S PICKS
Communicators of all stripes must present a unified and strengthened brand presence as well as a seemingly rosy picture of working from home as we shift strategies and respond to changing landscapes, challenges and more. That doesn't mean we can't be comfortable, however. At the top of a list of e-commerce's most-searched items during COVID-19 are sweatpants—and as you meet virtually and craft press releases and social media content, you can ensure it's all business on the top (and comfort out of sight of your webcam).
We might daydream that our at-home offices look similar to this:
However, for most of us, it's another story:
Consider these comfy WFH options:
---
WHAT YOU SAID
We asked for GIFs that represented communications throughout this year's historic crises and continuing uncertainty:
What did this year look like for you, PR and comms pros? Sum up your efforts during 2020 with a GIF. Share below, and we'll include the top responses in tomorrow's #DailyScoop.

— PR Daily (@PRDaily) November 10, 2020
T.J. Ortega, public affairs officer for the U.S. Navy Reserve, shares a popular and ever-fitting meme:
— T.J. Ortega (@OrtegaDefense) November 10, 2020
Communicator Mimi Agozzino says it's harder to focus on deadlines than ever before as we work from home:
So many distractions during these hard times; COVID updates, politics, family health, children (back to school!), self-care, job security, finances. Focus, focus, focus to meet all deadlines 🙂 🧘‍♀️ pic.twitter.com/XnsaF3VcNy

— Mima Agozzino (@MimzH20) November 10, 2020
For many, including Taylor Ketchum, vice president of Jones PR, it's all about adjusting your strategies and staying flexible (and that means pivoting):
— Taylor Ketchum (@TaylorKetchum) November 10, 2020
Despite the challenges, however, communicators are getting the job done. PR pro Jennifer Dunn reminds us to have courage:
— Jennifer Dunn, APR (@Jennifer__Dunn) November 10, 2020
Is there a question you'd like us to ask in an upcoming poll? Let us know!
---
SOUNDING BOARD
How much of your communications efforts and campaigns currently focus on wellness and wellbeing?
How much of your communications efforts and campaigns currently focus on wellness and wellbeing?

Weigh in below and share with us how you're reaching out to employees and customers. We'll give you the #DailyScoop roundup tomorrow!

— PR Daily (@PRDaily) November 11, 2020
Share with us below and under the hashtag #DailyScoop, and we'll share in tomorrow's roundup.
Editor's note: Ragan Communications may earn a commission through our affiliate partnerships when purchasing items in our content.
COMMENT
No Responses to "Singles' Day poised to break records, WarnerMedia announces layoffs, and Whole Foods partners with Progressive to offer a 'Turkey Protection Plan'"
Ronald N. Levy

says:

Gong! It's a warning to not just Amazon but to all successful businesses that Amazon and others face antitrust charges and huge potential damages for having "size and seller data."

Unfortunately for our best-managed companies, the better your company serves the public, the larger your size will likely be. And the more you care about selling what the public needs, the more seller data you'll have.

It would be ridiculous to have a Boozers and Losers Award for companies that go out of business because of personal failures or lack of business wisdom. But it's even more ridiculous—and worse for the public—to criminalize having so much skill in serving the public that a company becomes huge and has all kinds of business data.

Can we imagine charging and fining baseball players for having too good a batting average?

PR reality is that it can bring the EC or a national government all kinds of praise from less successful companies to try whacking big companies that are exceptionally successful. But it gets us nothing—no benefit nor even a good feeling—to yell UNFAIR and imagine that we've said something the world doesn't already know.

Fortunately, protecting ourselves can be done because the public protects those who protect the public. Many more police departments will be fully funded than defunded. The public needs and deserves safety and strongly favors those who protect our safety.

If your company does something BIG for world health, it should not be surprising if the public is also big in wanting the best for you company.

My favorite corporate armor is health because everyone wants it and millions pray for it. You could sponsor at Mayo Clinic a child health research project. . .or at Johns Hopkins a heart research program. . .or a program at Memorial Sloan Kettering Cancer Center where they keep getting closer to curing lymphomas that may kill twice as many Blacks per capita as Whites.

The more successful your company is, the more important it may be that you pick some huge good deed soon before publicity-seeking political types attack. As one may hear often at Ragan's Crisis Leadership Network where what works is a big deal, it's instructive that in this time of Covid concerns, no one is attacking our drug or other companies that may save our lives.