T-Mobile responds to massive data breach, employees favor mask mandates at work, and Facebook, TikTok uphold Taliban content ban
Also: General Mills celebrates Monster cereals 50 years, Ford makes amends on Bronco flaw and LinkedIn adds video chat.
Hello, communicators:
General Mills has launched a campaign to celebrate the 50th anniversary of its monster-themed cereals, including Count Chocula, Boo Berry and Franken Berry, by offering all flavors together in one bowl. The limited cereal, dubbed "Monster Mash," will also include the Frute Brute and Yummy Mummy flavors that haven't been around for nearly a decade, and will come in a retro style box.
The campaign also features a cover of the iconic Halloween novelty song, "Monster Mash," complete with a mockumentary featuring Blink-182 drummer Travis Barker:
By going all in for the anniversary of its monster cereal brand with limited boxes and custom merchandise, General Mills hopes to capitalize on the power of nostalgia. By including celebrity influencer Travis Barker, a drummer whose credits are known to both Gen-X (as a former member of ska legends the Aquabats) and millennials (as a member of pop-punk band Blink-182), General Mills shows it knows what customers will be most likely to snag a box of Monster Mash.
Here are today's top stories:
T-Mobile responds to massive data breach
Telecom company T-Mobile has revealed that personal data belonging to more than 40 million former and prospective customers was compromised. The data included first and last names, birth dates, social security numbers and driver's license information.
The company acknowledged that it was first made aware of the incident after an online forum identified the attack.
According to its official statement:
As we shared yesterday, we have been urgently investigating the highly sophisticated cyberattack against T-Mobile systems, and in an effort to keep our customers and other stakeholders informed we are providing the latest information we have on this event and some additional details.

As a result of this finding, we are taking immediate steps to help protect all of the individuals who may be at risk from this cyberattack.
The company is offering two years of free ID protection from McAfee to affected consumers and is working with customers to change sensitive account information, such as their PIN number.
Why it matters:
T-Mobile did right by its customers when it released a preliminary holding statement ahead of a full accounting of the full scope of the attack, then sharing the above statement later once it had more information. Among the immediate steps taken, the McAfee ID Theft Protection service is a meaningful gesture to try and help users regain confidence in their digital safety.
As the latest company to be notified of a data breach by an online forum, however, T-Mobile still must answer questions about why it didn't detect this breach on its own. Remember that taking responsibility for a cyber attack incident must first involve an explanation of how the breach escaped your security precautions in the first place. Consider the creation of an enterprise cybersecurity role that regularly meets with your communications team and exists soley to operate within your organization's larger risk management framework.
---
MEASURED THOUGHTS
A recent study by Axios and Ipsos found that about half (51%) of those who are employed said that their employer is requiring masks to be worn at work. Meanwhile, only 16% said that their employer has required employee vaccinations, despite the 55% of unemployed Americans surveyed who support their employer enforcing a vaccine mandate.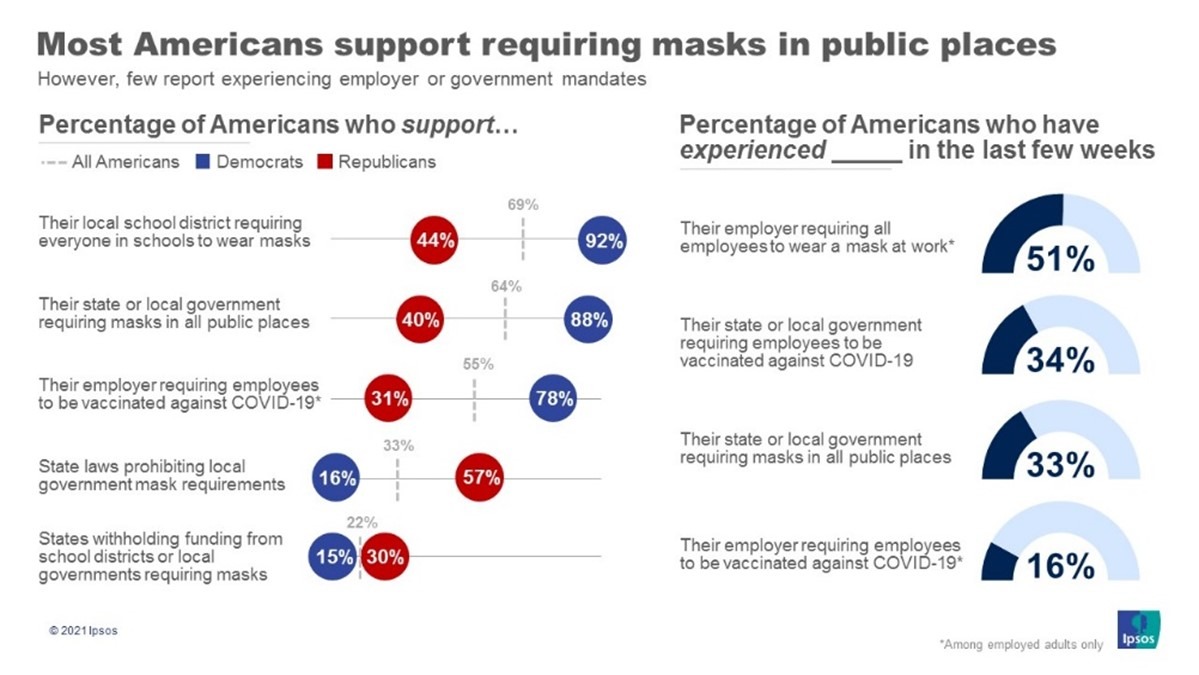 This latest data from the ongoing Axios/Ipsos COVID-19 reporting reveals that a disconnect still exists between what employees expect from their workplace and the decisions leaders are making. Remember that doing the right thing for your community starts with your internal and hyperlocal stakeholders, who will be important ambassadors for any message you hope to send.
Check out the full study here.
---
SOCIAL BUZZ
LinkedIn has added a native video meeting feature to its messenger tools, so users can make video calls without leaving the platform: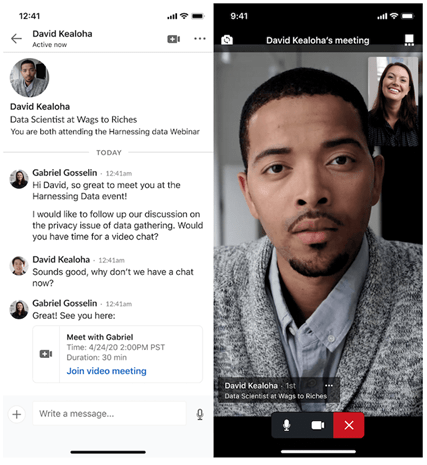 "From an initial job search to a 1:1 conversation, we wanted to drive the productivity of our members end to end while keeping them safe. By adding video conferencing as a part of the messaging experience, members can connect virtually while maintaining the context of their existing conversation. Now, members can easily schedule free video meetings with their network without the need to download a client or sign up to any service."
LinkedIn's move to embrace native video signals that the company believes virtual experiences are not going away.
---
THE WORKPLACE
Remote, in-person, or a mix of the two, office culture is under constant strain in these uncertain times.
As many companies shift their office reopening strategies to accommodate the ever-changing needs and concerns of a post-pandemic workforce, it's on communicators to ensure employees remain engaged in corporate culture.
Tune in on Aug. 25 for our webinar, "Communicating Your Return-to-Workplace Plan to a Distributed Workforce." Top takeaways from the afternoon will include:
How to communicate your timeline for returning to the office
Strategies for listening and addressing various employee hesitations around family care, health concerns and more
Vaccine messaging essentials, such as privacy, safety and religious affiliation
And more
Plus, panelists will tackle the "Great Resignation" with potent tips and tools to retain your best workers and help employees feel like they belong.
---
CRISIS COMMUNICATIONS
Ford has announced plans to replace the hard tops of every customer and dealer's 2021 Ford Bronco, claiming that they are beneath company standards after discovering that heavy rains cause the tops to have an unsatisfactory appearance.
The company announced the news by notifying journalists, including David Tracy of digital car and truck publication Jalopnik, who provided an untraditional look into Ford's mea culpa.
Tracy writes:
"Embarrassed to say, but we did catch this early, and we're doing the right thing. During pre-delivery inspections, we found out that these molded-in-color hardtop roofs didn't meet our standards," [Ford general manager for passenger vehicles Jeff] Marentic continued before making it clear that this issue does not impact the top's functionality.

"It causes, and could cause, an unsatisfactory cosmetic appearance. So what we're doing — we need to do this right — we're replacing all hard-top roofs for customers who have either taken delivery, as well as those that are waiting at dealers … and then we're also going to replace all the roofs that have been built and awaiting final release at the Michigan Assembly Plant."
While this strategy is an unorthodox way to announce a recall, Ford's decision to speak on record with a journalist known for infusing his reporting with personal voice and character serves as a reminder that there are many creative ways to break unfortunate news to your customers and stakeholders. In any case, consider how the medium and reporter you work with fits the tone that you are going for. Acknowledging your concern for customers (like focusing on their social media posting habits) also demonstrates a holistic level of consideration for their relationship to your brand.
---
RAGAN'S 2021 BENCHMARK REPORT
Ragan has released its annual Communications Benchmark Report, an exclusive study from Ragan's Communications Leadership Council that analyzes the major trends in the profession over the last year.
During that time, comms pros have been called on to develop and distribute messages on new policies that affect internal and external stakeholders alike. Their role has become more essential as they helped keep their organizations focused and moving forward. They've seen their access to the C-suite increase throughout 2020, and they forged important new alliances with peers in other departments, including HR, finance and workplace wellness.
Culled from more than 750 respondents, the 32-page report is available in its entirety exclusively to members of the Communications Leadership Council.
Download your copy of the exclusive Benchmark Survey Executive Summary today and get a crucial competitive advantage that will fuel your success for 2021 and beyond.
Facebook and TikTok uphold ban on Taliban-related content
As countries around the world ponder whether to officially recognize the Taliban government taking power in Afghanistan, social media platforms Facebook and TikTok have announced that they will not lift their respective bans on posts that promote the militant Islamic organization. The announcement comes after Taliban spokesman Zabihullah Mujahid criticized Facebook in a press conference on Tuesday for violating the group's freedom of speech.
A Facebook spokesperson told CNBC: "The Taliban is sanctioned as a terrorist organization under U.S. law and we have banned them from our services under our Dangerous Organization policies. We also have a dedicated team of Afghanistan experts, who are native Dari and Pashto speakers and have knowledge of local context, helping to identify and alert us to emerging issues on the platform."

Facebook said it does not decide whether it should recognize national governments. Instead, it follows the "authority of the international community."

TikTok declined to share a statement but told CNBC that it has designated the Taliban as a terrorist organization and that it continues to remove content that praises, glorifies or provides support to them.
Taking action is a little trickier for Facebook-owned messenger app WhatsApp, as it uses end-to-end encryption.
"As a private messaging service, we do not have access to the contents of people's personal chats; however, if we become aware that a sanctioned individual or organization may have a presence on WhatsApp, we take action," the spokesperson said.
What it means:
Facebook upholding its ban on Taliban content comes within a week of Facebook announcing end-to-end encryption for video and voice calls on its Messenger feature. This conflict highlights a key paradox in privacy and cybersecurity communications: How do you convey that you are protecting your stakeholders and their data while also rooting out the more harmful activity that can flourish on the internet?
While the answer this riddle will be different for every industry, communication skills must be strategically embedded in partnerships with regulators and watchdogs, in collaboration with your IT/cybersecurity partners and your legal counsel. Only when all relevant internal stakeholders are proactively communicating will you be able to craft privacy policies for your customers that are balanced against calls for industry transparency.
COMMENT
One Response to "T-Mobile responds to massive data breach, employees favor mask mandates at work, and Facebook, TikTok uphold Taliban content ban"
Ronald N Levy

says:

What could rescue T-Mobile, Ford, Facebook and other companies threatened by PR crisis is heeding what Omnicom PR leaders have preached in PR Daily:

.1. At the core of PR safety and profits is the TRUTH.

.2. In addition to existing truth, skilled PR can CREATE more truth.

.3. Better than self-pity in a crisis situation can be truth dissemination that is SELF-PROTECTIVE.

Money matters. How much should crisis-threatened companies spend on PR, if their sales income tops $100 billion a year, to show the public truth and win the public esteem companies deserve?

Is it totally ridiculous that a PR budget—if a corporate life depends on it—could top a billion dollars even if spread over 10 or 20 years?

Perhaps not when we recognize (a) how many billions can be up for grabs in a controversy, (b) how the outcome of a public controversy may be decided by government leaders, and (c) how a billion dollar PR program could influence government leaders.

PHARMACEUTICAL PRICES. The Wall Street Journal reported August 14 that "Large pharmaceutical companies invested $91 billion last year in
new treatments." Senators Elizabeth Warren and Bernie Sanders have urged government to slash the price of prescriptions which could actually turn drug company profits into losses.

Covid has killed over 621,000 Americans and 4,372,000 worldwide. The Spanish flu pandemic of 1918 killed over 50 million, and the next pandemic could kill twice that number. Could the drug industry protect our lives and its $91 billion by giving pandemic expert Dr. Anthony Fauci ONE billion for a research team and program to detect the next pandemic IN ADVANCE of disaster so people could get vaccinated?

We know vaccination works because doctors have used vaccination to over 90% beat smallpox, polio, measles and other ailments. We know that PR works because companies and associations have repeatedly used PR to defeat all kinds of proposals to "let those rich bastards pay because they can afford it."

A CANCER VACCINE. Cancer kills more people than Covid and Spanish flu combined. How many of our lives could be saved, since one in every five of us is now likely to die of cancer, if a billion is given over ten or 20 years to the famed Dr. Andrew Zelenetz to find a "broad spectrum" cancer vaccine. His Memorial Sloan Kettering Cancer Center has already discovered several cancer vaccines for limited uses as can be seen from the MSKCC website, and at least one MSKCC cancer vaccine already has FDA approval!

If a top company—with sales that may top $100 billion a year–budgets $1 billion over ten years for Dr. Fauci or Dr. Zelenetz, will our government leaders avoid proposing laws that could impair the ability of that company to keep protecting us?

Omnicom gets a ton of new business with a persuasive pitch for PR programs that could almost sound too simple to really work: tell the TRUTH. Two top Omnicom experts have made a fascinating case for "truth in PR" in a PR Daily article. Also in new business pitches that the opportunity to PERSUADE the public about the truth can come from helping the public SEE the truth which Omnicom does successfully in many ways.

WHY should the public buy an idea and WHY should the government not do something you don't want? The answers may not so much be what activists chant, "Hey hey, ho ho, such-and-such has got to go." A more convincing answer may be massive media coverage on the idea: "Look at the numbers, look at what's true, look at what is best for you!"

If what PR wants is not in the public interest, a proposal should damn well fail. But if what the client wants and the PR firm gets may in truth help to save millions of adults from a pandemic and from cancer, might a billion dollar PR project (a) help the public, (b) save the client way over a billion, and (c) make Omnicom even more respected and richer?

A wise guy could argue that not only are the big tech companies rich enough but so is Omnicom. When the West Coast chief of an Omnicom agency was accused by a woman really ridiculously—yet he faced jail—Omnicom actually gave him (not pledged but gave) a MILLION for lawyers and legal expenses. American money!

A PR firm giving a manager a whole million for lawyers could sound as ridiculous as a client spending a whole billion on PR to protect the American public and itself. But can anyone doubt in this age of lawsuits that the million to protect a manager helped Omnicom hire some of the world's greatest-ever PR allstars that everyone would love to employ? Or that a billion for PR could win the support of America's top political allstars from both parties?

Or that a billion for Drs. Fauci and Zelenetz over 10 to 20 years could help a company avoid billions in damages from government action plus winning additional billions from consumers?

It could actually be coming: billion dollar PR budgets that save lives for the public and save clients from a mob.