The Oscars offers most diverse nominee list yet, Microsoft's social media channels keep users informed during outage, and Facebook to launch vaccine finder
Also: Google's messaging fails to convince data-collection critics, 86% of PR teams to bring in outside creative help in 2021, DC Comics bars its artists from producing NFTs, and more.
Hello, communicators:
Purdue Pharma, manufacturers of the drug OxyContin, filed a bankpruptcy plan late last night in hopes to settle hundreds of thousands of industry claims linked to the company's well-documented role in exacerbating the opioid epidemic.
The company agreed to pay $500 million cash in settlement money upfront, with additional payments spread over the next decade and future proceeds dedicated to fighting the opioid crisis. The proposal didn't sit convince legislators, who lambasted the plan as more convenient for the Sackler family, who own Purdue, than the victims.
"Speaking during a congressional hearing in December, former board member Dr. Kathe Sackler expressed regret over Purdue's involvement in the opioid crisis, but she said she personally did nothing wrong," reports NPR. 'There is nothing that I can find that I would have done differently based on what I believed and understood then," she said."
The case is a reminder that, when your brand or organization caught in a crisis, an admission of wrongdoing needs to be actionable and specific in order to resonate with audiences.
Oscars takes aim at DE&I goals with diverse nominee list
The Oscars hopes to finally turn the page with a diverse slate of nominees that suggests the Academy is making changes after years of #OscarsSoWhite trending on social media. The list includes nine actors of color, setting diversity records in each of those categories.
"Minari" star Steven Yeun became the first Asian American ever nominated for best actor; in the same category, "Sound of Metal" star Riz Ahmed became the first person of Pakistani descent ever nominated for any acting Oscar. And Yeun's "Minari" costar Yuh-Jung Youn, a supporting actress nominee, is the first Korean person ever nominated for an acting Oscar.

Along with Chadwick Boseman ("Ma Rainey's Black Bottom"), this is also the first time in Oscar history that the best actor category is not majority white.

In addition, "Nomadland" director Chloé Zhao became the first woman of color nominated for best director, and with fellow nominee Emerald Fennell ("Promising Young Woman"), this is the first year more than one woman has been nominated in this category.
The Hollywood Reporter's Rebecca Sun explained the significance of Yeun's "Minari" nomination as a watershed moment for Asian Americans in Hollywood.
Yeun and co-star Youn Yuh-jung also finally snapped Hollywood's "bamboo ceiling" (a phrase originated by leadership strategist Jane Hyun to describe the difficulty Asian Americans in the corporate world face in breaking through to senior executive roles). The disheartening streak had heretofore seen Asian actors shut out of recognition from their otherwise decorated films (Parasite, The Life of Pi, Slumdog Millionaire, Crouching Tiger Hidden Dragon and The Last Emperor all garnered multiple Oscar nominations, including best picture, without a single acting nod).
After facing some criticism for including the phrase "bamboo ceiling" in her headline, Sun took to Twitter to further address why she included the term:
I added a line in the article to explain the phrase's origins. You may or may not find it acceptable, but at least you have an explanation.

And as always, I appreciate it when people care about words, particularly when they are used in reference to marginalized people.

— Rebecca Sun (@therebeccasun) March 15, 2021
Why It Matters:
There's a saying about DE&I iniatives: "Diversity is a reality, inclusion is a practice, and equity is a goal." This year, the Oscars acknowledged the diversity that has long existed in the motion picture industry, and undertook the practice of making sure that diverse talent was included.
---
TACTICALLY SPEAKING 
DC Comics, the company behind iconic characters such as Superman, Batman and Wonder Woman, sent out a letter to its creative teams and freelancers that requests they refrain from making unique digital artwork known as nonfungible tokens, or NFTs, of any DC intellectual property.
The letter… reads in part: "As DC examines the complexities of the NFT marketplace, and we work on a reasonable and fair solution for all parties involved, including fans and collectors, please note that the offering for sale of any digital images featuring DC's intellectual property with or without NFTs, whether rendered for DC's publications or rendered outside the scope of one's contractual engagement with DC, is not permitted. If you are approached by anyone interested in including any of your DC art in an NFT program, please let Lawrence Ganem, DC's VP, Talent Services know."
DC's decision to keep its artists from capitalizing on NFTs before it becomes something that the company cannot control is a smart move, and the letter concludes by saying that DC fully expects to include its larger creative community in the production of NFTs once they launch through official channels. When delivering bad or frustrating news to your internal stakeholders, peppering the information with assurances that they are being thought of, and included, is a tactical win.
---
SOCIAL BUZZ
Facebook is launching a tool to help people eligible for the COVID-19 vaccine to find out when and where they can get one.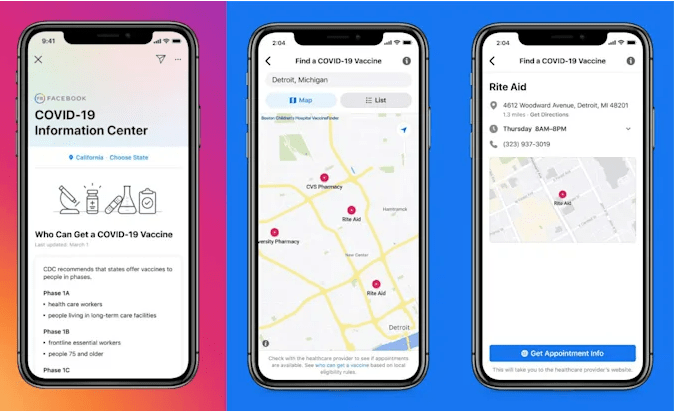 Image courtesy of Facebook
Facebook has announced that it's launching a tool that will show "when and where you can get vaccinated" for COVID-19, and provide a link to help you make an appointment. The new feature will show in its COVID-19 Information Center and is arriving when the US and other countries are starting to vaccinate adults. The aim is "to help bring 50 million people a step closer to getting COVID-19 vaccines," according to a post from CEO Mark Zuckerberg.
To create the tool, Facebook partnered with Boston Children's Hospital, which runs the VaccineFinder.org website. That tool — available in the COVID-19 Information Center starting today — will provide the hours of operation, contact info and links to make a vaccination appointment. It will be supported in 71 different languages, and Facebook plans to expand it to other countries once vaccines are more widely available.
---
CRISIS LEADERSHIP NETWORK
Looking for more insight on how to address the current global crisis and lead your organization into a strong recovery?
Join Ragan's Crisis Leadership Network to connect and brainstorm with peers, get the latest intelligence and research and start to strategize for the future of your organization.
Learn more about this exclusive membership here.
---
MEASURED THOUGHTS
InMotionNow and InSource released a report on the management needs of creative teams in 2021, revealing that 86% of those surveyed said that they plan to bring in outside teams to help them work faster, develop strategy, increase capacity and access specialized skillsets.

Image courtesy of InMotionNow and InSource.
You can read the entire report here.
---
CRISIS COMMUNICATIONS 
A judge has ruled that a class-action lawsuit against Google, focused on the tracking policies of its Incognito private browsing tool, will move forward.
The lawsuit contends that Chrome's private browsing "Incognito" mode should also stop Google's server-side tracking and that Google's failure to cease such tracking violates federal wiretap laws. The lawsuit seeks at least $5 billion, or $5,000 per violation for "likely" millions of users.

Google attempted to get the lawsuit thrown out on the basis of Chrome's Incognito explainer, a message that shows every time you start up Incognito mode and explains that "your activity might still be visible to websites you visit."

That was not enough for the judge, however. "The court concludes that Google did not notify users that Google engages in the alleged data collection while the user is in private browsing mode," Judge Koh wrote.
"We strongly dispute these claims and we will defend ourselves vigorously against them," Google spokesperson Jose Castaneda said in an emailed statement. "Incognito mode in Chrome gives you the choice to browse the internet without your activity being saved to your browser or device. As we clearly state each time you open a new incognito tab, websites might be able to collect information about your browsing activity during your session."
Amid a growing focus on user-privacy, and Google's own sunsetting of third-party cookies over the next year, phrases like "might be able to collect information" will be insufficient safeguards against accusations of unethical data collection. Checking with legal and compliance teams to make sure that all language pertaining to privacy is specific and airtight will not only protect the customer experience, but save you countless headaches and potential legal ramifications in the long run.
Microsoft keeps users informed on Twitter during widespread software outages
Microsoft Teams went down for about four hours on Monday afternoon, taking down software in its Microsoft365 cloud as well. In response, Microsoft activated its dedicated Twitter feed to inform users of its progress restoring service every step of the way.
As many as 115 million people use Microsoft Teams to communicate every day, and the app has only grown more popular in this age of remote work.  In addition to impacting workflows of U.S. remote employees, the outage delayed the premiere of director Zach Snyder's "Justice League" film.
The issues started around 3:30PM ET, and Microsoft quickly confirmed they were affecting users worldwide. This is the first major Microsoft Teams outage since the service went down back in September, alongside other Microsoft 365 services like Office 365 and Outlook. Microsoft also blamed its previous outage on a configuration change.

Azure Active Directory also experienced issues as part of this outage, alongside Office web apps, Exchange Online, SharePoint Online, and other Microsoft services. Xbox game streaming (xCloud) and prepaid codes weren't working, either. Xbox party chat also had some intermittent issues.
Microsoft Teams users on Twitter didn't seem to mind the outage:
Oh no…Microsoft Teams is down and I have four meetings this afternoon. I sure hope it gets fixed soon… pic.twitter.com/nWgYKPlCrK

— Nathan MacDonald (@nathan_albert) March 15, 2021
darnnnn Microsoft teams is down, what am I gonna do??? pic.twitter.com/SBaZfZAlvd

— eric (@stylestaneric) March 15, 2021
Using its Microsoft365 Status Twitter account, Microsoft also communicated, in real time, the steps it took to remedy the outage:
We are currently rolling out a mitigation worldwide. Customers should begin seeing recovery at this time, and we anticipate full remediation within 60 minutes. Additional information can be found at https://t.co/AEUj8uAGXl or under MO244568 if available.

— Microsoft 365 Status (@MSFT365Status) March 15, 2021
Why it's important:
When an unforeseen crisis hits your brand or organization, stakeholders want to know why it happened and what you're doing to fix it. When the crisis pertains to a tool or service that customers rely on every day, there's no such thing as overcommunicating.
Offering additional resources for stakeholders to receive information beyond your social media messaging, including online portals and contact information, offers your company a way to follow up with stakeholders who have additional pain points and ensure those are resolved in a timely manner.
---
CONFERENCE ALERT
As the news cycle continues to rapidly shift and communicators grapple to create strategies that overcome content exhaustion and misinformation, it's crucial to embrace new best practices grounded in measurement, data and insights that can both build engagement and boost brand awareness.
Learn how to build stronger relationships with journalists to tell your story, and measure the results at Ragan's Media Relations & Measurement Virtual Conference on Wednesday, April 7.
Attendees will discover new, smart opportunities to overcome crisis challenges, pitch stories that reporters crave, deliver key messages to target audiences through analytics and insights, enhance media relations efforts with the PESO model and brand journalism, prove the ROI of your efforts, and more.
Learn powerful insights and secrets from speakers at organizations including NAACP, PepsiCo, Goodwill, Pfizer, Hilton and Britannica Group.
---
WHAT YOU SAID
We asked you to share your ideal strategy when planning out your work week. Fifty-three percent of you start planning your week on Monday, while just over 20% of you plan each week the Friday before. Meanwhile, 19% of you plan each day as it comes, and 6% of you wing it.
How do you plan out your responsibilities for the week ahead, communicators and PR pros? #DailyScoop

— PR Daily (@PRDaily) March 15, 2021
Is there a question you'd like to see asked? Please let us know under the #DailyScoop hashtag!
---
SOUNDING BOARD
What's your preferred method for sharing large files with colleagues and partners, PR and communications professionals?
What's your preferred method for sharing large files with colleagues, PR and communications professionals? #DailyScoop

— PR Daily (@PRDaily) March 16, 2021
Weigh in below and share under the hashtag #DailyScoop. We'll share top responses in tomorrow's roundup.
COMMENT
One Response to "The Oscars offers most diverse nominee list yet, Microsoft's social media channels keep users informed during outage, and Facebook to launch vaccine finder"
Ronald Levy

says:

Notice how good deeds beget good PR results. Savvy Facebook is helping to protect the health of millions by launching a tool to help people find out when and where they can get vaccinated. Now many of those millions—millions!—may express strong pro-Facebook feelings when legislators have staffers get a reading on how voters in the district feel about Facebook and other companies in the news.

Common sense is for legislators to keep in touch with voter preferences and for companies to win the hearts and minds of voters by helping to protect a different part of voter anatomy, their necks.

America NEEDS Facebook but the company is a big target so a legislator may be tempted to try looking like a public hero by attacking this company in the name of the public. Every big company and whole countries can be attacked by publicity-hungry politicians who try to look like heroes by yelling that a big company is earning too much and not doing enough for the people at home who help create those earnings.

Being NEEDED provides a measure of safety for a company but being LOVED provides even more safety (and sometimes more money). What Facebook is shown to be doing by this PR Daily report—helping to protect the HEALTH of the public—is one way of winning massive public love.

More can be done. Like notice how Microsoft is announcing "we are fixing this problem." Good because Microsoft is needed and the public needs the problem fixed. But judge whether Microsoft can do even more for the public—plus more for Microsoft safety and profitability—if it announces the Microsoft SAFE program, SAFE for Save Americans From and something starting "E".

.A. Microsoft's SAFE Program aims to save the lives of over a million children by supporting the work of Dr. Anthony Fauci's team working to reduce avoidable infections in five ways. Dr. Fauci may be the world's top expert on preventing the spread of childhood diseases.

.B. Microsoft's SAFE Program aims to save the lives of over a million adult men and women by supporting the team of Dr. Andrew Zelenetz working to reduce causes of cancer, and detect it early enough to be eliminated or gotten into remission so it doesn't cause death. Dr. Zelenetz heads one of the world's top teams dedicated to avoiding and actually getting rid of cancer.

Far smaller companies and even local retailers can help the public and help themselves by doing a health information program. Many countries could be a whole lot safer if they get America's protection by joining NATO, and a program to help America's health could get 100 million Americans to strongly favor America protecting that foreign country's safety.

One can learn from PR Daily's courses and groups that "Give and ye shall receive" is both Biblical wisdom and PR wisdom. The public loves those who care enough about us to help protect us. And management loves PR people who profitably protect management.