TikTok launches PR campaign, Boeing announces more layoffs, and Walmart's e-commerce sales rise 97%
Also: Girl Scouts announces a new flavor and online sales for 2021, Amazon scrambles to remove Kamala Harris shirts, social media manager pitfalls, and more.
Hello, communicators:
Charles Etoroma, senior social media specialist at Express, tweeted a relateable pain point for digital and social media managers:
Social media manager: "I'm sorry but this will not translate well on social"

Non-social individuals: "lets go ahead and post to fb, tw, ig, reels, tiktok, pinterest + all the up and coming social platforms."

— Charles Etoroma (@chvrlesjr) August 18, 2020
What other pitfalls would you add to Etoroma's tweet? Share with us your thoughts under the #DailyScoop hashtag.
Here are today's top stories:
TikTok launches PR campaign
The social media app recently published a video highlighting its users with the caption, "Celebrating you":
Loving all of you and the things you do.
Celebrating you. #ItStartsonTikTok pic.twitter.com/Ls6eg6e7cr

— TikTok (@tiktok_us) August 18, 2020
It's similar to another video featuring TikTok power users, with the message that the app stands for family, creativity and expression:
And to our TikTok family, your support means the world to us. pic.twitter.com/0PaJvSMOBN

— TikTok (@tiktok_us) August 10, 2020
The videos and the Twitter account are part of an awareness campaign aimed at dispelling misinformation and strengthening TikTok's image.
On Monday, TikTok launched tiktokus.info, a website that organizes the company's statements, news coverage, "expert opinions," FAQs and other resources in a single destination. Oddly titled "The Last Sunny Corner of the Internet," TikTok makes the case for its app as a place where millions express themselves creatively. It also goes on record to flatly deny that it would ever provide TikTok U.S. user data to the Chinese government. And it spells out its commitments to areas like user safety and security, as well as its commitments to combating election misinformation and interference, among other things. 
Why it's important: Oracle has entered the ring as another potential TikTok buyer, along with Microsoft. However, the social media app is facing scrutiny over its data gathering practices and more. President Trump recently gave the platform's parent company, ByteDance, 90 days to sell TikTok to an organization in the United States, or it'll be banned. Communicators should watch this space for further developments.
---
TACTICALLY SPEAKING
The Girl Scouts of the USA recently announced a new cookie that will be added to its 2021 lineup, called the "Toast-Yay!":
.@girlscouts is kicking off the 2021 #GirlScoutCookie season with the new French toast–inspired Toast-Yay!™ cookie! Available in select areas. Get the deets: https://t.co/ZCzzH8HpIA pic.twitter.com/jrMwWMomPH

— Girl Scouts (@girlscouts) August 18, 2020
The cookie, which the organization describes as "toast-shaped" and "full of French toast flavor and flair and stamped with the trusted Girl Scouts' signature trefoil on top," will be sold online next year—similar to how the organization responded to the COVID-19 pandemic, by shifting sales to an e-commerce platform.
In a blog post, the Girl Scouts wrote:
In the 2021 season, Girl Scouts will again embrace their entrepreneurial spirit by selling cookies through online platforms and innovative "virtual cookie booths" on social media (with parental supervision). Many girls will offer socially distant or contactless sales and delivery options. If local guidelines allow and it's safe to do so, in-person sales may also be available in certain areas.
---
MEASURED THOUGHTS 
Walmart announced that its e-commerce sales in the U.S. rose 97% in the last quarter, with overall online sales almost doubling during COVID-19.
CNBC created a chart that shows how striking the numbers are, which were reported during the retail chain's most recent earning call: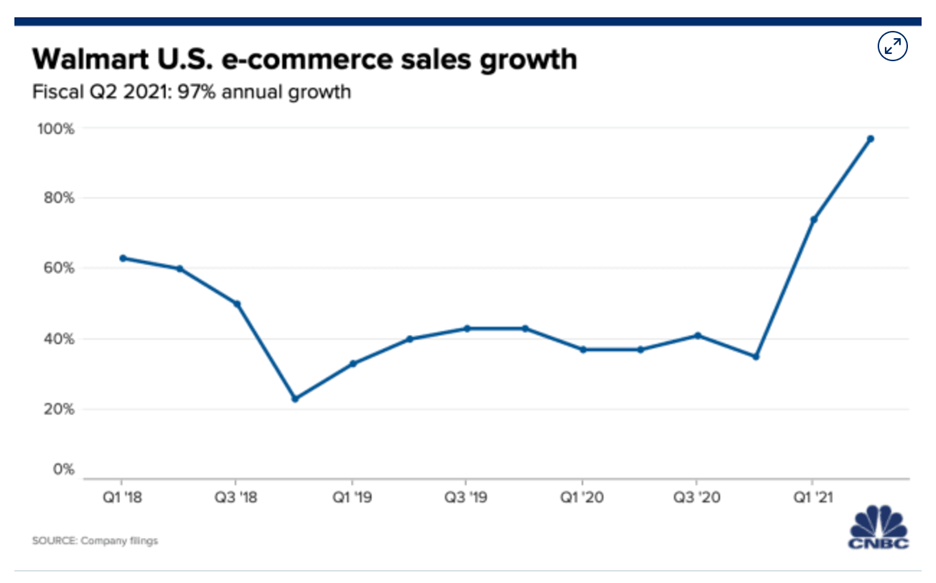 The statistics are another reminder of shifting consumer behaviors and the crucial need to embrace both e-commerce and a digital-first format.
---
CRISIS LEADERSHIP BOARD
Looking for more insight on how to address the current global crisis and lead your organization into a strong recovery?
Join Ragan's Crisis Leadership Board to network and brainstorm with peers, get the latest intelligence and research, and start to strategize for the future of your organization.
Learn more about this exclusive membership here.
Boeing to announce layoffs in addition to its previous 16,000 job cuts
As sales continue to drop and orders are canceled, the aircraft producer said it's preparing to announce additional layoffs to stay afloat. In April, the company said it would cut 10% of its 160,000 employeees' positions.
"The pandemic has been tough on our people, our business and our industry. While there have been some signs of recovery, the reality is we're in a challenging position," said CEO Dave Calhoun in a message to Boeing (BA) employees Monday. He said there would be a new round of buyouts offered to employees next week.

"This action will extend our overall workforce reductions beyond the initial 10% target and will allow more employees who want to depart the company to do so voluntarily with a pay and benefits package," Calhoun said. "Importantly, it also will help limit additional involuntary workforce actions. I truly wish the current market demand could support the size of our workforce. Unfortunately, layoffs are a hard but necessary step to align to our new reality."
Why it's important: As COVID-19 continues, communicators should remain flexible and ready to shift directions at a moment's notice. At the same time, you should also aim to give employees the most up-to-date and transparent information as possible, especially when it involves upcoming or potential layoffs.
---
DOWNLOAD OUR REPORT
Following the deaths of George Floyd, Ahmaud Arbery, Breonna Taylor and others, organizations were pushed more forcefully than ever before to take stands against systemic racism and move to support social justice initiatives. Which responses made an impact—and which responses fell flat?
Learn from 10 of the biggest brand messages in our special report, "Organizational responses to Black Lives Matter." The report offers communicators important takeaways to lead organizations and clients in the second half of 2020 and into the future.
.
---
TACTICALLY SPEAKING
Amazon had to scrub its third-party marketplace of derogatory shirts about Democratic presidential nominee Joe Biden's running mate, Kamala Harris. Even though the offensive shirts were removed, it wasn't before backlash grew on Twitter and beyond.
Amazon removed shirts referring to Kamala Harris in a derogatory term from its marketplace. https://t.co/z9TY3c857E

— USA TODAY (@USATODAY) August 19, 2020
"All sellers must follow our selling guidelines and those who do not will be subject to action including potential removal of their account. We are working to remove these products," an Amazon spokesperson told USA TODAY.
Third-party marketplaces add an additional layer of complications for communicators looking to keep their brands' reputations intact. Amazon's prompt removal and succinct statement should help the PR crisis blow over quickly.
---
WHAT YOU SAID
We want to hear about your experiences and insights as we continue to navigate the landscape of continued uncertainty.
Is there a question you'd like us to ask in an upcoming poll? Let us know!
---
SOUNDING BOARD 
Are you focusing on e-commerce sales or digital-first content during COVID-19?
Are you focusing on e-commerce sales or digital-first content during COVID-19?

Share how you've shifted your efforts below and under #DailyScoop.

— PR Daily (@PRDaily) August 19, 2020
Share how you've shifted your efforts below and under the #DailyScoop hashtag.
COMMENT
2 Responses to "TikTok launches PR campaign, Boeing announces more layoffs, and Walmart's e-commerce sales rise 97%"
Ronald N. Levy

says:

This news about Boeing calls to mind that persuasive PR in Washington could mean LESS DEATH and MORE JOBS for Americans.

Google shows us that America has suffered over 7,000 deaths and over 50,000 wounded in Iraq and Afghanistan.

PR Daily shows us in the story above that Boeing has already had 16,000 job cuts and will announce additional layoffs.

We could end both problems—end all our Middle East military deaths and end the unemployment at Boeing and other defense contractors—if PR convinces congress to have a MUTUAL DEFENSE AGREEMENT with our two top Arab allies, Saudi Arabia and United Arab Emirates.

WHAT OUR ARAB ALLIES CAN DO FOR US is to take over our our military duties in Iraq, Afghanistan and Syria. If we just pull out of Afghanistan and allow the Taliban to take over the government which has been America's ally, we lose and all our allies all over the world can see that being allied with the U.S. is no guarantee of safety because we may pull out so the enemy can take over.

BUT if Saudi Arabia and United Arab Emirates sign a mutual defense agreement with us and take over our protective Mideast role, our allies are safe, our good name is safe, we suffer no more death and wounded—zero!—and no enemies are going to mess with our Arab allies because they can be cruel and physical, perhaps even cutting off organs of terrorists who will certainly want to avoid that.

WHAT WE CAN DO FOR OUR ARAB ALLIES is exactly the same as we do for our score of NATO allies: announce that an attack on them would be like an attack against us. This would be a very big deal to Saudis and UAE people because Iran leaders right over the border hate these countries on religious grounds and have three times as big an army plus before long perhaps nuclear arms.

PR could sell this, the wisdom of a mutual defense agreement. The Arabs already employ some of America's very best PR firms and get some of the best people in those firms to work on the Arab accounts. The Arabs would GLADLY buy enough planes so Boeing needs many more employees not less. They need the planes and they have the money and they could buy tons of additional products made in the U.S.A..

PR power isn't backroom deals but is the power of information—good ideas presented persuasively to the right people. Less deaths and more employment are good ideas. Congress and our cabinet—political leaders of both parties—are the right people because they have the power to make this happen.

At first it could sound almost too good to be true but it's true that having a police force and a fire department instead of fighting criminals and fires ourselves is a good idea. And it's true that it's a good idea to work with our allies in a way that saves our lives and increases our jobs.

Thank you for sharing the informative and valuable information.