Tripwire CEO out over Texas abortion law comments, Pfizer defends booster shots, and WhatsApp's privacy messaging falls short
Also: Steve from 'Blue's Clues' makes emotional return, what American say they need for greater well-being, Sweetgreen's CEO tries to make amends, PR pros' willingness to travel in 2021, and more.
Good morning, communicators:
The return to the workplace is proving a much more difficult challenge than the overnight shift to remote operations in March of 2020.
In part, complications from the Delta variant are making it difficult to manage the return to the workplace, but that's not the only roadblock according to leaders at some of Silicon Valley's top businesses.
"I thought this period of remote work would be the most challenging year-and-half of my career, but it's not," said Brent Hyder, the chief people officer for business software maker Salesforce and its roughly 65,000 employees worldwide. "Getting everything started back up the way it needs to be is proving to be even more difficult."
The uncertainty continues for many organizations and the role of communicators will continue to play a crucial role as organizations chart their way to the future of work. Make sure to join us for Communications Week Nov. 15-19 as we discuss the transformation of the comms role and the future of the workplace.
Here are today's top stories:
Tripwire CEO ousted over comments on Texas abortion law
The video game studio behind titles like "Maneater" and "Chivalry 2" was quick to distance itself from CEO John Gibson after he tweeted on Sept. 4 that he was "proud" of the U.S. Supreme Court for allowing a Texas law that bans abortions at six weeks and lets private citizens sue anyone they believe is aiding a woman to seek a procedure now deemed illegal by the state.
"The comments given by John Gibson are of his own opinion and do not reflect those of Tripwire Interactive as a company," the developer said in a statement. "His comments disregarded the values of our whole team, our partners, and much of our broader community. Our leadership team at Tripwire are deeply sorry and are unified in our commitment to take swift action and to foster a more positive environment."
The move comes after a major partner for the studio, Shipwright Studios, cut ties with the company over Gibson's comments.
Ars Technica continued:
"While your politics are your own, the moment you make them a matter of public discourse, you entangle all of those working for and with you," the studio replied to Gibson in a tweeted statement. "We cannot in good conscience continue to work with Tripwire under the current leadership structure." Shipwright has not commented on whether its relationship with Tripwire may change after the shakeup, though the contractor did retweet Tripwire's announcement regarding Gibson.
What it means: While experts now exhort companies and their leaders to take a stand on political issues that align with their core values, the consequences facing Tripwire illuminate how a poorly conceived or off-the-cuff political opinion can cause real damage for your company.
Make sure that all leaders understand and follow clear guidelines on expressing political opinions on social media and consider that a CEO speaks for a whole company, not just themselves alone. When Gibson tweeted his support for the controversial law in Texas, he failed to consider how employees and partners might feel about the stance, leading the company to take quick action to remove him.
---
SOCIAL BUZZ
Nick Jr., the channel which aired the popular children's program "Blue's Clues," brought back the original host Steve Burns almost two decades after his departure from the show in 2002. Steve introduced his brother, Joe, to host the show and left the program, which ran for another four years.
The abrupt departure led to conspiracy theories about Steve online as viewers tried to grapple with why a constant in their lives had suddenly vanished. Now, Steve is back with a video message for all his old friends as part of an effort to mark the 25th anniversary of the show:
So about that time Steve went off to college… #BluesClues25 pic.twitter.com/O8NOM2eRjy

— Nick Jr. (@nickjr) September 7, 2021
The video had an emotional impact on viewers:
far too old to be sobbing over blues clues and yet…here i am pic.twitter.com/Bw0jeNiSx5

— 💫Kiara💫 (@kiaraspeaks) September 7, 2021
This made me really emotional.

Blues Clues was such a big part of my childhood so every time I see Steve I kinda breakdown a little bit. 🥲💙#BluesClues25 https://t.co/xRkM84kcIt

— rayyy lmao (@RayNarvaezJr) September 7, 2021
Needed this 🙏🏾 https://t.co/Pdc1netv2D

— Kevin Durant (@KDTrey5) September 8, 2021
The video is a reminder of how uplifting and kind messages are resonating with audiences after a tough couple of years. Communicators who can find ways to make audiences feel seen and appreciated are more likely to find engagement and pull those heartstrings to build important relationships.
---
MEASURED THOUGHTS
Affordable health care/insurance tops the list of American's concerns when it comes to their well-being. Wellness has become an increasingly important topic for employers as they try to differentiate themselves and recruit top talent in a red hot labor market.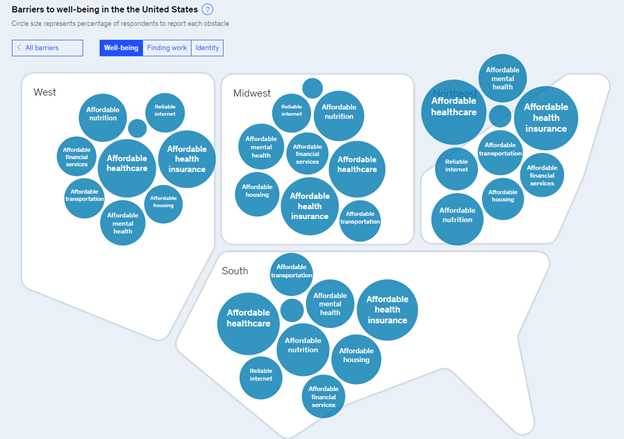 The interactive chart from McKinsey offers a look at the top concerns facing U.S. consumers and workers, and tries to pinpoint the barriers to finding work as many organizations face a labor shortage.
The numbers reveal the importance for employers to take a close look at benefits offerings and effectively communicate why their packages will be sufficient for potential employees and current workers. With trust at all-time lows, audiences must be convinced that you are doing enough to care for their needs.
Pfizer defends COVID-19 vaccine dosing regimen with scientific expert
The company rolled out its chief scientific officer Philip Dormitzer to answer questions about how the company was implementing vaccines as plans for a third shot have now been announced to combat waning immunity and the rise of the Delta variant.
"Our job is to create the tool that's going to be needed for the problem that's coming," he said. "If we waited until there was just widespread breakthroughs of severe disease to advance a solution, we would be way too late." "Being very proactive and making sure that the solution is in place ahead of a crisis is important — I think it's the right thing to do," he said, adding that "the decision to deploy the solutions" was one for policymakers, not Pfizer.
The response comes as many world health leaders have criticized the company for pushing a third booster shot of its vaccine with some saying there is no data to support the need for an extra shot. Some critics are concerned that a third shot for developed countries could mean that there are longer wait times for vaccine doses to reach less privileged nations where the virus continues to rampage unchecked.
The Financial Times continued:
Pascal Soriot, AstraZeneca's chief executive, warned on Wednesday that booster jabs may not be needed for everyone and urged the UK government to wait until new data showed a clearer picture. Writing in The Telegraph, Soriot said it was important to understand how long the initial two doses last, and protect the National Health Service from a potential "unnecessary burden."
What you should know: For communicators, the incident is a clear reminder to take care in choosing your spokesperson in a crisis. A subject matter expert can offer credibility and detail in responding to tough questions, while a chief executive might color your response with the undercurrent of financial motives for your company.
Make sure to offer as much transparency about your decision-making process as possible, and consider how in today's climate, everything will become public knowledge eventually.
---
CRISIS COMMUNICATIONS
Sweetgreen's CEO Jonathan Neman is trying to clean up his comments about masks and vaccines that resulted in reputational damage for him and his salad restaurant chain. He posted on LinkedIn—the same platform where his original comments were shared.
The response to the post was mixed, with some commenters finding the message sufficient and others poking holes in Neman's claims about trying to offer a greater good when his restaurants are mainly trying to serve expensive salads to affluent diners.
The incident is an example of the risks behind ESG and social purpose messaging when a company claims it is trying to solve a social problem—but in reality is more focused on profits. Consumers won't fault you for trying to make money, or for having deeply-held core values that inform your brand vision. But don't coopt the language of nonprofits and NGOs when you're really just trying to make a buck.
WhatsApp's privacy claims get a closer look
The chat service from Facebook claims that users have total privacy with end-to-end encryption ensuring that no one ever reads the messages: "No one outside of this chat, not even WhatsApp, can read or listen to them."
However, reporting from ProPublica says that claim isn't quite accurate.
WhatsApp has more than 1,000 contract workers filling floors of office buildings in Austin, Texas, Dublin and Singapore, where they examine millions of pieces of users' content. Seated at computers in pods organized by work assignments, these hourly workers use special Facebook software to sift through streams of private messages, images and videos that have been reported by WhatsApp users as improper and then screened by the company's artificial intelligence systems. These contractors pass judgment on whatever flashes on their screen — claims of everything from fraud or spam to child porn and potential terrorist plotting — typically in less than a minute.
What you should know: The incident is another example of how overpromising when it comes to user privacy can backfire. Similarly, Proton Mail had to walk back claims it made about user privacy after turning over a user's IP address to authorities in Europe.
For communicators, messaging about user privacy and the limits of anonymity continue to be crucial concerns. If your organization gets it wrong, or appears to mislead the public, you can expect a big story from media outlets looking to find readers among a privacy-obsessed national audience.
---
WHAT YOU SAID
Will you be traveling for work this year? Of the handful of responses, many said they are.
POLL: Will you be traveling for work this year? Next year? Tell us what you are thinking with our hashtag #DailyScoop

— PR Daily (@PRDaily) September 7, 2021
---
SOUNDING BOARD
Do you feel like you have a good understanding of your organization's privacy policy? Do you plan to overhaul your message about privacy and user data this year?
Share your thoughts with us with our hashtag #DailyScoop.
Do you feel like you have a good understanding of your organization's privacy policy and messaging? Do you plan to overhaul your message about privacy and user data this year?

Tweet us with our hashtag #DailyScoop.

— PR Daily (@PRDaily) September 8, 2021
COMMENT