Twitch removes Hispanic Heritage Month emoticons, YouTube 'Shorts' to compete with TikTok, and McDonald's offers 'spicesurance' and free McNuggets
Also: How PR and marketing pros are responsible for fighting disinformation, Red Lobster, PepsiCo and Taco Bell offer signature drinks, Airbnb turns to the Fresh Prince, and more.
Hello, communicators:
Airbnb is offering a few lucky consumers the chance to stay in the "Fresh Prince of Bel-Air's" mansion, hosted by Will Smith:
hey…who turned on the lights?

will smith is opening the doors to the iconic fresh prince mansion for a limited time—only on airbnb. https://t.co/EvTee1U7oc pic.twitter.com/Wm2c6J5Hve

— Airbnb (@Airbnb) September 14, 2020
In the listing, Smith wriote:
Ready for the freshest staycation ever? If this place looks familiar that's because it's just as fly as it was when I first rolled up the driveway. I'm back. And this time, I'm handing you the keys so you'll have my wing of the mansion all to yourself – but my sneaker collection is off limits, aight?

… It's your crib for the night, so feel free to act like you own the place. My wing of the mansion includes my bedroom (great for naps), a full bathroom (great for spitting bars in the shower), pool area (great for dips), an outdoor lounge, and the dining room (great for eating obviously). And you gotta do it like my guy DJ Jazzy Jeff so don't forget your sunglasses!
The bookings open on Sept. 29 and the nights—available for Oct. 2, 5, 8, 11 and 14—can accommodate up to two people each.
The stunt is a clever move to nab media coverage and build buzz to both the show's upcoming reboot as well as Airbnb, which has been struggling during COVID-19.
Here are today's top stories: 
Twitch removes Hispanic Heritage Month 'emotes' after backlash
On Tuesday, the streaming platform announced it was highlighting Hispanic and Latinx streamers to celebrate Hispanic Heritage Month, including the Latinx in Gaming organization's virtual summit, Unidos Online.
The announcement was quickly overshadowed, however, when Twitch also announced three new "emotes," featuring a sombrero, maracas and a guitar. Backlash was swift:
What in the fresh hell is this? pic.twitter.com/IjFSN9gHod

— Oraymw – 🧠♿ – 💖💜💙 (@oraymw) September 15, 2020
I would just like to say @Twitch this is crusty. This is not the way to support and uplift your hispanic and latinx creators with mexican stereotypes.

Just saying. pic.twitter.com/yf2vN1KRdn

— 🧜🏼‍♀️ mermaid queen 🧜🏼‍♀️ (@MerQueenJude) September 15, 2020
Twitch tweeted a mea culpa and removed the symbols, but social media users are still complaining about the tone-deaf move:
We launched these emote modifiers today as part of our celebration of Hispanic Heritage Month but we clearly missed the mark, and we apologize. These were not an appropriate representation of Hispanic and LatinX culture, and we've removed them.

— Twitch (@Twitch) September 15, 2020
Why it's important: When seeking to celebrate a culture's heritage or support a community, look first to existing voices you can amplify. Then, enlist a diverse team within your organization to give you feedback on any messages or visuals you create. One insensitive move can ruin your entire effort and tarnish your reputation instead of strengthening it, so do your research before going live.
---
TACTICALLY SPEAKING
McDonald's is running a buy-one-get-one free promotion to tout the launch of its Spicy Chicken McNuggets. The deal, which the fast food chain as dubbed "Spicesurance," is only available today and when ordering through its app.
The Spicesurance offer comes with a lot of fine print—nearly 9,000 words of it, and it's different from the terms and conditions of most offers.

… The terms come with a 40-minute long video of Anthony "Spice" Adams, actor, comedian and former NFL defensive tackle, reading the document line by line.
McDonald's gave its Twitter followers a taste of its Spicesurance document with the following tweet thread:
2/ too much? too little? no matter how you feel about an extra kick we got you with Spicesurance

basically, you get Chicken McNuggets (6pc spicy or classic) as insurance for swimming out to spicier waters

ᴏɴʟʏ ᴏɴ 9/16 ɪɴ ᴏᴜʀ Aᴘᴘ

— McDonald's (@McDonalds) September 15, 2020
4/yeah…
…
…
…
…
…it's a lot. but here's some of the fun ones

— McDonald's (@McDonalds) September 15, 2020
6/ you may be referred to as one of the following
take it away, @spiceadams pic.twitter.com/hIHuicPFUS

— McDonald's (@McDonalds) September 15, 2020
8/ how to react to Spicy Chicken McNuggets?

the spiceseeker reserves the right to express their reaction however they choose. including, but not limited to: yips, whoops, slow clapping, fast clapping, middle-velocity clapping, lookin to a friend like 😮

but you tell us 👇

— McDonald's (@McDonalds) September 15, 2020
10/ by 👏 redeeming 👏 Spicesurance, 👏 the 👏 buyer 👏 grants 👏 me 👏 bragging 👏 rights 👏 for 👏 getting 👏 you 👏 to 👏 try 👏 Spicy Chicken McNuggets 👏

— McDonald's (@McDonalds) September 15, 2020
12/ EXPORT LAW CONTROL: aka sharing your Spicy Chicken McNuggets on social if you have the overpowering urge to

video footage is permitted in these acceptable formats: .mpeg, .mov, .wmv, .qt (cutie), .flv (flavor), .swf, .264, .265, .avi, ."AAAAY"vi

— McDonald's (@McDonalds) September 15, 2020
14/ preferred dipping sauce w/ your Spicy Chicken McNuggets is a non-issue select the one that applies best ✅

— McDonald's (@McDonalds) September 15, 2020
14/ preferred dipping sauce w/ your Spicy Chicken McNuggets is a non-issue select the one that applies best ✅

— McDonald's (@McDonalds) September 15, 2020
15/ NON-NON DISCLOSURE CLAUSE: you can tell ANYONE about Spicesurance. and if you reply with your glowing review of Spicy Chicken McNuggets right here you get Spicesurance for one day

…on 9/16

— McDonald's (@McDonalds) September 15, 2020
What do you think of the effort? Share your thoughts with us under the hashtag #DailyScoop.
---
MEASURED THOUGHTS
The Institute for Public Relations recently released its 2020 Disinformation in Society Report, in which 84% of the participants surveyed said they believe fake news and disinformation is a problem in the United States: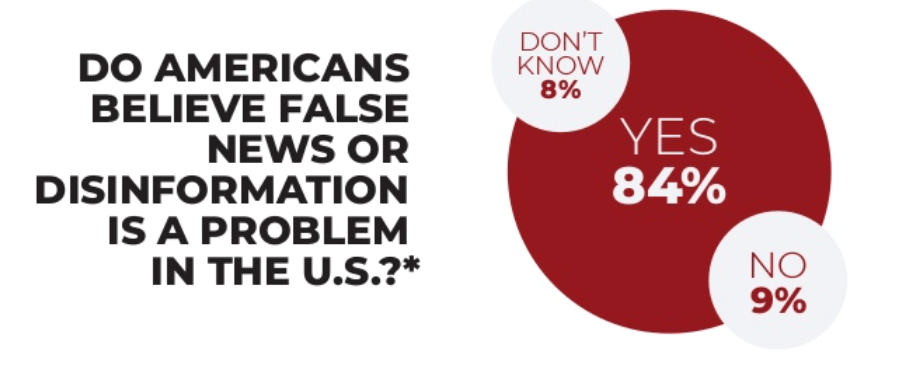 Image courtesy of Institute for Public Relations.
When it comes to who should be responsible for combating misinformation, 54% of people said PR pros should step up to the plate, and 57% said marketers and advertisers shoulder responsibility. That's not a far jump from the 61% giving the responsibility to journalists: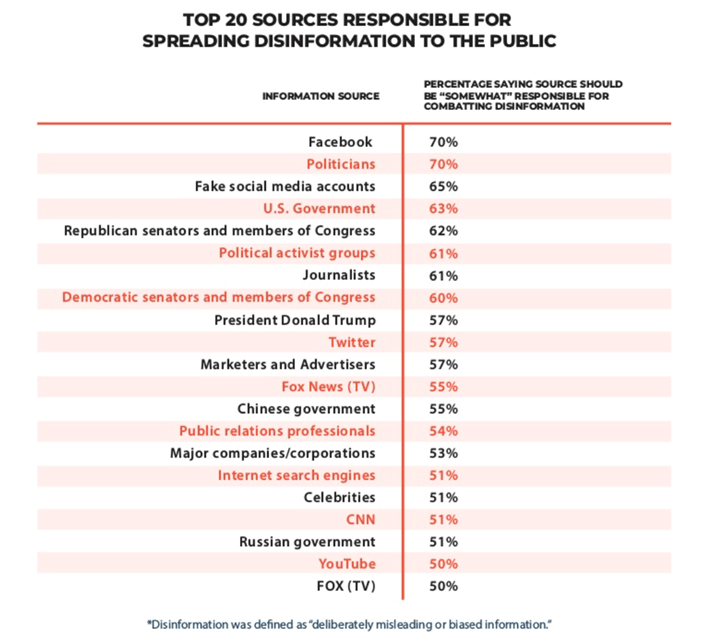 Image courtesy of Institute for Public Relations. 
You can read the entire report here.
---
CRISIS LEADERSHIP NETWORK
Looking for more insight on how to address the current global crisis and lead your organization into a strong recovery?
Join Ragan's Crisis Leadership Network to network and brainstorm with peers, get the latest intelligence and research and start to strategize for the future of your organization.
Learn more about this exclusive membership here. 
YouTube to launch 'Shorts' to compete with TikTok
The social media platform announced that it's building a "short-form video experience" that will enable content creators and artists to shoot and publish 15-second clips from their smartphones. Similar to TikTok, the tool will carry features including a multi-segment camera, to string together multiple clips, as well as a library of songs, speed controls and a timer for hands-free recordings.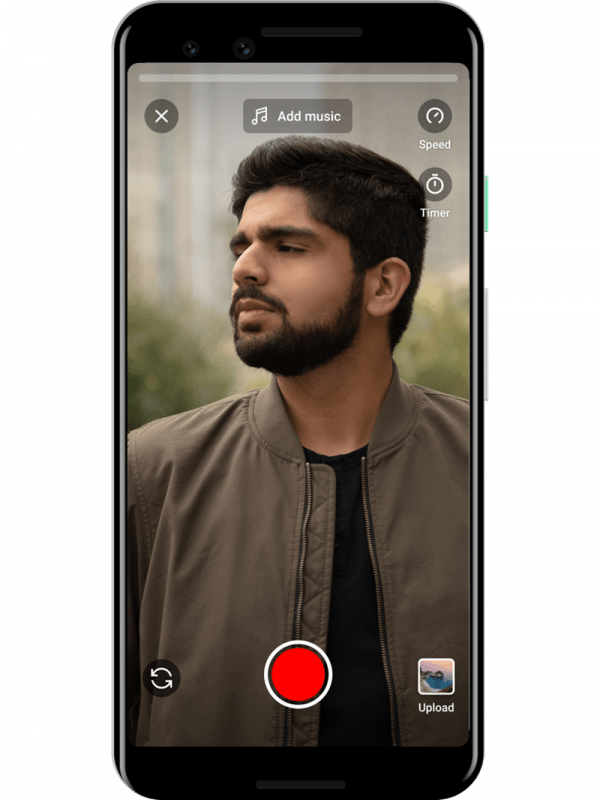 In a blog post, YouTube's vice president of product management, Chris Jaffe, wrote:
User-generated short videos were born on YouTube starting with our first upload, a short 18-second video called "Me at the zoo." As technology advances, creators and artists can now take advantage of the incredible power of smartphones to easily create and publish high-quality content wherever they are in the world. And people can be entertained and informed by bite-sized content in the spare minutes of the day.
The feature is being tested in India, with more countries to be added in the coming months.
Why it's important: Bite-size content is all the rage, and social media platforms are scrambling to capitalize on the trend. YouTube's move is especially timely, as TikTok's future in the U.S. is still uncertain. India has already banned the Chinese-owned social media app, so starting there could provide a plentiful user base to further build features.
---
TAKE OUR POP QUIZ
Embracing inclusive language is at the heart of effective diversity and inclusion efforts, but do you have blind spots when it comes to which words and phrases you should or shouldn't include?
Test your inclusive language knowledge in Ragan's D&I Pop Quiz. Sponsored by Yammer and Workplace from Facebook, your answers to this quick five-question test might surprise you.
As thanks for taking it, you'll get $100 off registration to The Communicator's Role in Diversity, Equity & Inclusion virtual conference, Sept. 17-18. Results will be shared at the event, and your answers will be confidential and anonymized.
---
TACTICALLY SPEAKING  
PepsiCo and Red Lobster are teaming up to introduce a margarita from Mountain Dew, aptly named the "Dew Garita":
It's big. It's green. And it tastes even more incredible than it looks! Introducing the NEW! DEW Garita💚👅 @MountainDew Get yours today*, along with all of your favorite PepsiCo drinks! #RedLobsterDewGarita * May not be immediately available in all restaurants. pic.twitter.com/SByIIxufg8

— Red Lobster (@redlobster) September 15, 2020
We are ready to shake things up with our new buds at @redlobster! BTW, still dreaming about our last Cheddar Bay Biscuit 🤤 #RedLobsterDewGarita pic.twitter.com/yW67YbKZGS

— Mountain Dew® (@MountainDew) September 15, 2020
The cocktail has the look of the soft drink and is Mountain Dew's "take on a margarita" and includes the citrus-flavored soda, tequila and a "few other special ingredients," officials shared with USA TODAY.
The concoction is set to launch in Red Lobster locations in the U.S. by the end of the year. It's also not the only specialized drink aimed to tempt consumers.
Starting today, Taco Bell Canada is also offering a limited-edition wine through its website and via Uber Eats, called "Jalapeño Noir." The fast food chain suggested pairing the vino with its Toasted Cheesy Chalupa:
The luxurious Toasted Cheesy Chalupa's about to meet its bougie best bud. Bonjour, Jalapeño Noir. Available 09/16/2020 on https://t.co/qogDEKPnL8. #WineAndToastedCheesy pic.twitter.com/Vq5JV7MYIA

— Taco Bell Canada (@TacoBellCanada) September 14, 2020
In a press release Kat Garcia, Taco Bell's director of brand marketing, said:
Wine and cheese are simply meant to be together, so launching a new wine to go with the craveable, cheddary Toasted Cheesy Chalupa made perfect sense. At Taco Bell Canada, we love to raise our glass to big, bold ideas that elevate our menu items, and pairing our Toasted Cheesy Chalupa with this Jalapeño Noir is no exception.
---
SOUNDING BOARD
Communicators, what's your drink of choice when powering through crisis response and Zoom meetings?
What's your drink of choice when powering through crisis response and Zoom meetings?

Share with us what's in your cup or mug, and we'll share in tomorrow's #DailyScoop.

— PR Daily (@PRDaily) September 16, 2020
Share with us what's in your cup below and under the hashtag #DailyScoop. Is there a question you'd like us to ask in an upcoming poll? Let us know!
COMMENT