Twitter and Facebook flag Trump's election posts, Burger King UK implores consumers to buy McDonald's, and MeUndies apologizes for 'Harry Potter' collection
Also: Disney's 'The Mandalorian' applauded for an inclusive hire, Hasbro debuts 'Grown Up' Play-doh, many organizations are still bracing for layoffs, and more.
Hello, communicators:
Burger King U.K. is encouraging consumers to buy from its competitor McDonald's:
We know, we never thought we'd be saying this either. pic.twitter.com/cVRMSLSDq6

— Burger King (@BurgerKingUK) November 2, 2020
The move has already amassed headlines for its surprising and friendly approach to COVID-19 marketing. However, the United States' PR and marketing team for the fast food chain is continuing to take a snarkier approach.
While Burger King UK is appealing to a sense of solidarity with the wider food industry, the company's North America operation has taken a more confrontational approach to promotion.

The burger chain offered a free Whopper to customers who drive by one of the "the scariest places on earth" — five shuttered restaurants once operated by rivals McDonald's (MCD), Wendy's, Sonic or Jack in the Box.
What do you think of the message? Share your thoughts with us under the #DailyScoop hashtag.
Here are today's top stories:
Twitter and Facebook flag Trump's election posts
As the United States braces for the results of its 2020 presidential election, Twitter hid a tweet from President Donald Trump claiming presidential candidate Joe Biden was "trying to steal the election":
We are up BIG, but they are trying to STEAL the Election. We will never let them do it. Votes cannot be cast after the Polls are closed!

— Donald J. Trump (@realDonaldTrump) November 4, 2020
Here's what the tweet looks like in users' timelines, which requires people to click to view his message: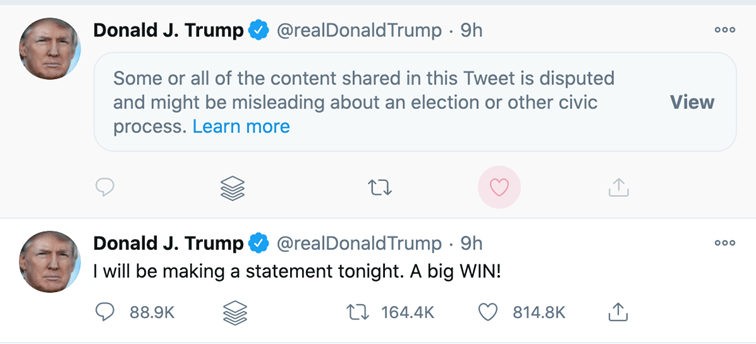 Twitter also added a warning underneath Trump's tweet, directing users to U.S. 2020 election security efforts.
Facebook also added a warning label to Trump's post on Facebook that carried the same message, but stopped short of removing it or restricting the post's reach.
Facebook added a label to the same post, which had about 18,000 shares, that said "final results may be different from initial vote counts as ballot counting will continue for days or weeks."

A spokeswoman for Facebook said it was not restricting the reach or sharing of labeled content. She also said it would not flag premature claims of state wins, only of the final result of the presidential race.
Why it's important: With states including Wisconsin, Pennsylvania, Georgia, North Carolina and Michigan still counting ballots, election officials have warned that results won't be revealed until as late as Friday. That leaves social media platforms on the hook for misinformation, but it's not only their responsibility. Communicators can use this opportunity to share best practices for savvy information and news consumption with their employees and customers, as the nation waits with bated breath for the official results.
---
TACTICALLY SPEAKING
Student and disability rights activist Helena Lovier tweeted that the team from Disney's "The Mandalorian" hired Troy Kotsur, a deaf actor, as both a character and to create Tusken Sign Language:
For @themandalorian, they hired an actual Deaf actor to play one of the Tusken raiders and help create Tusken Sign Language. 😍

They did this bc a hearing person who knew ASL suggested it.

It's our responsibility, when we're in the room, to look around and see who's missing. pic.twitter.com/UwzLi9x9cp

— Helena (she/her) (@helenalovier) October 31, 2020
Kotsur, who was featured in a recent interview from The Daily Moth, tweeted a behind-the-scenes peek at his efforts:
Developing new sign languages for Manadolorian's third seasons pic.twitter.com/8NPThkEqTF

— Troy Kotsur (@TroyKotsur) October 26, 2020
Though "The Mandalorian's" official Twitter account didn't yet share the story, the news is racking up kudos as it makes the rounds online. The Disney show has been focusing on inclusivity, however, and included several posters leading up to its season premiere that spelled out, "This is the way" in several languages:
我らの道 (art by @souuntakeda)
Das ist der Weg (art by @SG_Posters)
(3/4) pic.twitter.com/1pQ3CKRTza

— The Mandalorian (@themandalorian) October 29, 2020
Telle est la voie (art by @S2lart)
Este Es El Camino (art by @alexandraespa)
(2/4) pic.twitter.com/yzB4Zx86Mc

— The Mandalorian (@themandalorian) October 29, 2020
You can let Lovier's words inspire your diversity, equity and inclusion efforts: "It's our responsibility, when we're in the room, to look around to see who's missing."
---
MEASURED THOUGHTS
USA Today reported that more layoffs and realignments are in store for the remaining two months of 2020, according to a study by The Conference Board titled, "Adapting to the Reimagine Workplace: Human Captial Responses to the COVID-19 Pandemic."
The report revealed that 57% of companies surveyed have restricted or are continuing to restrict hiring to critical roles, while 31% have deferred or are deferring promotions and salary increases: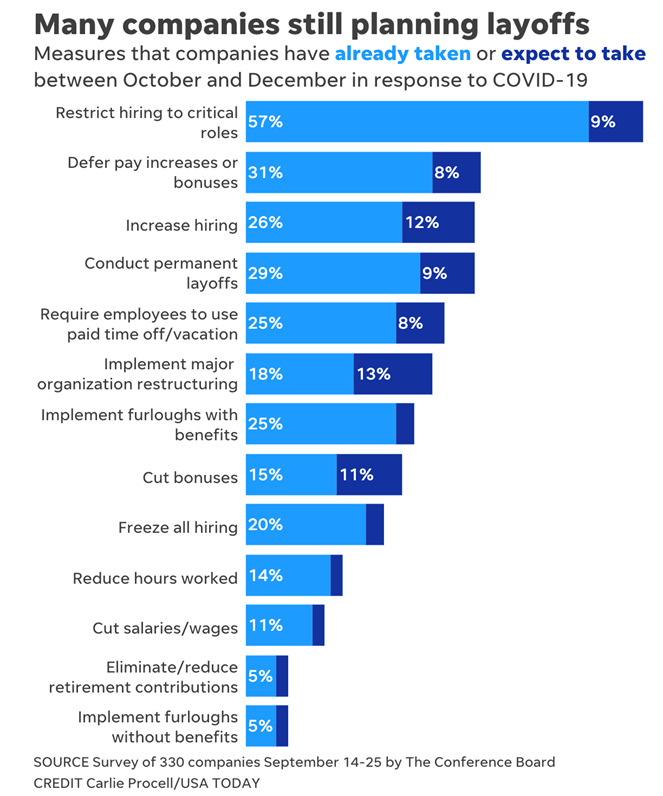 Aside from business realignments, changes with the workforce landscape will continue after COVID-19.
The report also revealed that 34% of companies expect at least 40% of their workforce to remain remote one year following COVID-19 subsiding, with 26% of organizations reporting at least 20% of their employees will continue to work remotely: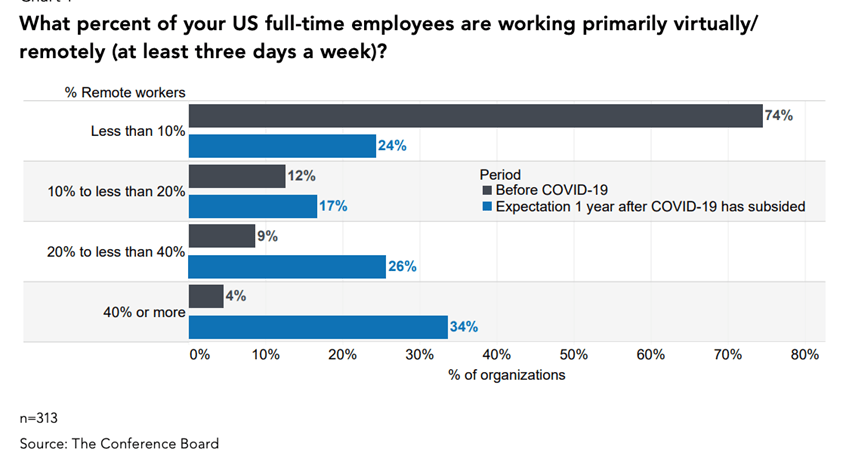 Image courtesy of The Conference Board.
You can read the entire report here.
---
CRISIS LEADERSHIP NETWORK
Looking for more insight on how to address the current global crisis and lead your organization into a strong recovery?
Join Ragan's Crisis Leadership Network to network and brainstorm with peers, get the latest intelligence and research and start to strategize for the future of your organization.
Learn more about this exclusive membership here.
---
TACTICALLY SPEAKING
Hasbro is looking to appeal to adult consumers' playful side with a new line of scented Play-Doh called "Grown Up Scents." The six-pack carries five new scents:
Call us scent o' mental, but parenting has never smelled better. See (well…smell) for yourself! #NotYourKidsPlayDoh. What's your favorite?! Now exclusively available on Amazon: https://amzn.to/3jAf4kw

Posted by Play-Doh on Tuesday, October 27, 2020
"Overpriced Latte" smells like coffee, "Mom Jeans" like "clean denim," "Grill King" smells like smoked meats, "Dad Sneakers" like rubber, "Spa Day" has a floral scent, and "Lord of the Lawn" smells like fresh-cut grass. Not sure a meat-scented Play-Doh was ever going to smell good no matter what chemicals were thrown into the mix, but hey, it might make a fun gag gift for someone who never quite outgrew the fun of squishing clay around.
If you're looking for a way to stand out from the crowd and appeal to consumers, consider ways you can embrace nostalgia, which is a growing marketing trend that continues to see success.
---
CRISIS COMMUNICATIONS
MeUndies is facing backlash over its "Harry Potter" collection, with consumers angry over the partnership after the series' author, J.K. Rowling, was slammed for transphobic tweets earlier this year.
The company said the line was based on 2018 consumer research, and the collaboration was meant to be its "biggest release of 2020," announcing that "pulling this collection would have been devastating to [the] company and had significant implications for the future."
Many critics see the new line as contradictory to MeUndies' position on gender identity equality. Up to this point, the brand has strategically focused on building a brand based around inclusivity and diversity, filling ads with same-sex couples and launching Pride activations and Pride-themed underwear lines. MeUndies also donates to several organizations that support the trans community like the Happy Hippie Foundation and It Gets Better Project.
MeUndies issued an apology and FAQ on Instagram, announcing it had "already set up an internal diversity and equity board to not only help vet potential partners moving borward, but to help educate [its] internal team on how [it can] do better at practicing [its] values":
https://www.instagram.com/p/CG_aVifnYN6/?igshid=17nu2rbwh7jzy
---
EDITOR'S PICKS
Though the CDC recommends adults get at least seven hours of sleep nightly, many communicators are burning the candle at both ends to meet deadlines and overhaul both campaigns and business contingency plans as uncertainty and crises continue. Though there is no substitute for sleep, there are several products that can help remove stress and get you into the right frame of mind to snooze as much as you can.
Consider these options:
---
CATCH UP WITH OUR REPORT
 More than half (57%) of social media managers say they plan to leave their current position within two years, according to a new survey from the Institute for Public Relations, Ragan Communications and the University of Florida. Though these managers are ambitious, the career path to social media leadership roles remains unclear.
The report sheds light on social media pros' career trajectory as well as the challenging lack of resources and employee burnout that's on the rise. Check out the findings here.
To learn more about how to prepare for the future of social media and more, join us at Ragan's Future of Communications Conference, Nov. 10-11.  You'll learn from PR, social media, marketing and internal communications experts about the top trends and what's on the horizon for the industry.
---
WHAT YOU SAID
We asked if your organization shared messages about the U.S. presidential election leading up to Nov. 3,  and more than 68% of you said you encouraged voting, while roughly 27% remained silent. Nearly 5% of you went further, however, and shared messages about related issues:
Is your organization sharing content and messages in relation to the U.S. presidential election?

Share your thoughts and efforts with us below, and we'll share in Wednesday's #DailyScoop.

— PR Daily (@PRDaily) November 2, 2020
Is there a question you'd like us to ask in an upcoming poll? Let us know!
---
SOUNDING BOARD
What do you see as the future of communications?
Fill in the blank: The future of communications is: ______________________________.

Share your thoughts with us below, and we'll feature top answers in tomorrow's #DailyScoop. pic.twitter.com/N78vFLDnUa

— PR Daily (@PRDaily) November 4, 2020
Share your thoughts with us below and under the hashtag #DailyScoop, and we'll share the results in Wednesday's roundup.
Editor's note: Ragan Communications may earn a commission through our affiliate partnerships when purchasing items in our content.
COMMENT