Twitter and Facebook suspend Trump, top execs respond to US Capitol riots, and Family Video to permanently close
Also: Facebook rolls out new business page features and design, communicators urge PR and marketing pros to pause content during crisis, how PR agencies are shifting service offerings, and more.
Hello, communicators:
People and organizations around the world are reeling after pro-Trump protestors stormed the United States Capitol building on Wednesday in an attempt to block Congress from confirming the appointment of President-elect Joseph Biden. Four people died in the siege.
Biden was eventually appointed after delays and evacuations, and lawmakers' offices were looted and vandalized. As the riots dominate both headlines and social media conversation, several communicators are urging other PR, marketing and social media pros to pause their campaigns.
Here are a few reminders from Josh Stein, social marketing manager for Microsoft's Xbox, and Michelle Garrett, owner of Garrett Public Relations:
Social media managers: Shut down and check your scheduled and organic posts. Nobody needs company memes or marketing materials in their face right now.

— Stein (@steinekin) January 6, 2021
In case you don't get it, #PR people – this is NOT the time for newsjacking.

Just cool it.

— Michelle Garrett (@PRisUs) January 7, 2021
Here are today's top stories:
Twitter, Facebook and Instagram suspend Trump after U.S. Capitol riots
Before announcing a 12-hour ban on the president's account, Twitter removed three of Trump's tweets, including a video in which Trump told rioters to "go home," but also, "We had an election that was stolen from us," and "We love you. You're very special."
Twitter linked to its civic integritiy policy as well as its principles and approach to world leaders on the platform, as it announced that "future violations" could lead to a permanent ban:
This means that the account of @realDonaldTrump will be locked for 12 hours following the removal of these Tweets. If the Tweets are not removed, the account will remain locked.

— Twitter Safety (@TwitterSafety) January 7, 2021
Our public interest policy — which has guided our enforcement action in this area for years — ends where we believe the risk of harm is higher and/or more severe.
https://t.co/ZcbhDEAYjH

— Twitter Safety (@TwitterSafety) January 7, 2021
Facebook also removed Trump's video address, giving the president a 24-hour suspension on both Facebook and Instagram:
Our Response to the Violence in Washington https://t.co/zN50YR8XLR

— Facebook Newsroom (@fbnewsroom) January 7, 2021
We've assessed two policy violations against President Trump's Page which will result in a 24-hour feature block, meaning he will lose the ability to post on the platform during that time.

— Facebook Newsroom (@fbnewsroom) January 7, 2021
Facebook later wrote it would extend the ban for the two weeks leading up to Inauguration Day.
In a news release, Facebook wrote:
We made the decision that on balance these posts contribute to, rather than diminish, the risk of ongoing violence.

Next, we're updating our label on posts across our platforms that attempt to delegitimize the election results. The new text reads: "Joe Biden has been elected President with results that were certified by all 50 states. The US has laws, procedures, and established institutions to ensure the peaceful transfer of power after an election."
Guy Rosen, vice president of integrity for Facebook, tweeted:
This is an emergency situation and we are taking appropriate emergency measures, including removing President Trump's video. We removed it because on balance we believe it contributes to rather than diminishes the risk of ongoing violence.

— Guy Rosen (@guyro) January 6, 2021
Other social media platforms responded, but stopped short of issuing suspension timelines. YouTube removed Trump's video, citing it violated the platform's policies.
"Snapchat also stopped Mr Trump from creating new posts, but did not say if or when it would end the ban," the BBC reported.
Why it's important: Social media platforms have struggled with removing content that violates its safety policies and terms of service, as they grapple with sometimes competing priorities around decreasing harassment and promoting free speech and expression. President Trump has provided an additional stumbling block, but the platforms' responses have become increasingly more aggressive as they seek to curb the spread of violence and hate.
Especially as lawmakers question whether additional regulations are the solution, social media platforms must create and enforce meaningful safety policies in an attempt to become more proactive when it comes to content that misinforms, harasses or encourages violence.
---
TACTICALLY SPEAKING
Family Video is closing its doors after more than 42 years, which includes shuttering its more than 250 locations across the U.S. The closings represent the end for the last video rental chain in operation despite shifting consumer behavior and the rise of streaming services.
In a statement, Family Video's chief executive, Keith Hoogland, wrote:
Surviving 10 years longer than the big 3, Blockbuster, Movie Gallery and Hollywood Video, we were among the few that started with Beta, moved on to VHS and remained a part of the DVD and Blu-Ray Era.

… The impact of COVID-19, not only in foot traffic, but also in the lack of movie releases, pushed us the the end of an era.
---
MEASURED THOUGHTS
In its "Agency Pricing and Packaging Report," Sprout Social reported that 50% of agencies surveyed describe themselves as full-service, while 25% focus on digital marketing strategies and 10% highlight their social-first strategies.
However, 60% of agencies have adjusted business goals because of COVID-19, and with 47% reporting net revenue loss and 47% shifting target client demographics in response, many are looking for ways they can solidify their importance with the most requested and needed client offerings.
Measuring and showing ROI remains a pain point for 55% of agencies, with the same amount reporting that growing the business is a common obstacle. These can directly affect common pain points with pricing and pitching: Sprout Social reported that 63% of agencies struggle with client budgets and 51% say client expectations are a hurdle to overcome: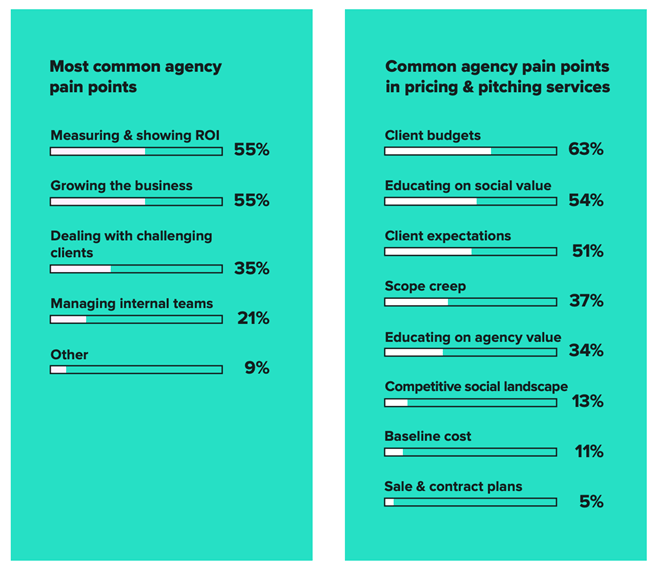 Image courtesy of Sprout Social.
You can read the entire report here.
---
CRISIS LEADERSHIP NETWORK
Looking for more insight on how to address the current global crisis and lead your organization into a strong recovery?
Join Ragan's Crisis Leadership Network to connect and brainstorm with peers, get the latest intelligence and research and start to strategize for the future of your organization.
Learn more about this exclusive membership here.
CEOs at Google, IBM, Ford and more condemn riots
As leaders around the world responded to protestors storming the U.S. Capitol building, several technology leaders, including Reddit's co-founder and one of Twitter's earliest investors, lashed out at social media platforms for their inaction and many venture capitalist leaders condemned rioters' actions.
Many organizations' chief executives rushed to issue statements about the violence as well. Sundar Piichai, chief executive for Google's parent company, Alphabet, condemned protesters' actions in an internal memo.
"Holding free and safe elections and resolving our differences peacefully are foundational to the functioning of democracy," Pichai stated in a note to employees Wednesday. "The lawlessness and violence occurring on Capitol Hill today is the antithesis of democracy and we strongly condemn it."
Arvind Krishna, chairman and chief executive at IBM, along with Chuck Robbins, chairman and chief for Cisco, Jim Farley, chief executive of Ford, condemned the riots with tweets:
IBM condemns today's unprecedented lawlessness and we call for it to end immediately. These actions have no place in our society, and they must stop so our system of democracy can work.

— Arvind Krishna (@ArvindKrishna) January 6, 2021
It's time to recognize the legitimate democratic process, ensure a peaceful transition of power and come back together as one nation.

— Chuck Robbins (@ChuckRobbins) January 6, 2021
The Ford Motor Company condemns the violent and antidemocratic actions today. These were destructive acts against our shared principles and beliefs of a peaceful transition of power. We commit to working together, with respect and empathy, to uphold core American values…

— Jim Farley (@jimfarley98) January 7, 2021
Marc Benioff, chief executive of Salesforce, David Solomon, chairman and chief for Goldman Sachs, and Brian Moynihan, chief executive at Bank of America, issued statements as well, but stopped short of condemning the violence. Instead, they focused on messages of unity:
Our leaders must call for peace and unity now. There is no room for violence in our democracy. May the One who brings peace bring peace to our country. ❤️🇺🇸

— Marc Benioff (@Benioff) January 6, 2021
A statement from our CEO Brian Moynihan pic.twitter.com/UTP6qUJMSK

— Bank of America News (@BofA_News) January 6, 2021
Why it matters: If your chief executive is going to respond to a national or global crisis, time is of the essence. Don't delay making a statement—and ensure that it matches your organization's values, as well as your brand's tone. Otherwise, you can quickly find outrage turned to you.
If your executive or another leader isn't making a short statement, or you're not sharing helpful information in the wake of a crisis, it's best to stay silent. That includes social media posts and marketing emails. Pausing your efforts for a day—or several—can save your communications team a lot of time and resources, as well as your brand's reputation.
---
SOCIAL BUZZ
Facebook is rolling out a redesigned layout to its business pages to make it "simpler for public figures and creators to build community and achieve their business objectives," according to a blog post by Asad Awan, Facebook's head of public connections and monetization.
The biggest change is a dedicated newsfeed, offering Facebook page owners an easier way to "discover and join conversations, follow trends, interact with peers and engage with fans." Awan also announced features that call out actionable insights and task-based admin controls, along with a smoother transition between Facebook pages and your personal profiles. Facebook page "likes" will also be removed, leaving just the number of followers each page has.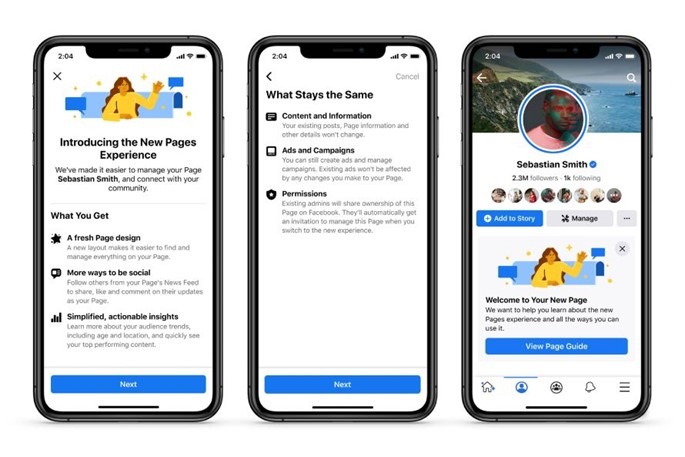 The changes should provide a more streamlined way to integrate Facebook pages into your social media strategy, but remember that much of the platform's branded content requires a "pay to play" model in order to serve your posts to Facebook users who don't follow you. Help to overcome this stumbling block by encouraging customers and employees to follow your Facebook page, including in your email marketing promotions.
---
TAKE OUR SURVEY
We want to know about how PR agencies are building lasting, sustainable relationships with clients, what is working and what is rubbing both parties the wrong way. That's why we're partnering with The Institute for Public Relations on a new survey to learn more about the state of the agency/client relationship.
Please take this 10-minute survey here.
---
WHAT YOU SAID
We asked if your organization is expanding its teams in the first half of the year, and nearly 53% of you said there are some new hires planned, compared with the roughly 41% who aren't planning on adding any new colleagues. Almost 6% said they're preparing for many new team members.
Are you planning to bring on new team members in the first half of 2021? Share your thoughts about how you planning to grow this year with our hashtag #DailyScoop.

— PR Daily (@PRDaily) January 6, 2021
Is there a question you'd like us to ask in an upcoming poll? Let us know! Share your thoughts below or on Twitter using the #DailyScoop hashtag.
---
SOUNDING BOARD
How are you responding to yesterday's riots?
How are you responding to yesterday's riots?

Please weigh in below and share with us how you're protecting your organisation's reputation during this crisis, and we'll share in tomorrow's #DailyScoop.

— PR Daily (@PRDaily) January 7, 2021
Please weigh in below and share with us how you're protecting your organization's reputation during this crisis, and we'll share in tomorrow's #DailyScoop.
COMMENT