Twitter responds to massive security breach, Walmart and Kohl's require masks, and American Airlines might lay off 20,000
Also: Chipotle promises to hire 10,000 workers, Wendy's responds to Twitter hack with characteristic snark, 60% of PR pros are pitching 'feel good' stories during COVID-19, and more.
Hello, communicators:          
American Airlines is preparing to furlough as many as 20,000 employees once its federal stimulus funds run out on Oct. 1.
"We know American will be smaller going forward and we must right-size all aspects of our airline to adjust to that new reality," the airline's chief executive, Doug Parker, and president, Robert Isom, said in a letter to employees. "Although this is a day none of us wanted to see, we have created new, generous programs intended to help offset as many front line furloughs as possible."
Keep your employees in the loop when it comes to potential layoffs and the state of your business, but also help them prepare in advance through skills training where possible.
Here are today's top stories:
Twitter responds to massive security hack
The social media platform was sent scrambling after the accounts of several celebrities, politicians, tech executives and organizations were compromised in a security breach. The verified Twitter accounts for Kim Kardashian West, Kanye West, Bill Gates, Jeff Bezos, Elon Musk and more tweeted requests for users to send money to a Bitcoin address, promising to double the amounts and send them back to users.
Twitter responded with a thread that explained hackers had "successfully targeted some of [its] employees with access to internal systems and tools." The company locked down the affected accounts and temporarily blocked other verified accounts from sending tweets while it addressed the security breach.
We detected what we believe to be a coordinated social engineering attack by people who successfully targeted some of our employees with access to internal systems and tools.

— Twitter Support (@TwitterSupport) July 16, 2020
Once we became aware of the incident, we immediately locked down the affected accounts and removed Tweets posted by the attackers.

— Twitter Support (@TwitterSupport) July 16, 2020
This was disruptive, but it was an important step to reduce risk. Most functionality has been restored but we may take further actions and will update you if we do.

— Twitter Support (@TwitterSupport) July 16, 2020
Internally, we've taken significant steps to limit access to internal systems and tools while our investigation is ongoing. More updates to come as our investigation continues.

— Twitter Support (@TwitterSupport) July 16, 2020
Twitter's chief executive, Jack Dorsey, said it was a "tough day" for the company's staff:
Tough day for us at Twitter. We all feel terrible this happened.

We're diagnosing and will share everything we can when we have a more complete understanding of exactly what happened.

💙 to our teammates working hard to make this right.

— jack (@jack) July 16, 2020
Why it's important: You don't have to work at Twitter for  cybersecurity to be an important concern. Especially as many employees work from home and organizations shift their offerings to the virtual and e-commerce spaces, ensure your team is practicing cybersecurity best practices and is prepared in the event of a data breach or hacking.
---
TACTICALLY SPEAKING  
Chipotle has committed to hiring 10,000 employees as it ramps up "Chipotlanes," or new locations with drive-thrus meant to serve only orders placed online.
Oh wait you can

— Chipotle (@ChipotleTweets) July 15, 2020
Find your nearest Chipotlane here: https://t.co/NkxC36oD7R

— Chipotle (@ChipotleTweets) July 15, 2020
In May, the company kicked off a campaign to drive hiring, resulting in about 8,000 new employees to date. Chipotle said that it has received close to 700,000 job applications this year. It now has more than 85,000 workers nationwide.

… "Our Chipotlanes, out of the gate, are 5% to 10% higher than a traditional new restaurant opening, and some as high as 30%," said Scott Boatwright, chief restaurant officer of Chipotle.
Consider how your organization can embrace virtual offerings, digital ordering or e-commerce as COVID-19 continues.
---
MEASURED THOUGHTS 
BuzzStream and Fractl's study of media relations efforts during COVID-19 revealed that four of the top five pitching tactics were related to the virus, including using "COVID-19" in subject lines (63%), relating the pandemic to client offerings (57%), creating content relevant to the pandemic (57%) and sharing business innovations to alleviate COVID-19 affects (50%).
Sixty percent of PR pros surveyed said they're pitching "feel good stories" during COVID-19, another top tactic to grab media coverage, with 85% reporting they used this tactic or the subject line plug to capture reporters' attention.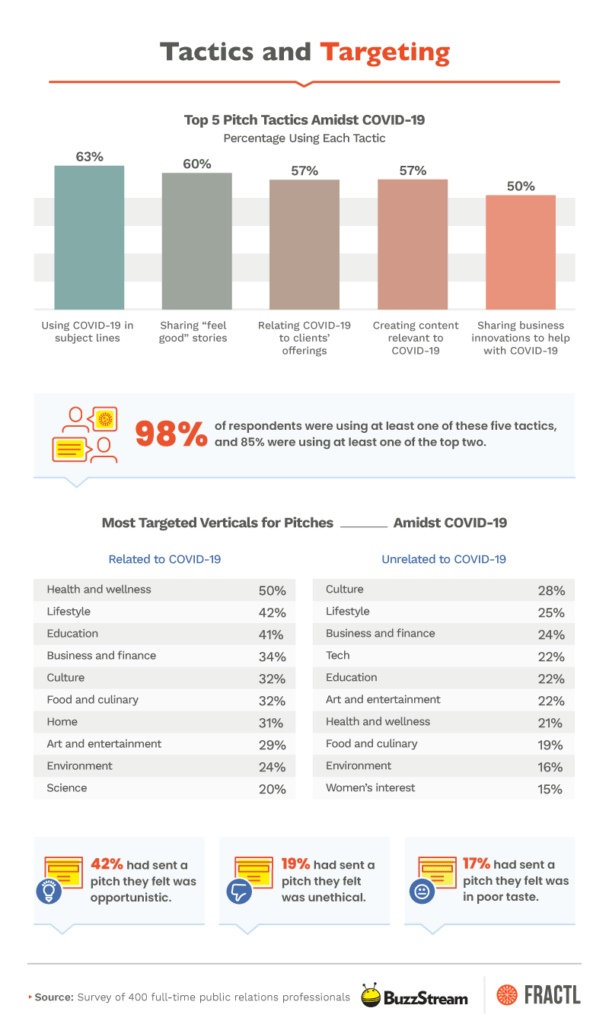 You can view the entire study here.
---
CRISIS LEADERSHIP BOARD
Looking for more insight on how to address the current global crisis and lead your organization into a strong recovery?
Join Ragan's Crisis Leadership Board to network and brainstorm with peers, get the latest intelligence and research, and start to strategize for the future of your organization.
Learn more about this exclusive membership here.
Walmart, Kohls and more require masks
Several retail chains have announced that starting July 20, both consumers and employees must wear masks.
Walmart tweeted its announcement:
To best serve our communities and protect the health and safety of our shoppers and associates, face coverings will be required in all stores beginning Monday, July 20. For more on our decision and policy, please see here: https://t.co/r2ijRqslNP pic.twitter.com/pKYQCzk48l

— Walmart (@Walmart) July 15, 2020
In its newsroom, Walmart wrote:
In addition to posting clear signage at the front of our stores, Walmart has created the role of Health Ambassador and will station them near the entrance to remind those without a mask of our new requirements. Our ambassadors will receive special training to help make the process as smooth as possible for customers. The ambassadors, identifiable by their black polo shirts, will work with customers who show up at a store without a face covering to try and find a solution. We are currently considering different solutions for customers when this requirement takes effect on July 20.
A statement from Kohl's read, in part:
As COVID-19 cases continue to rise, face covering mandates have grown to apply to approximately 70% of our store base, therefore we've made the decision to take a consistent approach across our entire store fleet. Beginning Monday, July 20, we will require all customers to wear a face covering while shopping in our stores.

For those who'd prefer not to shop in store, we encourage customers to visit Kohls.com and take advantage of our new limited-contact Store Drive Up service, among other convenient shipping options.

Customers will see signage at the front of the store to inform them of our face covering policy. Store associates have been trained on the new health and safety measures in place, and we have associate greeters at the entrance of each store to welcome shoppers and remind them to wear masks.
Why it's important: As your organization adopts policies and procedures to curb COVID-19's spread, focus on announcing the changes and new requirements with as much notice as you can, along with information on how the new efforts will be executed and what your consumers and employees can expect. Include alternative options when available, too. Both Walmart and Kohl's also shared options for shopping online, an option for consumers who don't want to wear masks.
---
BOOST YOUR SKILLS
Learn how to tell your brand's story to help you thrive in our "new normal" at Ragan's Brand Storytelling During a Crisis Virtual Conference, Aug. 4-5.
Speakers from Con Edison, Google, Experian, Minnesota Timberwolves, Crayola, Marriott International, Girl Scouts of the USA, Cleveland Clinic and more will share takeaways for building and maintaining trust through storytelling, along with ways to reimagine your brand narratives during COVID-19.
---
SOCIAL BUZZ 
Wendy's social media team is returning to the brand's iconically snarky tweets. The team tweeted this message during the Twitter hacks:
We are giving back to the Twitter community.

All Tweets sent to the address below will be sent back doubled! If you tweet under this tweet we'll tweet back twice. Only doing this for 30 minutes.

Dave444spicy245nuggets10piece

— Wendy's (@Wendys) July 15, 2020
Many organizations paused their social media activity following George Floyd's death and are continuing to adjust their campaigns to meet a more somber tone as Black Lives Matter protests continue. That's a best practice, but the reception of Wendy's tweet shows that there's a time for laughter—especially when your social media team is addressing social justice and sharing your organizations' diversity initiatives and goals.
---
WHAT YOU SAID 
We asked what type of visuals you use the most within your digital content, and 81% of you said photos and images are what you heavily rely on. Almost 8% of you focus on video content, while less than 6% use GIFs and memes the most—and only 6% of you rely on infographics to do the job.
What type of visuals do you use the most in your digital content?

Share your most-used formats (and why) below and under #DailyScoop.

— PR Daily (@PRDaily) July 15, 2020
---
SOUNDING BOARD 
Which type of visual content grabs you the most engagement on social media?
Which type of visual content grabs you the most engagement on social media? (Question thanks to @blherrman.)

Share your experiences with us under #DailyScoop.

— PR Daily (@PRDaily) July 16, 2020
Share your thoughts below and under #DailyScoop hashtag.
Thanks to Brandi Herrman, instructor of business administration at Columbia College, for the suggestion. Is there a question you'd like us to ask in an upcoming poll? Let us know!
COMMENT