Twitter slapped with GDPR fine, Utah's Dixie State University to change name, and Coca-Cola offers gifts via Twitter Santa
Also: Beware of misinformation when crafting vaccine messages, Panera and PepsiCo seek best 'virtual party selfie,' a Disney social media pro spills content success secret, and more.
Hello, communicators:
The Coca-Cola Co.'s holiday commercial strikes an emotional chord:
Though not nearly as dramatic as its commercial, the beverage giant's social media team is also trying to spread holiday cheer through its @CocaColaSanta Twitter account:
Looking for more people to add to the #NiceList. I'll be retweeting some. Did I say that right, @Twitter?

— Coca-Cola Santa (@CocaColaSanta) December 7, 2020
Those who tweet at the handle could receive a message back and be invited to receive a special gift:
Ho ho ho! Of course you can! 😊

Now, please send me a DM so I can send a holiday 🎁 your way! https://t.co/o8zrJ3Y3Bm

— Coca-Cola Santa (@CocaColaSanta) December 14, 2020
If anyone deserves a spot on the #NiceList…it's you! ✅

How about you send me a DM so I can send a bit of holiday cheer your way? https://t.co/o8zrJ3Y3Bm

— Coca-Cola Santa (@CocaColaSanta) December 14, 2020
The effort is a great way to increase engagement and strengthen brand affinity online during the holidays—especially as many remain at home.
Here are today's top stories:
Twitter fined for breaching EU privacy law
The social media platform was slapped with a fine from European Union's privacy law, GDPR—the first for a United States company in a "cross-border case" in the two and half years the law has been established.
The Wall Street Journal reported:
Ireland's Data Protection Commission said on Tuesday that it is fining Twitter Inc. TWTR 1.13% €450,000, equivalent to about $546,000, for failing to document or properly notify the regulator within 72 hours of learning of a data breach disclosed in January 2019 that exposed some users' private tweets.

"We take responsibility for this mistake and remain fully committed to protecting the privacy and data of our customers," said Damien Kieran, Twitter's chief privacy officer, adding that the delay in notification was an "unanticipated consequence of staffing between Christmas Day 2018 and New Years' Day."
Why it's important: Though critics are griping about the delays of the the ruling along with the EU's ability to enforce its GDPR rules and restrictions, communicators should first heed the warning about data breaches. In today's hyper-connected world and increased security breaches along with phishing scams and hacks, organizations across industries should prepare well in advance for a cybersecurity crisis. That involves working with your legal and IT teams to create effective policies and response plans—and do practice exercises—so you're ready long before a crisis arrives.
---
SOCIAL BUZZ
 Matt Korn, social media manager for The Walt Disney Co., recently shared an important content marketing lesson on LinkedIn. His low-budget tweet featuring an image of Hugh Jackman's Hollywood Boulevard star taped over with "Aviation Gin" lettering to spell out "Hug Aviation Gin, man" grabbed more than 7 million impressions and 600,000 interactions on Twitter, along with media mentions and additional social media buzz:
It's a great reminder that creativity, timing and visual appeal stand out on social media, so don't feel discouraged if you don't have a large budget—or any budget—allocated to your content PR and marketing efforts.
---
MEASURED THOUGHTS
 In the Institute for Public Relations' recent report, "A Communicator's Guide to COVID-19 Vaccination," the organization highlighted the importance of using verified and reputable sources of information within COVID-19 crisis responses, especially as communicators focus on vaccine communications.
Consumers trust doctors (80%), the Centers for Disease Control and Prevention (73%), the United States Food and Drug Administration (72%) and online health experts (67%) when it comes to information surrounding the pandemic. Though consumer trust in organizations increased to 62%, communicators should take care not to damage that trust by sharing incomplete, unverified or incorrect sources of information: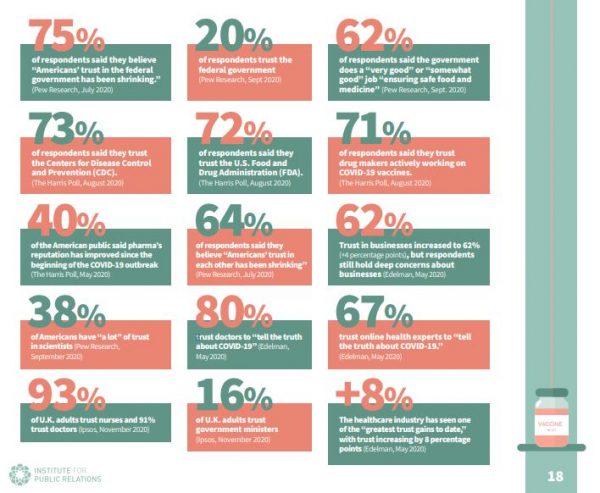 Image courtesy of Institute for Public Relations.
Learn more about how communicators should proceed with COVID-19 vaccine messaging in Ragan.com's report takeaways from Robby Brumberg.
---
CRISIS LEADERSHIP NETWORK
Looking for more insight on how to address the current global crisis and lead your organization into a strong recovery?
Join Ragan's Crisis Leadership Network to connect and brainstorm with peers, get the latest intelligence and research and start to strategize for the future of your organization.
Learn more about this exclusive membership here.
Dixie State University weighs name change
The school, located in St. George, Utah, announced a recommended moniker change after considering "years of data to fully understand" the negative effects its name is causing the brand, as well as its students.
For example, 54% of Dixie State's faculty believe the name has a negative affect on the school's image, more than 1 in 5 recent graduates reported employers expressing concerns about the school on their resumes, and 42% of students from the university's recruiting region say they're less likely to attend the school because of its name.
 In a statement, the university said:
Although we deeply believe moving toward an institutional name change is in the best interest of our campus community, we understand this change will be difficult for many since the name has been cherished in our region since 1857, when 38 families settled Southwest Utah to grow cotton. We share in the profound pride of the local meaning of Dixie that embodies the region's pioneering heritage of grit, service, and sacrifice. However, the word Dixie has a national meaning that is vastly different from the local understanding of the term. The data shows that Dixie means the Confederacy to 33% of Southern Utah residents, 41% of Utahns, and 64% of respondents from our recruiting region.
Why it matters: When recommending a decision that requires buy-in—especially when that recommendation involves a costly rebrand—come to the table armed with meaningful data. The university's official statement reads like a report, with several bullet points about how its current faculty and students feel about its brand image, along with how the "Dixie State" name is affecting school merchandise sales, recruitment and career opportunities for recent graduates.
---
TACTICALLY SPEAKING
 Panera Bread and PepsiCo have teamed up to present the #PaneraPepsiSweepstakes, offering the chance for consumers to win one of 1,000 Panera e-gift cards for a virtual pizza party this holiday season.
To pump up excitement, the companies turned to content creator and actor Andrew Byron Bachelor, known as "King Bach":
Want some free 🍕? We're throwing 1,000 virtual pizza parties with @pepsi and @kingbach!

Join the party by posting your own 2020 party outfit (fancy on top, pajamas on the bottom) tagging #PaneraPepsiSweepstakes for a chance to win a $50 Panera e-Gift card! pic.twitter.com/tjiSmKFual

— Panera Bread (@panerabread) December 11, 2020
Follow & tag @PaneraBread and @Pepsi in your post for entry. Ends 12/21/20 50 US/DC 18+. See Rules: https://t.co/FgdXA6rkUO

— Pepsi (@pepsi) December 11, 2020
To enter, consumers must follow Panera and Pepsi on either Twitter or Instagram and "post your virtual party selfie" using the sweepstakes hashtag.
The contest is a way to obtain both social media engagement and media coverage as the brands can boast of giving away $50,000 in prizes that will lead to visits and sales—all while gathering user-generated content from consumers' virtual party selfies.
---
TAKE OUR SURVEY
We want to know about how PR agencies are building lasting, sustainable relationships with clients, what is working and what is rubbing both parties the wrong way. That's why we're partnering with The Institute for Public Relations on a new survey to learn more about the state of the agency/client relationship.
Please take this 10-minute survey here.
---
EDITOR'S PICKS
 As you're altering your holiday campaigns and searching for ways to engage consumers and employees during COVID-19, don't forget the power of gifts. These can come in the form of interactive content and holiday sweepstakes for your social media followers or thoughtful gifts given by you or your entire organization to members of your workforce, partners, influencers and more.
Check out these gift ideas:
---
WHAT YOU SAID
We asked if you're including video and mobile games in your digital PR and marketing strategies next year, and roughly 37% of you said it's an aim for 2021, while almost 19% said that though you're not implementing it, you want to. However, nearly 44% of you are skipping the strategy entirely:
Are you integrating video or mobile games into your digital PR and marketing strategies in 2021?

Weigh in below, and we'll share in tomorrow's #DailyScoop.

— PR Daily (@PRDaily) December 14, 2020
Is there a question you'd like us to ask in an upcoming poll? Let us know!
---
SOUNDING BOARD
Are you running any contests or sweepstakes for holiday social media engagement?
Are you running any contests or sweepstakes for holiday social media engagement?

Weigh in below and share your thoughts, and we'll dish in tomorrow's #DailyScoop.

— PR Daily (@PRDaily) December 15, 2020
Share your thoughts below or on Twitter using the #DailyScoop hashtag.
Editor's note: Ragan Communications may earn a commission through our affiliate partnerships when purchasing items in our content.
COMMENT