Twitter tests 'Quotes' metric, Capital One fined $80M for data breach, and WarnerMedia execs leave in realignment
Also: Krispy Kreme offers free doughnuts to educators, 80% of B2B decision-makers say COVID-19 business shifts will remain, Waffle House wisdom, and more.
Hello, communicators:
On Tuesday, Krispy Kreme is offering a free "Straight A" dozen with the purchase of any dozen doughnuts, and is encouraging consumers to share the extra treats with educators:
School looks different this year & everyone is helping to educate kids no matter where the classroom is📚✏️To thank our educators, get a FREE Straight A Dozen w/any dozen purchase, 8/11 only🍩

US & CAN participating shops only. While supplies last. Info – https://t.co/LEJAIKu76G pic.twitter.com/suwe2iIpcB

— Krispy Kreme (@krispykreme) August 5, 2020
Want an A+ way to say thanks? Tuesday 8/11, get a FREE Straight A Dozen to share when you buy any dozen! 📓✏️🍩 #KrispyKreme

Available 1 day only at US & CAN participating shops. See site for online redemption. Limit 1 – while supplies last. All info here https://t.co/LEJAIKu76G pic.twitter.com/lHenuoviWH

— Krispy Kreme (@krispykreme) August 9, 2020
Teachers can also get a free doughnut and coffee by showing their educator ID, Aug. 10-14.
The promotion is a recurring effort for the doughnut chain, but its messaging has been altered to fit the COVID-19 crisis. It's another reminder to adjust your campaigns to best fit both your audience and the current landscape as we continue to navigate this time of uncertainty.
Here are today's top stories: 
Twitter tests 'Quotes' measurement
The social media platform recently confirmed to The Verge that it's testing a new tweet metric called "Quotes," which would display the number of times a tweet has been retweeted with a comment.
The count is shown alongside the number of "Retweets" and "Likes" a tweet has:
oh wow twitter separated quotes from retweets. they're not called retweet with comments anymore pic.twitter.com/aJv9OINh9P

— 𝒈𝒘𝒆𝒏 ⁷⁄₇ (@markgyeomssi) August 7, 2020
"Quotes" are an extension of a feature Twitter rolled out in May:
There's now more to the conversation behind the Retweet count. On iOS, tapping into any Tweet, then tapping "Retweets" will show you the Retweets with comments. https://t.co/d18jK4FMvK

— Twitter Support (@TwitterSupport) May 12, 2020
Why it's important: Though "Quotes" aren't available yet to all users, you can still gather the number of times your tweet has been retweeted with a comment by clicking on each tweet's analytics. By digging into these analytics, you can see what content best resonates with your followers—and gain additional insights into what your community thinks. Along with tracking "Quotes," you might want to adjust your key performance indicators.
---
CRISIS COMMUNICATIONS
The Office of the Comptroller of the Currency and the Federal Reservee fined Capital One $80 million for a 2019 security breach that was the largest ever for a big banking institution.
The breach happened in March and April of 2019, but Capital One was apparently not aware of the problem until mid-July. That's when someone tipped the company to a public GitHub page where private Capital One data was available. That led investigators to former Amazon cloud employee Paige Thompson, who was charged with wire fraud and computer fraud. Authorities say Thompson was able to exploit a "configuration vulnerability" to extract the Capital One customers' information and post it to message boards. She pleaded not guilty to the charges and her trial is scheduled for next year.
Though OCC said Capital One was aware that its security practices weren't enough to protect the bank from a security breach, its board of directors didn't hold management accountable for implementing an effective system until it was too late.
Capital One says in the time since the data breach, it's been focusing on cybersecurity.
The Wall Street Journal reported:
"In the year since the incident, we have invested significant additional resources into further strengthening our cyber defenses, and have made substantial progress in addressing the requirements of these orders," said a Capital One spokeswoman in a statement.
The incident is a reminder of the importance of cybersecurity. Work on establishing protocols and practices across your organization before a hack hits, so you can avoid a fine—and loss of your reputation.
---
MEASURED THOUGHTS
McKinsey's survey titled "Global B2B decision-maker response to COVID-19 crisis" revealed that there's now two times the preference for digital sales interactions vs. traditional methods, with many B2B organizations offering digital ordering and self-serve options during COVID-19.
These shifted sales models might be here to stay. Nearly two-thirds of respondents (64%) said the new model is just as effective or more effective than before the COVID-19 crisis, and 80% said they're "very" or "somewhat" likely to keep these models more than a year after the pandemic.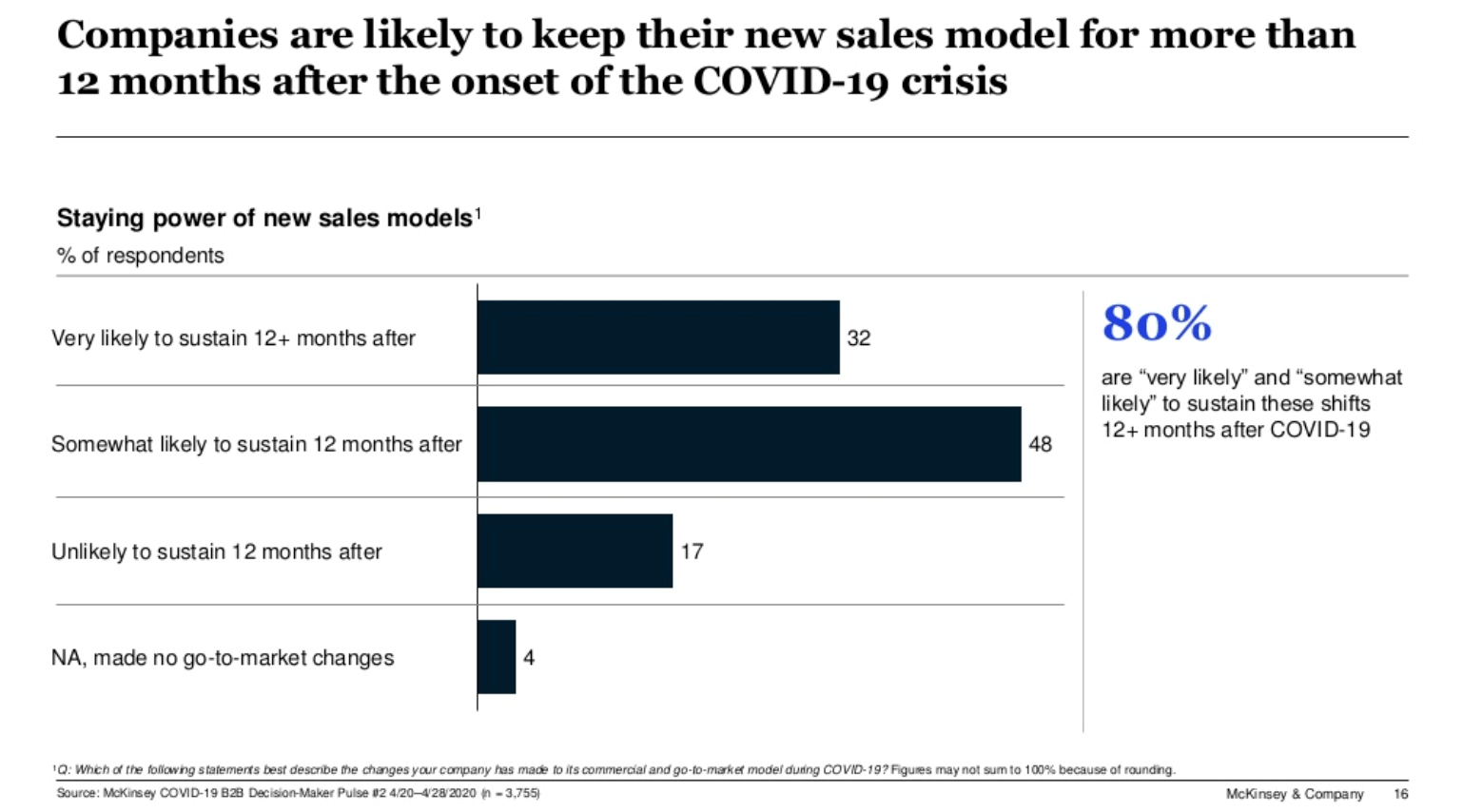 When offering ideas to executives and adjusting your business models, think how these can remain in the months (and years) to come, so you can better serve long-term stakeholder behavior shifts. 
You can read the entire report here.
---
CRISIS LEADERSHIP BOARD
Looking for more insight on how to address the current global crisis and lead your organization into a strong recovery?
Join Ragan's Crisis Leadership Board to network and brainstorm with peers, get the latest intelligence and research, and start to strategize for the future of your organization.
Learn more about this exclusive membership here.
WarnerMedia execs leave and AT&T cuts marketing jobs
WarnerMedia's chief executive, Jason Kilar, recently announced that the company's content chief, executive vice president of corporate marketing and communications, and its chairman of entertainment and direct-to-consumer are all leaving the company.
Asked about the departures, Mr. Kilar said in a phone interview on Friday: "Disciplined companies have to make tough decisions."

Business Insider also reported that AT&T laid off 54 employees from its consumer marketing division, citing changing consumer behaviors and economic impact from COVID-19. The job cuts follow 3,400 layoffs that AT&T made in June, along with 250 store closings.
Why it's important: Organizations are grappling with ways to better cater to shifting consumer behaviors and deliver both content and solutions that will boost the bottom line. That means business models have been shifting as well, resulting in workplace reorganizations and layoffs.
Make sure you're communicating upcoming changes to your employees well ahead of the news breaking in headlines, and provide support for your exiting workers as much as possible. Doing so can help you maintain a positive reputation.
---
DOWNLOAD OUR REPORT
Following the deaths of George Floyd, Ahmaud Arbery, Breonna Taylor and others, organizations were pushed more forcefully than ever before to take stands against systemic racism and move to support social justice initiatives. Which responses made an impact—and which responses fell flat?
Learn from 10 of the biggest brand messages in our special report, "Organizational responses to Black Lives Matter." The report offers communicators important takeaways to lead organizations and clients in the second half of 2020 and into the future.
---
SOCIAL BUZZ 
Waffle House's social media team is garnering kudos for a tweet that contains both wisdom and a brand nod:
Surround yourself with waffles, not negativity

— Waffle House (@WaffleHouse) August 10, 2020
The tweet shows that you can successfully get engagement with positive messages that speak to your fans' current needs, especially if you keep things short and sweet.
---
WHAT YOU SAID 
We asked what you consider your most important desk accessory as you work from home, and almost 48% of you said a second monitor or display was crucial. Roughly 24% of you use sticky notes or a notepad, with 27% saying your coffee cup or tumbler is the most important remote-working desk accessory:
What's your most important desk accessory as you work from home during COVID-19?

Weigh in below and reply with a picture of yours/share under #DailyScoop, and we'll share on Monday.

Have a great weekend!

— PR Daily (@PRDaily) August 7, 2020
Communication pros Christine Contreras and Tracy Reilly give us a peek behind the WFH scenes:
I selected coffee as my ride or die, since that is needed to adult, but 2nd monitor and my sticky's are tied for second place. 😊

— christine contreras 💙 (@iamChristineKC) August 9, 2020
Zoops pic.twitter.com/myghL8yyHl

— Tracy Reilly (@tracysreilly) August 7, 2020
Is there a question you'd like us to ask in an upcoming poll? Let us know!
---
SOUNDING BOARD
As you continue to strengthen your skills and offerings during COVID-19, how are you helping your team add to their communications tool belt?
As you continue to strengthen your skills and offerings during COVID-19, how are you helping you and your team add to the communications tool belt?

Let us know below and under #DailyScoop.

— PR Daily (@PRDaily) August 10, 2020
Share your answers with the #DailyScoop and we will include in tomorrow's newsletter.
COMMENT