Universal Health Services scrambles after alleged ransomware attack, Japan Airlines removes gendered language and JPMorgan Chase's WFH update
Also: Brand managers gear up for #NationalCoffee Day, PR budgets are down and content marketing gets organizations' focus, WebMD stokes ire with chai latte recipe, and more.
Hello, communicators:
Today is #NationalCoffeeDay, and brand managers have been crafting content in preparation:
No matter how you celebrate #NationalCoffeeDay, we think you're absolutely awesome! Keep sipping and smiling! 😉☕️ pic.twitter.com/zAQ7MdXtGT

— Starbucks Coffee (@Starbucks) September 29, 2020
🎉 Wake up, it's National Dunkin' Day! 🎉 Give your brain a liquid hug and celebrate with a FREE medium hot or iced coffee with any purchase today, 9/29.🧡 Exclusions & additional charges may apply. pic.twitter.com/zMLm62jTRI

— Dunkin' (@dunkindonuts) September 29, 2020
We're celebrating your love of great coffee this #NationalCoffeeDay with ⭐25% OFF⭐ all freshly roasted coffee beans when you shop on https://t.co/ynN4SfyiPh, in-store, or via the app for pickup or delivery. Limited time only. pic.twitter.com/GxalZaCTtH

— Peet's Coffee (@peetscoffee) September 27, 2020
Share with us the most clever content you've seen for the "holiday" under the #DailyScoop hashtag.
Here are today's top stories:
Universal Health Services hit with 'IT security issue'
 The health care system, which owns 400 locations that are primarily across the United States, is scrambling as its computer systems have failed over the weekend due to what some reports are calling a ransomware attack.
Two Universal Health Services nurses, who requested to not be named because they weren't authorized by the company to speak with the media, said that the attack began over the weekend and had left medical staff to work with pen and paper.
Though news outlets are reporting a potential security breach, the organization has remained tight-lipped.
Universal Health Services issued the following statement on Monday:
The IT Network across Universal Health Services (UHS) facilities is currently offline, due to an IT security issue.

We implement extensive IT security protocols and are working diligently with our IT security partners to restore IT operations as quickly as possible. In the meantime, our facilities are using their established back-up processes including offline documentation methods. Patient care continues to be delivered safely and effectively.

No patient or employee data appears to have been accessed, copied or misused.
Why it's important: Prepare early and extensively for cybersecurity crises, especially as e-commerce grows and many workforces are remote or hybrid. Work with your IT staff and help your employees to become more digitally savvy in regards to security best practices, and get everyone on your team involved with (or at least aware of) your crisis plan.
---
TACTICALLY SPEAKING 
Japan Airlines announced that it's removing the phrase, "ladies and gentlemen" from English in-flight announcements to promote inclusivity. Announcements in Japanese won't change, as those greetings are already not gender specific.
Mark Morimoto, a Japan Airlines spokesman, said on Tuesday that greetings and announcements in English at the airport and in the cabin would use gender-neutral language such as "all passengers" or "everyone"—or avoid gender-specific phrases altogether—from Thursday.

"We aspire to be a company where we can create a positive atmosphere and treat everyone, including our customers, with respect," Mr. Morimoto said in an email.
Yutaro Iwasaki, publicist for JAL, told CNN Travel that "we have been promoting diversity in the community since 2014, and this is one of our actions taken to treat everyone (the same) regardless of gender."
Airlines such as Easy Jet and Air Canada have also removed the phrase from its announcements. You can do the same by considering changes you can make to your internal and external announcements to make your messages more inclusive and welcoming.
---
MEASURED THOUGHTS
 Allocadia's "State of Spend 2020 Marketing Investment Benchmarking Report" revealed that nearly half (45%) of organizations cut PR budgets by more than 20% from 2020's first quarter to its second, and forecasts don't see that money coming back for the third quarter.
Instead, organizations are investing more than ever in content marketing, with 39% reporting at least a 20% increase: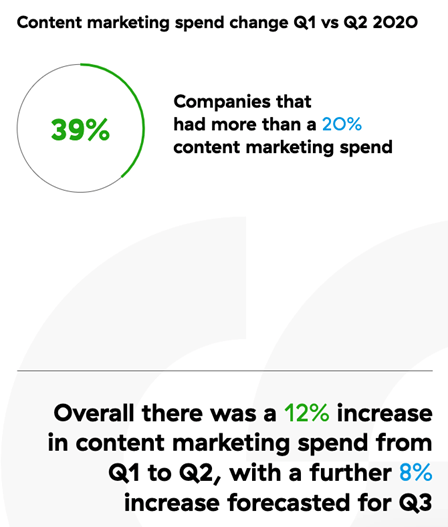 With more increases for content marketing budgets on the way, communicators would do wise to hone their content creation and distribution skills, especially on digital channels.
 You can read the entire report here.  
---
CRISIS LEADERSHIP NETWORK
Looking for more insight on how to address the current global crisis and lead your organization into a strong recovery?
Join Ragan's Crisis Leadership Network to network and brainstorm with peers, get the latest intelligence and research and start to strategize for the future of your organization.
Learn more about this exclusive membership here. 
JPMorgan Chase tells consumer employees to WFH until 2021
The financial institution told employees in its consumer department that they'll continue to work remotely until next year.
The directive, which was communicated to staff in several memos Monday, applies to most U.S.-based employees in the consumer unit who have been working remotely to help stem the spread of the coronavirus. It excludes branch workers and some in operations, according to a person briefed on the staffing plans. The consumer and community banking unit, which operates primarily in the U.S., has 122,089 employees, the most of any of the firm's divisions.

 "Generally, anyone working remotely today will continue to do so through the end of the year, assuming we can maintain productivity levels," according to one of the memos, which was seen by Bloomberg. "Our overall productivity levels have remained high. That's remarkable and something that should make us all proud."
Why it's important: As the COVID-19 crisis continues, return-to-work strategies are being amended and overhauled. Plan to the best of your ability using data and incorporating local regulations, but remain flexible. Your strategy will probably change as you adapt to the changing landscape and respond to additional news.
---
DOWNLOAD OUR REPORT 
Though 70% of communicators are not looking beyond 2020 in terms of strategic planning, they also don't expect our current state of crisis to ease up by the end of the year. Operating in a constant state of crisis and rapidly responding to events throughout the world are top challenges for communicators, our recent report, Ragan Survey of Internal Communicators, revealed.
The survey sheds light on top challenges, with insights including top issues, what the "return to the office" looks like, which departments internal communicators will collaborate with the most and more.
To learn more about how to rise to the challenges facing organizations across industries, join us at Ragan's Internal Communications & Employee Experience Virtual Conference on Oct. 14. You'll learn from internal and employee communications experts from National DCP, Deloitte, Charles Schwab, American Psychological Association and more.
---
EDITOR'S PICKS 
For many communicators, family pets have become work colleagues as work-from-home plans continue. This means we've been seeing co-workers' cats and dogs over video calls and hearing their excitement or frustration at the new routine from COVID-19.
Consider these items to make your pet happy (or you laugh):
---
 SOCIAL BUZZ
 WebMD grabbed a lot of attention on Twitter with its recent chai latte instructional video:
Learn how to make a chai latte — without the coffee shop price tag. pic.twitter.com/pVZTEBXyL3

— WebMD (@WebMD) September 27, 2020
However, most of the conversation was negative, with many Twitter users pointing out that the recipe bore little resemblance to a cup of chai from India:
Three bags of black tea in two cups of water and they end up with that light shade of brown tea? https://t.co/CjcZjkfL6F

— meetasengupta (@Meetasengupta) September 27, 2020
Hello WebMD! This is neither chai nor latte. 🤮 pic.twitter.com/9xIZsGf21w

— Nandita Iyer (@saffrontrail) September 28, 2020
What on earth are you making here, chai or potpourri?? https://t.co/3Pe6PuU7fh

— Kabir Taneja (@KabirTaneja) September 28, 2020
Ew! Three sticks of cinnamon!! Also you are like halfway to making chole. Now add a can or so of garbanzo beans, saute a handful of green chillies, and some turmeric. Eat with parathas or onion rice! https://t.co/meXCZSz3BZ

— Priya Ravichandran (@binaryfootprint) September 28, 2020
The blowback highlights the importance of considering cultural mores, cusisine and traditions before creating content or jumping into a conversation. It probably would have worked out better to highlight an authentic chai latte recipe—and WebMD could have also amplified an Indian voice in the process.
---
WHAT YOU SAID
We asked if your organization is involved with messages, campaigns or partnerships that encourage people to vote, and more than half (53%) said no, while 21% said that though their organizations' aren't involved, employees can speak out. However, roughly 26% said their brands have shared messages or have partnered with organizations to encourage voting:
Is your organization involved with messages, campaigns or partnerships that encourage people to vote?

Share your efforts below and we'll dish in tomorrow's #DailyScoop.

— PR Daily (@PRDaily) September 28, 2020
Is there a question you'd like us to ask in an upcoming poll? Let us know!
---
SOUNDING BOARD
Is your desk messy or clean?
Communicators, is your desk messy or clean?

Share your experiences with us below and we'll share in tomorrow's #DailyScoop.

— PR Daily (@PRDaily) September 29, 2020
Share your thoughts with us below and under the hashtag #DailyScoop.
Editor's note: Ragan Communications may earn a commission through our affiliate partnerships when purchasing items in our content.
COMMENT