VA teams with Aptiva Resources to highlight recruitment efforts
The annual report spelled out tactics to increase new hires as labor shortages surged, winning first place in the 'Annual Report' category of PR Daily's 2021 Digital Marketing & Social Media Awards.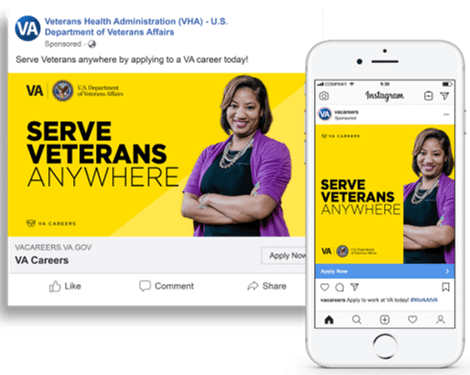 As the U.S. workforce ages, employee shortages are spurring intense competition for workers. The U.S. Department of Veterans Affairs Veterans Health Administration (VHA), the nation's largest integrated health care system serving some 9 million veterans, was feeling the squeeze. It was imperative to keep the system's facilities fully staffed with an effective recruitment and retention program.
But just meeting recruitment goals wasn't enough—the VHA had to prove its success to VA leadership. Aptive Resources worked with the VA to create the VHA Workforce Management and Consulting (WMC) Annual Performance Report to demonstrate how its marketing and advertising campaigns led to meeting VA's hiring goals.
The 41-page report features images of real VHA employees and veteran patients. It highlights details like media purchases and results, marketing strategies and outreach, in-person and virtual events, recruitment leads, awareness of the VA Careers website and more.
The report showcases results from VHA's recruitment efforts. For example, combined marketing and advertising strategies and tactics contributed to 2,068,796 total applications received during the 2020 fiscal year and 53,789 total hires, an increase over the 49,409 total hires of 2019.
The effort also boosted VA Careers' presence on social media. Its organic social media presence via Facebook, Twitter, Instagram and LinkedIn increased dramatically in 2020 in these areas:
Messages: 38% increase (2,366 posts sent)
Followers: 29% increase (1,088,990 total audience)
Impressions: 7% increase (23,587,623 impressions total)
Engagement: 53% increase (1,316,874 total engagements)
Learn more about Ragan's and PR Daily's current and upcoming awards programs here.
COMMENT