Virginia state officials reach out to stranded motorists, the biggest drivers of mobile traffic, and Starbucks adds employee vaccine requirements
Also: Sweetgreen launches salad subscription, Planet Fitness CEO says gym visits are up, and more.
Hello, communicators:
Quick-service salad chain Sweetgreen is launching Sweetpass, a salad subscription program that will give customers up to 40% off each purchase made directly from the restaurant's app or website.
"It's an optimal time of year because of New Year's resolutions and the food that Sweetgreen sells," Sweetgreen SVP of digital and growth Daniel Shlossman said. "Our ultimate goal is that we really want to make whatever loyalty is at Sweetgreen much more personalized to the individualized customer."
View this post on Instagram
The Instagram post is a reminder to make your message visually compelling, while the jargon-laden quote from Sweetgreen's SVP of digital growth is a warning against press releases that don't use clear, direct language.
Here are today's top stories:

Virginia DoT tweets warnings as winter weather traps motorists

A massive winter storm hit the northeast yesterday, leaving more than 400,000 homes without power and stranding motorists in northern Virginia along I-95 for hours. Yesterday morning, the Virginia Department of Transportation (VDoT) urged motorists to avoid all nonessential travel and retweeted messages from local DoT branches explaining how the plowing process works:
A winter storm arrives early Monday in the Fredericksburg area, Northern Neck + Middle Peninsula. Intense snowfall rates may limit visibility, and create hazardous road conditions. Please avoid unnecessary travel once storm begins! Road condition updates: https://t.co/aT9733KARX. pic.twitter.com/mg8hslkwCI

— VDOT Fredericksburg (@VaDOTFRED) January 3, 2022
We couldn't have said it better ourselves, @VDOTNOVA 👏👏 https://t.co/0u4MmSlvOM

— VDOT (@VaDOT) January 3, 2022
Motorists nevertheless shared harrowing stories of being stuck on I-95 for several hours:
We have literally been crawling for 6+ hours trying to get off at exit 110 NB on 95. We should've NEVER been allowed to come up this far on 95. the state should've had signs not allowing people to continue NB. No more vehicles should've been allowed to enter the highway.

— Angela Elliott (@angeelliott1) January 4, 2022
We have been stuck here since 2pm. That is 8 hours of waiting with children and Pets. This is absolutely unacceptable and merits the revision of your positions as "public servants". This storm was forecasted and only through sheer negligence this situation has turned deadly.

— Marcial Estrella Jr. (@MarcialEstrella) January 4, 2022
The VDoT stayed active on its social channels to communicate with stranded motorists, reassure them amid the uncertainty and keep them updated:
(2) Our https://t.co/kdjbEfdKbJ traffic camera system is out of service, which is limiting ability to confirm incident locations and lane impacts. Crews are working to clear downed trees and disabled vehicles/trucks still blocking lanes, and more resources coming in to support. pic.twitter.com/tojYczMvD7

— VDOT Fredericksburg (@VaDOTFRED) January 4, 2022
We wish we had a timetable, ETA or an educated guess on when travel will resume on I-95. It's at a standstill in our area with multiple incidents. Its frustrating & scary. Please know our crews don't stop. Crews will work 24/7 until ALL state-maintained roads are safe for travel pic.twitter.com/HdAWTDEJ22

— VDOT Fredericksburg (@VaDOTFRED) January 4, 2022
Why it matters:
The VDOT's active, engaged social listening efforts during this emergency demonstrate the continued power of social media to provide minute-to-minute updates and respond to stakeholders in real time. Those efforts included retweeting affiliates closer to the scene and crafting graphics with language that is easy to read quickly for people under duress. They also emphasize how repetition and redundancy, normally the bane of any social media strategy, are crucial during a real-time crisis to ensure your message doesn't get buried in the onslaught of rapid communications.
---
MEASURED THOUGHTS
A new infographic from Visual Capitalist reports that video streaming accounts for 49% of mobile traffic, with YouTube as the most used app on mobile devices taking up 20% of global streaming bandwidth. In contrast, social networking apps accounted for 19% of mobile traffic and web visits accounted for 13%, while audio accounted for just 0.2% of mobile traffic.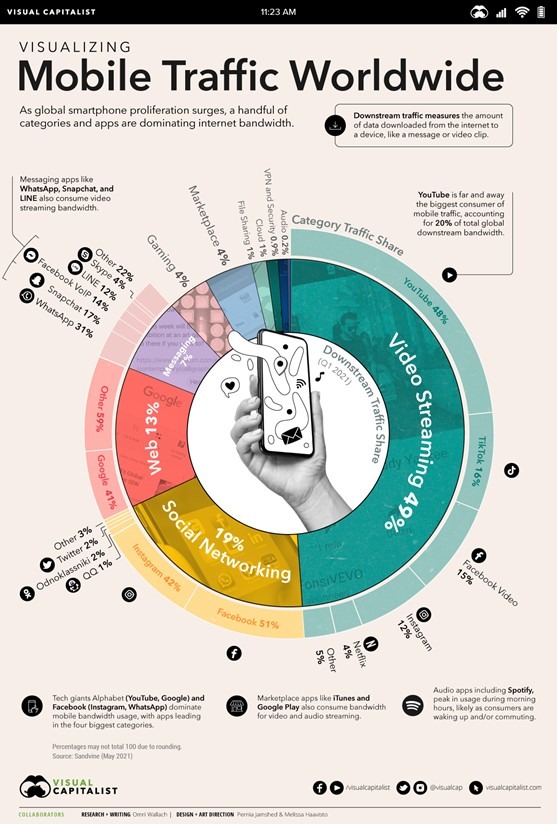 These numbers support the idea that any company hoping to engage mobile users must also have mobile-first video integrated into its digital strategy from the outset.
Check out the full report here.
---
TAKE OUR SURVEY
If you're looking to further your understanding of your industry to navigate what's ahead in 2022, lend us a hand—and help yourself and your peers identify shared benchmarks in areas such as budgets, team structure, ESG and DE&I efforts, and more. Participate in Ragan Communications Leadership Council's 2022 Benchmark Survey, a comprehensive look at how to negotiate budgets with your executives, how to best reach deskless workers and foster culture among a hybrid workforce, and more.
Both internal and external communicators are encouraged to participate.
By taking part, you'll be entered to win one of three $100 gift cards. All who complete the survey will receive a full report on the findings. Responses are anonymous.
Survey takers will receive an executive summary of the findings.
---
TACTICALLY SPEAKING
Planet Fitness CEO Chris Rondeau went on CNBC's "Squawk Box" to discuss why gym visits and membership growth have continued to grow despite the rise of the omicron variant.
"Before there was a vaccine, we did see a pullback on joins and workouts and cancellation spiking," Rondeau said in an interview Monday. "During the delta variant and omicron, we're not seeing that pullback. … We're not seeing members slowing to come in. We're not seeing joins slowing. We're not seeing cancelations rising."
Rondeau's interview, which aired days after Planet Fitness' launch of a massive new year's campaign, demonstrates how you leadership can be called upon to contextualize marketing campaigns and share company trends to keep the buzz going after a new campaign is launched.
---
Announcing the PR Daily Leadership Network
PR Daily is launching the PR Daily Leadership Network, a unique membership group from Ragan Communications offering peer-to-peer advisory and team training along with a unique slate of resources and events to help public relations professionals break through the noise, increase their visibility and forge meaningful connections.
The Network provides daily insights and coverage on a range of topics including media relations, social media, measurement, Diversity, Equity & Inclusion, branding, thought leadership and crisis communications.
"The fast pace of change coupled with the demand on public relations professionals to protect and sometimes defend their company's reputation make it imperative for leaders to tap into the wisdom of other communicators and continue to learn and grow," says Diane Schwartz, CEO of Ragan Communications. "The PR Daily Leadership Network provides the answers but also encourages members to question the status quo and push for positive change."
Visit leadership.prdaily.com to learn more.
Starbucks' COO explains new vaccine mandate for workers
Starbucks told all 228,000 U.S. workers that they must be fully vaccinated by Feb. 9 or conduct weekly COVID-19 tests at their own expense. Employees must disclose their vaccination status by Jan. 10, which the company says is in compliance with federal regulations for companies with more than 100 employees.
"I recognize that partners have a wide spectrum of views on vaccinations, much like the rest of the country," Starbucks Chief Operating Officer John Culver said in a letter sent to employees in late December. "My responsibility, and that of every leader, is to do whatever we can to help keep you safe and create the safest work environment possible."
What it means:
As leaders across industries continue to modify their policies in line with shifting federal guidance and requirements, Culver's words to employees demonstrate how acknowledgement and empathy can be powerful tactics for addressing uncertainty.
When addressing stakeholders with divergent perspectives and opinions, acknowledge the full spectrum of perspectives first before outlining the organizations' views. While your next steps might remain uncertain, sharing whatever you can about future actions to various scenarios sends an assuring message that leadership has considered multiple scenarios and empowers stakeholders to adapt quicker should a new development occur.
COMMENT