Walmart and Kroger announce DE&I donations, UK's health care org pulls 'sexist' COVID-19 ad, and Planters to donate $5M to 'acts of substance'
Also: Spotify, HBO Max and more launch content for Black History Month, Hendrick's Gin offers a 'moonbathing' kit, ESG communications considerations, and more.
Hello, communicators:
After killing off its mascot in 2020—and bringing back several aged-up iterations to consumers' mixed reactions—Planters announced it's foregoing a Super Bowl ad. Instead, the Kraft Heinz brand will give away the $5 million budgeted for a commercial during the Feb. 7 matchup to people performing "acts of substance":
This year, instead of spending $5 million dropping me off a cliff again — please don't — I'm spending it on the people who helped make the world a little less nutty.

2020 was a year for all of us. Let's celebrate those who went #ANutAbove. pic.twitter.com/ojfWlIk51v

— Mr. Peanut (@MrPeanut) February 1, 2021
The new campaign, done with VaynerMedia, also represents a broader shift in how the company plans to do some of its future marketing, according to Sanjiv Gajiwala, Kraft Heinz's U.S. chief growth officer.

… Gajiwala said after the many challenges of 2020, the brand wanted to recognize people who step up to help. The company said this could take the form of a couple who donated the catering of a canceled wedding to those in need, or someone who paid a neighbor's past-due utility bills.
Planters will announce the first person to receive some of its $5 million this week and more on its social media feeds during Super Bowl LV, but the initiative will last far past the big game, with Planters announcing both reward money as well as additional donations to chosen efforts.
Here are today's top stories:
Walmart and Kroger announce DE&I partnerships and donations
Walmart announced that it and the Walmart Foundation is donating $14.3 million to 16 nonprofit organizations that "advance racial equity in the nation's financial, health, criminal justice and education systems"—aligning with the retail chain's values and initiatives.
 In a press release, Kirstie Sims, senior director of the Walmart.org Center for Racial Equity, said:
Walmart has made a commitment to advancing racial equity, finding areas where we, as a company, can best contribute our resources and expertise to change society's systems that perpetuate racism and discrimination. We are excited to announce our initial investment to these deserving nonprofits that help advance racial equity through their organizations every day.
Kroger also announced its "Built It Together" partners, which will drive the grocer's Racial Equity Fund:
As part of our Framework for Action, The Kroger Co. Foundation established a Racial Equity Fund. Today, we're honored to announce the Fund's Built It Together partners, who'll receive a total of $3M to help build more inclusive communities. Learn more: https://t.co/z05pE0ncNr pic.twitter.com/WJ92HLsb3W

— Kroger News (@KrogerNews) February 1, 2021
The Thurgood Marshall College Fund, LISC, Everytable and Black Girl Ventures will receive a collective $3 million to "catalyze innovative approaches to help create more equitable, inclusive and stronger communities"—the focus of Kroger's Framework for Action: Diversity, Equity & Inclusion Plan.
In a press release, Sunny Reelhorn Parr, executive director of The Kroger Co. Foundation, said:
We're eager to partner with these four exceptional organizations to create a brighter, more equitable future for the communities we serve. As a purpose-led organization, we know that actions speak louder than words. We remain committed to not only illuminating the important, impactful work of groups like these but also sharing our resources and delivering on the promises of our Framework for Action to accelerate meaningful change in our culture and country.
Why it's important: It's crucial for organizations to put their money where there mouths are when making DE&I and  social justice commitments and pledges. However, donating money alone isn't enough. Consumers and reporters alike are looking at the specific organizations that brands are partnering with to make a difference in their communities and in the world—and how these partnerships and investments align with company values. Make sure this is part of your strategy as well as your media relations talking points. Ensure your executives know these talking points, as well.
---
SOCIAL BUZZ
Now that February has arrived, brand managers are launching campaigns and content for Black History Month. Here's a peek at efforts from Spotify, the U.S. Department of Energy, HBO Max, Starbucks Canada and Target:
Celebrate #BlackHistoryMonth with the voices, resilient stories, and music that continue to shape culture. Check out the #BlackHistoryIsNow Hub on Spotify. https://t.co/KGZ2Kl08er pic.twitter.com/N9n3Q3wwyC

— Spotify (@Spotify) February 1, 2021
Celebrating Black History: Hattie Carwell, a U.S. Department of Energy scientist, American physicist, and author of "Blacks in Science: Astrophysicist to Zoologist". She is also a former scientist with the International Atomic Energy Agency. Learn more: https://t.co/8KHA3Qenfx pic.twitter.com/XqLFjwKTvk

— U.S. Department of Energy (@ENERGY) February 1, 2021
In celebration of Black History Month, @HBOMax launches "Black History is Our History" spotlight page, offering curated programming that focuses on the Black experience: https://t.co/UuGMKv4sMZ@JATBMFilm will be available in theaters and streaming exclusively on @HBOMax. pic.twitter.com/t6aXYOXxjO

— Inside HBO Max (@InsideHBOMax) February 1, 2021
In collaboration with our Canadian Black Partner Network, @TorontoBPN and @MontrealBPN, we will be featuring the accomplishments, culture and unique experiences of the Black community in Canada throughout the month. pic.twitter.com/Nx8orSwsgd

— Starbucks Canada (@StarbucksCanada) February 1, 2021
This Black History Month, Target's celebrating Black voices, heritage, ingenuity and creativity with a collection made by – and for – the Black community. Check it out: https://t.co/AJHKBLqg6k pic.twitter.com/Zkky0FGH6z

— Target News (@TargetNews) February 1, 2021
There will be an increased focus on organizations' efforts surrounding Black History Month this year, so consider ways you can pair action with your statements and content to showcase how your organization is making or will make a difference in your community and beyond. Also, consider ways you can extend your initiatives, such as supporting Black-owned businesses, suppliers and artists—beyond the month of February.
Consumers will also be watching for organizations sharing social media messages and publishing content that seemingly doesn't align with company culture, as well as taking a close look atexecutive board makeup, so be ready to show where your organization currently finds itself in terms of DE&I commitments—and how you plan to further improve.
---
MEASURED THOUGHTS
Silverline Communications' whitepaper, "ESG Communications in the Year that Changed Everything," highlights several considerations for communicators when it comes to incorporating environmental, social and governance initiatives into campaigns and  efforts aimed at strengthening brand reputation during times of crisis and change.
The report, created in partnership with Agility PR Solutions, revealed that news media coverage of ESG themes more than doubled in January 2020, with news outlets including Bloomberg and Forbes leading the way with stories offering an ESG angle or effort: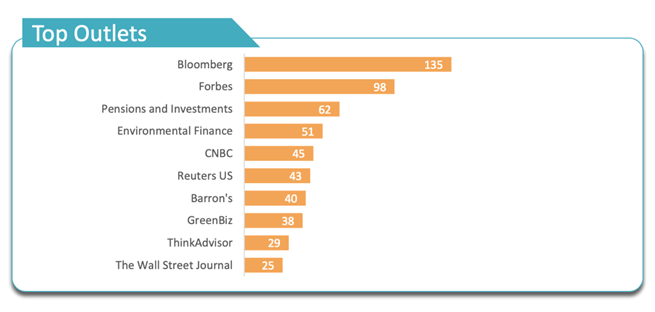 Image courtesy of Silverline Communications.
As Black Lives Matter protests and responses took center stage in and after June 2020, news articles covering ESG shifted the focus to concentrate on the BLM movement as well as organizations' diversity initiatives, inequality and racial injustice. Other themes, including the pay gap, climate change and corporate accountability, all ranked higher than COVID-19 news media coverage: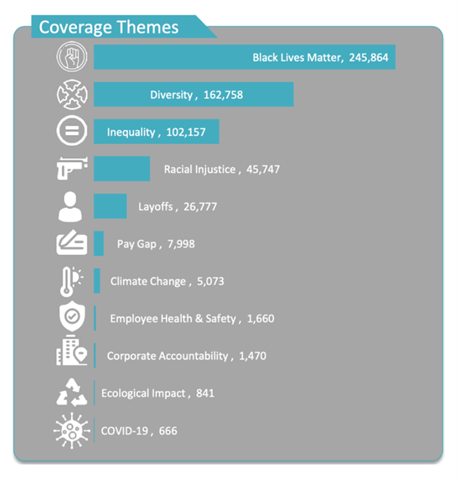 Image courtesy of Silverline Communications.
As reporters continue to focus social justice trends and initiatives—and as consumers embrace values-based spending more when choosing which organizations align with their beliefs—it's crucial for communicators to back up their statements with actionable strategies and results.
Silverline Communications wrote:
As more companies have stepped up their messaging around corporate purpose and environmental and social responsibility, the greater the public demand for evidence to support those lofty statements.

… While formulating a statement of corporate purpose plays an important role in ESG strategy, the testament backfires if it fails to generate meaningful, measurable progress.
When purpose-led commitments and campaigns fail to match up against real and demonstrated change for the issue at hand, your organization can quickly come under scrutiny. Here's an example of what happened with State Street Global Advisors, the organization behind the famous "Fearless Girl" statue placed on Wall Street in New York: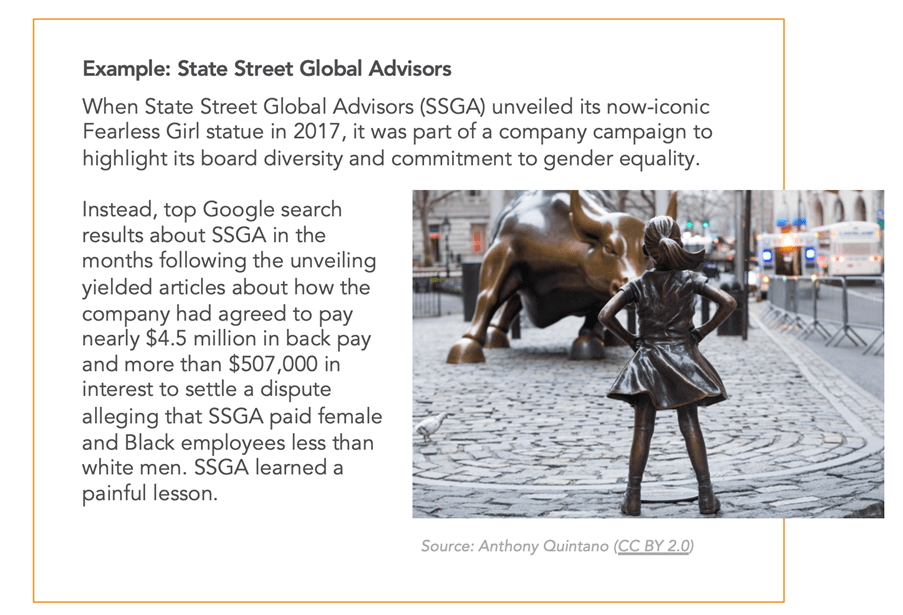 You can read the entire report here.
---
TACTICALLY SPEAKING
Hendrick's Gin launched a limited-edition spirit called "Lunar"—and its celebrating with "the world's first and largest virtual moonbathing experience":
Along with purchasing the alcohol, consumers can also buy a moonbathing kit, which includes moon goggles, a "lunar" blanket, "moonscreen lotion" (with MPF 28), highball glasses and a cocktail spoon: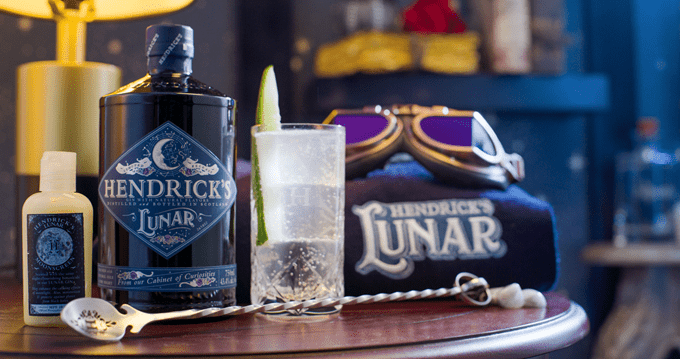 Though you can follow the distiller's instructions and recipes to moonbathe with a delicious beverage in your backyard or a nearby park, the company created a special stream to virtually complete the unusual activity:
If the moon isn't your thing, Hendrick's Gin has several streams to choose from, including a babbling brook and "Cucumber Creek."  Under each video is a "recommended streamside cocktail recipe." The effort is a clever way to offer virtual and free items (the livestreams and recipes) to grow brand buzz—along with additional revenue boosters from limited-edition merchandise.
---
CRISIS LEADERSHIP NETWORK
Looking for more insight on how to address the current global crisis and lead your organization into a strong recovery?
Join Ragan's Crisis Leadership Network to connect and brainstorm with peers, get the latest intelligence and research and start to strategize for the future of your organization.
Learn more about this exclusive membership here.
UK National Health Service pulls campaign after backlash over 'sexist' ads
Communicators for U.K.'s publicly-funded health care system are scrambling after backlash over a recent ad that read, "Stay home. Save lives." The words didn't spark criticism, but rather the images—which included three households depicting women completing housework, taking care of a baby and homeschooling children. Only the fourth household included an image of a man and woman, both sitting on the couch with their child.
U.K. pulls "stay home, save lives" ad after criticism that it revived stereotypes of women https://t.co/AbY6MxZptp

— The Washington Post (@washingtonpost) January 29, 2021
Prime Minister Boris Johnson's spokesman later said the ad was being pulled, confirming: "It does not reflect the government's view on women."
Why it matters: Words matter, but so do the images you use. A campaign or piece of content with out-of-touch or non-diverse images can quickly upend your PR efforts by stoking outrage, so take care to consider photos and videos. Ask yourself and others on your team if your visuals are diverse and reflect your organization's values. Also ask if they might play into stereotypes, including sexist household or office roles. Finally, consider whether your visuals match the current landscape, news and trends. You might want to photograph or look for images where subjects are wearing masks and abiding by social distancing policies.
---
TAKE OUR SURVEY
The start of a new year brings more opportunities for communicators across roles, organizations and industries to develop effective strategies and efforts that can strengthen their brands amid continuing crises, including the COVID-19 pandemic.
Ragan's Communications Leadership Council has created The 2021 Communications Benchmark Survey, and wants to know your challenges, successes and needs as you navigate the rapidly shifting communications landscape and respond to unprecedented crises as well as new opportunities.
Please share your insights with us. As a thank you for your time and insights, you'll receive an Executive Summary of the report, packed with proprietary research that can help you better shape communications strategies in 2021. You'll also be entered to win one of five $100 Visa gift cards.
---
WHAT YOU SAID
We asked for your most-loathed email opening, and many of you said lazy salutations instantly set the correspondence off on a wrong note. For PR pros Martha Mae and Marina Nicola, that includes using the wrong title—or forgetting to fill in your template:
Definitely "Dear Sir" (?!) Happens way more than it should

— Martha Mae (@marthamaewrites) January 29, 2021
"Dear ____," (the blank is left in)

— Marina Nicola (@thisismnicola) January 29, 2021
The team at Brownie Communication Concepts and comms pro Armando Ruiz say that a generic opener isn't any better:
Is "Dear News Editor " acceptable?

— BrownieCommunication (@browniecomms) January 29, 2021
Dear journalist:

— Armando Ruiz (@Armando_Mkt) January 29, 2021
PR and crisis communications expert MaryJane Mudd emphasized the importance of doing your research before reaching out, because simply popping in a name won't always do the trick:
"Dear Mary." An absolute indication that the sender doesn't know me and didn't do their research. I always, without fail, go by MaryJane (and MJ for good friends). Kiss of death is "Mary Mudd." Close and delete!

— MaryJane Mudd (@MJMudd) January 29, 2021
A lack of research is quickly highlighted when using tired email tricks such as "per our last email," adds PR pro April:
"Per our last conversation," when I've never spoke to or emailed anyone at the company, and "Sorry I missed you," when no one tried to call me and I definitely didn't call them, are equally hated.

— April Down South (@AprilDownSouth) January 29, 2021
Marketing pro Lauren D'Andrea says you should also ditch the generic email niceties:
"I hope this email finds you well" 🙅🏽‍♀️🤦🏽‍♀️

— Lauren D'Andrea (@LaurenMDandrea) January 30, 2021
Is there question you'd like to see asked? Please let us know under the #DailyScoop hashtag!
---
SOUNDING BOARD
What area are you looking to strengthen this year, PR pros?
What area are you looking to strengthen this year, PR pros?

Comment below with the skill set or effort you're bulking up, and we'll share in tomorrow's #DailyScoop.

— PR Daily (@PRDaily) February 1, 2021
Weigh in below and on Twitter under the hashtag #DailyScoop with the skill set or effort you're bulking up, and we'll share in tomorrow's roundup.
COMMENT
No Responses to "Walmart and Kroger announce DE&I donations, UK's health care org pulls 'sexist' COVID-19 ad, and Planters to donate $5M to 'acts of substance'"
Ronald N. Levy

says:

When money talks the public listens, and some of the best-paid leaders of PR are determining what money will say.

Top-tier PR questions now:

.1. What do we want? What's our number one PR objective?

.2. Who has the power to make it happen?

.3. What can our PR do so those with the power will eagerly help us?

The classic answer to question #1, more sales, now has a rival at the largest companies: More safety.

Walmart faced disaster when the public asked increasingly is Walmart paying employees fairly or too little? Is Walmart competing with smaller stores fairly or too much? Walmart answered persuasively, protecting the public and Walmart survival, by raising pay by billions, safeguarding our environment by investing billions, and communicating in hundreds of billions impressions Walmart's social value like prices low enough to help over 100 million shopper families save money.

Kroger, Planter's and hundreds of other companies also gained sales and protected survival by showing how they help the public.

Will such good deeds continue to help company sales and survival? We can bet on it and companies are doing so. As minorities grow in numbers and economic power, company programs are growing to genuinely help minorities and to communicate to the public here's how. As Washington leaders call more loudly to tax the rich more and tolerate less what critics call invasion of privacy, the best minds in PR are focusing on what should we do to survive this?

My own favorite, and there are plenty of other good PR ideas, is to do a massive health research project so 150 million or more Americans think thank God for this company that is trying to save our lives.

Judge the PR effect if Facebook announces it will be donating a BILLION over the next ten years to protect us against (a) childhood cancer that still kills one in every five kids who get it, (b) prostate cancers because right now prostate cancer cells are already present in a majority–a majority!–of men over 60, and (c) lymphomas likely to kill millions of Americans over the next ten years,
especially Blacks and Hispanics who are twice as susceptible as others.

How many politicians will say never mind the billion to protect us, let's break up the company of those Facebook bastards?

Imagine if Facebook does a one-hour TV special on how we can protect ourselves against cancer–and on 50 million TV screens we see "how to save your life" information from Facebook's Mark Zuckerberg plus three of the world's top anti-cancer doctors from Memorial Sloan Kettering Cancer Center, plus perhaps Dr. Fauci or Dr. Birx? How many Washington politicians, even among the most publicity-hungry, will say screw them all, let's break up Facebook.

When money talks, it can save the lives of many who hear it and save the necks of some who write the script. Money that talks can zoom upward the success of PR firms and more importantly the security of the public because one in four of us are–for now–being killed by cancer although anti-cancer vaccines may be possible..