Walmart announces employee bonuses and extended leave, Warner Bros. to stream films with theatrical releases, and Southwest warns of 6,800 job cuts
Also: McKinsey & Co. reports that only 18% of top companies made internal DE&I commitments, Dunkin' holiday drink goes viral, Miller Lite celebrates lack of holiday office parties, and more.
Hello, communicators:
As many employees continue to work remotely and workforces are dispersed during COVID-19, holiday office parties are being canceled or turned into virtual gatherings—the latter of which is another obstacle for employee engagement during a time of Zoom fatigue.
Miller Lite is pouring out one for the cancelation of holiday work events, however, with its seasonal campaign:
The brand's Twitter feed is littered with clips from its commercial, as well as polls, jokes and more appreciating the avoidance of any awkward workforce encounters after one too many cups of eggnog.
Here are today's top stories:
Walmart announces $700M in employee bonuses
Roughly 1.5 million full- and part-time employees at Walmart and Sam's Club will receive another bonus on Dec. 24—the fourth of its kind since the start of COVID-19.
We're showing U.S. associates we appreciate all they've done for our customers, members and country in 2020 by paying cash bonuses for the fourth time this year – this time, totaling over $700M. More about how we're supporting associates here: https://t.co/vUEo0xqKpu pic.twitter.com/VilwnChoaU

— Walmart Inc. (@WalmartInc) December 3, 2020
In a press release, John Furner, Walmart U.S.' president and chief executive, said:
As we come to a close on this historic year, I'm filled with gratitude for how our associates have led through one of the most trying periods for our company and country. Our associates have stepped up to serve our customers, communities and each other when it was truly needed most, and we're pleased to recognize their efforts with a quarterly bonus for strong store performance and a fourth special cash bonus.
The latest efforts bring Walmart's employee bonuses to $2.8 billion during the COVID-19 crisis.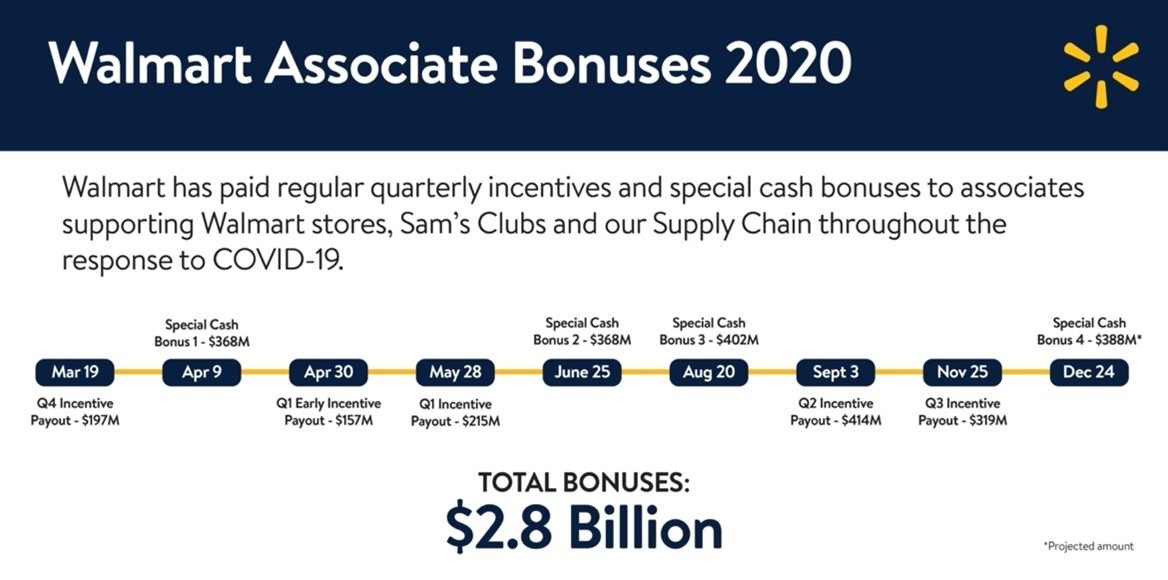 The company is also extending its emergency leave policy through July 5, 2021, giving employees up to two weeks of pay for COVID-19-related issues, including quarantine. The policy also provides up to 26 weeks of additional pay replacement for employees that can't come to work for longer periods of time.
Why it's important: Especially throughout COVID-19, it's crucial to take care of your employees and recognize their crucial contributions to your organization. Though Walmart's bonuses seem excellent, critics are complaining that the one-time payouts aren't enough to supplement lower wages. However, by making efforts to recognize and reward your employees, even with small tokens, your organization can strengthen its employee loyalty as well as its reputation in consumers' eyes.
---
CRISIS COMMUNICATIONS
Southwest Airlines warned its employees of impending layoffs that could affect 6,800 jobs in the spring of 2021.
The total includes 2,551 ground crew members who handle baggage, cargo, and restocking planes, as well as 1,176 customer service agents, 1,500 flight attendants and 1,221 pilots. The airline said the cuts would take place on March 15 or April 1 for different groups of employees.

…Southwest has typically been among the most profitable major US airlines. But it has reported losses of $2.75 billion through the first nine months of the year, which also puts it on track for its first annual loss.
As organizations across industries grapple with layoffs, furloughs and business realignments during COVID-19, the best course of action is to constantly communicate with employees—and warn them of potentially bad news before it hits headlines. By doing so, you take the reins on the narrative, giving you a better chance at managing the crisis and preserving your brand's reputation.
---
TACTICALLY SPEAKING
Dunkin' released a new drink for the holidays, called the "Sugarplum Macchiato," and the drink is already going viral on social media:
✨💜 The Sugarplum Macchiato is here! 💜✨ Invite your taste buds to a winter wonderland filled with bright berry flavors, vanilla notes & espresso, all topped off with a sweet sugary finish. ❄️ Grab one today & let us know how you'd describe it using #DunkinSugarplum pic.twitter.com/S26478E8xu

— Dunkin' (@dunkindonuts) December 2, 2020
The secret sauce (or syrup, in this case) is that the drink is "tailor-made for social media," as CNN Business reported.
In a blog post, Dunkin' wrote:
You may be wondering how that eye-catching purple color came to be. Well, our innovation team had been keeping a close eye on the ombré drink trend back in early 2019. They wanted Dunkin's debut of a colored flavor swirl to not only be beautiful, but tell a story. The light-purple color in the Sugarplum Macchiato, which comes from plant sources, represents the fun, whimsical nature of winter, while also embodying the vibrance of the bright berry flavors.
Dunkin' is furthering encouraging consumers to share their own content under the hashtag #DunkinSugarplum.
---
MEASURED THOUGHTS
In an article titled, "It's time for a new approach to racial equity," McKinsey & Co. reported that 32% of the top 1,000 companies in the United States made statements supporting racial justice, but only 22% made external commitments to support those statements, such as donations or changes to their products and services.
Even less (18%) made commitments to promote diversity, equity and inclusion internally, through hiring initiatives, increasing the amount of Black suppliers and other opportunities.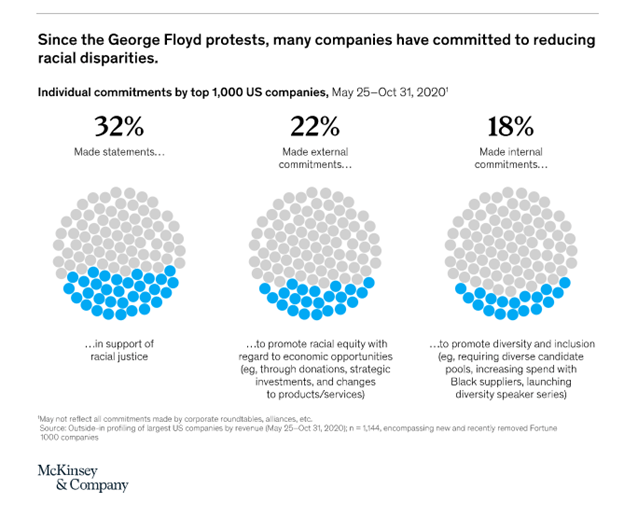 Image courtesy of McKinsey & Co.
"The evidence suggests that while the public, private, and social sectors have engaged in meaningful efforts to combat racial inequity, racial disparities are produced, reinforced, and amplified across sectors," McKinsey & Co. wrote.
To increase action and meaningful change, the firm advises uniting around a central mission, and focusing on accountability, as well as seeking support from a "broad set of stakeholders."
You can read the entire report here.
---
CRISIS LEADERSHIP NETWORK
Looking for more insight on how to address the current global crisis and lead your organization into a strong recovery?
Join Ragan's Crisis Leadership Network to network and brainstorm with peers, get the latest intelligence and research and start to strategize for the future of your organization.
Learn more about this exclusive membership here.
Warner Bros. to stream 2021 films alongside theater releases
The second-largest movie studio announced that it would premiere "Wonder Woman 1984" HBO Max the same day it hits theaters on Dec. 25—and will do the same for its entire slate of 2021 films. It's calling the move an "innovative, hybrid distribution model."
I got you something ✨nice✨ this year:
🎁 The biggest movie premieres
🎁 In theaters and on HBO Max the exact same day
🎁 Beginning December 25 with #WonderWoman1984#HBOMax #WBPictureshttps://t.co/QA8MlErRYQ pic.twitter.com/VuYkTa6BGx

— Warner Bros. Pictures (@wbpictures) December 3, 2020
Unlike Disney+, the films will be available for their first month of release to HBO Max subscribers in the United States without extra fees.
In a press release, Ann Sanoff, chair and chief executive of WarnerMedia Studios and Networks Group, said: 
We're living in unprecedented times which call for creative solutions, including this new initiative for the Warner Bros. Pictures Group. No one wants films back on the big screen more than we do. We know new content is the lifeblood of theatrical exhibition, but we have to balance this with the reality that most theaters in the U.S. will likely operate at reduced capacity throughout 2021. With this unique one-year plan, we can support our partners in exhibition with a steady pipeline of world-class films, while also giving moviegoers who may not have access to theaters or aren't quite ready to go back to the movies the chance to see our amazing 2021 films. We see it as a win-win for film lovers and exhibitors, and we're extremely grateful to our filmmaking partners for working with us on this innovative response to these circumstances.
Why it matters: The announcement is setting communicators at movie theaters across the U.S. scrambling, and AMC Theater's chief already slammed the announcement. However, the move represents the rapidly shifting digital media landscape, spurred on by COVID-19. As consumers are presented additional content options and become more accustomed to creating their own playlists, communicators should adjust their content accordingly. Streaming content is here to stay.
---
CRISIS COMMUNICATIONS
Carnival Cruise Line is extending its cancellations through Feb. 28, 2021, as the COVID-19 crisis continues.
Important update regarding select sailings in February 2021 and the inaugural sailing of Mardi Gras. pic.twitter.com/l4seoqaqaz

— Carnival Cruise Line (@CarnivalCruise) December 3, 2020
Christine Duffy, Carnival Cruise Line's president, said in a statement:
We apologize to our guests but we must continue to take a thoughtful, deliberate and measured approach as we map out our return to operations in 2021. Our commitment to the health and safety of our guests, crew and the communities we visit is at the forefront of our decisions and operations.
Communicators setting their 2021 strategies, campaigns and launches should build in several contingency plans and balance a strategic, data-informed plan with the flexibility required from times of continuing uncertainty. Remain as consistent and transparent as you can in your messaging as well, both to consumers and employees.
---
TAKE OUR SURVEY
We want to know about how PR agencies are building lasting, sustainable relationships with clients, what is working and what is rubbing both parties the wrong way. That's why we're partnering with The Institute for Public Relations on a new survey to learn more about the state of the agency/client relationship.
Please take this 10-minute survey here.
---
EDITOR'S PICKS
Though the holiday season looks different this year amid COVID-19, many organizations and agencies are creating themed content and extras for customers and social media followers, as well as sharing holiday cards and sending gifts that can provide a much-needed boost to employees, partners and influencers.
Check out these fitting holiday gifts:
---
WHAT YOU SAID
We asked how you make your ROI reports more meaningful, and nearly 38% of you employ charts or other visuals to grab attention, while 31% of you focus on explaining what the numbers mean. Almost 19% of you go the storytelling route when presenting data, while 12% of you carefully select what you share:
How do you make insights and ROI reporting more impactful?

Share how you make measurement come alive below, and we'll share in tomorrow's #DailyScoop.

— PR Daily (@PRDaily) December 3, 2020
Is there a question you'd like us to ask in an upcoming poll? Let us know!
---
SOUNDING BOARD
Is your organization throwing a holiday office party this year? 
Is your organization throwing a holiday office party this year?

Let us know how you're celebrating the season and the end of 2020, and we'll share in Monday's #DailyScoop.

— PR Daily (@PRDaily) December 4, 2020
Share your thoughts below or on Twitter using the #DailyScoop hashtag.
Editor's note: Ragan Communications may earn a commission through our affiliate partnerships when purchasing items in our content.
COMMENT