Walmart raises wages for 165,000 employees, Raytheon to cut 15,000 jobs, and TikTok banned from U.S. app stores
Also: Amazon Music launches podcast offerings, Vitaminwater's social media manager embraces memes, Mayo Clinic announces interactive COVID-19 tracker, and more.
Hello, communicators:
TikTok's days in the United States are numbered, unless it can make a deal that satisfies the Trump administration in less than two months.
On Friday, the administration said it's banning Chinese-owned WeChat and TikTok from U.S. app stores, barring new users from downloading either service. WeChat features will immediately be limited, but TikTok will have several weeks in which to make a deal with Oracle or another organization before its features are cut off.
The restrictions will ban the transferring of funds or processing of payments through WeChat within the United States as of Sunday. In the case of WeChat, the restrictions will also prevent any company from offering internet hosting, content delivery networks, internet transit or peering services to WeChat, or using the app's code in other software or services in the United States.
Those same prohibitions on providing services go into effect on Nov. 12 for TikTok.
Here are today's top stories:
Walmart raises wages for 165,000 employees
The retail chain announced it's restructuring its workforce model to a "team-based operating model" as well as "investing in new roles and skills training." The changes come with increased pay for roughly 165,000 hourly workers.
Today we're introducing new leadership roles and cross-training opportunities, giving our associates more ways to grow their careers. As a result, more than 165,000 associates will receive a raise! Read more: https://t.co/v2SFcjrUak pic.twitter.com/SLVC21DU7l

— Walmart Inc. (@WalmartInc) September 17, 2020
In a press release titled, "Investing in our associates and roles of the future," Dacona Smith, Walmart's chief operating officer, wrote:
Across the store, we're creating small teams of associates who will be cross-trained and given ownership of the work and their area for everything from in-stock to visual standards. This means they'll gain more skills and be able to support associates who want to take time off or just need extra help during a busy shift.
Here's what the "future-focused leadership roles" look like, which will be implemented across Walmart's Supercenter locations: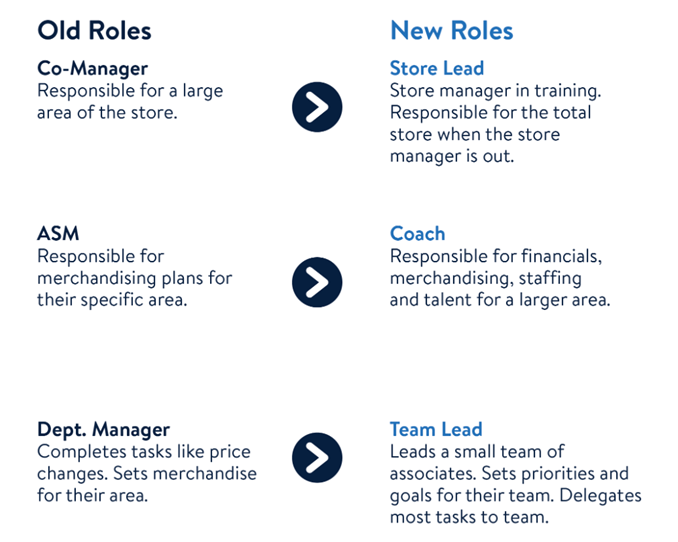 Why it's important: Smith highlighted a crucial takeaway in the company's press release: "At the end of the day, our associates are the key to making every day easier for busy families." By investing in your workforce structure and culture along with your employees, retention increases and you're more likely to attract diverse and talented workers.
---
SOCIAL BUZZ 
Vitaminwater's social media manager grabbed attention on Twitter yesterday with a thread full of memes and internet jokes:
i made a bunch of very professional backgrounds to use in your meetings or classes. i've tried them all and i still haven't been fired so i think they work. pic.twitter.com/0bStBh9DG8

— vitaminwater® (@vitaminwater) September 16, 2020
5G? yeah, i've got 5 gallons of vitaminwater at my desk right now what's the big deal?

— vitaminwater® (@vitaminwater) September 16, 2020
my boss be like "i know a spot" then takes me to the hr department.

— vitaminwater® (@vitaminwater) September 16, 2020
— vitaminwater® (@vitaminwater) September 16, 2020
you are all xxx. you are all gertrude. end of discussion. pic.twitter.com/JiYS8T61Jm

— vitaminwater® (@vitaminwater) September 16, 2020
🐍🌮👽🧶 🐋🍳🎺 🦶🐜⛰️
read the first letter of each emoji

— vitaminwater® (@vitaminwater) September 16, 2020
you think you can hurt wet_fam's feelings? i sponsored them and then ghosted them for 6 months.

— vitaminwater® (@vitaminwater) September 16, 2020
Though the story is probably a tall tale made up by the brand's social media team or agency, it underlines the importance of showing off your organization's human side and giving followers a peek behind the scenes (even if you exaggerate a few details).
The jokes made in the thread are ones to which consumers and brand managers can relate, further encouraging engagement.
---
MEASURED THOUGHTS
The Mayo Clinic launched a new COVID-19 tool that tracks cases by county across the United States:
County-by-county #COVID19 information, with Mayo Clinic guidance on how to keep you and your family safe, is available with a new easy-to-use tracking tool. Read more about the new tracking tool here: https://t.co/0W1RlyjPlx pic.twitter.com/EEBwLEmP9U

— Mayo Clinic (@MayoClinic) September 17, 2020
In a press release, the organization wrote:
"U.S. Coronavirus Map: What Do the Trends Mean for You?" is an interactive map on Mayo Clinic's COVID-19 online resource center. This map presents key data and trends in an easy-to-use format. Data include the total number of cases by county and state, new cases per day, positive test rate and fatality rate, presented with trends over time and Mayo Clinic guidance on how to take action.
You can get a state-by-state snapshot of cases with the color-coded map, and by hovering over a county, you can view the numbers of new and total cases.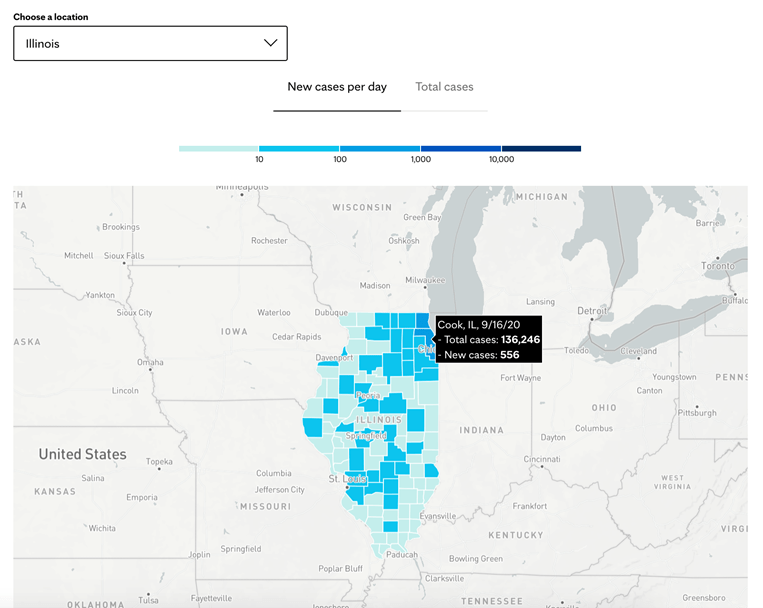 Image courtesy of Mayo Clinic.
The tool is a great example of an effective way to report data within context. Adding the interactivity makes it more engaging.
Though you don't have to create a feature such as this for your next report, consider how you can provide bite-size snapshots of your data with insights showing how the numbers tie to business goals and your organization's bottom line.
---
CRISIS LEADERSHIP NETWORK
Looking for more insight on how to address the current global crisis and lead your organization into a strong recovery?
Join Ragan's Crisis Leadership Network to connect and brainstorm with peers, get the latest intelligence and research and start to strategize for the future of your organization.
Learn more about this exclusive membership here. 
Raytheon to lay off more than 15,000 employees
The organization's job cuts are almost double what it announced in July, as COVID-19 continues to have devastaing effects on the airline and travel industries.
Chief Executive Officer Greg Hayes announced the cuts Wednesday during a virtual Morgan Stanley analyst conference. Hayes said the cuts amount to administrative cost reductions of about 20% at Pratt & Whitney, based in East Hartford, Connecticut, and about 12% at Collins Aerospace, based in Charlotte, North Carolina.

Pratt & Whitney has seen shop visits decline 60% since the second quarter, and Collins Aerospace saw a 65% drop in commercial spare parts orders, Hayes said, noting global commercial air traffic is down about 45% amid the coronavirus pandemic, down from an 80% drop in March.
Why it's important: As your leaders make difficult business decisions, including cutting overhead costs and reducing your workforce, make sure you help them communicate with employees early and often. You want to avoid having employees learn about layoffs in headlines. Instead, bolster your internal communications crisis response and don't forget to also gather employee feedback.
---
DOWNLOAD OUR REPORT
Though 70% of communicators are not looking beyond 2020 in terms of strategic planning, they also don't expect our current state of crisis to ease up by the end of the year. Operating in a constant state of crisis and rapidly responding to events throughout the world are top challenges for communicators, our recent report, Ragan Survey of Internal Communicators, revealed.
The survey sheds light on top challenges, with insights including top issues, what the "return to the office" looks like, which departments internal communicators will collaborate with the most and more.
To learn more about how to rise to the challenges facing organizations across industries, join us at Ragan's Internal Communications & Employee Experience Virtual Conference on Oct. 14. You'll learn from internal and employee communications experts from National DCP, Deloitte, Charles Schwab, American Psychological Association and more.
---
TACTICALLY SPEAKING
Amazon Music recently announced its slate of podcasts, meant to rival competitors Apple and Spotify:
The voices you know and love all in one place! Discover podcasts on Amazon Music. Learn more https://t.co/Y3Zm0Tmp39 #PodcastsOnAmazonMusic pic.twitter.com/iI6jQywxBq

— Amazon Music (@amazonmusic) September 16, 2020
The free podcasts are available on all tiers of Amazon Music for no additional cost and have first launched for customers in the U.S., U.K., Germany and Japan. Original shows being produced exclusively for Amazon Music include podcasts from DJ Khaled, Becky G, Will Smith, Dan Patrick and more.
The announcement highlights the continuing trend of this content format, so don't discount a podcast when you're revisiting your content marketing strategies and campaigns.
---
WHAT YOU SAID
We asked about distractions you face as you work from home, and 36% of you said constant meetings are the biggest culprit, followed by the nearly 32% that don't have an office setup. Roughly 21% said pets can break your focus, while 10% say their children and remote learning are work distractions.
What's your biggest distraction as you work from home during COVID-19?

Share your challenges with communicating remotely as well as your WFH hacks below, and we'll share in tomorrow's #DailyScoop.

— PR Daily (@PRDaily) September 17, 2020
PR and marketing pro Hannah Rowe said neighbors' pets can also break concentration:
Can I also add: my (non-working) neighbour's dog barking ALL DAY!

— Hannah Rowe (@HRoweMktgPR) September 17, 2020
Is there a question you'd like us to ask in an upcoming poll? Let us know!
COMMENT