Walmart reacts to fake Litecoin press release, Nicki Minaj shares vaccine misinformation, and workers take a pay cut to be remote
Also: Workers slam the honor system in enforcing vaccine mandates, a report says Instagram is toxic for teens, Kentucky distiller Heaven Hill faces strike over work conditions, and more.
Hello, communicators:
For employees who are anxious about returning to the office, the honor system might not be good enough when enforcing vaccine rules.
Users on LinkedIn responded to a story in the Wall Street Journal about how companies are relying on self-reporting to enforce vaccine and testing rules in responding to COVID-19. However, in a country where the vaccine and COVID-19 response has become a deeply divisive issue, with partisan politics and conspiracy theories undermining trust in neighbors and co-workers, some want companies to take a firmer hand.
"Honor systems work for eight-year-olds that you don't want sneaking sweets until they finish their homework, and even then, they're a mixed bag," Albert Fong, head of marketing for Twic, shared on LinkedIn. "What makes you think they'll work for adults?"
The questions about implementing vaccine policies come as companies grapple with new rules from the White House on requiring proof of vaccination and frequent COVID-19 testing to combat climbing cases in the U.S. New rules for companies with more than 100 employees have sparked plenty of questions for leaders.
As The New York Times reported: "At this point, 'there are more questions than answers,' said Ian Schaefer, a partner at the law firm Loeb & Loeb who specializes in labor issues."
Here are today's other top stories for communicators:
Walmart responds to fake press release announcing cryptocurrency adoption
A bogus announcement circulated Monday that shared a plan for retail giant Walmart to accept Litecoin, a cryptocurrency. The hoax sent the value of Litecoin rocketing up 25% in half an hour before it was debunked as a scam.
"As it pertains to Litecoin, the press release is not real," a representative for Walmart said in a statement.
Expert observers noted several giveaways that showed the true nature of the fake release:
1) it's not in their newsroom https://t.co/dtcvVCLrDS

2) the wire account for "Walmart Inc" hasn't posted anything else https://t.co/SLuxs5yO9X

3) the contact email is @ https://t.co/broFIRjHvB, which is owned by a squatter (h/t @tomhschmidt)

— Neeraj K. Agrawal (@NeerajKA) September 13, 2021
Yahoo continued:
"Cryptocurrency is an extremely adversarial environment. News, be it good or bad, should always be verified at the source." Neeraj Agrawal, communications director at Coin Center, a Washington D.C. based cryptocurrency nonprofit research and advocacy center, told Yahoo Finance. "This type of thing is not unique to crypto," he added.
What you should know: Misinformation and fraud continue to plague online media—and as the ploys become more sophisticated, it will become more important to quickly check a news story's veracity. Having an online newsroom where outlets can quickly check for the news release to fact check the source to a story is essential. As the new cycle continues to speed up, there is plenty of room for those with bad intentions to take advantage of short attention spans and poor media literacy.
---
MEASURED THOUGHTS
Roughly two-thirds of new grads say they have taken a pay cut in order to work remotely, according to a new survey from Breeze.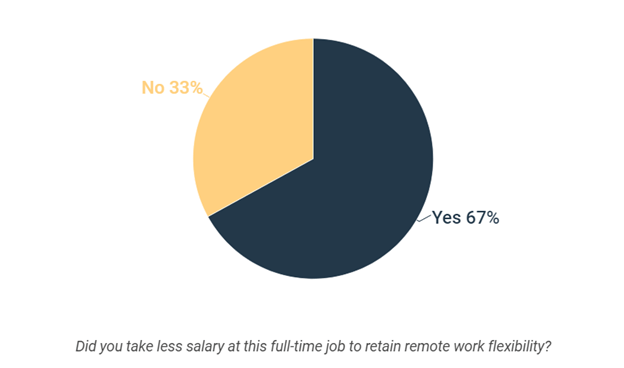 Despite the pay cut, the ability to work remotely will be a top factor for new grads, underscoring how important it is to offer flexibility to workers in 2021.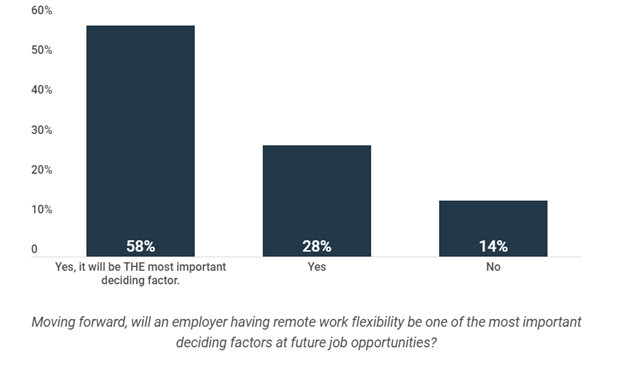 Facebook faces scrutiny over teen's toxic experiences on Instagram
The Wall Street Journal published reports of internal research from Facebook that shows disastrous results for teenagers on its popular photo-sharing app.
The Journal cited Facebook studies over the past three years that examined how Instagram affects its young user base, with teenage girls being most notably harmed. One internal Facebook presentation said that among teens who reported suicidal thoughts, 13% of British users and 6% of American traced the issue to Instagram.

"Thirty-two percent of teen girls said that when they felt bad about their bodies, Instagram made them feel worse," the researchers reportedly wrote. Facebook also reportedly found that 14% of boys in the U.S. said Instagram made them feel worse about themselves.

The report comes as the social media giant has endured a string of scandals tracing back to the revelations about Cambridge Analytica and misinformation surrounding the 2016 election of President Donald Trump. The company has also struggled to address misinformation on its site, which President Biden has critiqued as "killing people."
What to watch: As concerns about mental health and well-being continue to be top-of-mind, consumers are taking a closer look at their media consumption and use. Platforms that fail to protect users could see a drop in use or changing use patterns, as audiences look for alternatives to protect themselves from negative online experiences.
Brands should carefully watch how platforms respond to crises—and mind how their messaging is being viewed either in connection with or adjacent to content that consumers see as negative or harmful.
---
SOCIAL BUZZ
Rap star Nicki Minaj made waves Monday when she tweeted misleading information about the COVID-19 vaccine, claiming her cousin's friend had received the jab and then suffered a medical complication resulting in impotence. There is no scientific evidence that backs the claims about the vaccines' effect on fertility, and the conspiracy theory about the vaccine causing impotency has been thoroughly debunked by the CDC.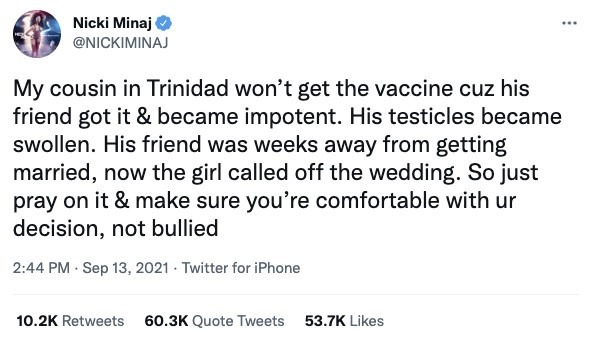 Despite the tweet's potential to discourage readers and fans from getting the lifesaving vaccine, Twitter says the music star didn't break its rules.
When contacted by The Verge, a Twitter spokesperson wrote "the Tweets you referenced are not in violation of the Twitter Rules." While we only asked about a single tweet, Minaj has posted many tweets Monday discussing the vaccine. In one, she noted that "I'm sure I'll b vaccinated" because of her need to tour.
Others criticized the star's tweet:
.@JoyAnnReid responds to @NICKIMINAJ's tweets on the #COVID19 vaccine: "For you to use your platform to encourage our community to not protect themselves and save their lives… As a fan, I am so sad that you did that." #TheReidOut #reiders pic.twitter.com/nmr85LSmug

— The ReidOut (@thereidout) September 13, 2021
And some took the opportunity to use the rap star's medium to send a message about the science behind the vaccine:
And we're both rappers lol! Here's a rap I made about the vaccine @NICKIMINAJ pic.twitter.com/ElFayiCAwd

— Dr. Raven the Science Maven (@ravenscimaven) September 13, 2021
The incident is a reminder for communicators to ensure their messages can compete with the salacious nature of information to entertain as well as (mis)inform viewers. While rappers might make poor public health authorities, their ability to entertain and captivate audiences means they must be engaged as communicators look to change hearts and minds on the COVID-19 vaccine.
---
TAKE OUR SURVEY
If you're looking for benchmark data to show your bosses the next time you ask for a raise or search for a new job, lend us a hand—and help yourself and your peers while you're at it. Participate in Ragan's Salary & Workplace Culture Survey, a comprehensive look at salaries, benefits, culture, bonuses and other aspects of the job in a fast-moving industry.
Both internal and external communicators are encouraged to participate.
By taking part, you will receive a $150 discount to a Ragan virtual conference of your choice and be entered to win one of five $50 gift cards. All who complete the survey will receive a full report on the findings. Responses are anonymous. Enter by Sept. 17.
Take the Ragan Salary & Workplace Culture Survey now.
Kentucky bourbon producer Heaven Hill faces strike over work conditions
As staffing shortages have forced companies to push their employees to the limit, poor scheduling is sending some workers to the picket line. The family-owned bourbon producer, which makes Evan Williams and other popular labels, is facing a strike over shift changes.
Union workers, upset over the prospect of expanded weekend shifts, have manned picket lines at bottling and warehouse operations of Kentucky-based Heaven Hill Distillery, one of the world's largest bourbon producers.

The walkout, in its third day Monday, involves about 420 members of United Food and Commercial Workers Local 23D. They voted overwhelmingly last week to reject a new five-year contract offer and formed picket lines Saturday at Heaven Hill's operations in Bardstown, Kentucky.
The union claims a new contract would expand weekend shifts, remove a cap on premium increases on health care coverage and cut overtime pay. Heaven Hill claims its pride in its workers is a core value that it still adheres to.
The AP continued:
"We have had productive conversations with the union for several months now regarding components of the contract," the company said in a statement. "We will continue to collaborate with UFCW leadership toward passage of this top-of-class workforce package."
What you should know: Work conditions continue to be a focus for employees looking to exercise their power in a tight labor market. Heaven Hill joins other companies like Frito Lay, which have come under fire in recent months for work schedules that push employees to the brink, undercutting claims to care for workers and their well-being.
Corporations should consider that programs created to support workers and their health shouldn't only extend to corporate desk workers in the headquarters office. Failing to offer reasonable hours and compensation for workers who were told they were "essential" during the past two years of pandemic crisis will backfire—and with record job openings, workers have options when looking for better circumstances.
COMMENT