2022 Grammy Awards postponed indefinitely, how Gen Z is questioning the metaverse, and Walmart invests in electric delivery vans
Also: Frito-Lay partners with Rick Astley on new year campaign, the hottest communications technology at CES, and more.
Hello, communicators:
Frito-Lay is partnering with singer Rick Astley for a "New Year, New You" campaign that urges snackers to lean into what they love when making their new year's resolutions. The campaign spotlights Astley's 1987 hit single "Never Gonna Give You Up," which has endured as an online prank known as the "Rickroll" where the song's music video appears unexpectedly in online content.
Fans are encouraged to share what they are "never giving up" and perform a duet of the song on Astley's TikTok account for a chance to win a $1000 cash prize:
"No one should start a new year with a list of things they're giving up, so I've partnered again with Frito-Lay to continue encouraging people to do more of what they love," Astley said in a press release. "The point of Frito-Lay's 'New Year, New You' campaign is that we can still enjoy the things we love while also making choices we feel good about. That doesn't just have to be about snacking, either. It's an idea that can resonate across all areas of our lives."
Frito-Lay's partnership with Astley provides a creative example of how a brand can piggyback on popular internet trends and memes by tying them to their own messaging efforts. The nearly 5 million views of Astley's TikTok video (as at the time of reporting) also emphasize the tremendous value that the social platform has to engage audiences through interactive contests and activities.
Here are today's other top stories:
The Recording Academy postpones 2022 Grammy Awards
The Recording Academy has postponed its annual awards show indefinitely due to surging COVID-19 cases in the U.S. The decision was made after several artists and executives expressed their feelings about attending the event, which was originally scheduled for Jan 31.
A joint statement from the Recording Academy and its television partner, CBS, issued on Wednesday reads:

"After careful consideration and analysis with city and state officials, health and safety experts, the artist community and our many partners, the Recording Academy and CBS have postponed the 64th annual Grammy Awards show. The health and safety of those in our music community, the live audience and the hundreds of people who work tirelessly to produce our show remains our top priority. Given the uncertainty surrounding the Omicron variant, holding the show on January 31st simply contains too many risks. We look forward to celebrating Music's Biggest Night on a future date, which will be announced soon."
Why it matters:
Standing in contrast to the Consumer Electronics Show (CES) holding its massive trade show in person, the Grammys announcement highlights the tremendous cloud of uncertainty hanging over live events in 2022. The Academy's statement also provides an example of how your brand or organization can soften the blow of disappointing news by putting the voices, feedback and concerns of your stakeholders first.
---
MEASURED THOUGHTS
A new report from Harris Poll found that only 37% of Gen Z respondents think the metaverse is "the next big thing" and will become part of their lives in the next decade. That number was higher among millennials, 48% of whom anticipated the metaverse becoming "the next big thing." Two-thirds of Gen Z and millennial respondents said that they understand what interacting with the metaverse actually means, while just 27% of respondents over the age of 40 understand it.
"The confusion speaks to the fact that it's far from clear what the metaverse will actually look like," writes Business Insider. "There are already numerous small metaverses, such as games that use virtual worlds. But one big joined-up metaverse 'remains a distant and enormous challenge,' according to a recent note by Morgan Stanley analyst Edward Stanley."
As your organization considers whether it makes sense to have a brand presence in the digital ecosystem that is the metaverse, these numbers emphasize the importance of crafting clear messaging to explain not only why you are investing in the metaverse, but what it means for your audiences. That messaging should be attuned to your audience's ages and behaviors, acknowledging the large generational gap in familiarity with the concept and adjusting accordingly the amount of context and explanation that you share.
Check out the full report here.
---
TAKE OUR SURVEY
If you're looking to further your understanding of your industry to navigate what's ahead in 2022, lend us a hand—and help yourself and your peers identify shared benchmarks in areas such as budgets, team structure, ESG and DE&I efforts, and more. Participate in Ragan Communications Leadership Council's 2022 Benchmark Survey, a comprehensive look at how to negotiate budgets with your executives, how to best reach deskless workers and foster culture among a hybrid workforce, and more.
Both internal and external communicators are encouraged to participate.
By taking part, you'll be entered to win one of three $100 gift cards. All who complete the survey will receive a full report on the findings. Responses are anonymous.
Survey takers will receive an executive summary of the findings.
---
TECH TALK
The Consumer Electronics Show (CES) kicked off in Las Vegas yesterday, forgoing a virtual show for a shortened in-person event that features 2,200+ exhibitors. Among the new tech showcased were several products designed to create hybrid communication experiences.
Canon unveiled its first ever virtual reality platform software, dubbed "Kokomo," that the company says will allow users to meet people virtually in a real-time, photo-realistic environment that captures live appearance and expression. "With Kokomo we're tapping into Canon's innovative spirit and heritage of high-quality imaging to enable people to have real, authentic interactions when they get together in VR," Canon Americas CEO Kazuto "Kevin" Ogawa said in a press release. "Kokomo will enable people to create memorable, meaningful connections."
Breylon, a company born from the MIT media lab, also debuted the world's first headset free virtual monitor as part of its new "Ultra Reality" line that can be used for gaming, the metaverse and other interactive experiences:
LG Display also introduced new display solutions, including a "smart window" designed specifically for offices. "By applying this Transparent OLED technology to conference room windows, the advanced Smart Window can help professional teams maximize their productivity by transforming into an expansive screen for video conferencing and presentations without compromising the open view of a normal glass window," the company wrote in a press release.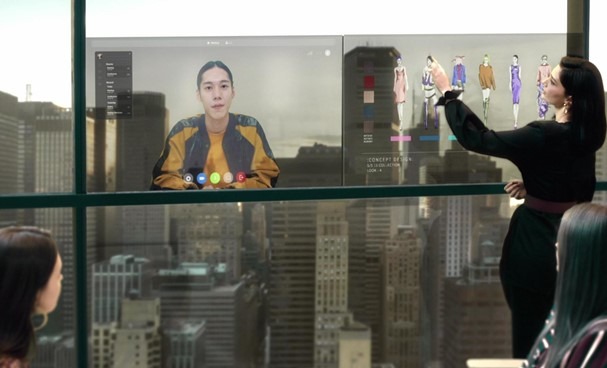 While the future of a return to the office and in-person gatherings remains uncertain, these products emphasize the tech industry's belief that current communication technology leaves much to be desired when it comes to facilitating realistic, personable interactions remotely. As more comms tech comes to market, finding the right mix for your organization will require listening to how your workforce currently communicates remotely and what's missing, along with your goals for communicating with external audiences remotely.
---
Announcing the PR Daily Leadership Network
PR Daily is launching the PR Daily Leadership Network, a unique membership group from Ragan Communications offering peer-to-peer advisory and team training along with a unique slate of resources and events to help public relations professionals break through the noise, increase their visibility and forge meaningful connections.
The Network provides daily insights and coverage on a range of topics including media relations, social media, measurement, Diversity, Equity & Inclusion, branding, thought leadership and crisis communications.
"The fast pace of change coupled with the demand on public relations professionals to protect and sometimes defend their company's reputation make it imperative for leaders to tap into the wisdom of other communicators and continue to learn and grow," says Diane Schwartz, CEO of Ragan Communications. "The PR Daily Leadership Network provides the answers but also encourages members to question the status quo and push for positive change."
Visit leadership.prdaily.com to learn more.
Walmart and GM partner to make home deliveries with electric vans
Walmart CEO Doug McMillon and General Motors (GM) CEO Mary Barra announced during Barra's CES keynote yesterday that the superstore chain has reserved 5,000 vans from GM's electric transport company, BrightDrop. Walmart hopes that the vans will begin making deliveries in 2023 and cited the retailer's goal of running a zero-emissions delivery fleet by 2040. BrightDrop's first customer, FedEx, has the same zero-emissions timeline.
"As important as it is that we save our customers time and money through convenient delivery options, it's just as important that we focus on creating a more sustainable last-mile delivery fleet that avoids emissions," said Tom Ward, SVP of last mile at Walmart U.S., in a statement.

"BrightDrop's mission is to decarbonize the world's deliveries," said president and CEO Travis Katz in a statement. "Today's commitments showcase our ability to power the electrification journey of some of the world's biggest companies."
What it means:
Walmart and GM's partnership announcement arrives at a time when electric vehicles are a hot product category at this year's CES, with General Motors introducing a Chevy Silverado pickup to rival Ford's Lightning truck, Chrysler unveiling a new electric model and vowing to go all electric by 2028, and even Sony showing off a prototype electric SUV with a vague tease about entering the auto market.
BrightDrop's words about Walmart being on an "electrification journey" demonstrate how partners who are experts in their field can be called upon to lend their credibility to your efforts.
COMMENT
One Response to "2022 Grammy Awards postponed indefinitely, how Gen Z is questioning the metaverse, and Walmart invests in electric delivery vans"
Ronald N Levy

says:

What Walmart NEEDS to do, and why, is summarized in the Amazon comment that someone put on "insider" so it can't be read.