61% of workers report witnessing discrimination in the workplace
However, when it comes to their own organizations, workers are much less-likely to acknowledge a problem with racism.
The majority of workers in the U.S. (61%) say they have experienced discrimination, either personally or as a witness.
So, many in the workplace are keenly aware of problems related to racial justice, diversity and inclusion in the U.S. However, when it comes to identifying problems in a workplace they belong to, workers are less definitive. According to research conducted by Clutch, more than half (56%) say that discrimination is not a problem at "my workplace."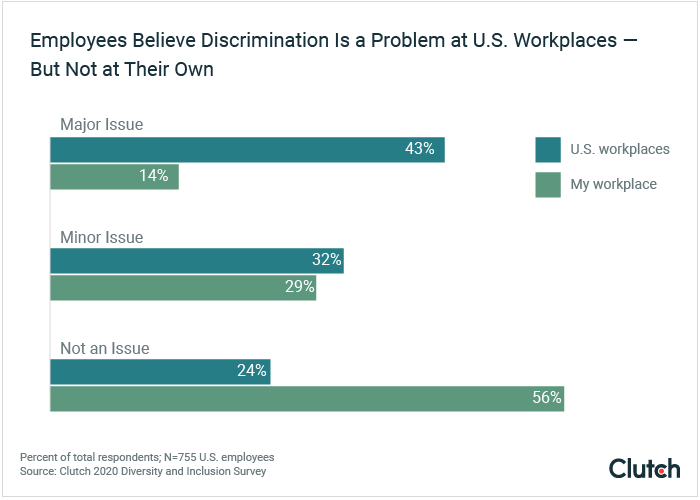 So what's driving the discrepancy? Experts say that you might be overlooking problems within your organization.
Jes Osrow, talent development expert and speaker on invisible disabilities at JOSROW Consulting, said people don't think their workplace has a problem with racism and discrimination because of "blissful ignorance."
"Often racism isn't as blatant as what we're seeing in the media now in the workplace," Osrow said. "It is more an ongoing, system struggle for equity and equality."
Perhaps it's time for your organization to have an important and frank discussion about equity and inclusion?
Read our full rundown of the report here.
COMMENT