Airbnb blocks D.C. reservations during inauguration, Snapchat bans Trump, and Sephora releases DE&I commitments
Also: Google blocks political ads, Grubhub offers Girl Scout cookie delivery, Xbox's social media team offers gaming recommendations,  and more.
Hello, communicators:
Mark King, chief executive at Taco Bell, announced today that potatoes were coming back to the fast food chain's menu in March. However, Taco Bell's social media team put a new spin on the concept of a corporate "talking head" by overlaying a potato filter on King's face:
And now, an announcement from our CEO. pic.twitter.com/JHHJMrPEJH

— Taco Bell (@tacobell) January 14, 2021
In his short address, King even hints at a partnership with Beyond Meat, throwing out jargon with a wink: "This year, we're going big on our vegetarian menu. We're going above—and beyond."
Here are today's top stories:
Airbnb cancels reservations for Inauguration week
The company announced it was blocking reservations for the Washington, D.C. metro area for next week to help prevent violence planned for President-elect Joseph Biden's inauguration. Airbnb canceled exisiting reservations on its platform and HotelTonight, which offers last-minute rooms, promising to reimburse hosts.
The announcement is an extension of Airbnb's "Capitol Safety Plan," which originally required guests to verify their identities and comply with additional security checks:
UPDATE: In response to various local, state and federal officials asking people not to travel to Washington, D.C., we are cancelling reservations and preventing new reservations in the Washington, D.C. metro area during Inauguration week. https://t.co/TwadjkJ98p

— Airbnb (@Airbnb) January 13, 2021
In a blog post, the company wrote:
Airbnb's work continues to be informed by inputs from our local host community as well as Washington, D.C. officials, Metro Police and Members of Congress throughout this week. In particular, Mayor Bowser, Governor Hogan and Governor Northam have been clear that visitors should not travel to the D.C. Metro area for the Inauguration. Additionally, we are aware of reports emerging yesterday afternoon regarding armed militias and known hate groups that are attempting to travel and disrupt the Inauguration.
Why it's important: Prepare in advance for potential crises, but be willing to quickly change your strategy as more information becomes available or additional complications present themselves. When writing—and re-writing—your crisis playbook, make sure you assign tasks and responsibilities to specific experts within your organization. Practice with these chosen employees and leaders, so they know what to expect and so they have the proper resources to make additional last-minute decisions or best respond to reporters, other employees and more.
---
SOCIAL BUZZ
Xbox U.K.'s social media team recently offered its followers the opportunity to receive a video game recommendation based on their Twitter profile and tweets:
✍️ You comment on this post
🕵️‍♀️ We snoop your profile
🎮 You get an @XboxGamePassUK game recommended just for you

— Xbox UK (@xboxuk) January 12, 2021
The tweet racked up more than 3,000 comments within the first four hours of posting, as well as additional comments, retweets and "likes" on its Twitter thread:
psst, don't forget to try the game we recommend 👀

— Xbox UK (@xboxuk) January 12, 2021
so plot twist, we're trying to suggest ya'll something new that you may like

kinda like a surprise 🎁

— Xbox UK (@xboxuk) January 12, 2021
The effort is a great way to highlight products and services without screaming promotional messages into the social media void. Instead, Xbox UK's team focused on personalization—an increasingly important marketing trend—to highlight its offerings under its "Game Pass" subscription.
Consider ways you can personalize your marketing campaigns and sales pitches to prospective and current customers. Doing so can boost both online engagement and your organization's bottom line.
---
MEASURED THOUGHTS
Sephora announced its diversity, equity and inclusion strategy alongside a report titled, "The Racial Bias in Retail Study":
Two in five shoppers have experienced unfair treatment in a US retail store on the basis of their race or skin tone. We're rolling out an action plan to create a more equitable shopping experience for all. Learn more: https://t.co/7WiFHdbZ6c pic.twitter.com/wAO1L1awJx

— Sephora (@Sephora) January 13, 2021
In its report, the beauty retail chain revealed that two in five customers in the United States have experienced unfair treatment because of their race or skin, and more than half of Black shoppers (53%) have reported bias or unfair treatment. Many point to a lack of representation, too, with 74% consumers saying marketing "fails to showcase a diverse range of skin tones, body types and hair textures."
"The signs at the door say 'Welcome,' but in reality, a lot of customers don't feel that way—and that's not OK," Sephora says in its video.
The company committed to doubling the Black-owned brands they showcase, along with featuring and advertising these brands with a dedicated tab on Sephora's website. The retailer will also decrease the amount of third-party security officers at its U.S. locations to lessen consumers' concerns about being policed while shopping.
Sephora also shared its workforce makeup, committing to share the numbers biannually: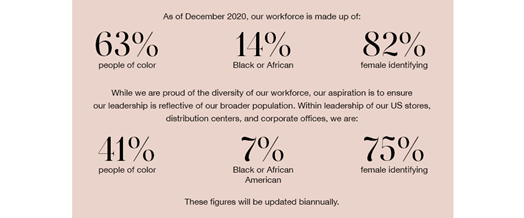 The announcement and report showcase a great strategy, using data and insights to power meaningful DE&I initiatives. The report also offers copious opportunities for additional content and media coverage.
---
TACTICALLY SPEAKING
Consumers can now satisfy their Girl Scout cookie fix through Grubhub with the delivery app offering free delivery on orders of at least $15.
📣The 2021 Girl Scout Cookie season is here and many Girl Scouts are selling in creative, socially distant, and contact-free ways to keep themselves and their customers safe. https://t.co/CtE7M1Hu8q

— Girl Scouts (@girlscouts) January 12, 2021
In a blog post, the Girl Scouts of the USA wrote:
Even in light of the COVID-19 pandemic, girls are adapting their sales methods to share the joy of Girl Scout Cookies through the largest girl-led entrepreneurship program.

… Additionally, GSUSA is making online cookie ordering available nationwide on February 1 so consumers who don't know a Girl Scout can still purchase cookies from a local troop for direct shipment to their homes or donation to local organizations.
 The effort highlights the power of innovative marketing strategies during COVID-19 as well as the importance of partnerships to best reach your audience and meet your goals.
---
CRISIS LEADERSHIP NETWORK
Looking for more insight on how to address the current global crisis and lead your organization into a strong recovery?
Join Ragan's Crisis Leadership Network to connect and brainstorm with peers, get the latest intelligence and research and start to strategize for the future of your organization.
Learn more about this exclusive membership here.
Snapchat bans Trump as Google blocks political ads
 Snapchat is the latest social media platform to permanently suspend President Donald Trump's account, saying the move is "in the best interest of our Snapchat community."
 Bloomberg's Sarah Frier tweeted the company's statement:
Snapchat is permanently banning Trump. Statement from company: pic.twitter.com/kRjzqh8mjb

— Sarah Frier (@sarahfrier) January 14, 2021
Google also told its marketing partners that starting today it's blocking political ads, including those "referencing candidates, the election, its outcome, the upcoming presidential inauguration, the ongoing presidential impeachment process, violence at the U.S. Capitol, or future planned protests on these topics," according to Axios.
Why it matters: Communicators across organizations and industries should lay out their response strategies now, which includes decisions on whether their social media teams and their executives will speak out or stay silent in relation to last week's attacks as well as next week's inauguration. Lean into your organization's values when making such decisions, ensuring they align. If you don't clearly understand your brand's values, now is the time to clarify them—and make sure they inform your strategies.
---
TACTICALLY SPEAKING
Cadbury is celebrating 50 years of its Creme Egg with a "golden goobilee" commercial that celebrates "lickers," "bakers," "dippers," "eggsperts" and "sharers." The Mondelēz International brand grabbed buzz for featuring a homosexual couple sharing the confection:
The ad is part of a campaign that started Dec. 26 and runs through April 4, offering consumers in the U.K. and Ireland the opportunity to find one of 200 "golden" eggs located in grocery and convenience stores. Each of the hidden eggs, which are covered in edible gold dust, offers cash prizes up to roughly $6,800.
---
TAKE OUR SURVEY
The start of a new year brings more opportunities for communicators across roles, organizations and industries to develop effective strategies and efforts that can strengthen their brands amid continuing crises, including the COVID-19 pandemic.
Ragan's Communications Leadereship Council has created The 2021 Communications Benchmark Survey, and wants to know your challenges, successes and needs as you navigate the rapidly shifting communications landscape and respond to unprecedented crises as well as new opportunities.
Please share your insights with us. As a thank you for your time and insights, you'll receive an Executive Summary of the report, packed with proprietary research that can help you better shape communications strategies in 2021. You'll also be entered to win one of five $100 Visa gift cards.
---
WHAT YOU SAID
We asked how you maintain productivity, especially when coming back after a holiday break, and 41% lean on exercise, while 35% meditate, nearly 12% use productivity apps and tools, and almost 12% employ other methods to boost motivation.
How do you maintain productivity, especially after the holidays?

Share with us below how you're boosting motivation, and we'll share in tomorrow's #DailyScoop.

— PR Daily (@PRDaily) January 13, 2021
For many PR pros, the answer is a balance of several productivity tools. That's the case for ARPR's team:
Our #armyofawesome does a healthy balance of all of the above!

— ARPR (@AR__PR) January 13, 2021
Zala Bricelj, co-founder and co-host of the #GlobalPicnic Community, said dog walking is great exercise—and that, along with breaking up tasks and getting pumped with the right music—helps her to stay motivated:
Beside being active – three dogwalks a day ☀ 🐕
Planning out my day + process
Putting on music that motivates me & gets me started (Moby's Lift Me Up does it for me)
Doing chunks of work & taking breaks in between 👍

— Zala Bricelj – 🇸🇮 😊 #edutech is my jam (@ZalkaB) January 13, 2021
PR pro Morgan Richards admitted that the COVID-19 crisis, recent U.S. Capitol riots, impeachment and working from home means productivity can drastically change day to day:
Not this week. Sharing a pandemic home office w/spouse + 2 teens who ought to be individuating, a pandemic, insurrection and impeachment. My productivity post-holidays is like a roller coaster this year. Anyone else? #KeepItReal

— Morgan Richards (@morganrichards) January 13, 2021
Is there a question you'd like us to ask in an upcoming poll? Let us know below or under the #DailyScoop hashtag on Twitter!
---
SOUNDING BOARD
What's your "win" this week, PR and comms pros?
What's your "win" this week, PR and comms pros?

As you grapple with unprecedented challenges and crises, it's easy to get exhausted–but there are also unparalleled opportunities out there.

Share your moment of victory, and we'll share a roundup in tomorrow's #DailyScoop. pic.twitter.com/YOneU85wjI

— PR Daily (@PRDaily) January 14, 2021
As communicators across organizations and industries grapple with unprecedented challenges and crises, it's easy to get exhausted. However, there are also unparalleled opportunities and outstanding moments created daily. Please weigh in below and share your insights on Twitter, and we'll share in tomorrow's #DailyScoop.
COMMENT