Airline CEOs push to drop masks, which companies earned kudos on fixing gender pay gap and Spotify brings social audio to its core app
Also: KFC partners with Jack Harlow on signature menu of the rapper's 'Kentucky fried favorites.'
Hello, communicators:
Kentucky native and Grammy-nominated rapper Jack Harlow is partnering with KFC to share his favorite "Kentucky fried" foods with fans.
Harlow recently met with Chris Scott, KFC's head chef, in Louisville, to get the full KFC experience — complete with a photo op and fried chicken taste-testing.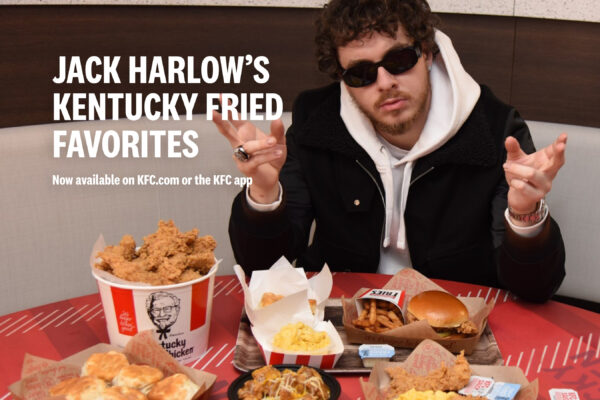 Harlow fans can order his favorite KFC menu items through the KFC app — a nod to how companies are tying big marketing campaigns to business outcomes, like app downloads.
"It goes without saying that our classics will never go out of style, but as Jack's favorites, a few of them are getting celebrity status," said KFC U.S. CMO Nick Chavez. "We are excited to make Jack's favorites available now on the KFC app, and can't wait to share what's next with Jack Harlow and KFC. Stay tuned. You won't want to miss it."
KFC's celebrity partnership is the latest in a slew of restaurant-influencer deals, among them Justin Bieber's Tim Horton's meal and Mariah Carey's Christmastime McDonald's deal.
Here are today's other top stories:
Airlines' request to drop mask mandate gets mixed consumer response
Several major airline companies called on President Joe Biden to lift the mask mandate and other COVID-19 precautions for air travelers this week.
Last month, the Transportation Security Administration (TSA) extended the federal mask mandate for public transportation through April 18.
NBC News reports that trade group Airlines for America penned a letter to Biden, asking him to lift the mask mandate and travel testing requirements due to the "high level of immunity in the U.S., availability of high-quality masks for those who wish to use them, hospital-grade cabin air, widespread vaccine availability and newly available therapeutics."
"We are requesting this action not only for the benefit of the traveling public, but also for the thousands of airline employees charged with enforcing a patchwork of now-outdated regulations implemented in response to COVID-19," read Wednesday's letter, which was signed by the heads of 10 airlines, including American, Delta and United.
Twitter users reacted to the prospect of maskless travel, with some expressing dismay:
Dropping masks on planes and buses is going to be a grave mistake. The airlines is how the virus got to our shores in the first place. What's the international flights that bring deadly viruses into our country. Stop the madness the virus is still in the air. Cover up people

— 🌊🌊🌊🌊🌊 🌊 HAPPY LUCKY (@HappyLu84721844) March 24, 2022
Leaders shouldn't give in to the noise out of political pressure. Pray they see what's coming & that we're prepared. Letting up on masks for planes & transportation is asking for trouble. Why don't people realize masks are a major reason why airlines have been able to keep going? https://t.co/IQq2EkS0f5

— Renee UK (@ReneeUKCats) March 24, 2022
Others seemed excited at the chance to board a plane without a mask:
For the love of God please end the masks on planes and airports. If people still need to scream at others aim it towards the people who take their shoes and socks off on the plane https://t.co/kq3tfyoh57

— Drew Kochmann (@drewskie88) March 24, 2022
Dump useless masks on planes ASAP https://t.co/ZPs2GEcfsI

— Tristan Flynn (@TristanCPDT) March 23, 2022
What you should know: The mixed response on social media shows that unwinding COVID-19 business conditions is still a complicated proposition. With a wide range of consumer comfort, creating environments that suit the needs of everyone will require careful listening and testing.
This is an example of where social listening data can be useful to C-suite members in making business operations decisions. While airlines are campaigning to drop the COVID-19 travel protocols, companies should still be mindful of the portion of people who still may not feel safe going maskless. Designing a messaging strategy to speak to these passengers in particular will be key in retaining positive brand sentiment moving forward.
---
MEASURED THOUGHTS
A new report from Signal AI shows S&P 500 companies Microsoft, Amazon and Apple received the most positive media coverage related to the gender pay gap over the last year.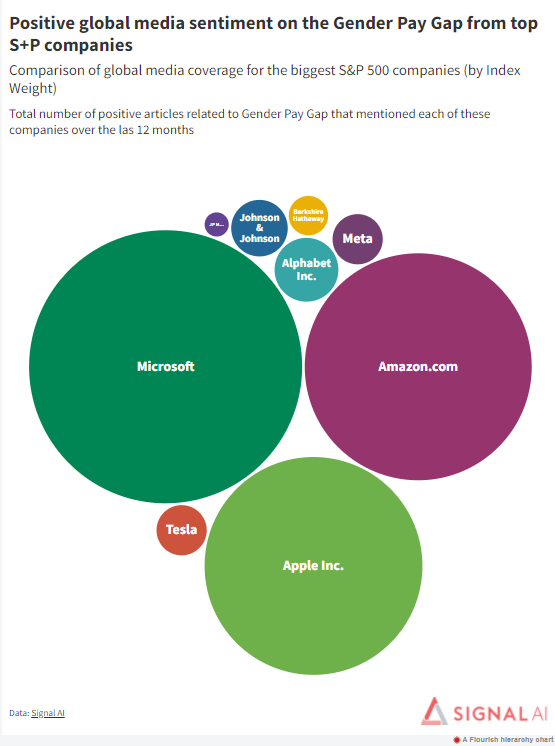 Microsoft was mentioned in 770 positive articles about the issue, followed by Amazon.com (532) and Apple Inc. (490).
The next closest company to receive a number of favorable mentions related to the gender pay gap was Alphabet Inc. (42), Google's parent company.
It's a reminder to PR pros that how your organization is treating its employees is a external reputation issue that PR pros must monitor. Brand sentiment is easily swayed by evidence that organizations treat (and compensate) their workers fairly.
View more from the Signal AI report here.
---
TAKE OUR SURVEY
We want to hear from our community about how their thinking has changed on media relations and its value inside their organization. If you work in communications, please take our short survey to help us chart the value of media relations for 2022.
The survey will take less than 10 minutes to complete and participants will be entered in a drawing for a $100 credit toward a Ragan event. All individual responses will be kept confidential.
Results from the survey will be shared at PR Daily's Media Relations and Measurement Conference in New York City on May 11.
Spotify will move its social audio feature into the main app
According to a report from Bloomberg, Spotify will move its live audio feature into the main Spotify app to make it more visible, marking a noteworthy move in the music streaming company's efforts to dive into social audio.
Spotify's Greenroom launched in summer 2021 with built-in recording and chat features. The company will rebrand Greenroom as Spotify Live.
Spotify launched Greenroom on iOS and Android last year as a competitor to Clubhouse. It was built on Locker Room, an app created by Betty Labs, a software developer that Spotify acquired last March. When it launched Greenroom, Spotify was one of several tech platforms building live audio products, hoping to catch some of the buzz (and users) that Clubhouse, originally invite-only, garnered in its first year.
Why it matters: While much of the hype around the original social audio app, Clubhouse, has died down, PR pros would be remiss to ignore Spotify's offering. Social audio is ripe for creativity and growth, and Spotify's renewed commitment to Greenroom/Spotify Live is a sign that things could get interesting very quickly.
New to social audio? Try hosting on Twitter Spaces, where organizations from newsrooms to brand accounts have found success in reaching live audiences. And here are four rules to follow when getting into social audio platforms.
COMMENT