McAfee partners with Peloton on software bug warning, 9 drivers of brand authenticity, and Southwest explains grounded flights
Also: Tripadvisor introduces annual membership, Royal Caribbean's inaugural cruise postponed after crew COVID cases, and Spotify launches live audio app.
Hello, communicators:
Digital travel planning site Tripadvisor has had a busy month. Following the launch of a Pride partnership with HBO Max spotlighting Pride-themed events and travel opportunities across the U.S., Tripadvisor has launched Tripadvisor Plus, an annual subscription program designed to save its customers money by offering discounted prices on hotel stays, rental car savings and benefits through Hertz, personalized travel advice over text and more. The travel platform says that most subscribers will save more than the $99 cost of this membership on their very first trip.
"Tripadvisor Plus has your back by unlocking choice, so you can save more to spend more on what you've been missing, whether a quick weekend away or a postponed honeymoon," Tripadvisor chief experience and brand officer Lindsay Nelson said in a press release.
Tripadvisor's focus on choice and flexibility in its messaging reflects the fact that stakeholders in all industries (not just travel and hospitality) expect more options from brands to accommodate their specific needs and desires in a changed world. The membership and subscription model, meanwhile, offers the opportunity for personalized communication that can lead to more valuable, granular audience data and insights.
McAfee partners with Peloton to announce software vulnerability
Software security company McAfee explained in specific detail the security and privacy issues discovered in the software on Peloton exercise equipment, including vulnerabilities that can allow hackers to remotely access a bike's camera and microphone to monitor users and add phishing software disguised as popular apps to collect user logins and passwords.
Given the simplicity and criticality of the flaw, we decided to disclose to Peloton even as we continue to audit the device for remote vulnerabilities. We sent our vendor disclosure with full details on March 2, 2021—shortly after, Peloton confirmed the issue and subsequently released a fix for it in software version "PTX14A-290". The patched image no longer allows for the "boot" command to work on a user build, mitigating this vulnerability entirely. The Peloton vulnerability disclosure process was smooth, and the team were receptive and responsive with all communications.
Peloton's Head of Global Information Security Adrian Stone shared:
This vulnerability reported by McAfee would require direct, physical access to a Peloton Bike+ or Tread. Like with any connected device in the home, if an attacker is able to gain physical access to it, additional physical controls and safeguards become increasingly important. To keep our Members safe, we acted quickly and in coordination with McAfee. We pushed a mandatory update in early June and every device with the update installed is protected from this issue.
Why it matters:
McAfee's report provides more information than the average consumer needs around Peloton's security vulnerability, but the amount of detail and explanation (including screenshots) instills a high level of confidence that the issue has been remedied. The way that the partnership was communicated by the security expert also serves as a reminder that your relationship with expert partners, be it during a cybersecurity incident or any crisis, should be strong enough that you can trust them to communicate on your behalf.
---
MEASURED THOUGHTS
A new report by Fleishman Hillard found that there are only nine drivers of brand authenticity, which under the categories of customer benefits, society outcomes and management behaviors.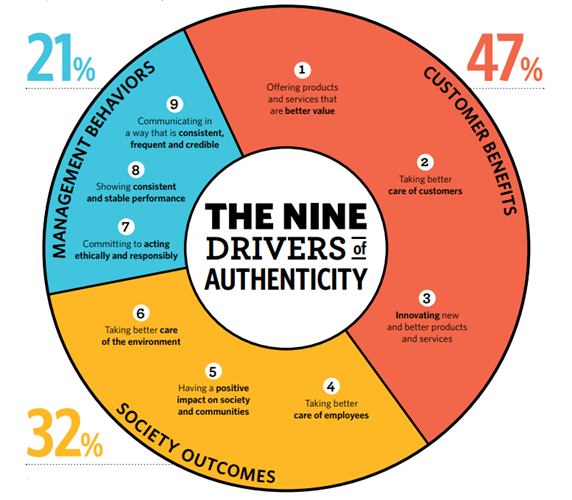 Courtesy of Fleishman Hillard
"Only around half (47%) of consumer perceptions and beliefs about a company are shaped by attributes related to a company's 'customer benefits', i.e. the products it offers and services it provides," the report reads. "It's no longer enough to just create great products and services. The other half of consumer perceptions are shaped by a company's impact on society (32%) and information regarding how a company's management behaves (21%). If you are predominately talking about your products and services, you are only telling half the story consumers want to hear."
---
CRISIS COMMUNICATIONS
Royal Caribbean has postponed the inaugural voyage of its Odyssey of the Seas cruise from Ft. Lauderdale, Florida from July 3 to July 31 ship after eight vaccinated crew members tested positive for COVID-19 during crew tests.
"All 1,400 crew onboard Odyssey of the Seas were vaccinated on June 4th and will be considered fully vaccinated on June 18. The positive cases were identified after the vaccination was given and before they were fully effective," [Royal Caribbean President and CEO Michael] Bayley said. "While disappointing, this is the right decision for the health and well-being of our crew and guests. To protect the remaining crew and prevent any further cases, we will have all crew quarantined for 14 days and continue our routine testing."
While Royal Caribbean took flak for only requiring its crews to be vaccinated and not passengers in accordance with Florida rules fining companies for requiring customer vaccinations, its sister brand Celebrity Cruise's Millennium ship was billed as the first all-vaccinated cruise when it left St. Maarten on June 5, and two passengers still tested positive for COVID-19. Royal Caribbean's repeated gaffes serve as a reminder that communicating a return to business operations should emphasize the logic behind your timeline, including why certain procedures are expedited (such as providing vaccines to your employees sooner rather than later) and others are not (such as scheduling a return to sailing before crew vaccines have time to take effect).
---
RAGAN'S 2021 BENCHMARK REPORT
Ragan has released its annual Communications Benchmark Report, an exclusive study from Ragan's Communications Leadership Council that analyzes the major trends in the profession over the last year.
During that time, comms pros have been called on to develop and distribute messages on new policies that affect internal and external stakeholders alike. Their role has become more essential as they helped keep their organizations focused and moving forward. They've seen their access to the C-suite increase throughout 2020, and they forged important new alliances with peers in other departments, including HR, finance and workplace wellness.
Culled from more than 750 respondents, the 32-page report is available in its entirety exclusively to members of the Communications Leadership Council.
Download your copy of the exclusive Benchmark Survey Executive Summary today and get a crucial competitive advantage that will fuel your success for 2021 and beyond.
---
SOCIAL BUZZ
Spotify has launched its live audio app Greenroom to all 135 global markets, overhauling the Locker Room app that it acquired in March. Greenroom targets Spotify's built-in audience of 365 million users, all of whom have access to Greenroom's live rooms including built-in recording and chat features, and promises to extend the reach beyond Locker Room's focus on sports to allow users to customize experiences based on their interests.
Early adopters of Greenroom took to Twitter to share their thoughts. Some podcasters were ready to go at launch:
⚡️LIVE RECORDING TONIGHT⚡️

Join Cole & @KanyePodcast for a live YEEZUS Song Draft, where we discuss the album through an NBA style draft of its songs. Plus a live Q&A.

6pm PT / 9pm ET on Spotify's FREE Greenroom app (formerly Locker Room) https://t.co/LTU6Go2jdP pic.twitter.com/Z2As0zVbiV

— Dissect Podcast (@dissectpodcast) June 16, 2021
So far today in the NBA:

-Kawhi Leonard out with an ACL injury
-Chris Paul out due to health/safety protocols
-Stan Van Gundy out as Pelicans coach
-Scott Brooks out as Wizards coach

Going live on Greenroom at 2:30 ET with @BigWos and @jkylemann to discuss all that and more:

— Kevin O'Connor (@KevinOConnorNBA) June 16, 2021
Others were impressed with Greenroom's recording feature, which helps any creator turn their conversations into instant podcasts:
The best part of @Spotify's Greenroom is the room recording. Wish Clubhouse or Spaces had this feature. pic.twitter.com/FrTdtTM9dG

— Varadhu Kutty (@KuttyVaradhu) June 16, 2021
More audio thoughts:

Spotify greenroom automatic recording is fascinating—I don't perceive a change in convo quality.
The ease that spotify manages the audience and speaker permission plus is ready for the host is…super compelling

— 🟣The Pricing Nerd (@ThePricingNerd) June 16, 2021
While some had some design nitpicks:
this hand icon in @Spotify Greenroom is not optically centred and it's bugging me 😶 pic.twitter.com/DicEuIEIDD

— Gokul ☻ (@GokulHK) June 16, 2021
As live and social audio become available to more users, the opportunities to repurpose content from live conversations into podcasts will steadily increase. Begin having conversations with your content, marketing and leadership teams now about how to streamline thought leadership content through live audio with a focus on building a process to turn around well-produced podcasts and clips with minimal editing or production needs.
---
COMMUNICATIONS WEEK
Ragan is delighted to add industry event and thought leadership brand Communications Week to our portfolio. You can read the full press release here.
"We are reimagining Communications Week as a year-round endeavor," says Ragan Communications CEO Diane Schwartz. "The rollout will begin next month with thought-provoking content on the future of communications on Commsweek.com, Ragan.com and PRDaily.com, culminating with a weeklong series in November that will feature conferences, networking events, workshops, webinars and more."
The flagship event for 2021 will take place Nov. 15-19. Stay tuned for updates on the many opportunities and offerings that will help communicators connect, learn and celebrate their achievements later this year.
Southwest Airlines labors to explain three days of grounded flights
Southwest Airlines has grounded hundreds of flights as the company works to resolve disruptions that stemmed from an issue receiving data from a third-party weather provider on Monday evening before devolving into technical issues for the airline itself on Tuesday and continuing into Wednesday.
"We've resumed normal flight operations after our third-party weather data provider experienced intermittent performance issues Monday evening preventing transmission of weather information that is required to safely operate our aircraft," Southwest said in the statement, shared with Insider Tuesday morning.

"While Southwest Teams and the vendor worked to restore connectivity, we implemented a ground stop to protect the Safety of our Crews and Customers. We appreciate our Customers' patience as we work to get them to their destinations as quickly as possible. We ask that Customers use Southwest.com to check flight status or consult a Southwest Airlines Customer Service Agent for assistance with travel needs."
Though problems had been resolved Wednesday, the airline's networks were still not restored to full capacity and resulted in about 10% of Southwest flights being canceled, with another 19% delayed by Wednesday afternoon.
"While our technology issues from Tuesday have been resolved, we are still experiencing a small number of cancellations and delays across our network as we continue working to resume normal operations," Dan Landson, a Southwest spokesman, said in a statement.

Southwest said on Tuesday that it was having problems with "network connectivity." Mr. Landson said that those troubles were unrelated to the weather data problems from Monday and that there was no indication the airline's computer systems had been breached or hacked.
Customers said they felt the airline struggled to show empathy for stranded passengers. The Times continued:
Another traveler, Azavier Jackson, 29, said she was disappointed with Southwest, which she was flying for the first time. Her biggest frustration was that the airline didn't inform her of an earlier flight that she could have taken.
"It's not humane to make us wait in the airport that long," Ms. Jackson said. "There was terrible communication. It felt like they were saying, 'Just deal with it.'"
What it means:
Southwest has long had a reputation for the best customer service in the commercial airline space (rivaled only by JetBlue), so this feedback on poor communication from its passengers must feel particularly frustrating.
The airline's missteps might all be traced to a failure to provide specifics. When identifying the initial problem was caused by a third-party contractor, Southwest didn't explain where the connectivity issue originated, nor did it disclose who the partner was, which serves as a reminder to have a messaging plan in place to address problems with partners and contractors (including when you will and won't identify them).
The airline's failure to be specific about its technological failures, meanwhile, raises questions in an age when so many brands are facing cyber attacks and security vulnerabilities. Take note that, in certain instances, disclosing more specifics around a crisis can mitigate negative sentiment by putting a lid on speculation.
---
WHAT YOU SAID
Yesterday, we asked if your organization plans to commemorate Juneteenth. Sixty-four percent of you said no, while 14% each said your organization will be commemorating the day internally or externally. Just 7% said that your organization has a coordinated internal and external plan to commemorate the day.
Does your organization plan to commemorate Juneteenth, PR pros and communicators? #DailyScoop

— PR Daily (@PRDaily) June 16, 2021
Is there a question you'd like to see asked? Let us know by tagging #DailyScoop!
---
SOUNDING BOARD
Have you discussed a communications plan for social/ live audio with leadership, PR pros and communicators?
Have you discussed a communications plan for social/ live audio with leadership, PR pros and communicators? #DailyScoop

— PR Daily (@PRDaily) June 17, 2021
Let us know in the comments below and don't forget to tag #DailyScoop!
COMMENT
One Response to "McAfee partners with Peloton on software bug warning, 9 drivers of brand authenticity, and Southwest explains grounded flights"
Ronald N Levy

says:

Downloading the brilliant Fleishman Hillard report can help one build an
increasingly successful PR career. We yearn for love, earn for love, marry for love and sacrifice for love. Tips in the FH report can earn love from managements for those who guide managements to win the public's love and protection—and to avoid losing it.

FH has always paid top dollar and managed to hire many of the very best people.