Airlines celebrate return of international air travel, most comms leaders report to the C-suite, and Walmart completes regular driverless deliveries
Also: Orbit releases gum-dispensing ugly holiday sweater, Tesla stock takes hit after Elon Musk Twitter poll, and more.
Hello, communicators:
Mars Wrigley's Orbit Gum is giving away a peppermint-scented ugly holiday sweater that dispenses gum, comes with mini multi-colored Christmas lights and has built-in mistletoe. Hopeful sweater owners can enter a sweepstakes to win their own, which Orbit hopes will promote its gum as the solution to fresh breath amid the return of holiday parties.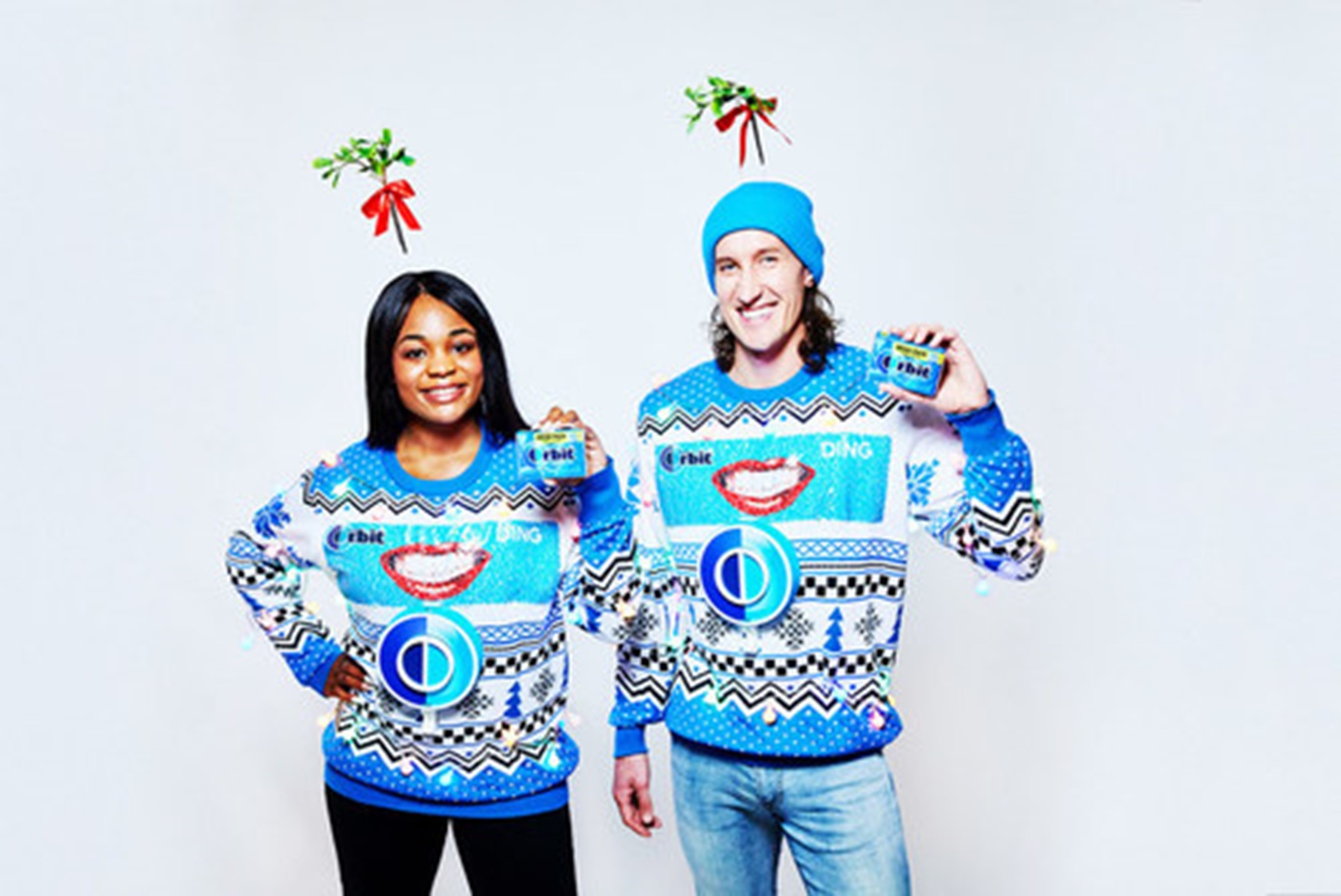 "Through our ORBIT Smooching Sweaters, we hope to deliver better moments and more smiles to our fans this holiday season as we know so many people weren't able to celebrate in person last year," Orbit senior brand manager Sally Tran said in a press release. "As we're gradually returning safely to more traditional in-person holiday gatherings, we wanted to create an item that not only gets people in the spirit, but also helps them feel bold and confident in an unexpected way."
With its twist on the classic ugly Christmas sweater, Orbit's giveaway offers a fun and lighthearted example of how a brand can embrace a seasonal tradition while bringing attention to timely consumer needs.
Here are today's top stories:
Airlines celebrate U.S. lifting pandemic international travel ban
On Monday, the U.S. lifted its pandemic travel restrictions for international visitors, if they could show proof of vaccination against COVID-19.
American Airlines marked the return of international air travel by unveiling a suite of tools for international customers, including an interactive map highlighting travel guidelines around the world, a checklist of what's required for their specific itinerary and an option to submit digital vaccination records.
"As restrictions give way to new frameworks for safe and healthy travel, the American Airlines team is looking forward to flexing our international network and welcoming our customers back on board as they fly to the destinations they've long-awaited," said Vasu Raja, Chief Revenue Officer for American Airlines. "We appreciate the Biden administration, as well as the U.K. government, for working in collaboration with our industry to make this reopening of international travel a reality, and we're excited about the boost it promises to bring to travelers and the economy."
Delta unveiled similar tools as an update to its Delta FlyReady app, which allows international travelers to upload and verify their vaccination records and also provides a streamlined view of entry requirements at the traveler's destination.
"In the months ahead, many of our customers will be traveling to the U.S. for the first time since before the pandemic—reuniting with family members, friends or colleagues and reclaiming the joy of travel," said Rhonda Crawford, S.V.P. —Global Distribution & Digital Strategy. "And though international travel looks a lot different these days, we've listened to customers to make updates that will give them more personalized and better access to the information they say is important—removing the guesswork from travel plans and making room for them to enjoy their journey."
Why it matters:
As domestic commercial airlines take measures to ensure they have adequate holiday staffing, the launch of new initiatives and features demonstrates proactive messaging in action.
American Airlines' statement positions the return of international travel around the boost that it will provide to the economy, amplifying the relevance of the announcement to reach audiences that may not otherwise care about international travel. It stands out as an example of how widening the impact of your messaging can make it attractive to new stakeholders (including media outlets) who may not otherwise be engaged with the issue.
While Delta's announcement contains several of the same features, its emphasis on listening and personalization acknowledges the confusion and frustration for travelers about new mandates while positioning the features as a solution to streamline and simplify the customer experience.
---
MEASURED THOUGHTS
In a recent study by Edelman, the majority of senior corporate communicators said that they report directly to the C-suite, revealing the growing importance of the function in business structures.
Forty-six precent said they report to the CEO and 19% report to the COO. Only 16% said they report to the chief marketing officer.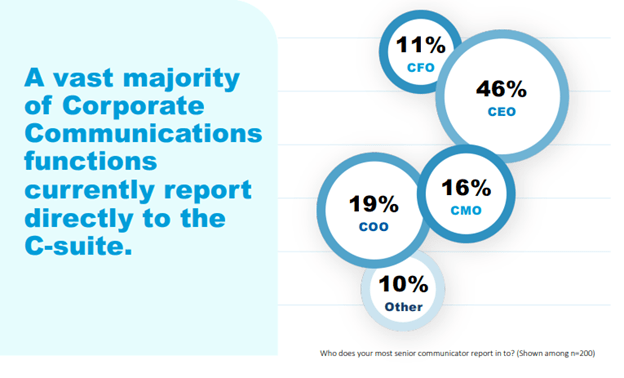 ---
Announcing the PR Daily Leadership Network
PR Daily is launching the PR Daily Leadership Network, a unique membership group from Ragan Communications offering peer-to-peer advisory and team training along with a unique slate of resources and events to help public relations professionals break through the noise, increase their visibility and forge meaningful connections.
The Network provides daily insights and coverage on a range of topics including media relations, social media, measurement, Diversity, Equity & Inclusion, branding, thought leadership and crisis communications.
"The fast pace of change coupled with the demand on public relations professionals to protect and sometimes defend their company's reputation make it imperative for leaders to tap into the wisdom of other communicators and continue to learn and grow," says Diane Schwartz, CEO of Ragan Communications. "The PR Daily Leadership Network provides the answers but also encourages members to question the status quo and push for positive change."
Visit leadership.prdaily.com to learn more.
---
CRISIS COMMUNICATIONS
Tesla shares fell drastically on Monday after CEO Elon Musk tweeted a poll in response to a recent proposal by U.S. Sen. Ron Wyden of Oregon to tax investments for the country's billionaires every year. The proposal would have modified the existing U.S. law to only tax stock investments when they are sold.
Musk tweeted:
https://twitter.com/elonmusk/status/1457064697782489088
In follow-up tweets, Musk said that he would abide by the results however they leaned. He also reminded followers that, because he does not take a cash salary or bonus, selling stocks were his only option to pay taxes personally.
The stunt reminded several people that Musk paid no income taxes in 2018 and brought additional scrutiny to the CEO's finances from commentators:
https://twitter.com/womensmarch/status/1457892699139346433
https://twitter.com/RBReich/status/1457476707242450946
The stunt also seemed to attempt to distract from the truth.
"The real reason is because Musk is just months out from a deadline to exercise the stock options he received years ago," CNN reported. "If he doesn't use them, he loses them. And if he does exercise his shares, he's going to face a monster tax bill between nearly $11 billion to as much as $16 billion at current share prices."
Musk's latest gaffe offers a fresh example of how a rogue CEO's actions can cause substantial damage to a company's bottom line. Share this incident with any leaders who are resistant to media training or push back on guidelines about what they should and shouldn't share on their personal social media channels.
---
TAKE OUR SURVEY
The HarrisX – Ragan CEO/Communicators Competencies Survey is looking for chief communications officers, senior vice presidents and top comms officers to take our first-of-its-kind poll. The survey seeks your feedback on what you consider to be the most important skills and attributes communicators must master—and we're asking your CEO as well.
The findings—and comparisons of CEO views vs. those of communicators—will be announced during Ragan's Communications Week Nov. 15-19 and in a special report this winter.
Can you spare a few minutes to help us chart the future of the communications role?
Walmart announces regular driverless deliveries
Walmart announced that it is now operating two self-driving box trucks in the company's hometown of Bentonville, Arkansas. This marks a new milestone in the company's partnership with autonomous vehicle logistics company Gatik, marking the first time that an autonomous trucking company has removed the safety driver from a delivery:
Since receiving permission from the Arkansas State Highway Commission to remove safety drivers from its tests in December 2020, Gatik said it has seen 18 months of successful operations. The company also said it undertook a comprehensive stakeholder engagement strategy that included state and local leadership, along with emergency services.
According to a joint press release:
"Through our work with Gatik, we've identified that autonomous box trucks offer an efficient, safe and sustainable solution for transporting goods on repeatable routes between our stores," said Tom Ward, senior vice president of last mile at Walmart U.S. "We're thrilled to be working with Gatik to achieve this industry-first, driverless milestone in our home state of Arkansas and look forward to continuing to use this technology to serve Walmart customers with speed."
What it means:
Walmart and Gatik's joint press release positions both brands as innovators, celebrating the milestone of a regular driverless delivery route while spelling out that this milestone moment follows a larger narrative. While other autonomous vehicle programs have publicized their developments early before the programs are live and operating, this news makes a case for waiting to promote your work until the success is proven.
It also serves a reminder to detail the steps your company has taken to make a new product market ready. This demonstrates a preparedness for the inevitable questions that your brand will face for being first and lets stakeholders know that you have anticipated their concerns.
COMMENT