Lyft and Ford partner to offer driverless rides, most Americans support regulation of big tech, and J&J addresses opioid lawsuit deal
Also: Brands offer beefy promotions for National Hot Dog Day, Twitter takes heat for copying Reddit and TSA requires crisis plans from pipeline companies.
Hello, communicators:
Several brands celebrated National Hot Dog Day on July 21 with deals and promotions that thrust America's most iconic street food into the spotlight.
In a promotion encouraging customers to "Seize the Dog," 7-Eleven convenience stores is offering its Quarter-Pound Big Bite Dog for just $1 through the month of July. In addition to cheap hotdogs, the chain is also offering free Slurpees through the end of the month to celebrate its birthday on July 11.
"7-Eleven's Big Bite hot dogs and Slurpee drinks are American icons, and while they're enjoyed year-round, summertime is their time to shine, with millions stopping by to grab a Big Bite hot dog and a Slurpee on their way to the lake, pool, home from a game or just to satisfy a craving," 7-Eleven fresh food product director Ryan Murphy said in a press release.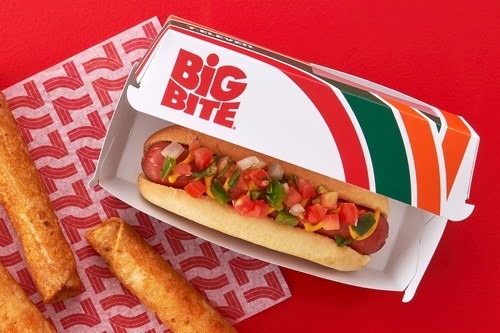 Meanwhile, Virginia-based Smithfield Foods held its first ever national hiring campaign on National Hot Dog Day, holding walk-in hiring events at 47 of its U.S. locations and conducting interviews for up to 2,500 hourly positions across the company's facilities, farms and distribution centers. Smithfield also gave event attendees a coupon for a free pack of Nathan's hot dogs.
"We cannot think of a better way to celebrate National Hot Dog Day than hosting a national hiring event to grow our Smithfield Family and expand our global team of more than 63,000 strong," said Arturo Towns, senior vice president of human resources for Smithfield Foods Arturo Towns said in a press release. "As a leading protein company, we are passionate about fostering a collaborative and inclusive work environment that empowers every member of our team to take charge of their career and professional development."
Whether helmed by a leading protein company or a national convenience store chain, these campaigns emphasize the wide range of directions that your messaging efforts around a holiday or cultural celebration can take.
Lyft and Ford detail partnership to offer driverless rides
Ford and self-driving automobile company Argo AI, which Ford partially owns, have announced plans to offer self-driving rides through Lyft beginning later this year. The program will start with human drivers as a backup before going completely autonomous, and Lyft expects the cars to collect enough data for the ride-sharing service to deploy 1,000 driverless cars in multiple markets over the next five years.
According to Ford's press release:
"This collaboration marks the first time all the pieces of the autonomous vehicle puzzle have come together this way," Lyft co-founder and CEO Logan Green said. "Each company brings the scale, knowledge and capability in their area of expertise that is necessary to make autonomous ride-hailing a business reality."

The collaboration is designed to scale autonomous vehicle deployment using market and safety data that helps define where self-driving technology can safely serve consumers. As part of the agreement, Argo will use anonymized service and fleet data from Lyft to overcome the challenges faced by other autonomous vehicle companies by focusing on where they can build a sustainable business and validate deployment through localized safety data. In addition, Lyft will receive 2.5% of the common equity of Argo AI as part of the licensing and data access agreements to collaborate on the safe commercialization of autonomous vehicles.
What it means:
Lyft and Ford's statements effectively highlight each brand's strengths to form a complete picture of the strategic reasoning behind the partnership. Ford's messaging about the intentions of its phased rollout, meanwhile, serve as a reminder that setting expectations around the time for rolling out a new product or feature and sharing your methodology for interpreting the data can foster a perception of shared responsibility, caution and care.
---
MEASURED THOUGHTS
A new study by Pew Research found that a majority (55%) of Americans across political affiliations believe that the government should regulate tech companies to prevent them from growing beyond a certain size because it hurts competition.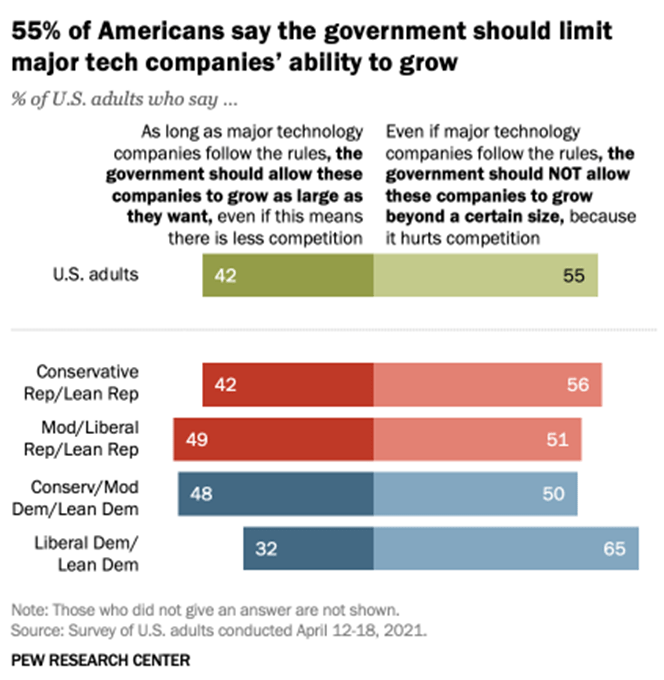 Released amid multiple antitrust lawsuits against big tech, these numbers highlight the extent to which the general public increasingly cares about how business growth affects their experience as users and customers. Once concerns that only required corporate communications confined to earnings reports and brand newsrooms, messaging around your company's growth including acquisitions, mergers and restructures should be composed using as simple of language as possible in order to let external stakeholders understand how your business decisions are made.
---
CRISIS COMMUNICATIONS
The TSA, a division of the Department of Homeland Security, has issued a new order for pipeline companies that requires them to implement specific mitigation measures to protect against ransomware attacks and other IT threats, including developing a cybersecurity contingency and recovery plan and conduct a cybersecurity architecture design review.
The order in the government's latest attempt to bolster private-sector pipeline companies' defenses against cyberattacks following the Colonial Pipeline ransomware attack in May 2021, building off the TSA's requirement immediately following the incident that the pipeline operators designate a cybersecurity point person on staff.
"The lives and livelihoods of the American people depend on our collective ability to protect our Nation's critical infrastructure from evolving threats," said Secretary of Homeland Security Alejandro N. Mayorkas.  "Through this Security Directive, DHS can better ensure the pipeline sector takes the steps necessary to safeguard their operations from rising cyber threats, and better protect our national and economic security."
The TSA's latest order to pipeline companies sure sounds like a crisis plan. The order of operations, from the first order requiring a cybersecurity point person to this second order requiring a plan, highlights the fact that your organization must have the right people and teams in place before constructing a crisis plan in order to ensure there is clarity on who should be leading each step in the plan and moving the protocols along to the next phase when appropriate.
---
TAKE OUR SURVEY
The Institute for Public Relations, Ragan Communications, and the University of Florida are conducting a follow-up survey to their 2020 report, "The Career Path of a Social Media Professional."
This year's survey investigates and illuminates the career path potential of social media professionals, shedding light on how social media is being managed, viewed and evaluated within organizations. Here are some highlights from our 2020 report.
We invite you to take this survey whether you're in charge of social media for your company or are involved in some aspect of social media for a client. The survey should take approximately 15-20 minutes to complete, and all responses will remain confidential.
As thanks for taking the survey, you'll get an opportunity to enter a drawing for three $50 gift cards and will receive a copy of the full report, which promises to be chock-full of valuable data for benchmarking and budgeting purposes. The report will be presented on Sept. 9, 2021 at Ragan's Social Media Conference in Orlando, Florida and published through IPR and PR Daily.
---
SOCIAL BUZZ
Twitter has announced that it is testing an upvoting feature on its platform, with select users having access to upvote and downvote buttons like those popularized by Reddit. Suffice to say, Reddit took notice:
— Reddit (@Reddit) July 21, 2021
Imagine getting ratioed on your own platform by Reddit pic.twitter.com/y9Dd2riL3U

— Tsuchinoko's Winter Chills (@ZeroT_H) July 21, 2021
Some Twitter users suggested there are other Reddit features that Twitter should adopt instead:
the only thing you people should be stealing from reddit is the ability to spoiler tag https://t.co/rfdpQEIsVK

— the flynn build with bad company (@JackpotSyndrome) July 21, 2021
And others lamented the fact that Twitter was becoming more like a competitor, ruining what made it distinct in the first place:
i left reddit for twitter only for twitter to become reddit

— Tommy (@tommietomm) July 21, 2021
im sorry. what is the downvote thing twitter is adding? 😀 i dont want downvotes on my art thank you

— AMMIE ‼️ (@ammiedude) July 21, 2021
why is twitter adding a downvote please its going to make me feel insecure with posting things- like the thought of seeing dislikes is scary

— dessa | commissions: closed! (@itsnotdessa) July 21, 2021
The negative feedback around Twitter's testing of this feature from its own community serves as a reminder that incorporating a competitor's feature into your product or service isn't always a smart move. Have a discussion with your product and development teams around how the feature will be distinguishable from what's already out there. If those teams can't communicate why the feature stands out from the crowd, chances are that you won't be able to either—and your audiences won't see the added value.
---
RAGAN'S 2021 BENCHMARK REPORT
Ragan has released its annual Communications Benchmark Report, an exclusive study from Ragan's Communications Leadership Council that analyzes the major trends in the profession over the last year.
During that time, comms pros have been called on to develop and distribute messages on new policies that affect internal and external stakeholders alike. Their role has become more essential as they helped keep their organizations focused and moving forward. They've seen their access to the C-suite increase throughout 2020, and they forged important new alliances with peers in other departments, including HR, finance and workplace wellness.
Culled from more than 750 respondents, the 32-page report is available in its entirety exclusively to members of the Communications Leadership Council.
Download your copy of the exclusive Benchmark Survey Executive Summary today and get a crucial competitive advantage that will fuel your success for 2021 and beyond.
Drug distributors, J&J share statements about opioid lawsuit deal
The country's three largest drug distributors, along with Johnson & Johnson, are in the process of finalizing a $26 billion deal with states that will settle their legal liability for their role in exacerbating the opioid epidemic that has killed hundreds of thousands of Americans. As part of the deal, billions would be allocated toward opioid addiction treatment, education and other programs to combat addiction and a framework would be establish for enforcing these initiatives.
In an emailed statement, Michael Ullmann, executive vice president and general counsel of Johnson & Johnson, said: "We recognize the opioid crisis is a tremendously complex public health issue, and we have deep sympathy for everyone affected. This settlement will directly support state and local efforts to make meaningful progress in addressing the opioid crisis in the United States."

In a joint statement, the three distributors said: "While the companies strongly dispute the allegations made in these lawsuits, they believe the proposed settlement agreement and settlement process it establishes are important steps toward achieving broad resolution of governmental opioid claims and delivering meaningful relief to communities across the United States."
Why it matters:
If it passes, this deal has the potential to set a precedent for reputational repair by establishing a multi-tiered framework for turning drug manufacturer and pharmaceutical company complicity on the opioid epidemic into an opportunity to rehabilitate, educate and reform.
When crafting messaging around a solution to a problem your organization exacerbated, be sure to include specific language around what that framework will look like including hard facts such as numbers, timelines, protocols and procedures. While it can be tricky to assume responsibility amid litigation, discuss with your legal team how your company can take part in solutions beyond simply forking over the cash and to what extent the settlement or deal should be communicated as part of your brand purpose and values moving forward.
---
WHAT YOU SAID
Yesterday, we asked if you have ever partnered with marketing teams to update your organization's messaging and refresh outdated language on gender, race or sexual orientation. A resounding 71% of you said that you had, while 29% of you had not.
Have you ever partnered with marketing to update your organization's messaging and refresh outdated language on gender, race or sexual orientation? #DailyScoop

— PR Daily (@PRDaily) July 21, 2021
Is there a question you'd like to see asked? Let us know using the hashtag #DailyScoop!
COMMENT
One Response to "Lyft and Ford partner to offer driverless rides, most Americans support regulation of big tech, and J&J addresses opioid lawsuit deal"
Ronald N Levy

says:

In this PR Daily report on what "55% of Americans say," we're seeing a thrilling PR case study that's real: PR problem, PR danger, PR opportunity.

CLASSIC PR PROBLEM: Our powerful government with billions of dollars –plus the power to make law and enforce it—may attack some of our largest companies, intentionally injure them and perhaps even kill one. Our government may actually amputate healthy parts of a healthy company causing it to do less for the public.

Political leaders know they may look like heroes, and perhaps be elected to higher office even president, by attacking a company in the name of the public saying the company has been injuring the public and must be forced to stop. Motivation for attackers, even a small chance of becoming president, is so tremendous that politicians wake up at night thinking of how to look heroic by making the company look like robbers on the loose.

Some attackers are ultrabright political superstars who got to be senators and such by being champions at persuading the public. The attackers have brilliant press aides from the tops of their classes. Media know that the more guilty a company looks, the better the story is but reporting innocence would makes it almost no story, just another politician's accusation.

THE PR PERIL for an attacked company can be the loss of billions in
fines, extra taxes and government restrictions that can cost billions every year. A leading company can be a blessing to the public and a world leader in efficiency but be "broken up" because the government can be like the owner of a slave family. The "master" can split it up a family of companies and oust family members!

THE PR PRINCIPLE OF PRIMACY gives attackers in government a big advantage: an accuser is heard first hence believed more while the defender coming later may be disbelieved by a public that has been conditioned to "know better."

THE PR OPPORTUNITY is to use the Principle of Primacy BEFORE the accusation—communicate first by announcing a huge public service project to find a cancer cure and create hydroponic farms to feed the world's hungry.

FOREIGN LIVES MATTER but millions of helpless humans actually starve to death every year although hydroponic farming could feed them.

AMERICAN LIVES MATTER yet one in five Americans is likely to die of cancer although a cancer vaccine could make that one in 25 or even 100.

SCIENTISTS ARE ALREADY AVAILABLE who can create hydroponic farms and create cancer vaccines. Some cancer vaccines, FDA-approved, have already been created at Memorial Sloan Kettering Cancer Center. A brilliant team of anti-cancer research doctors already works at MSKCC with Dr. Andrew Zelenetz. They keep getting closer to a major vaccine that could save billions of lives.

THE PR OPPORTUNITY is for a major company, recognizing the peril of
injury by government, to decide yes let's do this for the public and for ourselves. If Facebook or Google or another giant company announces it will spend $100 million a year for the next ten years to help the Zelenetz team create a cancer vaccine, will 200 million Americans cheer the company, and will politicians go attack some other company?

It could happen. PR to save a company may help save billions of lives and save tech companies from billion-dollar injuries that intelligent PR can help prevent.