McDonald's CEO apologizes for lack of empathy, consumers absolve retailers of supply chain blame, and American Airlines increases holiday pay
Also: AMC Theatres to sell popcorn outside the cineplex, corporate partners respond to Aaron Rodgers' COVID-19 controversy, and more.
Hello, communicators:
Cinema chain AMC Theatres announced that it will sell its popcorn at retail locations around the country, offer a microwavable option and make the movie snack available through home delivery service.
"Needless to say, AMC knows popcorn ever so well," AMC CEO Adam Aron said in a press release. "On our busiest days, AMC Theatres currently pops in the range of 50 tons of popcorn per day. But the popularity of popcorn extends well beyond the doors of our movie theatres. With this new AMC initiative, we expect to reach entirely new segments of the U.S. population with our popular AMC Theatres Perfectly Popcorn."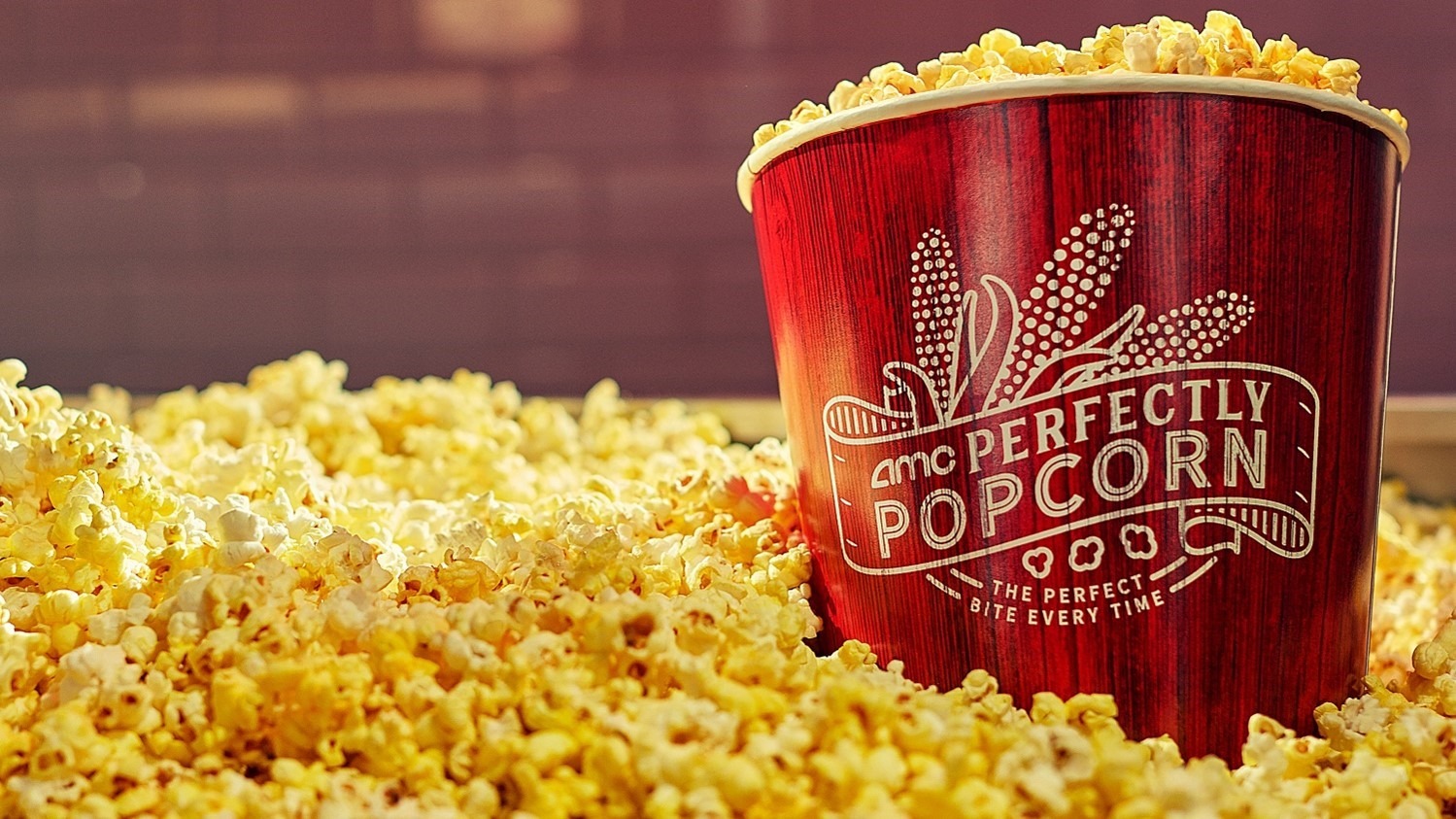 AMC's plan to create a new revenue stream by selling popcorn through retailers conveys an understanding that cinema attendance has not returned to pre-pandemic levels. AMC hopes it can reach more customers by offering its main money-makers (concessions) elsewhere. It also serves as a unique example of how brands can provide a hybrid experience for events by providing food or drink for attendees who are engaging with your content virtually.
Here are today's top stories:
McDonald's CEO apologizes for insensitive text messages about gun violence in Chicago
McDonald's CEO Chris Kempczinski apologized to employees after a text exchange he had with Chicago Mayor Lori Lightfoot was made public. The texts from Kempczinski appeared to blame the fatal shootings of two young children in Chicago on poor parenting choices.
In a message to McDonald's corporate employees on Tuesday, Kempczinski said he reflected on his comments and expressed remorse.

"When I wrote this, I was thinking through my lens as a parent and reacted viscerally. But I have not walked in the shoes of Adam's or Jaslyn's family and so many others who are facing a very different reality," said Kempczinski. "Not taking the time to think about this from their viewpoint was wrong, and lacked the empathy and compassion I feel for these families. This is a lesson that I will carry with me."

In the newly publicized texts between Kempczinski and Lightfoot from April, Kempczinski blamed the parents of 13-year-old Adam Toledo and seven-year-old Jaslyn Adams for their deaths. Adams died in a shooting at a McDonald's drive-thru one day before the text exchange. Toledo had been killed by a Chicago police officer weeks prior, with video later coming out showing that the child had his hands in the air.

"With both, the parents failed those kids which I know is something you can't say. Even harder to fix," wrote Kempczinski in a text to Lightfoot.
Allen Media Group CEO Byron Allen wrote a letter to the McDonald's board of directors demanding that Kempczinski be fired.
Allen's letter accused the company of continuing to "perpetuate and support racism." The board "must make sweeping changes immediately and remove Chris Kempczinski from his role as President & CEO now or resign yourselves because you are on the wrong side of history," it said.
Why it matters:
Kempczinski's visceral response serves as cautionary tale for leaders and those who work with them on executive communications to avoid texting, tweeting or otherwise documenting an immediate emotional reaction or hot take around a controversial issue. They also serve as a reminder that your leaders should only publicly comment on newsworthy situations that echo their lived experiences.
Additionally, the crisis is a reminder of how private messages often find their way into the public record. Particularly on issues of race and social justice, where critics greatest fear is that leaders say one thing in public and believe something else privately, private messages will be used to make a point about your organization.
---
MEASURED THOUGHTS
A new study by Morning Consult reveals that just 39% of consumers place a lot or some blame on brands for supply chain woes. Instead, most consumers place all or some blame on the federal government (56%) and logistics companies (58%).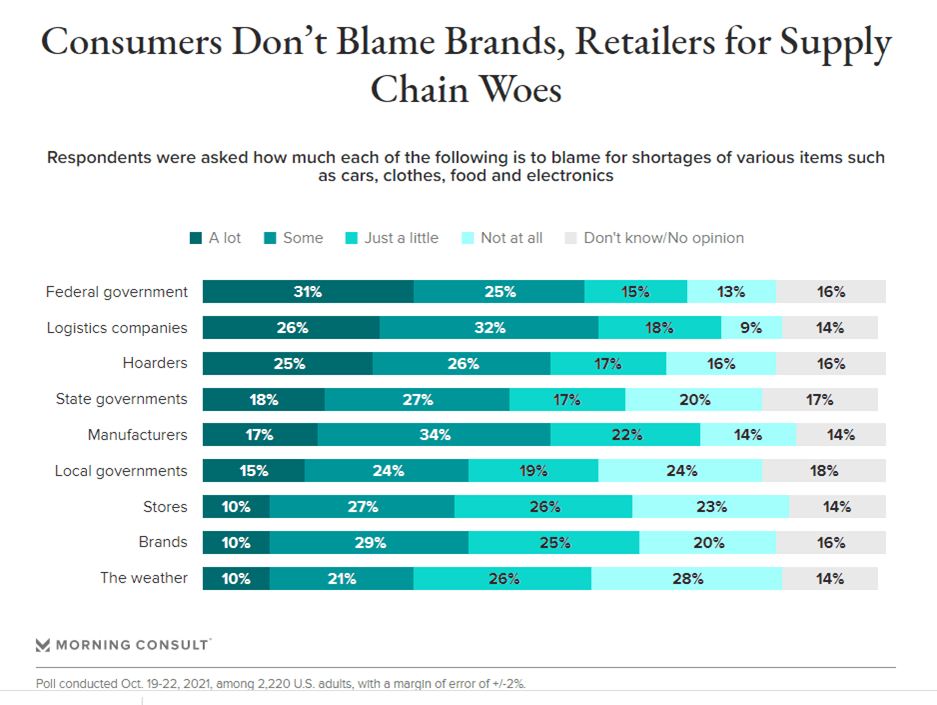 "Amid a tough holiday season, one gift in brands' and retailers' stockings is that consumers are assigning blame elsewhere," the authors of the report write. "It's still imperative to communicate delivery expectations and back order updates to customers, but the federal government will face the brunt of consumers' frustrations over unavailable or delayed merchandise."
These numbers also serve as a reminder that your logistics partners will take more heat for any supply chain issues than your brand. You can strengthen those relationships by ensuring communications strategies with logistics partners are in place.
---
Announcing the PR Daily Leadership Network
PR Daily is launching the PR Daily Leadership Network, a unique membership group from Ragan Communications offering peer-to-peer advisory and team training along with a unique slate of resources and events to help public relations professionals break through the noise, increase their visibility and forge meaningful connections.
The Network provides daily insights and coverage on a range of topics including media relations, social media, measurement, Diversity, Equity & Inclusion, branding, thought leadership and crisis communications.
"The fast pace of change coupled with the demand on public relations professionals to protect and sometimes defend their company's reputation make it imperative for leaders to tap into the wisdom of other communicators and continue to learn and grow," says Diane Schwartz, CEO of Ragan Communications. "The PR Daily Leadership Network provides the answers but also encourages members to question the status quo and push for positive change."
Visit leadership.prdaily.com to learn more.
---
TACTFULLY SPEAKING
State Farm and Prevea Health both addressed their sponsorship deals with Green Bay Packers quarterback Aaron Rodgers after news broke that Rodgers was unvaccinated when he contracted COVID-19, despite telling reporters he had been immunized and being in close, maskless proximity to his teammates.
State Farm dodged the controversy, cited Rodgers' privacy concerns and shifted focus to its more positive milestones.
Aaron Rodgers will not suit up for this Sunday's Packers-Chiefs game after testing positive for COVID-19, and he might not don the State Farm red shirt in ads this weekend either. The insurer, which has long used the Green Bay quarterback in its marketing, did not provide detail about its plans regarding Rodgers or the status of the relationship. "It would be inappropriate for us to comment on Aaron's vaccination status," she wrote via email. "This weekend our marketing focuses on the success of our first-ever Team State Farm Football Find and the unveiling of a new commercial with NFL legend Terry Bradshaw."
Prevea Health, a health care provider located in Wisconsin, announced that its partnership with Rodgers was ending and reinforced its values to promote COVID-19 vaccinations:
An announcement from Prevea Health and Aaron Rodgers regarding their partnership. pic.twitter.com/TEesvDBl3T

— Prevea Health (@Prevea) November 6, 2021
These radically different responses demonstrate how your brand's response to a crisis can differ based on the needs of your business and its core values. As a health care provider that has been encouraging vaccination for its many stakeholders, Prevea Health decided it had to terminate the relationship with Rodgers, highlighting how influencer marketing must adhere to your organizations' brand values.
---
TAKE OUR SURVEY
The HarrisX – Ragan CEO/Communicators Competencies Survey is looking for chief communications officers, senior vice presidents and top comms officers to take our first-of-its-kind poll. The survey seeks your feedback on what you consider to be the most important skills and attributes communicators must master—and we're asking your CEO as well.
The findings—and comparisons of CEO views vs. those of communicators—will be announced during Ragan's Communications Week Nov. 15-19 and in a special report this winter.
Can you spare a few minutes to help us chart the future of the communications role?
American Airlines announces holiday pay bumps to minimize flight cancelations
American Airlines announced that flight attendance and crew members working between Thanksgiving, Christmas and New Year's travel periods will receive time-and-a-half pay bumps. Those without absences from mid-November to Jan. 2 will also receive an extra 150% pay bonus for each peak-period trip.
"From mother nature wreaking havoc on the operation, the myriad of policy changes you've had to keep up with and an increase in incidents of customer misconduct, you've been dealing with a lot," American Airlines vice president of flight service Brady Byrnes wrote to flight attendants Friday, announcing the new pay incentives.

"To ensure we're providing certainty for both our customers and team members, we're doubling down on our efforts related to our schedule and staffing," American's COO David Seymour said in a staff note on Friday. "On the schedule front, we've ensured that November and December are built to meet customer demand and that they are fully supportable by our staffing."

What it means:
Arriving after a year when airlines struggled to explain the reasons flight cancelations , this initiative follows up on American's transparency around staffing issues and sets the airline apart from competitors facing similar challenges. Though these announcements were technically internal, American Airlines' decision to share them with CNBC demonstrates how turning your employee communications into earned media hits can repurpose an internal announcement into a "mixternal" message while still communicating with your workforce first.
COMMENT
2 Responses to "McDonald's CEO apologizes for lack of empathy, consumers absolve retailers of supply chain blame, and American Airlines increases holiday pay"
Ronald N Levy

says:

DON'T tell the truth!

That is PR wisdom to give a CEO. Before you make a statement,
the CEO should be counseled think about "who may be mad at
us if you say this. If we don't want the anger, we should not tell
the truth.

So should we say something false? Certainly not, but we should
say something ELSE that's also true and won't make people
angry.

Much of PR crisis planning focuses on who should speak, when
and with what clearance. But a top rule of crisis planning is try
to AVOID crisis by giving this counsel to top management.

.1. Don't tell the truth, though true it is, if telling a differently
worded truth may communicate the reality just as well and with
less risk.

.2. Cite reliable sources, the government when possible, for
information that may make some people angry.

.3. Try hard not to blame anyone loved by millions—parents,
the clergy, heroes, the bereaved and others.

.4. Try especially hard not to blame the press for error even if
the press was guilty as hell. When there's a dispute between a
company and the press, most of the public will believe the
press. So it's a fight you don't want.

.5. Get letters of thanks from "good cause" groups to which the
company has donates. Some such groups may give you a
diploma-like "Certificate of Appreciation" you may find a
blessing if questioned about your support of a minority,
women's rights, the environment or some other cause.

.6. Increase top management's familiarity with PR rudiments.
It's not like teaching nuclear physics. Try to get people in non-
PR departments—not the top execs but their top assistants—
to take PR Daily courses in PR crisis management. It's like first
aid courses and can teach what for many years guides students
to do the PR equivalent of "stop the bleeding, protect the
wound and treat for shock." The basic PR education doesn't
take many hours and may help prevent severely grave injury or
worse.

Revealing lectures by PR Daily's expert educators may also help
avert the classic PR blunder of believing that the safest thing to
do in a crisis is "just tell the truth."

Ronald N Levy

says:

DON'T tell the truth!

That is PR wisdom to give a CEO. Before you make a statement,
the CEO should be counseled think about "who may be mad at
us if you say this. If we don't want the anger, we should not tell
the truth.

So should we say something false? Certainly not, but we should
say something ELSE that's also true and won't make people
angry.

Much of PR crisis planning focuses on who should speak, when
and with what clearance. But a top rule of crisis planning is try
to AVOID crisis by giving this counsel to top management.

.1. Don't tell the truth, though true it is, if telling a differently
worded truth may communicate the reality just as well and with
less risk.

.2. Cite reliable sources, the government when possible, for
information that may make some people angry.

.3. Try hard not to blame anyone loved by millions—parents,
the clergy, heroes, the bereaved and others.

.4. Try especially hard not to blame the press for error even if
the press was guilty as hell. When there's a dispute between a
company and the press, most of the public will believe the
press. So it's a fight you don't want.

.5. Get letters of thanks from "good cause" groups to which the
company has donates. Some such groups may give you a
diploma-like "Certificate of Appreciation" you may find a
blessing if questioned about your support of a minority,
women's rights, the environment or some other cause.

.6. Increase top management's familiarity with PR rudiments.
It's not like teaching nuclear physics. Try to get people in non-
PR departments—not the top execs but their top assistants—
to take PR Daily courses in PR crisis management. It's like first
aid courses and can teach what for many years guides students
to do the PR equivalent of "stop the bleeding, protect the
wound and treat for shock." The basic PR education doesn't
take many hours and may help prevent severely grave injury or
worse.

Revealing lectures by PR Daily's expert educators may also help
avert the classic PR blunder of believing that the safest thing to
do in a crisis is "just tell the truth."

1. Don't tell the truth, though true it is, if telling a differently
worded truth may communicate the reality just as well and with
less risk.

.2. Cite reliable sources, the government when possible, for
information that may make some people angry.

.3. Try hard not to blame anyone loved by millions—parents,
the clergy, heroes, the bereaved and others.

.4. Try especially hard not to blame the press for error even if
the press was guilty as hell. When there's a dispute between a
company and the press, most of the public will believe the
press. So it's a fight you don't want.

.5. Get letters of thanks from "good cause" groups to which the
company has donates. Some such groups may give you a
diploma-like "Certificate of Appreciation" you may find a
blessing if questioned about your support of a minority,
women's rights, the environment or some other cause.

.6. Increase top management's familiarity with PR rudiments.
It's not like teaching nuclear physics. Try to get people in non-
PR departments—not the top execs but their top assistants—
to take PR Daily courses in PR crisis management. It's like first
aid courses and can teach what for many years guides students
to do the PR equivalent of "stop the bleeding, protect the
wound and treat for shock." The basic PR education doesn't
take many hours and may help prevent severely grave injury or
worse.

Revealing lectures by PR Daily's expert educators may also help
avert the classic PR blunder of believing that the safest thing to
do in a crisis is "just tell the truth."