Amazon promises change, diversity with employee review process, 26% of U.S employers address race following social justice protests, and Kohl's makes peace with activist investors
Also: U.S. companies call for reduction in greenhouse gas emissions, LinkedIn gives users more options to describe self-employment, Arclight Cinemas speaks directly to customers about closing, and more.
Hello, communicators:
Over 300 of the largest companies in the U.S including Apple, Starbucks, McDonald's and Walmart have signed an open letter urging President Biden to reduce greenhouse gas emissions by 2030. The letter states that "a bold 2030 target is needed to catalyze a zero-emissions future, spur a robust economic recovery, create millions of well-paying jobs, and allow the U.S. to 'build back better' from the pandemic," borrowing a key slogan from Biden's economic recovery message.
"In a March statement calling for the same reductions target, the environmental advocacy group Natural Resources Defense Council said such a plan would 'help pull the country out of the pandemic-induced recession by putting millions of Americans to work' and inspire more ambitious international climate action ahead of a major United Nations climate conference this November," reports NPR.
Communicators, take note that you can hold partners and leadership accountable to fulfil their aspirations and goals by repeating their words back in your public messaging. Position the goals of your purpose-driven work as dual solutions to other large challenges that your partners face to get more stakeholders on board with your mission by framing your work as a solution to multiple problems at once.
Amazon promises to change employee reviews and diversify leadership
Amazon has pledged to reevaluate its process for conducting employee performance reviews as part of its 2021 diversity, equity and inclusion goals. These commitments follow allegations of racial bias and reports of internal data that show Black Amazon employees receive fewer promotions and face stricter performance reviews than their white colleagues.
In a memo sent to employees and posted on the company's web site, Amazon's HR boss, Beth Galetti, said the company would look for any "statistically significant demographic differences" in performance ratings conducted in the first quarter of this year to identify any problems and take action where necessary. Amazon will also perform a similar evaluation of its attrition rates and "low performance actions" to identify any gaps.

Along those lines, Galetti said Amazon hopes to retain employees at statistically similar rates across all demographics as part of its goals for this year.

Galetti said Amazon would work to further diversify its leadership this year. The company aims to double the number of Black employees in leadership roles and hire 30% more Black people and female employees in "L4-L7" roles, which range from entry level to senior manager positions, in the U.S. this year.
Why it matters:
Use benchmark data as a tool to have uncomfortable conversations around your company's challenges and opportunities with DE&I in the workplace. Close any leadership gaps by hiring BIPOC candidates for executive roles where they will oversee core facets of your organization, not just DE&I work. Be transparent in your messaging around where your company needs to do the most work, including what you don't know, to ensure that internal dialogue starts from an honest place.
---
MEASURED THOUGHTS
In a new study by Challenger, Gray and Christmas, over a quarter of the companies surveyed said that they facilitated guided discussions about race directly in reaction to the racial justice protests last summer. Another 19% updated their current DE&I policies, while 13% created policies. Nearly 4% of companies started DE&I committees to respond, while 3% have begun a process to address race.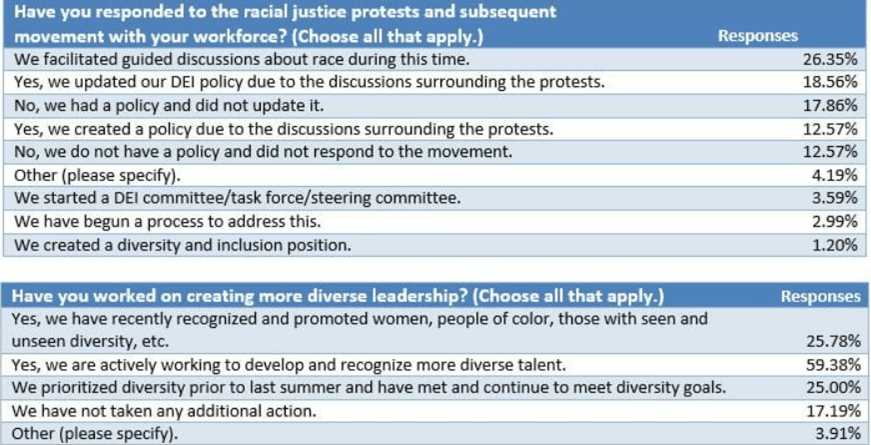 Courtesy of Challenger, Gray and Christmas, Inc.
Communication is a crucial function at every stage of your company's DEI work. Listen to what employees are saying during your discussions about racial equity and keep channels of communication open between departments so colleagues can hold each other accountable to change.
---
SOCIAL BUZZ
LinkedIn has announced the ability for users to list new stay-at-home jobs to better reflect the current workforce climate and will no longer require users to specify a company or employer when setting their employment type to "self-employed."
We've heard from our members, particularly women and mothers who have temporarily stopped working, that they need more ways to reflect career gaps on their Profile due to parenting and other life responsibilities. To make it easier for moms, and all parents, we're making some important changes to the Profile. We introduced new job titles, including "stay-at-home mom," "stay-at-home dad" and "stay-at-home parent" to allow full-time parents and caretakers to more accurately display their roles.

The stigma of employment gaps is already starting to fade. While 72% of job seekers believe there's a stigma associated with having a career gap, 79% of hiring managers today would hire a candidate with a career gap on their resume.
Remember that the language in your messaging should always adapt to the current cultural climate. Periodically survey external stakeholders to learn how their experiences in your industry are changing, and act on their data by adjusting your communications accordingly.
---
CRISIS COMMUNICATIONS
The West Coast Arclight Cinemas and Pacific Theatres chains have announced that they won't be reopening after shutting their doors at the start of the pandemic.
[Parent company] Decurion's crown jewel is the Hollywood Arclight multiplex on Sunset Boulevard and its 58-year old Cinerama Dome, which made a big cameo in Quentin Tarantino's Once Upon a Time in Hollywood and remains many filmmakers' favorite venue. The Hollywood Arclight is also one of the highest-grossing movie theaters in the nation; again, a huge blow to the industry and the L.A. market, which is in its fourth week of a robust reopening.

Here's Decurion's statement:

After shutting our doors more than a year ago, today we must share the difficult and sad news that Pacific will not be reopening its ArcLight Cinemas and Pacific Theatres locations.

This was not the outcome anyone wanted, but despite a huge effort that exhausted all potential options, the company does not have a viable way forward.

To all the Pacific and ArcLight employees who have devoted their professional lives to making our theaters the very best places in the world to see movies: we are grateful for your service and your dedication to our customers.

To our guests and members of the film industry who have made going to the movies such a magical experience over the years: our deepest thanks. It has been an honor and a pleasure to serve you.
Communicators, take note to always position any bad news around layoffs, store closings or company restructuring moves around the employees and communities that are most affected. Whenever possible, speak to them directly and sincerely with language that puts a human face on the news and expresses empathy.
---
CRISIS LEADERSHIP NETWORK
Looking for more insight on how to address the current global crisis and lead your organization into a strong recovery?
Join Ragan's Crisis Leadership Network to connect and brainstorm with peers, get the latest intelligence and research and start to strategize for the future of your organization.
Learn more about this exclusive membership here.
Kohl's invites activist investors to join board of directors
Retail store chain Kohl's announced that it has reached an agreement with a group of activist investors who have worked to elect their own members to the company's board of directors. As part of the agreement, two of the investors nominated will join the board and Kohl's will expand the overall group from 12 members to 15.
The Milwaukee Journal Sentinel reports:
"I look forward to working with our newly expanded Board to further advance our transformative strategy and deliver results for shareholders," Kohl's CEO Michelle Gass said in the news release. "Amidst ongoing industry disruption and evolving consumer trends, we are uniquely positioned to build on our momentum and accelerate growth and profitability."

"These new directors are all proven leaders in retail who will add valuable expertise to the Board," the investor group said in the news release. "We are pleased to have been able to reach this constructive resolution with the Company, and we are confident these changes will help further our shared goal of creating long-term value for shareholders. We are excited for the future at Kohl's."
Why it matters:
Frame any negative press around your company's performance in the context of larger trends that affect your industry. Broker a dialogue between senior leadership and your most vocal detractors that allows both sides to feel heard and leaves a door open for compromise. Position any announcements about the partnership with an emphasis on shared goals and common ground to paper over any deeper disagreements.
---
CONFERENCE ALERT
The business community is facing a workplace wellness revolution. No longer does "wellness" qualify as a nice-to-have employee benefit; it is now tightly integrated many facets of organizational strategy, especially communications.
Join us at Ragan's Workplace Wellness Conference on April 21, 2021 to glean the essential tools and context you need to advance your career and guide your organization through this time of rapid change.
Attendees will learn what it means to embrace the fact that employees who are mentally, physically, financially and socially healthy are more productive, engaged and resilient to potential crises.
Learn powerful insights and secrets from speakers at organizations including NVIDIA, Northwell Health, PwC, Microsoft, Cornell University, Facebook and more.
---
WHAT YOU SAID
Yesterday, we asked if you stop working at a reasonable hour most evenings. A solid 58% said that you usually do, a promising result that indicates most of you have reached some kind of work/life balance amid the many uncertainties of the past year. Meanwhile, 21% of you rarely stop working at a reasonable hour, 17% of you always do, and 4% never do.
Wednesday work/life balance check in: Do you stop working at a reasonable hour most evenings, PR pros and communicators? #DailyScoop

— PR Daily (@PRDaily) April 14, 2021
Is there a question you would like to see asked? Let us know by tagging it with #DailyScoop!
---
SOUNDING BOARD
It's Thursday, and hopefully you're almost to the finish line. What GIF perfectly captures your current state of mind with the weekend finally on the horizon?
It's Thursday, and hopefully you're almost to the finish line. What GIF perfectly captures your current state of mind with the weekend finally on the horizon?
Share your current mood in GIF form below the hashtag #DailyScoop. We'll share the results in tomorrow's roundup. pic.twitter.com/PuYrMyWiWF

— PR Daily (@PRDaily) April 15, 2021
Share your home stretch mood in GIF form below the hashtag #DailyScoop. We will share the results in tomorrow's roundup.
COMMENT
One Response to "Amazon promises change, diversity with employee review process, 26% of U.S employers address race following social justice protests, and Kohl's makes peace with activist investors"
Ronald Levy

says:

Millions may suspect Amazon may be guilty, and many employers may consider themselves to be guilty but one may see three lessons from the Madoff case. .

.1. Don't plead guilty if you may not be guilty.

Just as it's lawful for huge corporations to not pay income tax for last year if they qualify under the law, we can judge by Googling "legal insanity" whether a man with $100 million+ which Madoff had, if he does what for some reason Madoff did, may under the law (which I'm not saying is fair) may look normal but qualify as legally insane.

.2. Don't ignore the ability of top professionals to rescue you.

We can judge from Google whether Madoff's lawyer, Ira Lee Sorkin, who may be one of the top lawyers in American history, might have gotten Madoff a "walk out free" verdict like the one that O. J. Simpson's lawyers got. But Madoff pleaded guilty and was sentenced to 150 years in prison so he gave himself no chance of a legal rescue.

.3. Don't be sure that those you help will help you.

Madoff's son turned his father in and wrote to his father "F—k you." Madoff's wife stopped speaking to him.

One belief in PR is that if your company is accused, you might as well tell everything up front "because it will come out eventually." But the case of Bernie Madoff can lead some in PR to think that pleading guilty may not always be a good idea. Often in PR the truth is that "it was them not us," the guilty if anyone may have been a few former executives now gone, not the other 99.99% of the company.