American Airlines to cut 19,000 jobs, McDonald's investigates its HR department, and New York Fashion Week is online
Also: Facebook and Instagram offer shopping tools, General Mills offers Lucky Charms' marshmallows, YouTube automation removes more than 11 million videos,  and more.
Hello, communicators:
New York Fashion Week is greenlit for Sept. 13-17, but this year's event will look different, with fewer attendees and virtual audience options.
The Shows are back! Join us live from Spring Studios and online from Sept. 13 – 17. Photo by Hao Zeng at @JasonWu, Feb. 2020 runway show. Learn more: https://t.co/RBbZRFTl5p pic.twitter.com/qzVnEv7Prn

— NYFW (@nyfw) August 25, 2020
According to the Business of Fashion, crowd capacity will be capped at 50 people. Only four people can get in an elevator at a time. Some designers are opting to skip the in-person presentation altogether.

But one new partnership really drives home how much things have shifted thanks to the pandemic this year.

Lowe's, the home improvement retailer, is partnering with New York Fashion Week to curate backdrops for shows by Jason Wu, Rebecca Minkoff, and Christian Siriano. The backdrops, which, according to Lowe's, were "inspired by each designer's definition of home," will include items like patio furniture, lighting, and building materials.
Here are today's top stories: 
American Airlines to lay off 19,000 employees
Though the company said 23,500 employees took company buyouts, long-term leave or early retirement, it's not enough to stave off the thousands of involuntary job cuts coming in October, after federal aid for the COVID-19 crisis expires.
"We have come to you many times throughout the pandemic, often with sobering updates on a world none of us could have imagined," wrote American Airlines CEO Doug Parker and its president, Robert Isom, in a staff note announcing the cuts. "Today is the hardest message we have had to share so far – the announcement of involuntary staffing reductions effective Oct. 1."

American said it expects to have 40,000 fewer employees in October compared with when the pandemic began, the carrier said. The involuntary cuts include furloughs of 17,500 union workers, including flight attendants, pilots and mechanics, and 1,500 administration and management jobs.
American Airlines counted more than 140,000 employees in March 2020, expecting to close out the year with less than 100,000 members of its workforce. The airline reported that its capacity in the fourth quarter will be half of last year's numbers, CNBC reported.
Why it's important: As the COVID-19 crisis continues to have a devastating effect on organizations' bottom lines, many will have to make tough decisions and announce layoffs as well as other restructuring strategies. Communicate and build trust with employees before you have to make these tough announcements, and prepare resources and options for those who jobs will be eliminated. Helping laid off workers can bolster remaining employees' morale as well as your reputation.
---
TACTICALLY SPEAKING
General Mills is leaning into comfort foods by offering consumers packs of its Lucky Charms' marshmallows:
For a limited time you can say #JustMagicalMarshmallows are mine. The magic will peak in the coming weeks!💫 pic.twitter.com/MX9SvwM6s4

— Lucky Charms (@LuckyCharms) August 24, 2020
"Lucky Charms fans have been asking for this for years," Jessica TeBrake, assistant manager of brand experience for Lucky Charms, said in a statement.

"They've had the opportunity to win Lucky Charms Marshmallow – Only boxes in the past, but now have the ability to purchase the Just Magical Marshmallows. We hope it brings a little bit of magic and joy to their day."
The move follows similar efforts from other cereal brands like Cinnamon Toast Crunch, which launched a "Cinnadust" topping.
Though the Lucky Charms offering is limited edition, the move is already netting the brand and its parent company positive PR—and will probably also boost its bottom line.
---
MEASURED THOUGHTS
In Google's Transparency Report, YouTube reported that it removed more than 11.4 million videos between April and June 2020—the highest number recorded in its available reports (which date back to 2017's fourth quarter). The majority of removals—nearly 10.85 million—were completed by automated systems the video platform is relying on as its human reviewer teams are smaller due to COVID-19.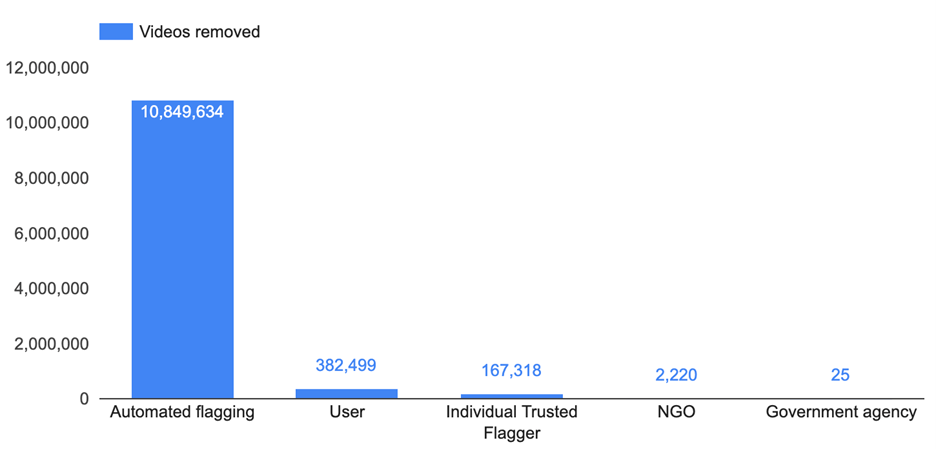 In a blog post, YouTube wrote:
When reckoning with greatly reduced human review capacity due to COVID-19, we were forced to make a choice between potential under-enforcement or potential over-enforcement.

… Because responsibility is our top priority, we chose the latter—using technology to help with some of the work normally done by reviewers. The result was an increase in the number of videos removed from YouTube; more than double the number of videos we removed in the previous quarter. For certain sensitive policy areas, such as violent extremism and child safety, we accepted a lower level of accuracy to make sure that we were removing as many pieces of violative content as possible.
The majority of removed videos were for violations of YouTube's child safety policy, those that contained spam or misleading claims, or showed nudity and other inappropriate sexual content: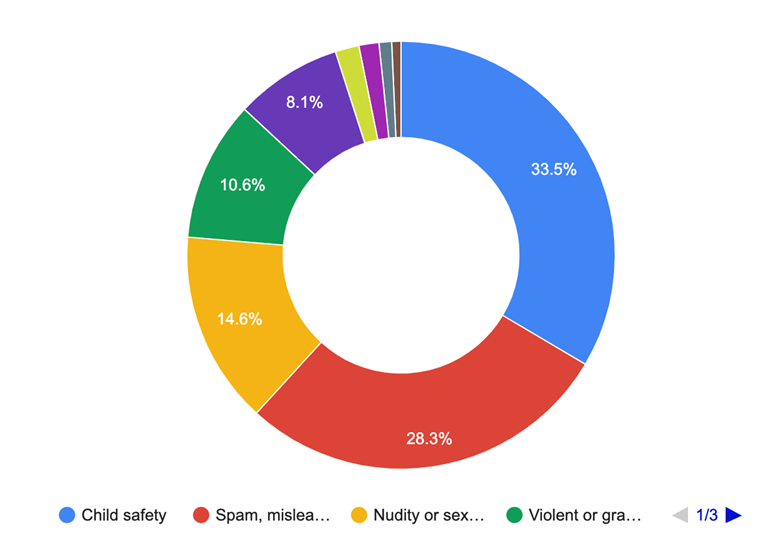 You can view the entire report here.
---
CRISIS LEADERSHIP BOARD
Looking for more insight on how to address the current global crisis and lead your organization into a strong recovery?
Join Ragan's Crisis Leadership Board to network and brainstorm with peers, get the latest intelligence and research and start to strategize for the future of your organization.
Learn more about this exclusive membership here.
McDonald's investigates HR department
The fast food chain is examining allegations made against its human resources department after the removal of its chief executive, Steve Easterbrook, for having sexual relationships with employees.
The company declined to offer further details about the allegations against the department. But it revealed that former Global Chief People Officer David Fairhurst was fired for cause in November because his conduct was inconsistent with the company's policies and values. At the time, the company did not provide a reason for his departure.
The Wall Street Journal reported:
Some former managers told The Wall Street Journal they felt HR leaders under Mr. Easterbrook ignored complaints about the conduct of co-workers and executives. Some of those people said they feared retaliation for reporting the conduct of co-workers and executives to HR.

"The board will follow the facts wherever they may lead," McDonald's said.
Why it's important: Communicators need only look at headlines over the past year to see a cautionary tale of what a toxic workplace culture can bring to your organization's reputation and your brand image. Don't expect the truth to remain buried forever, either—and if your leaders are caught ignoring or taking part in the offenses, you'll have an even tougher time earning back stakeholder trust.
---
DOWNLOAD OUR REPORT
Following the deaths of George Floyd, Ahmaud Arbery, Breonna Taylor and others, organizations were pushed more forcefully than ever before to take stands against systemic racism and move to support social justice initiatives. Which responses made an impact—and which responses fell flat?
Learn from 10 of the biggest brand messages in our special report, "Organizational responses to Black Lives Matter." The report offers communicators important takeaways to lead organizations and clients in the second half of 2020 and into the future.
---
SOCIAL BUZZ
Facebook is taking advantage of the rising trend of online shopping by offering marketers new features to sell through both Facebook and Instagram.
In a blog post, Facebook wrote:
During the COVID-19 pandemic, the shift to online shopping has rapidly accelerated, with an estimated 85% of people worldwide now shopping online. We want to make shopping easier for people and empower anyone, from an entrepreneur to the largest brand, to use our apps to connect with customers and grow their business.
The Facebook Shop feature helps users find and buy products from organizations and influencers on the social media platform. Brand managers will soon be able to create a digital storefront and collections for users to find:
On Instagram, eligible partners will soon be able to use a checkout feature, which offers consumers the ability to purchase products without leaving the app:
TechCrunch reported:
The company has also been testing a live shopping experience, where businesses can show off products in a live video, while consumers can browse the highlighted products and make purchases. Instagram Live Shopping should now be available to all sellers using Instagram Live Shopping in the United States.
---
WHAT YOU SAID
We asked if you start out your day with a coffee, and more than 72% of you said you have a cup (or several) during your morning routine. Roughly 12% of you prefer tea or another drink, while 15% skip the caffeine altogether:
Do you start off your day with a coffee, PR pros?

Tell us about your AM routine below and under #DailyScoop.

— PR Daily (@PRDaily) August 25, 2020
Communicators Garrett Hondronastas and Mike start off their days with iced coffee and tech news, respectively, while digital marketing and PR pro Beth Chernes turns to tea:
Usually just one cup – but always iced coffee! pic.twitter.com/gsI6KlCB5u

— Garrett Hondronastas (@ghondronastas) August 25, 2020
Offering to bring me some?? For me, it's @Techmeme and caffeine

— mike (@SeaMikeTech) August 25, 2020
Always tea. #teadrinkers pic.twitter.com/uF69AU2rY3

— Beth Chernes, JD (@bethchernes) August 25, 2020
For hardcore coffee lovers, PR pro Michael Vannest shared this simile:
A morning without coffee is like a #PR pro without a smartphone.

— Michael Vannest, APR (@mvannestapr) August 26, 2020
Is there a question you'd like us to ask in an upcoming poll? Let us know!
---
SOUNDING BOARD 
As organizations across industries adopt their business models and workforces to changing consumer and employee behaviors, what do you think most needs to be overhauled?
As organizations across industries adopt their business models and workforces to changing consumer and employee behaviors, what do you think most needs to be overhauled?

Weigh in below and share your thoughts under #DailyScoop.

— PR Daily (@PRDaily) August 26, 2020
Share your morning routine below and under the #DailyScoop hashtag.
COMMENT
One Response to "American Airlines to cut 19,000 jobs, McDonald's investigates its HR department, and New York Fashion Week is online"
Ronald N. Levy

says:

I met my wife at work as have thousands of other Americans so should we or our children feel ashamed? Would it have been okay if Easterbrook had dated employees of Burger King, Wendy's or a chain called Burger Queen?

How about meeting at a church social or a political rally or meeting one of the bright and eager PR people who take a PR Daily graduate course—should anyone be fired if the interesting person works for McDonald's? Or if a McDonald's burger flipper or cashier dates a fellow employee—should it be rare even if well done?

Might it be none of an employer's damn business, and perhaps even unlawful, to try regulating who you should see socially? Do you make it a "toxic work environment" if you invite a co-worker to share a pizza or a weekend?

Should we be able to sue for infringement of our rights if an employer tries to make rules about who we can date on our own time?