American and United Airlines to lay off 32,000 employees, Google to pay $1B to publishers for 'news experience,' and Facebook launches cross-platform messaging
Also: Allstate to cut 3,800 jobs, Blue Bell Creameries shares its story with a coffee table book, characteristics of the most popular YouTube thumbnails, and more.
Hello, communicators:
Blue Bell Creameries has released its story with a coffee table book that you can buy in its store:
Take a journey through our first 100 years! "Blue Bell Ice Cream: A Century at the Little Creamery in Brenham, Texas" tells of our humble beginnings, shares employee stories and you might spot a few of your favorite flavors throughout the pages! Find it at https://t.co/yEmkDcNK4s pic.twitter.com/rBVVbneRoK

— Blue Bell Ice Cream (@ILoveBlueBell) October 1, 2020
You can also purchase shirts, aprons, coffee mugs and ice cream bowls, all emblazoned with the company's branding.
Storytelling is an important tool in communicators' belts, but this is a new take on the strategy. By packaging and selling it, Blue Bell takes advantage of the growing trend of branded products for fans—and flexes its content marketing muscles in the meantime.
Here are today's top stories:
American and United Airlines to furlough 32,000 employees 
The airlines have been petitioning Congress for an additional $25 billion in aid to keep employees on through March, but without a deal, American Airlines is set to furlough 19,000 employees—roughly 14% of its workforce. United Airlines will furlough 13,000 employees—which includes nearly 7,000 flight attendants.
 Both companies have said they'll reverse the furloughs if a deal is reached this week, hoping to put additional pressure on lawmakers. That's also the messaging both have been sharing with employees leading up to the layoffs.
"I am extremely sorry we have reached this outcome," [American Airline's chief executive, Doug Parker] wrote. "It is not what you all deserve. It is a privilege to advocate on behalf of the hardworking aviation professionals at American and throughout the industry, and you have my assurance that we will continue to do so in the days ahead."

United will cut more than 13,000 jobs. "We implore our elected leaders to reach a compromise, get a deal done now, and save jobs," United said in a message to staff.
Why it's important: When relaying difficult business decisions, talk with your employees early and often. Including both explanations for realignments and layoffs, along with listing ways in which you're advocating for them, can help to build trust and understanding despite the negative news.
---
TACTICALLY SPEAKING 
Allstate is laying off roughly 3,800 employees in its sales, support, services and claims departments in a restructuring plan costing $290 million, pre-tax.
Tom Wilson, the company's chair, president and chief executive, said in a press release titled, "Allstate advances transformative growth plan":
Implementing this plan is difficult as we still deal with the impact of the pandemic but necessary to provide customers the best value. We have expanded transition support for impacted employees including prioritized internal hiring, extended medical coverage, expanded retraining support and help in employment searches.
The press release is written for investors, but communicators should remember to use more humanized language devoid of jargon when announcing restructuring plans to employees. Also put the focus on them, and not on the health of your organization.
---
MEASURED THOUGHTS
Best SEO Companies analyzed 740 of the most popular videos on YouTube to find what makes a perfect thumbnail. The company found that 70% of thumbnails with high numbers of clicks included a description of what to expect in the title or explanatory text, driven by SEO best practices and popular search phrases.
Along with using the right terms, YouTube video thumbnails that featured photos or images from the video get more views than those using illustrations. However, not all images are created equal, with 72% of the most popular videos featuring a person in their thumbnails, driving an average of 921,000 more views than those without a human face.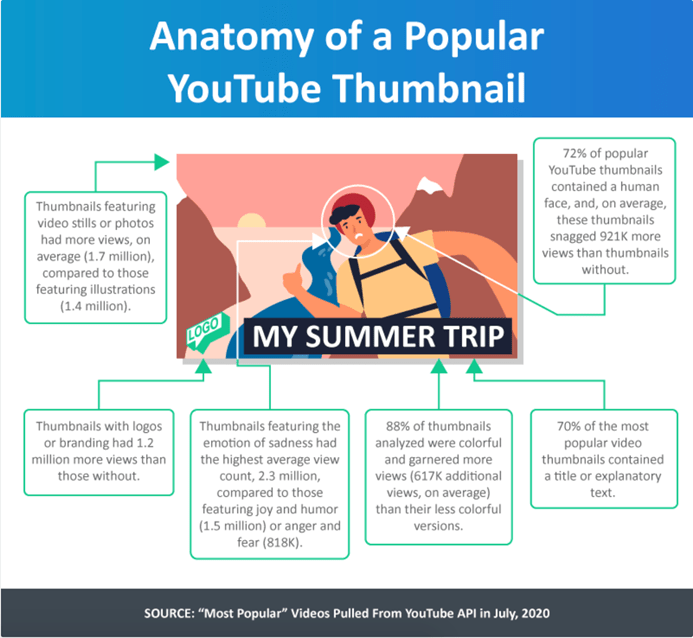 Image courtesy of BestSEOCompanies.com.
 You can view the entire report here.
---
CRISIS LEADERSHIP NETWORK
Looking for more insight on how to address the current global crisis and lead your organization into a strong recovery?
Join Ragan's Crisis Leadership Network to network and brainstorm with peers, get the latest intelligence and research and start to strategize for the future of your organization.
Learn more about this exclusive membership here.
Google announces 'new kind of news experience'
The tech company said it will pay publishers more than $1 billion in licensing fees over the next three years, to create a product called "Google News Showcase."
Sundar Pichai, chief executive of Google and Alphabet, tweeted:
Proud to announce our biggest commitment to the future of news yet: the launch of Google News Showcase – a new kind of news experience for publishers and readers – along with a $1 billion global investment in partnerships with publishers. https://t.co/zdCHuawyAp

— Sundar Pichai (@sundarpichai) October 1, 2020
Launching today for users in Brazil and Germany, Google will roll out the offering worldwide over the next several months.
News Showcase is made up of story panels that will appear initially in Google News on Android. The product will launch soon on Google News on iOS, and will come to Google Discover and Search in the future. These panels give participating publishers the ability to package the stories that appear within Google's news products, providing deeper storytelling and more context through features like timelines, bullets and related articles. Other components like video, audio and daily briefings will come next.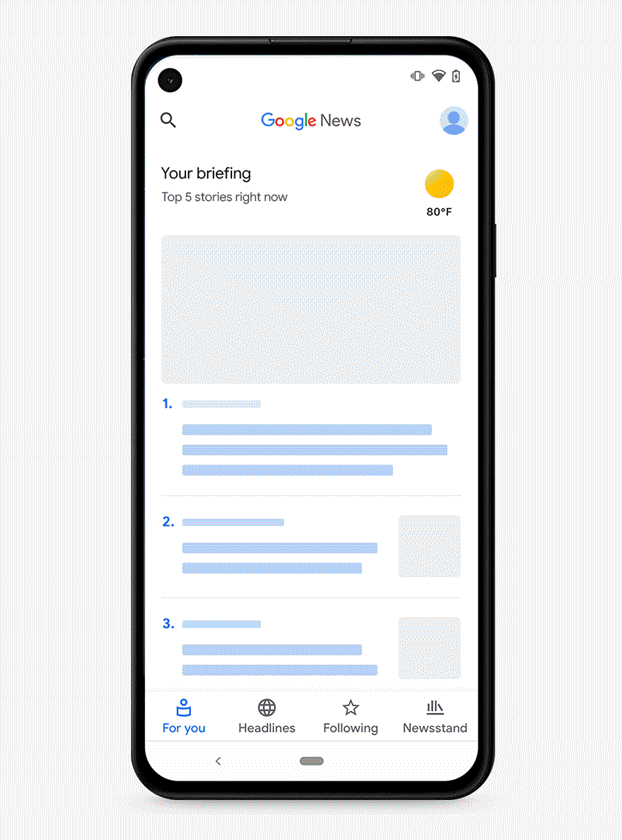 Why it's important: Pichai said the offering is Google's way to "play our part by helping journalism in the 21st century," but the move is really meant to keep the company one step ahead of future regulations and lawsuits from publishers looking to get paid for their content.
---
DOWNLOAD OUR REPORT
 Though 70% of communicators are not looking beyond 2020 in terms of strategic planning, they also don't expect our current state of crisis to ease up by the end of the year. Operating in a constant state of crisis and rapidly responding to events throughout the world are top challenges for communicators, our recent report, Ragan Survey of Internal Communicators, revealed.
The survey sheds light on top challenges, with insights including top issues, what the "return to the office" looks like, which departments internal communicators will collaborate with the most and more.
To learn more about how to rise to the challenges facing organizations across industries, join us at Ragan's Internal Communications & Employee Experience Virtual Conference on Oct. 14. You'll learn from internal and employee communications experts from National DCP, Deloitte, Charles Schwab, American Psychological Association and more.
---
SOCIAL BUZZ 
Facebook is integrating its messaging platforms, and select users can now message users across its Messenger and Instagram apps, with WhatsApp to follow:
The feature should roll out to all users in upcoming months, and each user will be able to opt-into the update.
Though the announcement might not at first seem like a feature aimed at PR and marketing pros, savvy communicators will take this as another reason to work on social media messaging strategies.
In a blog post announcing the feature, Facebook wrote:
On Facebook's family of apps alone, people send more than 100 billion messages to their friends and family each day. These days, we rely on video calls to hang out with friends, send memes and GIFs to communicate what we really think (but can't always say), and share funny photos and voice notes to stay in touch.

People are communicating in private spaces now more than ever. More than a billion people already use Messenger as a place to share, hang out and express themselves with family and friends.
Social media users are not just talking with friends and family members in private messages either. Many reach out to brands with questions, concerns, kudos and criticism using the same format. By updating your social media best practices and turning to technologies such as chatbots, you can gain much from adapting to changing social media behaviors.
---
EDITOR'S PICKS
Sleep is crucial to overall health as well as performance, but many communicators working long days and struggling to find a work/life balance amid COVID-19 and other crises can be failing to prioritize this important activity.
Consider trying these:
---
WHAT YOU SAID
We asked for your WFH dress code, and 44% of you are in no way wearing business or business casual wear, with 35% of you dressing up only for meetings and video presentations. However, 12% of you continue to wear business attire because it helps you focus, and nearly 9% of you wear it because you're heading into the office:
Are you still wearing business or casual business wear for work?

Share your WFH wardrobe changes and choices with us below, and we'll share in tomorrow's #DailyScoop.

— PR Daily (@PRDaily) September 30, 2020
Is there a question you'd like us to ask in an upcoming poll? Let us know!
---
SOUNDING BOARD 
Using a GIF, describe your relationship with measurement and data.
Using a GIF, describe your relationship with measurement and data.

Any and all communicators (PR, internal communications, social media, marketing, etc.) are welcome to pitch in!

We'll share the best in tomorrow's #DailyScoop. pic.twitter.com/1M12zgmLak

— PR Daily (@PRDaily) October 1, 2020
Share your thoughts with us below and under the hashtag #DailyScoop.
Editor's note: Ragan Communications may earn a commission through our affiliate partnerships when purchasing items in our content.
COMMENT
One Response to "American and United Airlines to lay off 32,000 employees, Google to pay $1B to publishers for 'news experience,' and Facebook launches cross-platform messaging"
Ronald N. Levy

says:

Wow, look at the EFFECTS of the Google move.

Effect on the public: freedom to get the news without bias favoring either party.

Effect on advertisers: freedom to make their pitches without supporting a medium that seems biased for a party millions of audience members may dislike.

Effect on Google: Many in Washington may talk big about anti-trust but will sensible politicians want to attack an organization with Google's massive potential influence on what news gets reported?