Apple delays return to office indefinitely, study finds managers lack communication skills, and J&J responds to shifting CDC guidance
Also: Americans prioritize vacation travel for 2022, Peloton pulls Chris Noth ad following sexual assault allegations, and more.
Hello, communicators:
A new study from Skyscanner shows that the highlight of 2021 for many Americans was the return of travel.
Forty-nine percent of survey respondents said going on vacation was their most important leisure activity—even more so than getting back into the dating scene, which was picked by 40% of participants.
The report shows the top booked destinations for summer 2022 include Paris, London, Rome, New York and Barcelona, indicating a rise in bucket-list trips after more than two years of pandemic-related travel restrictions.
While leisure travel might be on the rise, PR pros must consider that business travel is a separate consideration for many consumers. For communicators looking to draw a crowd, setting your event in a special destination will be crucial for enticing leery travelers.
Here are today's top stories:
Apple delays return-to-office date indefinitely, citing Omicron concerns
Apple announced late Thursday that it would cancel its plans to have staffers return to the office, with no return date set in the future, citing concerns about rising COVID-19 cases worldwide and the spread of the Omicron variant.
The move comes just weeks after the company had advised employees to prepare to return to in-person work by February. In a memo obtained by Bloomberg News, Apple CEO Tim Cook wrote that the company's return to office will come at a "date yet to be determined."
Apple had previously delayed its office-return plans from June, September, October and January. The latest decision comes the same week that the company restored its mask mandate to all U.S. retail stores and temporarily shut three locations because of rising virus cases among employees.

In the memo, Cook also said the Cupertino, California-based company will provide each employee a $1,000 bonus that may be used for work-from-home needs, saying it's "in support of our commitment to a more flexible environment." That includes retail workers.
Why it matters: Apple's return-to-office delay mirrors many companies' hesitancy about returning to pre-pandemic work environments, especially as the virus continues to present new health- and safety-related challenges. Some colleges and universities have also announced their plans to go virtual in 2022 amid rising COVID-19 case counts. As year two of the pandemic nears its end, the latest flip-flopping shows just how uncertain most organizations are about how to proceed.
Apple's new timeline for a return to the office is a reminder for comms pros to transparently communicate what is still unknown, and set a framework for how the organization will face future challenges and protect workers.
---
MEASURED THOUGHTS
A new report from The Predictive Index found that the No. 1 skill managers lack is effective communication.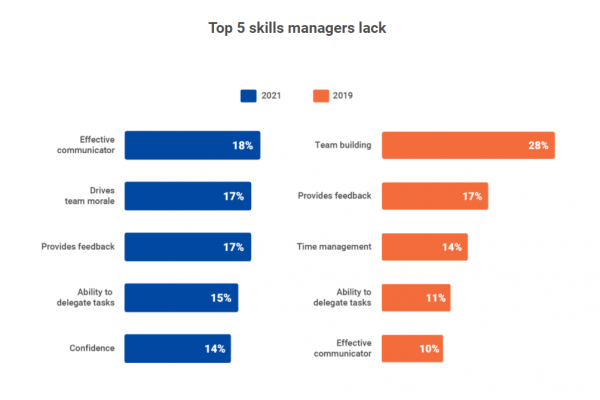 Courtesy of The Predictive Index
Effective communication jumped four spots since TPI's last People Management Report, suggesting that the transition to remote and hybrid work has taken a toll on top-down internal communication. Additionally, "drives team morale" became an increasingly important attribute for managers, with 17% of surveyed employees bemoaning the absence of that skill.
Communicators should take this opportunity to share their expertise with colleagues and build influence to drive essential business outcomes around retention and collaboration.
---
TAKE OUR SURVEY
If you're looking to further your understanding of your industry to navigate what's ahead in 2022, lend us a hand—and help yourself and your peers identify shared benchmarks in areas such as budgets, team structure, ESG and DE&I efforts, and more. Participate in Ragan Communications Leadership Council's 2022 Benchmark Survey, a comprehensive look at how to negotiate budgets with your executives, how to best reach deskless workers and foster culture among a hybrid workforce, and more.
Both internal and external communicators are encouraged to participate.
By taking part, you'll be entered to win one of three $100 gift cards. All who complete the survey will receive a full report on the findings. Responses are anonymous.
Survey takers will receive an executive summary of the findings.
---
CRISIS COMMUNICATIONS
After its controversial placement in HBO's "Sex and the City" reboot and the much-lauded follow-up video, Peloton is in the news once again. The exercise equipment company on Thursday yanked its tongue-in-cheek ad that featured actor Chris Noth following an article from The Hollywood Reporter accusing Noth of two separate incidents of sexual assault. Noth has denied the allegations.
"Every single sexual assault accusation must be taken seriously," Peloton said in a statement. "We were unaware of these allegations when we featured Chris Noth in our response to HBO's reboot" of the show. "As we seek to learn more, we have stopped promoting this video and archived related social posts."

The allegations of sexual misconduct appeared Thursday in an article in The Hollywood Reporter. The article said two women who approached the publication separately, months apart, and who do not know each other told The Hollywood Reporter that promotions and press reports for the new "Sex and the City" sequel brought back painful memories of the incidents. One purportedly occurred in Los Angeles in 2004 and the other allegedly took place in New York in 2015.
After Peloton and Ryan Reynolds' Maximum Effort agency earned plaudits for its lightning quick response to the crisis brought on by Peloton's fatal product placement, the team was once again forced to react quickly to changing events. The story could become a cautionary tale for brand managers looking to replicate Peloton's fast action, though the new accusations that surfaced about Noth would not likely have shown up in pre-screening, even if the team had time to perform due diligence.
It's yet another example of how quickly brand managers must be willing to move to respond to the online news cycle where facts can change in the blink of an eye.
---
Announcing the PR Daily Leadership Network
PR Daily is launching the PR Daily Leadership Network, a unique membership group from Ragan Communications offering peer-to-peer advisory and team training along with a unique slate of resources and events to help public relations professionals break through the noise, increase their visibility and forge meaningful connections.
The Network provides daily insights and coverage on a range of topics including media relations, social media, measurement, Diversity, Equity & Inclusion, branding, thought leadership and crisis communications.
"The fast pace of change coupled with the demand on public relations professionals to protect and sometimes defend their company's reputation make it imperative for leaders to tap into the wisdom of other communicators and continue to learn and grow," says Diane Schwartz, CEO of Ragan Communications. "The PR Daily Leadership Network provides the answers but also encourages members to question the status quo and push for positive change."
Visit leadership.prdaily.com to learn more.
J&J's COVID-19 vaccine takes hit as CDC narrows use recommendations
Pharmaceutical company Johnson & Johnson defended its one-shot COVID-19 vaccine Thursday after the Centers for Disease Control and Prevention issued new advice recommending other vaccines in lieu of the J&J jab.
The move comes in the wake of growing concerns about a rare side effect of the Johnson & Johnson vaccine: a sometimes fatal blood-clotting issue.
In a statement, Johnson & Johnson said it "remains confident in the overall positive benefit-risk profile" of its vaccine.

"The safety and well-being of those who use the Johnson & Johnson vaccine continues to be our number one priority," said Dr. Mathai Mammen, head of drug research and development at Johnson & Johnson, in the statement. "We appreciate today's discussion and look forward to working with the CDC on next steps."
What it means: Mammen's statement uses neutral language, underscoring the company's willingness to work with the federal health agency, a key step in maintaining public trust. And the emphasis on safety as the company's "number one priority" shows J&J's commitment to the greater public good—despite the growing concerns about its product.
When the CDC recommended a pause in the administration of the J&J vaccine in April, confidence was shaken in its vaccine candidate compared to competitors Pfizer and Moderna. However, by working with federal agencies to address questions and restart the vaccine's use, J&J showed the importance of building consensus and relying on data in combatting a PR crisis.
Now, J&J looks to return to its April playbook, showing due concern for patients while signaling confidence in its vaccine product.
COMMENT