'Aunt Jemima' becomes 'Pearl Milling Company,' Salesforce announces permanent remote workforce, and Heineken to lay off 8,000
Also: Virtual court proceedings go viral with kitten filter, Nationwide has catchiest brand jingle, Coca-Cola's 100%-recycled plastic bottles, and more.
Hello, communicators:
A livestream of Texas' 394th Judicial District has gone viral after a lawyer in Presidio County, Texas, was unable to turn off a kitten filter during the virtual court proceedings on Zoom:
The video has racked up more than 3.7 million views on YouTube at time of publishing, and has also trended on Twitter and across news media headlines, such as CNet's guide to using the filter.
 The judge presiding over the proceedings, Roy Ferguson, tweeted a thread of the Zoom gaffe to "exemplify the legal community's dedication to the cause of justice," also tweeting a crucial videoconferencing tip:
IMPORTANT ZOOM TIP: If a child used your computer, before you join a virtual hearing check the Zoom Video Options to be sure filters are off. This kitten just made a formal announcement on a case in the 394th (sound on). #lawtwitter #OhNo @zoom_ushttps://t.co/I0zaj0wu6K

— Judge Roy Ferguson (@JudgeFergusonTX) February 9, 2021
Media outlets, you may use the video. It was recorded during a virtual hearing in the 394th DC of TX, and released for educational purposes. It is crucial that this not be used to mock the lawyers, but instead to exemplify the legal community's dedication to the cause of justice.

— Judge Roy Ferguson (@JudgeFergusonTX) February 9, 2021
The incident offers a much-needed laugh and a reminder to check your settings, virtual background and filters before you hop on your next Zoom call.
Here are today's top stories:
Quaker Oats reveals Aunt Jemima rebrand
The PepsiCo-owned brand unveiled the new name for its pancake and syrup products, announcing that "Aunt Jemima" will be replaced with "Pearl Milling Company." Rebranded packaging will hit store shelves in June, and Pearl Milling Company will detail a $1 million investment meant to support diversity, equality and inclusion initiatives.
In a press release, PepsiCo said:
In the coming weeks, Pearl Milling Company will also announce the details of a $1 million commitment to empower and uplift Black girls and women, inviting the community to visit its website and nominate non-profit organizations for an opportunity to receive grants to further that mission. This is in addition to PepsiCo's more than $400 million, five-year investment to uplift Black business and communities, and increase Black representation at PepsiCo.
The new name and overhauled packaging is debuting roughly a year after Quaker Oats announced it would retire the product line's racist branding.
Aunt Jemima and other food brands, including Uncle Ben's, Cream of Wheat, and Mrs. Butterworth's, announced redesigns amid protests against systemic racism and police brutality in the U.S. last summer. But calls to remove the Aunt Jemima imagery, and others like it, were made long before companies acquiesced to public pressure last year.
Why it's important: Meaningful DE&I strategies can take a long time to map out and execute—and will probably involve uncomfortable conversations and brand introspection. Don't avoid or delay this important effort. As more consumers purchase from brands that align with their values—and more employees seek jobs with organizations that tout a diverse, inclusive and welcoming culture—your DE&I initiatives should underline your organization's values. They should also offer enough detail to show how your organization is planning to make a difference in your community or the world—and help you remain accountable for those commitments.
---
CRISIS COMMUNICATIONS
Heineken published its annual results for 2020 on Wednesday, and buried in the bottom of its press release was the announcement that 8,000 employees will be laid off in 2021, with roughly 20% of the restructuring happening during this year's first quarter.
Heineken said it originally announced its restructuring plan on Oct. 28, 2020—and hopefully has been communicating consistently with employees in the meantime.
The layoffs and realignments are part of the company's "EverGreen" strategy, which includes a focus on e-commerce and other digital consumer touchpoints as well as products beyond beer.
In its release, Heinken wrote:
We aim to become the best connected brewer, digitally enabling and strengthening our route to consumer. We will connect all our customers through our business-to-business platforms, reaching €10 billion net revenue by 2025 in traditional channels. Our entire sales force will be digitally empowered by 2023. We will continue to invest selectively in direct-to-consumer platforms and touch all consumers with Individual Data Driven Marketing.
Heineken's chief executive, Dolf van den Brink, told the Financial Times that the brewer is adapting to shifting consumer behaviors:
He said his strategic plan "is about future-proofing the company so we can deliver superior profitable growth . . . The world is changing, the industry is changing and we need to change accordingly."
---
MEASURED THOUGHTS
Quality Logo Projects published a recent survey of more than 700 U.S. consumers that revealed the catchiest brand jingles. The winner was Nationwide, with nearly 93% of respondents recognizing its ditty: "Nationwide is on your side." McDonald's, Ricola, Kellogg's Rice Krispies, Lucky Charms, Campbell's Spaghetti-O's, State Farm, Campbell's Soup, Nestlé's Kit Kat, and Toys R Us rounded out the top 10 sung branded catchphrases: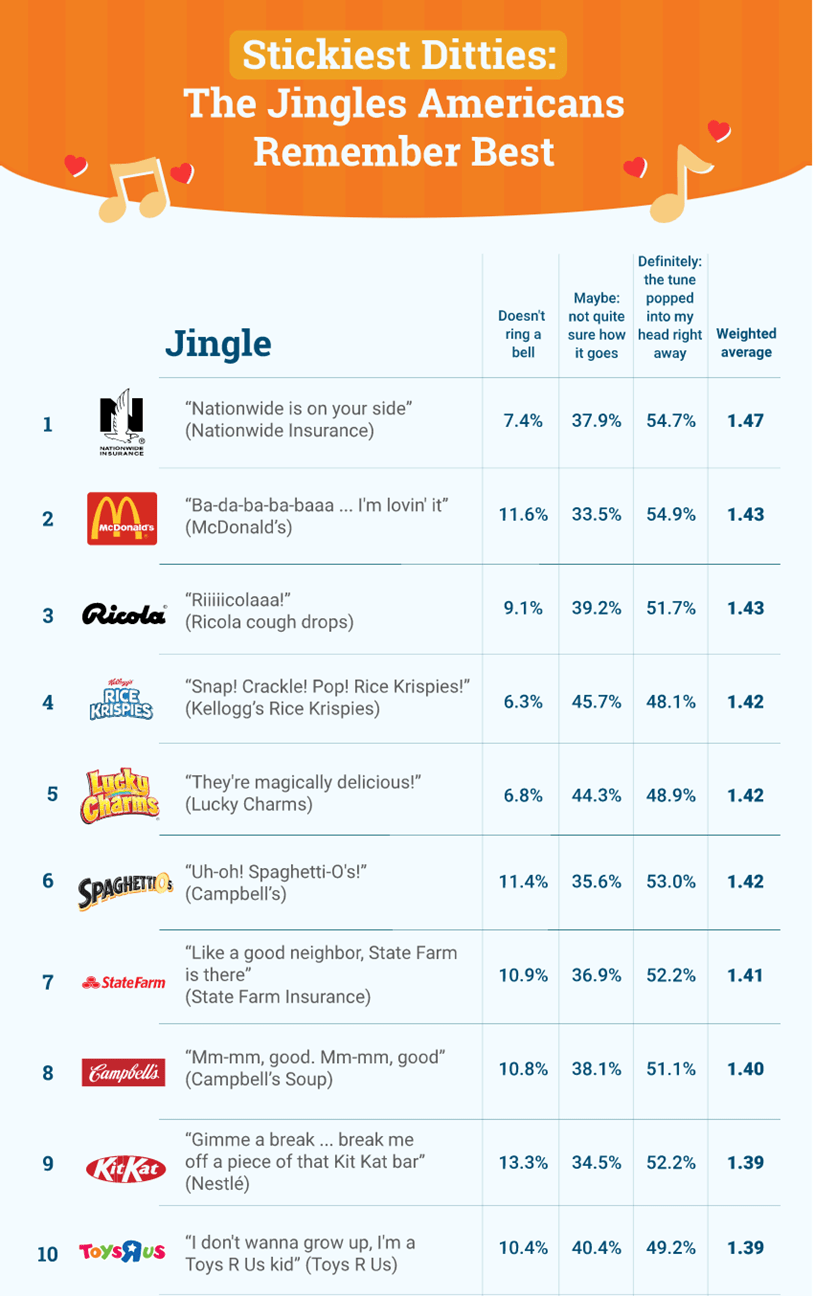 Image courtesy of Quality Logo Products.
 The survey reported that the top 10 jingles comes from legacy brands that are 50 to 100 years old, with half of the songs created in the 1960s.
 You can view the entire report here.
---
CRISIS LEADERSHIP NETWORK
Looking for more insight on how to address the current global crisis and lead your organization into a strong recovery?
Join Ragan's Crisis Leadership Network to connect and brainstorm with peers, get the latest intelligence and research and start to strategize for the future of your organization.
Learn more about this exclusive membership here.
Salesforce announces 'work-from-anywhere' workforce
The company's chairman and chief executive, Marc Benioff, announced at its FutureWorks World Tour that Salesforce is creating a "work-from-anywhere" policy that enables flexible and fully-remote employees as well as office-based positions (which the company says will be the smallest workforce population).
☁️1️⃣: World Wide Web
☁️2️⃣: Social and Mobile
☁️3️⃣: Work from Anywhere

We are moving into Cloud 3.0 — the all-digital, work-from-anywhere world.

And we're not going back!

Salesforce Chair & CEO Marc @Benioff is sharing our vision live at #FutureWorks: https://t.co/iciG39foqP pic.twitter.com/E2jTZh1QpN

— Salesforce (@salesforce) February 10, 2021
The Wall Street Journal reported:
Chief People Officer Brent Hyder said Salesforce's changes would include revamping office layouts to increase collaboration space instead of having a "sea of desks." As employees are expected to do much of their independent work remotely, the mock-ups of the new offices feature cafe-style seating, open-air conference areas and private nooks, with an emphasis on clean desks and social distancing.

"We're not going back to the way things were," Mr. Hyder said in an interview. "I don't believe that we'll keep every space in every city that we're in, including San Francisco."
In a company blog post, Hyder wrote:
As we enter a new year, we must continue to go forward with agility, creativity and a beginner's mind—and that includes how we cultivate our culture. An immersive workspace is no longer limited to a desk in our Towers; the 9-to-5 workday is dead; and the employee experience is about more than ping-pong tables and snacks.
Why it matters: The future of work and the workplace has drastically shifted, and many of these changes are here to stay. If you're still handling change management and employee engagement strategies as shorter-term responses to the COVID-19 crisis, reconsider. Instead, overhaul your efforts into future-focused and long-term strategies informed by employee feedback.
---
TAKE OUR SURVEY
The start of a new year brings more opportunities for communicators across roles, organizations and industries to develop effective strategies and efforts that can strengthen their brands amid continuing crises, including the COVID-19 pandemic.
Ragan's Communications Leadership Council has created The 2021 Communications Benchmark Survey, and wants to know your challenges, successes and needs as you navigate the rapidly shifting communications landscape and respond to unprecedented crises as well as new opportunities.
Please share your insights with us. As a thank you for your time and insights, you'll receive an Executive Summary of the report, packed with proprietary research that can help you better shape communications strategies in 2021. You'll also be entered to win one of five $100 Visa gift cards.
---
TACTICALLY SPEAKING
The Coca-Cola Company is launching its first new bottle size in 10 years, thanks to a sustainability effort aimed to reduce the company's plastics waste.
The new 13.2-ounce recyclable bottle that some customers will see on shelves this week is made entirely of other plastics, and it's the latest move in Coca-Cola's several-year initiative to reduce its plastic waste. Coke is also hoping the size attracts younger, under-25 drinkers who are seeking sustainable packaging (and sometimes even shunning the company).

… "We've been listening to consumers and they have been telling us they want something a little smaller and a little more easy to consume," Alpa Sutaria, Coca-Cola's general manager of sustainability, told CNN Business. "We took this opportunity to make a bottle with plastic that's 100% recyclable."
"Big news sometimes comes in smaller packages," Coca-Cola said in its press release.
---
WHAT YOU SAID
We asked if you're planning to travel for business this year, and almost 34% of you said a trip isn't likely, while roughly 28% of you said you're definitely not traveling for your job in 2021. On the other hand, nearly 27% of you are hoping to travel by the fall, and almost 11% are already doing so.
Do you anticipate taking business travel this year? Share your thoughts for our #DailyScoop poll!

— PR Daily (@PRDaily) February 9, 2021
Is there question you'd like to see asked? Please let us know under the #DailyScoop hashtag!
---
SOUNDING BOARD
Will your organization's workforce remain remote, even after it's safe to return to the office?
Will your organization's workforce remain remote, even after it's safe to return to the office?

Weigh in below and we'll share your answers in tomorrow's #DailyScoop.

— PR Daily (@PRDaily) February 10, 2021
Weigh in below and on Twitter under the hashtag #DailyScoop, and we'll share in tomorrow's roundup.
COMMENT