Barclays CEO steps down over ties to Jeffery Epstein, Open rates for media pitches drops, and Butterball's turkey hotline joins TikTok
Also: Southwest's response to pilot's political outburst, Pinterest launches shoppable Pinterest TV, the launch of the PR Daily Leadership Network, and more.
Hello, communicators:
Turkey brand Butterball opened its Butterball Turkey Talk-Line yesterday, a hotline that has annually provided customers with advice on how to cook the perfect bird for 40 years. Butterball marked the anniversary by tracing the hotline's milestone moments that have included going electronic in 1984, introducing a microwave recipe in 1985 and launching a social media presence in 2008.
Now Butterball is launching its Turkey Talk-Line Taste Kitchen, a series on TikTok that the brand says is developed to follow the latest social media cooking trend while supporting home cooks.
"The Butterball Turkey Talk-Line has become a Thanksgiving institution, and we're back in our 40th year to help new and seasoned hosts take the guesswork out of cooking turkey," director and 21-year veteran of the Butterball Turkey Talk-Line Nicole Johnson said in a press release.
"This year we are focused on helping new and returning hosts, so they have more time to spend enjoying special moments with friends and family. From phone calls to text messages to social media and Tik Tok, we continue to evolve to be there for hosts however they want to reach us and give them the confidence they need to pull off a successful Thanksgiving."
By highlighting the evolution of its hotline throughout the years, Butterball's anniversary communications illustrate how its commitment customer service has remained intact no matter what medium the hotline used to reach consumers.
Here are today's other top stories:
Barclays responds to CEO resignation after investigation into Jeffery Epstein ties
Barclays bank announced that its CEO James E. Staley would step down immediately after the conclusion of an investigation by British regulatory agencies into Staley's relationship with the late, disgraced financier Jeffery Epstein.
"In view of those conclusions, and Mr Staley's intention to contest them, the board [of Barclays] and Mr Staley have agreed that he will step down from his role as group chief executive and as a director of Barclays," Barclays said in its statement on Monday.

"It should be noted that the investigation makes no findings that Mr Staley saw, or was aware of, any of Mr Epstein's alleged crimes, which was the central question underpinning Barclays' support for Mr Staley following the arrest of Mr Epstein in the summer of 2019," the bank added, saying it was not appropriate for it to comment further.

"The [Barclays] board is disappointed at this outcome," the bank said in its statement. "Mr Staley has run the Barclays Group successfully since December 2015 with real commitment and skill. Supported by the senior team which he largely helped build and on whom the Barclays Group will be relying for the future, Mr Staley clarified the Barclays Group's strategy, transformed its operations and materially improved its results. "
Staley told staff in an internal memo seen by Reuters that he did not want his personal response to the investigations to be a distraction. "Although I will not be with you for the next chapter of Barclays' story, know that I will be cheering your success from the sidelines," he said.
The bank's new CEO [C.S.] Venkatakrishnan, who followed Staley to Barclays from JPMorgan and is known as Venkat, told staff on Monday the strategy put in place by his predecessor was "the right one," according to a separate memo also seen by Reuters.
Why it matters:
Barclays statement of support and disappointment around Staley's departure, along with Venkatakrishnan's words about Staley's exit strategy, present a display of solidarity for the decision. This measured approach to reputation management highlights how you can separate your brand from the problems of a single executive without inviting scrutiny into that executive's past business decisions. It also emphasizes how spelling out the previous crisis response efforts can create a narrative that shields you from liability.
---
MEASURED THOUGHTS
A new study by Propel Media researched 1.4 million media pitches, finding that the average journalist open rates of pitches declined from 36% in 2020 to 28% in 2021. Response rates declined from 4.62% to 3.49% in the same period.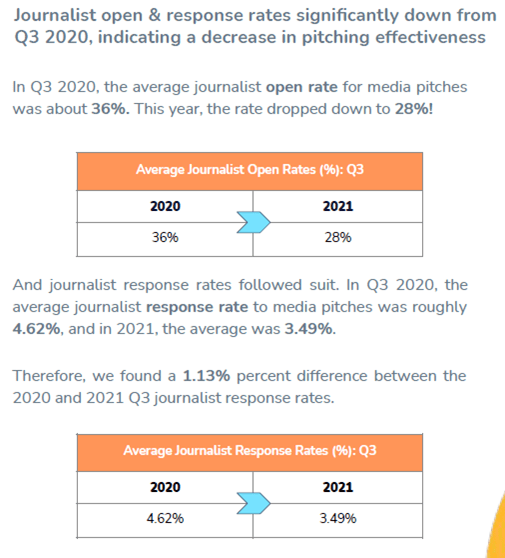 "The overall picture painted by Propel's Q4 Media Barometer is that it's becoming far more difficult to get journalists' attention and convert that attention into media coverage," Propel Media wrote. "However, the fact that top agencies have been able to retain their performance amidst a general drop indicates a tactical shift among agencies. While the best performers are becoming more data-driven and are capable of maximizing their chances by utilizing the best pitching times and tactics, many others are maintaining a blanket approach."
---
Announcing the PR Daily Leadership Network
PR Daily is launching the PR Daily Leadership Network, a unique membership group from Ragan Communications offering peer-to-peer advisory and team training along with a unique slate of resources and events to help public relations professionals break through the noise, increase their visibility and forge meaningful connections.
The Network provides daily insights and coverage on a range of topics including media relations, social media, measurement, Diversity, Equity & Inclusion, branding, thought leadership and crisis communications.
"The fast pace of change coupled with the demand on public relations professionals to protect and sometimes defend their company's reputation make it imperative for leaders to tap into the wisdom of other communicators and continue to learn and grow," says Diane Schwartz, CEO of Ragan Communications. "The PR Daily Leadership Network provides the answers but also encourages members to question the status quo and push for positive change."
Visit leadership.prdaily.com to learn more.
---
SOCIAL BUZZ
Pinterest announced a new, shoppable livestream series called Pinterest TV. New episodes will be recorded and added each weekday for users to watch on-demand in the app:
#PinterestTV is here with live episodes weekdays at 3pm PST/6pm EST starting Nov 8. Try something new with @TomDaley1994, chat fashion with @CSiriano, or fix your #PinterestFail with Monica Suriyage. Get ready to tune in: https://t.co/RMpRokrviR pic.twitter.com/fu8auVezYa

— Pinterest (@Pinterest) November 1, 2021
Along with Pinterest TV, Pinterest is launching a virtual studio where Pinterest producers work directly with each creator to develop unique content, providing "backstage" A/V support, and go live with engaging episodes. Creators who've hosted Pinterest TV episodes during the pilot phase have substantially increased their following on the platform, with some creators more than doubling their followers after a live episode.

"We're thrilled to partner with Pinterest on this thoughtful experience," said Diane Cohen, the founder of hair products brand Crown Affair. "I'm an active Pinterest user, both personally and professionally. It's a platform I come to daily with positive energy and inspiration, unlike other platforms— it's a joyful space to build out a universe and discover lifestyle newness. Engaging with the platform and being able to partner with the Pinterest team on this step into the future of live stream shopping is really thrilling."
Pinterest's push toward live shopping emphasizes the importance of providing your influencers, creators and brand partners with additional communications tools and media training to ensure the consistency of their messaging.
Pinterest's new feature, meanwhile, demonstrates the platform's commitment to its community as it showcases partner testimonials that highlight the platform's perks.
---
TAKE OUR SURVEY
The HarrisX – Ragan CEO/Communicators Competencies Survey is looking for chief communications officers, senior vice presidents and top comms officers to take our first-of-its-kind poll. The survey seeks your feedback on what you consider to be the most important skills and attributes communicators must master—and we're asking your CEO as well.
The findings—and comparisons of CEO views vs. those of communicators—will be announced during Ragan's Communications Week Nov. 15-19 and in a special report this winter.
Can you spare a few minutes to help us chart the future of the communications role?
Southwest highlights values after pilot delivers anti-Biden message on flight
Southwest says it will investigate why a pilot said "Let's Go Brandon" over the in-flight intercom. The phrase is commonly in conservative circles as a coded way of saying "F*** Joe Biden." The phrase originated during a broadcast from a NASCAR race in August, when a newscaster claimed that audible chants against the president were saying "Let's Go Brandon" instead, and has since become a meme.
According to Southwest's statement:
The Southwest team takes pride in providing a welcoming, comfortable, safe, and respectful environment for the millions of customers who fly with us each year. Southwest does not condone employees sharing their personal political opinions while on the job serving our customers, and one employee's individual perspective should not be interpreted as the viewpoint of Southwest and its collective 54,000 employees.

Southwest is conducting an internal investigation into the recently reported event and will address the situation directly with any employee involved while continuing to remind all employees that public expression of personal opinions while on duty is unacceptable. Southwest does not tolerate any behavior that encourages divisiveness, as it does not reflect the Southwest hospitality and inclusiveness for which we are known and strive to provide each day on every flight.
What it means:
Southwest is just the latest company to face questions about how to address the political speech of employees in the workplace. Some important action steps to protect your brand from a similar crisis includes:
Reviewing your employee handbook on political discussion at work.
Updating your social media policies.
Clearly defining the consequences for employees that break your rules.
See more of our analysis here.
COMMENT
2 Responses to "Barclays CEO steps down over ties to Jeffery Epstein, Open rates for media pitches drops, and Butterball's turkey hotline joins TikTok"
Ronald N Levy

says:

If a board fires an executive for possibly consorting with a prostitute who was almost a whole year younger than age 16, as some of Epstein's prostitutes were, someone may suggest that the board should award a bonus for using a prostitute almost a whole decade or more over a certain age.

I've heard it argued that all PR people and defense lawyers are prostitutes since we work for who pays regardless of our personal beliefs. Several respected women's rights advocates have argued that prostitution should be legalized.

What's considered okay or wrong may vary over time. Years ago IBM, DuPont and some other companies would not fire an executive for alcoholism but would offer treatment, ask for a pledge of on-the-job sobriety, and put the exec into a job where breaking the pledge would be unlikely to cause serious harm.
Other company managements felt that they didn't cause the problem and shouldn't suffer from it.

One can't counsel that buying the services of a prostitute even of "lawful age" if there is such is okay, but should we counsel that execs and all employees have a right of privacy and board investigation of an exec's social life is not okay?

Years ago when a group of my writers were in a friendly end-of-day discussion asking a 40-year-old virgin among them whether she ever felt she had maybe missed out, she didn't mind at all and assured them confidently that she felt her way was right. When a senior management exec, not straight, posted on her bulletin board a cartoon with the word "dyke," I told her I had no right to ask her to take it down but if anyone sued, they'd sue the company, not her and she generously took it down.

Top law firms all have experts in what they call "employment law" and there are
almost surely respected legal articles on what companies should and shouldn't do. A company may be safer if PR gets the general counsel to offer guidelines on what employee rights of privacy a company's management and board members should respect. This would also put execs on notice, a fair thing to do, that what they do even on their own time may be not only their own business.

Ronald N Levy

says:

I'm asked what's my point. It's that either management should (1) not have rules about an executive's sex life or else (2) have clear rules so executives know in advance what's prohibited.

Also is it only top executives or all executives or all employees including factory workers who can be fired for doing what this guy did? Do our employers have a right to tell us with whom we may consort?

How about betting on a ballgame with a bookie or a friend or in an office pool rather than in a lawful place for gambling? Or being ticketed for driving 10 mph too fast on a highway while totally sober? Should companies be able to say "obey all the laws 100% or if we find out then you're outta here?"