Boeing touts transparency with move to ground aircraft, U.S. adults support voluntary digital vaccine passports, and Clubhouse invites scrutiny with data leak response
Also: Amazon responds to warehouse union vote, journalists call out Insider's methods for measuring story performance, study finds Facebook ads may still violate labor laws, and more.
Hello, communicators:
Amazon warehouse workers in Alabama voted against forming a union on Friday, casting 1,798 votes against the decision following despite negative PR about the online retail giant, which included accounts of workers urinating in bottles, claims of improper meddling with the postal service to drive votes, social media attacks directed by top execs, and more.
"It's easy to predict the union will say that Amazon won this election because we intimidated employees, but that's not true," Amazon said in a statement about the vote. "Our employees heard far more anti-Amazon messages from the union, policymakers, and media outlets than they heard from us. And Amazon didn't win—our employees made the choice to vote against joining a union."
The statement goes on to describe employees as "the heart and soul" of Amazon, touting the creation of 500,000 new jobs since COVID-19 began, a $15 an hour minimum wage, health care from day one and more. Nowhere in the statement does Amazon address the specific grievances around employee welfare that went viral, however, such as aggressive delivery quotas, time for bathroom breaks and leave for sick workers.
Communicators should take note that statements about employee health and wellness should address all specific concerns about your workforce that circulate in the press and online.
Boeing offers transparency as it grounds 737 MAX planes
Boeing has temporarily grounded more than 60 of its 737 MAX airplanes, citing a minor change in its manufacturing process that was insufficiently vetted. The company says that this manufacturing error is unrelated to the two fatal crashes that kept the same model of commercial jet grounded for almost two years.
Boeing said it discovered the issue "on a production airplane during normal build activity" and that inspections are needed to verify "that a sufficient ground path exists" for this control unit.

The Federal Aviation Administration (FAA) said Boeing notified it late Thursday that it was recommending certain MAX airplanes be temporarily removed from service.

After Boeing informed airlines late Thursday evening, Southwest grounded 30 of its MAXs. American grounded 17, and United 16.

FAA spokesperson Ian Gregor said Boeing's manufacturing switch from rivets to fasteners was "a minor design change" that did not require approval by either the federal safety agency or the internal Boeing organization that represents the FAA and assures compliance with regulations.
Why It Matters:
Communicators, take note that you can minimize the impact of a crisis by ensuring that any issues are identified internally before being shared with external regulators. Partner with regulators to make sure that your company is given credit in any messaging for having done its due diligence and assumed responsibility for the error from the outset. Share specific and technical details to let stakeholders know that the nuances of the crises are being communicated, and understood, at every level of your company.
---
MEASURED THOUGHTS
A new report by Morning Consult found that 3 in 5 adults surveyed support the idea of a digital vaccine passport or something similar, but 53% of respondents oppose allowing businesses to ban unvaccinated customers from entering their stores.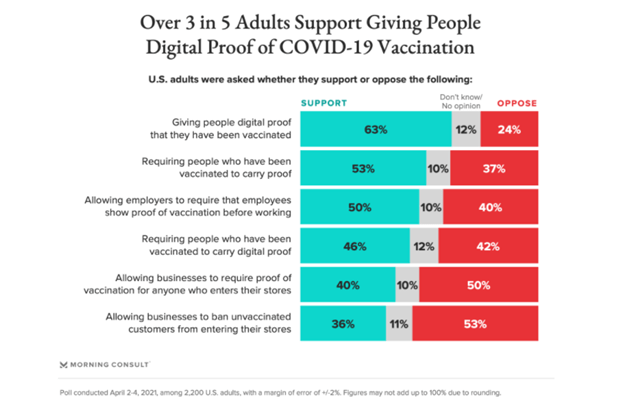 Communicators, take note to partner with HR and survey your internal stakeholders to learn how they feel about the idea of vaccinations before any official procedures are implemented at your company. Consider employee resistance and all repercussions that may arise should your company make proof of vaccinations mandatory. Most importantly, reach out to any internal detractors directly to ensure their concerns are being addressed.
---
SOCIAL BUZZ
Daily Beast journalist Max Tani shared an email sent out by Insider to its staff that shares how the media company measures the success of its stories around "impact points." Tani, who is not an Insider employee, also pointed out that he was listed by name as someone whose story shares do not count:
Insider just sent out an email defining "impact points," which is one way beyond traffic or subscriptions the company measures a story's success. Apparently RTs from some journalists count as impact points, unless that journalist is me 🙁 pic.twitter.com/Yx00AfP8Gz

— Max Tani (@maxwelltani) April 6, 2021
Insider's editor-in-chief replied to Tani's tweet:
It's not a specific rule targeting you Max! You were simply a good example of a journalist with too few followers to count, under our rules.

— Jim Edwards (@Jim_Edwards) April 6, 2021
Tani and his followers went on to offer arguments for why the framework was misguided:
Hmmmmmm pic.twitter.com/8v23vnM5ms

— Jon Christian (@Jon_Christian) April 6, 2021
jim idk man i feel like i got impact pretty quickly on this one

— Max Tani (@maxwelltani) April 6, 2021
asking your staff to care about retweets from other journalists more than local news is an embarrassing definition of impact

— Astead (@AsteadWesley) April 6, 2021
Communicators, take note that your measurement strategy should never use shares and retweets as a key indicator of impact, as most audience development teams consider them to be vanity metrics. Moreover, your metrics should never call out specific people, especially journalists, as an example of success.
---
CRISIS COMMUNICATIONS
A new study conducted by researchers at the University of Southern California found that some job listings on Facebook are only visible to certain ages and genders, a bias that would be illegal under federal employment discrimination law. The study arrives over two years after Facebook disabled a feature that let advertisers target users by age or gender when posting employment ads.
"Our system takes into account many signals to try and serve people ads they will be most interested in, but we understand the concerns raised in the report," a Facebook spokesperson said in a statement responding to the study, shared with Mashable. "We've taken meaningful steps to address issues of discrimination in ads and have teams working on ads fairness today. We're continuing to work closely with the civil rights community, regulators, and academics on these important matters."
When presented with data that undermines or contradicts your company, do not argue with the results. Instead, acknowledge the discrepancies that the data calls out and commit to investigate the issues further. Whenever possible, share specifics about who you are partnering with and what actions are being taken to remedy the issue.
---
CRISIS LEADERSHIP NETWORK
Looking for more insight on how to address the current global crisis and lead your organization into a strong recovery?
Join Ragan's Crisis Leadership Network to connect and brainstorm with peers, get the latest intelligence and research and start to strategize for the future of your organization.
Learn more about this exclusive membership here.
---
TACTICALY SPEAKING
Yahoo has announced that it is shutting down Yahoo Answers, a service that allowed users to ask unusual or uncomfortable questions anonymously.
The service lost its wide popularity in recent years, and there are more competitors now than there were when it was created. Quora positions itself as more of a highbrow network that is more likely to attract an expert response, and Reddit features a forum that invites people's idle curiosity to roam free.

Yahoo, in a letter to users, said it had "decided to shift our resources away from Yahoo Answers to focus on products that better serve our members and deliver on Yahoo's promise of providing premium trusted content."
Communicators should take note that positioning the end of an unpopular feature or service around maintaining quality standards and resources is a graceful way to frame the decision in a positive light.
Clubhouse's response on data leak only raises more questions
The personal information of 1.3 million Clubhouse users was published on a popular hacker forum that included their names, social media accounts, photos and more.
Clubhouse immediately responded by noting that all this information was already publicly available:
This is misleading and false. Clubhouse has not been breached or hacked. The data referred to is all public profile information from our app, which anyone can access via the app or our API. https://t.co/I1OfPyc0Bo

— Clubhouse (@joinClubhouse) April 11, 2021
In addition to sparking a heated debate under the company's statement on Twitter, this raises some questions about the privacy stance of the company: allowing everyone to gather and download even public profile information on a mass scale can have severe negative consequences for user privacy.

The data from the leaked files can be used by threat actors against Clubhouse users by carrying out targeted phishing or other types of social engineering attacks. [E]ven a profile name, with connections to the user's other social media profiles identified and established, can be enough for a competent cybercriminal to cause real damage.
Why It Matters:
Communicators, take note to ask any technology or social media partners about their privacy policies before working with them, especially if the partner is new on the scene. Vet any crisis holding statement with internal stakeholders and make sure it does not invite room for additional crises to fester. Partner with your marketing and legal teams to craft a messaging strategy that aligns with industry best practices on user privacy.
---
CONFERENCE ALERT
The business community is facing a workplace wellness revolution. No longer does "wellness" qualify as a nice-to-have employee benefit; it is now tightly integrated many facets of organizational strategy, especially communications.
Join us at Ragan's Workplace Wellness Conference on April 21, 2021 to glean the essential tools and context you need to advance your career and guide your organization through this time of rapid change.
Attendees will learn what it means to embrace the fact that employees who are mentally, physically, financially and socially healthy are more productive, engaged and resilient to potential crises.
Learn powerful insights and secrets from speakers at organizations including NVIDIA, Northwell Health, PwC, Microsoft, Cornell University, Facebook and more.
---
WHAT YOU SAID
On Friday, we asked how you were feeling about your work/life balance. Half of you acknowledged it could be better, while 31% of you considered it to be healthy and 19% confessed that it didn't exist at all.
Now that another Friday is here at least, how are you REALLY feeling about your work/life balance, PR pros and communicators? #DailyScoop

— PR Daily (@PRDaily) April 9, 2021
Is there a question you would like to see asked? Let us know by tagging it with #DailyScoop!
---
SOUNDING BOARD
Now that more people are getting vaccinated, have you made any travel plans for spring or summer, PR pros and communicators?
Now that more people are getting vaccinated, have you made any travel plans for spring or summer, PR pros and communicators? #PRDaily

— PR Daily (@PRDaily) April 12, 2021
Let us know under the hashtag #DailyScoop. We'll share the results in tomorrow's roundup.
COMMENT
One Response to "Boeing touts transparency with move to ground aircraft, U.S. adults support voluntary digital vaccine passports, and Clubhouse invites scrutiny with data leak response"
Ronald Levy

says:

If Amazon addresss "all" concerns about the workforce, that could focus public attention on false accusations about pay and benefits.

Better to focus on real threats to workforce job security and income like proposals for "more taxes on big corporations." If competitor companies can pay less taxes, those companies could charge lower prices and steal thousands of Amazon jobs.

The recent decision by the workforce will mean workers keeping all of what they earn without paying money every week for dues, and the whole workforce may have still more money and benefits in the future—plus continued job security–by working together to improve benefits and reduce waste.

The company and workforce are in this together.