Bon Appétit journalists quit YouTube series, Facebook employees to WFH until July 2021, and Hasbro pulls Trolls World Tour doll
Also: Course Hero's contest embraces the future, how video content and D&I efforts can affect your bottom line, Miller Lite adjusts to 'International Beer Day,'  and more.
Hello, communicators:
Course Hero is offering one person the opportunity to earn $1,000 and a year's subscription to its service, as well as additional swag and a year's subscription to a streaming service, to watch the "Brave New World" show and compare it to the book.
The contest is also requires the winner (along with two runner-ups) to tweet or livestream the experience under the hashtag #CHBraveNewWorld.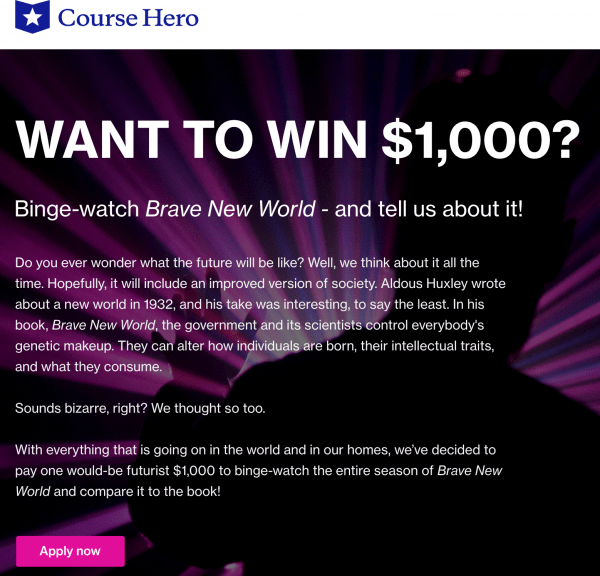 Image courtesy of Course Hero.
Here are today's top stories: 
Bon Appétit journalists of color leave YouTube series
Following the departure in June of the publication's former editor in chief, Adam Rapoport, three journalists are quitting Bon Appétit's thriving YouTube series, "Test Kitchen."
The journalists—Sohla El-Waylly, Priya Krishna and Rick Martinez—have announced they will no longer record videos after negotiations to adjust their pay and meet diversity and inclusivity promises fell through. Bon Appétit's on-camera staff have refused to create videos since the negotiations started.
Krishna tweeted the following statement:
I'm leaving Bon Appétit video. Here's what's been happening over the last few months, and some thoughts. pic.twitter.com/L59blcESLv

— Priya Krishna (@priyakrishna) August 6, 2020
"After five weeks of contract negotiations," Mr. Martinez wrote, "it is clear that I will not get a fair pay rate nor will I get a comparable number of appearances to my colleagues in the test kitchen. Nor would anyone share with me the specifics of the diversity and inclusivity initiatives in video that they claim to be working on."

The three indicated that they have not left the magazine, whose masthead lists Ms. El-Waylly as an assistant food editor, Ms. Krishna as a contributing writer and Mr. Martinez as a contributing food editor. ("Contributing" workers at Condé Nast are contractors, rather than staff employees; Ms. Krishna has contributed frequently to the Food section of The New York Times.)
Condé Nast maintains that its pay practices "are in line with industry standards."
"Our pay practices are in line with industry standards. To suggest that we are not paying individuals differently based on race, gender or any other reason simply isn't true," a representative from Condé Nast said. https://t.co/0fJ6gillN9

— Voices of Color (@vocinsider) August 6, 2020
Why it's important: The news has made headlines and trended on Twitter, overshadowing Bon Appétit's announcement that Sonia Chopra is its new executive editor. (The feedback on Twitter is brutal, too.) If your employees are unhappy, the truth will eventually come to light—and often, it will result in a tarnished reputation and eroded consumer trust.
---
TACTICALLY SPEAKING
Miller Lite has adjusted its International Beer Day campaign to offer consumers free beer if they visit and purchase a case in certain United States cities.
Can't travel internationally? You can still enjoy Miller Time on National #InternationalBeerDay with Miller Lite on us in US cities named after a country. Check out this article to find an "international" city near you! https://t.co/KG6uGEFNj4 #ItsMillerTime pic.twitter.com/pyqJRA3jHR

— Miller Lite (@MillerLite) August 5, 2020
For example, certain zip codes in Maryland will stand in for Scotland, Idaho will temporarily be dubbed Malta and New Mexico will masquerade as Cuba. 
The effort is a creative way to help consumers "travel" during COVID-19. Don't be afraid to get creative when adjusting your efforts throughout the pandemic.
---
MEASURED THOUGHTS
The departures by journalists of color for Bon Appétit's "Test Kitchen" YouTube series highlights a couple of important PR and marketing truths. First, video content, when done well and coupled with excellent storytelling strategies, has the power to boost your bottom line. Social Blade reports that the Condé Nast publication earns between $3,200 and $51,000 each month for its YouTube channel:

Image courtesy of Social Blade.
The second lesson is how much your organization's diversity, equity and inclusion efforts can also affect your bottom line (along with your brand reputation).
Social Blade reports that Bon Appétit lost roughly 10,000 subscribers on Thursday when headlines circulated and conversation on social media grew. The site also estimates that Bon Appetit's monthly subscriber rate has decreased 300% and its monthly video views dropped more than 36%. Its currently monthly subscriber rate is currently the lowest it's been (at least since 2017).

Image courtesy of Social Blade.
Your organization's YouTube presence might not command the numbers of Bon Appétit's (with more than 2 million views on several of its "Test Kitchen" videos), but video content can strengthen your content marketing campaigns and help expand your reach.
Just remember that your organization's diversity, equity and inclusion efforts can negatively affect more than your brand's image. If you're not willing to commit to efforts that not only welcome, but actively seek out people of color to join your workforce, be prepared to lose employees—and have a tougher time attracting top talent.
---
CRISIS LEADERSHIP BOARD
Looking for more insight on how to address the current global crisis and lead your organization into a strong recovery?
Join Ragan's Crisis Leadership Board to network and brainstorm with peers, get the latest intelligence and research, and start to strategize for the future of your organization.
Learn more about this exclusive membership here.
Facebook extends WFH mandate to July 2021
The social media company announced that its employees can continue to work remotely for almost another year due to COVID-19.
"Based on guidance from health and government experts, as well as decisions drawn from our internal discussions about these matters, we are allowing employees to continue voluntarily working from home until July 2021", a Facebook spokeswoman said in an emailed statement.

"In addition, we are giving employees an additional $1,000 for home office needs," it added.
The news follows announcements from Google that its employees can work from home until June of next year, and Twitter's decree that its workforce can remain remote indefinitely.
Why it's important: If you're still treating the COVID-19 crisis—and your remote workforce arrangements—as a short-term initiative, you might want to adjust your strategies. Solicit feedback from your employees and consider how you can better support them while they stay at home. Evaluate how your frontline employees are doing and how you can better empower your mangers to communicate and support essential workers. Doing so can improve your workplace culture as well as boost productivity.
---
DOWNLOAD OUR REPORT
Following the deaths of George Floyd, Ahmaud Arbery, Breonna Taylor and others, organizations were pushed more forcefully than ever before to take stands against systemic racism and move to support social justice initiatives. Which responses made an impact—and which responses fell flat?
Learn from 10 of the biggest brand messages in our special report, "Organizational responses to Black Lives Matter." The report offers communicators important takeaways to lead organizations and clients in the second half of 2020 and into the future.
---
TACTICALLY SPEAKING
Hasbro is pulling a "Trolls World Tour" doll after backlash that called the figurine inappropriate.
The doll, "Trolls World Tour Giggle and Sing Poppy," will say a variety of phrases when you press on its stomach. It's also supposed to giggle when it sits, but the button to activate the noise is placed between the doll's legs, under its skirt.
Is @Hasbro normalizing grooming & facilitating child abuse? 🤔👇

— Sam Parker 🇺🇲 (@SamParkerSenate) August 5, 2020
"This feature was designed to react when the doll was seated, but we recognize the placement of the sensor may be perceived as inappropriate," Hasbro spokeswoman Julie Duff said in a statement. This was not intentional and we are happy to provide consumers with a replacement Poppy doll of similar value through our Consumer Care team. We are in the process of removing the item for purchase."
The crisis serves as a reminder to vet your products as well as your PR and marketing campaigns, so you can avoid potential backlash as well as an expensive backtrack.
---
WHAT YOU SAID
We asked which email phrases raise your hackles, and almost 43% of you loathe the term "per my last email" or "per our last conversation." More than 26% are annoyed by requests to "circle back," while nearly 17% don't like to have someone "just loop in" another person. Roughly 14% say their pet peeve is an email "confirming receipt."
Which of these email phrases is your pet peeve? (Are you guilty of any listed below?)

Weigh in below and share those we missed, and we'll share in tomorrow's #DailyScoop!

— PR Daily (@PRDaily) August 6, 2020
Amanda Ponzar, chief communications and strategy officer for Community Heealth Charities, shared her responses to common email phrases (to which you might relate):
Others for @PRDaily @bekiweki:

Popping this to the top of your inbox. (Though I probably needed reminder.)

Checking back in. (For the 4th time?)

Did you get my email? (Sigh.)

You may have missed my email. (No, I deleted it; you're spam.)#emails #petpeeves #DailyScoop https://t.co/fAetbApgGm

— Amanda P. (@LivingUnited) August 6, 2020
Is there a question you'd like us to ask in an upcoming poll? Let us know!
---
SOUNDING BOARD 
What's your most important desk accessory as you work from home during COVID-19?
What's your most important desk accessory as you work from home during COVID-19?

Weigh in below and reply with a picture of yours/share under #DailyScoop, and we'll share on Monday.

Have a great weekend!

— PR Daily (@PRDaily) August 7, 2020
Share your experiences with us below and share a picture of your set up under the #DailyScoop hashtag. We'll share on Monday.
---
COMMENT
4 Responses to "Bon Appétit journalists quit YouTube series, Facebook employees to WFH until July 2021, and Hasbro pulls Trolls World Tour doll"
Lori O

says:

Your headline about the Facebook WFH option is misleading; "allowing" employees to "voluntarily" work from home is not even close to a "mandate." In fact, 'voluntary' anything is sort of an antonym of 'mandate.'

That said, I do appreciate the updates on what these companies are doing and saying.
Ted Kitterman

says:

Your point is well taken, thanks Lori.
Ronald N. Levy

says:
Priya Krishna refers to her job at Bon Appetit, top gourmet food magazine, as "disappointing and insulting" because she is paid $300 for a few hours work, called a "shitty situation." Rick Martinez will no longer record videos at Bon Appetit "after negotiations to meet diversity and inclusivity promises fell through."
Yet a leading medical newsletter, Medpage Today, reports in a recent issue that "a famous NYU Langone surgeon Dr. Joel Solomon still takes time to do routine office visits because patients need this" although the work may actually pay under $300 after expenses for a few hours work.
Adds Medpage Today: "Baghdad-born Dr. Anas Younes—a real Arab who looks it and speaks it" at famed Memorial Sloan Kettering Cancer Center "heads perhaps the world's most respected team of hematology drug researchers. They've probably saved thousands of lives, perhaps hundreds of thousands." MSKCC's worldclass Sikh urology allstar, Dr. Jaspreet Sandhu, is praised in Medpage Today for saving life.
It's certainly true that NYU Langone and Memorial Sloan Kettering have so much prestige that working there provides a LOT of job satisfaction on top of the money. But working at Bon Appetit is also an honor so PERHAPS—and I'm not saying it's so—seeing ones employment as "a shitty job" may come not just from the job but from a shitty attitude.
Cynthia Johnson

says:
BON APPETITE IS THE WORST. I signed up for a subscription last year and after a couple of views realized there was nothing of any interest on the website. Then in April a charge showed up on my credit card statement. I contacted their customer service and asked for a refund. They refused stating it was too late to refund and it was an automatic renewal. I told them to cancel and refund my subscription. They did the cancellation but have refused to refund my money. I have not even logged into their web site in almost a year. They are charging me for a service I do not use.