Brand managers celebrate Groundhog Day, Verizon commits $10M to helping small businesses, and JetBlue highlights Black florists
Also: How PR pros are crafting more of their pitches to include DE&I angles, what skills you're focusing on for 2021, and more.
Hello, communicators:  
Punxsutawney Phil has predicted six more weeks of winter after seeing his shadow at Gobbler's Knob in Punxsutawney, Pennsylvania on Tuesday.
If your reaction is aligned with this tweet from Verizon's wireless customer service team, you're not alone:
😡 After the way 2020 went, that furry little bugger better give us an early spring. ❄️ ☀️ #GroundHogsDay

— Verizon Wireless CS (@VZWSupport) February 2, 2021
The tweet also highlights an opportunity for brand managers to create content and share messages that tap into consumers' and employees' collective exhaustion after the unprecedented crises over the past year. Though you ultimately want to craft helpful and uplifting content, there is value in acknowledging difficult situations with authenticity. That can include some wry or even sarcastic remarks, as long as you balance your tone with the rest of your content and online presence.
Here are today's top stories:
Brand managers jump on Twitter to celebrate Groundhog Day
Social media teams have been warming up their fingers for Groundhog Day, with Disney Parks, Waffle House, Orlando International Airport, Redbox, Hershey Park and more sharing brand-related tweets about Phil:
Happy Groundhog Day! #DisneyMagicMoments #HappyPlace pic.twitter.com/1XvDiqWUtZ

— Disney Parks (@DisneyParks) February 2, 2021
You heard it here, @genbeaulee takes them Scattered! https://t.co/V4FqFzNX3j

— Waffle House (@WaffleHouse) February 2, 2021
Well, the airplane saw its shadow, so you get 6 more weeks of vacation. #GroundhogDay2021 pic.twitter.com/AMPL08Fx6l

— Orlando International Airport (@MCO) February 2, 2021
It's Groundhog Day!

Hmm that sounds familiar… pic.twitter.com/KDdUzDqTAs

— Redbox (@redbox) February 2, 2021
The groundhog saw his shadow but we're still dreaming of spring! Plus, it's not too bad with these views 😍 #GroundhogDay pic.twitter.com/fA0E2iWL0k

— Hersheypark (@Hersheypark) February 2, 2021
Some social media managers, including those for Arby's and AMC Theaters, are combining promotions with their holiday messaging:
It may be #GroundhogDay today, but here, it's curly fries every day. pic.twitter.com/v2ZFaZI7pd

— Arby's (@Arbys) February 2, 2021
Popcorn, candy, and #GroundhogDayMovie? 🍿 🍬 🎬Sounds like the perfect combo. Catch #GroundhogDayMovie back on the big screen for just $5+tax at #AMCTheatres: https://t.co/ncMamZ6k3I pic.twitter.com/E1iwFasKJN

— AMC Theatres (@AMCTheatres) February 2, 2021
Why it's important: As the COVID-19 crisis continues and brand managers across organizations and industries shift their focus to promoting CSR efforts, DE&I commitments and social justice initiatives, it can be a mixed bag to share lighthearted or promotional content on social media. Holidays, such as Groundhog Day, provide a respite for brand managers looking to connect and share levity with their followers, so embrace the opportunity. When it comes to tweeting for Black History Month, however, leave the jesting behind.
---
SOCIAL BUZZ
As brand managers ramp up their content and social media messages for Black History Month, JetBlue's tweet can provide an important reminder for communicators to tie their messages with action:
Black History is in bloom all around us. One of the best ways to support that is by supporting Black-owned businesses in your area. With Valentine's Day right around the corner, here are a few of the Black florists from around our flight map. #BlackHistoryMonth pic.twitter.com/BCGRAjgY3j

— JetBlue (@JetBlue) February 2, 2021
JetBlue highlighted Black florists on their flight map, which pairs nicely with upcoming Valentine's Day promotions. Consider ways you can highlight or amplify both Black employees as well as members of the community. Above all, don't stop at nicely-worded statements. Instead, show how you're making a difference and embracing DE&I commitments.
---
MEASURED THOUGHTS
Muck Rack and The World in 2020 Project recently published its 2020 State of Diversity, Equity and Inclusion in PR report, which revealed that 66% of PR pros craft at least 10% of their pitches to fit DE&I angles—and 35% use DE&I angles for more than 20% of their pitches: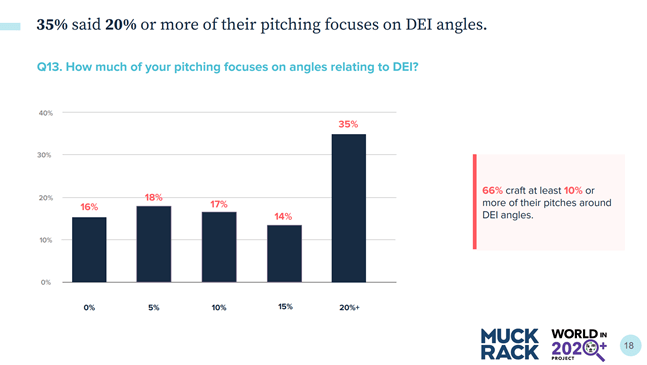 Though 36% of communicators said a lack of lived experiences or understanding serves as the biggest obstacle when pitching to diverse audiences, 35% of PR pros said they don't have challenges sharing stories and angles to these audiences. That could be due to increased societal conversations surrounding DE&I efforts and needs, with 72% of communicators reporting that these conversations are changing the way they and their clients are pitching stories to journalists.
Whether adjusting pitching efforts or working on holistic DE&I initiatives, 78% of communicators prioritize issues with race and ethnicity, with 69% focusing on gender-related issues. There's room for improvement, especially when it comes to advocating for people with disabilities—under half of communicators (42%) say this is a priority.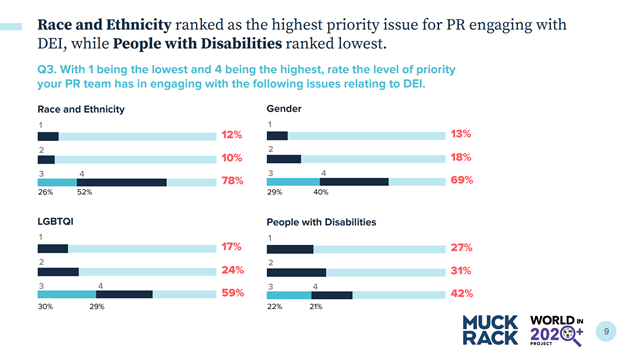 You can read the entire report here.
---
CRISIS LEADERSHIP NETWORK
Looking for more insight on how to address the current global crisis and lead your organization into a strong recovery?
Join Ragan's Crisis Leadership Network to connect and brainstorm with peers, get the latest intelligence and research and start to strategize for the future of your organization.
Learn more about this exclusive membership here.
Verizon commits $10M to help 1M small businesses thrive
 The telecommunications company announced that its donating $10 million to "bring one million small businesses forward by 2030 with resources to help them succeed in the digital economy."
Verizon puts purpose into action, helping 1M small businesses and $10M commitment. Get more details here: https://t.co/AU7HjqKlZu

— Verizon News (@VerizonNews) February 1, 2021
Tami Erwin, chief executive for Verizon Business, said in a press release:
For small business owners today, we know that opening a digital front door is as important as a physical one. This multi-year effort underscores the role financial assistance, technology and training will play in rebuilding small businesses for both short-term and long-term economic recovery."
Verizon is kicking off its effort with "The Big Concert for Small Business," which it's dubbed as "the ultimate after-party for Super Bowl LV."
In its press release, Verizon wrote:
To rally support, Verizon is asking the public to share what local small businesses they can't live without. From February 1-7, individuals can tag their favorite small business on Twitter using #BigConcertSmallBiz for a virtual spotlight during Verizon's Big Concert for Small Business. Verizon is also supporting a text-to-give campaign. Wireless users on any carrier can text SMALLBIZ to 20222 to make a one-time donation of $10 to LISC.
Why it matters: Verizon's announcement is another effort in a growing list of organizations turning away from traditional Super Bowl ads. Though many brands will premiere commercials for the big game on Feb. 7, brands including Ford, Planters, Budweiser, Planters, Avocados from Mexico, Facebook and more have opted to stay out of the spotlight.
Several have released announcements and strategic plans of how they're reallocating their ad budgets to help communities and the world around them. This focus won't end once the Super Bowl is over, either. Consider how your marketing stacks up to your CSR, social good and DE&I initiatives—and continue to revisit your efforts throughout the year.
---
TAKE OUR SURVEY
The start of a new year brings more opportunities for communicators across roles, organizations and industries to develop effective strategies and efforts that can strengthen their brands amid continuing crises, including the COVID-19 pandemic.
Ragan's Communications Leadership Council has created The 2021 Communications Benchmark Survey, and wants to know your challenges, successes and needs as you navigate the rapidly shifting communications landscape and respond to unprecedented crises as well as new opportunities.
Please share your insights with us. As a thank you for your time and insights, you'll receive an Executive Summary of the report, packed with proprietary research that can help you better shape communications strategies in 2021. You'll also be entered to win one of five $100 Visa gift cards.
---
WHAT YOU SAID
We asked for the area(s) you're looking to strengthen in 2021, and almost 41% of you are turning to storytelling and brand journalism efforts, while 38% are focusing on measurement and reporting ROI. Roughly 21% of you are looking to boost your brands through SEO, SEM and paid or sponsored content efforts.
What area are you looking to strengthen this year, PR pros?

Comment below with the skill set or effort you're bulking up, and we'll share in tomorrow's #DailyScoop.

— PR Daily (@PRDaily) February 1, 2021
Is there question you'd like to see asked? Please let us know under the #DailyScoop hashtag!
---
SOUNDING BOARD
What client or executive requests would you like to see vanish this year? Is it calls to "go viral," or lack of direction that creates a challenge? Is it something else? We want to know!
Sound off, PR and communications pros: What client or executive requests would you like to see vanish this year?

Whether it's to "go viral" or giving vague directions, weigh in below with your challenges (and how you handle them). We'll share in tomorrow's #DailyScoop! pic.twitter.com/akCcCEx7d6

— PR Daily (@PRDaily) February 2, 2021
Weigh in below and on Twitter under the hashtag #DailyScoop, and we'll share in tomorrow's roundup.
COMMENT