Brands celebrate International Women's Day, Hollywood Foreign Press issues DE&I commitments, and 60% of Google searches are on a mobile device
Also: Twitter's Jack Dorsey to sell his first tweet as an NFT, H-E-B announces mask policy, despite loosened state restrictions, Royal Family's tone-deaf tweet after Oprah interview, and more.
Hello, communicators:
Jack Dorsey, founder and chief executive of Twitter, recently listed his first tweet as a non-fungible token on the Valuables marketplace, and the current bid is at $2.5 million.
just setting up my twttr

— jack (@jack) March 21, 2006
"NFTs act as signatures, used to verify ownership of digital files," Yahoo Finance reported. "NFTs for items like Dorsey's tweet are basically digital souvenirs, akin to collectibles such as baseball cards and autographed memorabilia."
If you're confused at the quickly growing trend of the digital offering, RT.com published an overview of the multii-million crypto industry. You might not have to deal with NFTs now—or ever—but as artists, business owners and more embrace these transactions, you should pay attention for what's on the horizon.
Here are today's top stories:
Brands celebrate International Women's Day
Many social media and brand managers are tweeting messages of empowerment and inspiration for International Women's Day. Organizations including Procter & Gamble, the National Football League, The Coca-Cola Company, YouTube and Ford highlighted the women within their organization or within their communities, highlighting their efforts to support women in business and beyond, and more:
When women progress, the world progresses. We are proud to continue our commitment to the Women's Economic Future Fund created by @SenecaWomen and @RockPhilanth. We're now increasing our donation to $1 million. #LeadWithLove https://t.co/h0zQHT87Fv pic.twitter.com/1jZJPKFdDE

— Procter & Gamble (@ProcterGamble) March 8, 2021
In recognition of #InternationalWomensDay, we're celebrating the women who've made lasting impacts on the game of football and paved the way for others. #WomensHistoryMonth pic.twitter.com/JiZas66702

— NFL (@NFL) March 8, 2021
This #IWD2021 we're excited to share that we've surpassed our #5by20 goal by enabling the empowerment of 6M+ women globally. Find out more here: https://t.co/PxFrTcS0jH #InternationalWomensDay pic.twitter.com/P5ykKLVANz

— Coca-Cola GB (@CocaCola_GB) March 8, 2021
This #IWD21, we're celebrating female #CreatorsOnTheRise from the UK. 🙌 From @H0megrownGarden 🌱 to @TheGirlOnABike 🏍️ and @melodysigns 🙋, there is something for all in this playlist → https://t.co/3qJQGEaXF5

Which female Creator inspires you?

— YouTube (@YouTube) March 8, 2021
What happens when you #ChooseToChallenge? ​

Opportunity. Progress. Power. #IWD2021 pic.twitter.com/pqDKb21x7E

— Ford Motor Company (@Ford) March 8, 2021
Other brands, such as Folgers, fell short with an obvious grab at attention and marketing sans the empowerment:
#TheBestPartOfWakingUp today is celebrating all the powerful incredible women out there. Happy #InternationalWomensDay pic.twitter.com/nw0bxOSN0C

— Folgers (@Folgers) March 8, 2021
Why it's important: You don't have to donate a huge sum or crow about your DE&I efforts when supporting a day such as International Women's Day or Black History Month. Instead, share your organization's values and highlight your employees and others in the world that have inspired your organization's moves. What you shouldn't do, however, is tweet a lukewarm message that emphasizes your product more than it does the people who should be highlighted.
---
CRISIS COMMUNICATIONS
The fallout from Prince Harry and Meghan Markle's interview with Oprah is continuing as social media conversations and headlines grow.
Conversations about "how dark" their baby's skin tone would be. A rift between Prince Harry and his father so deep that Harry said his father at one point "stopped taking my calls." And Meghan, Duchess of Sussex saying she "just didn't want to be alive anymore."

These were some of the shocking details described by Harry and Meghan in an exclusive interview with Oprah Winfrey, the first they have given since they stepped away from official royal duties last year. They said they would have stayed had they gotten support from the royal family.
Some critics of the couple, including founder and chief executive of Skinnygirl, Bethenny Frankel, apologized for their past words:
I watched M & H sit down. Emotional distress & racism must feel suffocating & powerless. I'm a polarizing, unfiltered(often to a fault)flawed person w a voice. When I heard of the interview,during a pandemic, it felt like a surprising choice. I'm sorry if it hurt or offended you.

— Bethenny Frankel (@Bethenny) March 8, 2021
However, Buckingham Palace has remained mainly silent in the wake of last night's interview, and the Royal Family's Twitter account posted a statement from Queen Elizabeth for Commonweath Day:
Today is #CommonwealthDay.

The Commonwealth is a voluntary association of 54 independent countries. The Queen is Head of the Commonwealth.

📷Her Majesty signs a message to the Commonwealth. 🔈Listen to the full message here: https://t.co/8ZOYMnM90s pic.twitter.com/GokNsCalw4

— The Royal Family (@RoyalFamily) March 8, 2021
The statement and picture of the queen signing the document is being ridiculed for its tone-deaf nature after accusations of racism and more.
---
CRISIS LEADERSHIP NETWORK
Looking for more insight on how to address the current global crisis and lead your organization into a strong recovery?
Join Ragan's Crisis Leadership Network to connect and brainstorm with peers, get the latest intelligence and research and start to strategize for the future of your organization.
Learn more about this exclusive membership here.
---
MEASURED THOUGHTS
Enabler Space recently published an infographic that highlights key takeaways for digital marketers and communicators looking to adapt to a rapidly shifting landscape. One of the big trends is the rise of mobile-first content, as 60% of Google searches are done through a mobile device and 30% of Google searches from mobile devices include a location: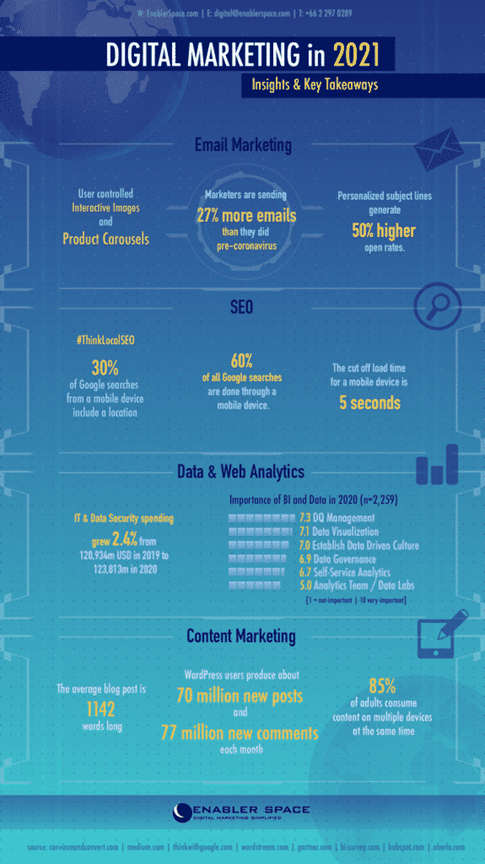 Image courtesy of Enabler Space.
Though content marketing reigns supreme, email marketing strategies are also helping organizations reach target audiences during COVID-19, with marketers sending 27% more emails than they did prior to the pandemic.
You can also view the infographic here.
Hollywood Foreign Press Association issues DE&I commitments
The association tweeted a series of images that contained commitments to "transformational change" over the next two months. Those "initial steps" include hiring an outside DE&I expert to audit the organization's bylaws and membership requirements, adding Black and other underrepresented professionals to its membership, increasing transparency into voting and membership processes, and requiring annual anti-racism, unconscious bias and sexual harassment training.
A statement from the Hollywood Foreign Press Association (HFPA). pic.twitter.com/R81QjEMgK5

— Golden Globe Awards (@goldenglobes) March 7, 2021
HFPA's moves come after severe backlash and criticism over its lack of diversity and inclusion within its membership and board of directors, along with representation at the Golden Globe Awards. Though the association said it would "carry out further action based on the recommendations that come from these initial reviews and assessments," organizations such as The Time's Up Foundation have criticized the statement:
A statement from the Hollywood Foreign Press Association (HFPA). pic.twitter.com/R81QjEMgK5

— Golden Globe Awards (@goldenglobes) March 7, 2021
Why it matters: Don't wait for outstanding criticism and backlash to respond to your organization's DE&I efforts—or lack thereof. If you haven't already created a strategy, do it now before it's too late. That strategy should contain your organization's values and vision for the future, but also should contain measurable commitments to which you can be accountable. This is where HFPA's statement fails. List what you'll do, giving specific numbers or percentages as goals, along with a timeline for accountability.
---
TACTICALLY SPEAKING
H-E-B recently announced that it will continue to require consumers and employees to wear masks, despite Texas relaxing its statewide policies on the COVID-19 safety measure.
In a news release titled, "As an essential service provider during the pandemic, mask use at H-E-B will remain a priority," H-E-B wrote: 
H-E-B has always been a strong proponent and advocate of mask use even before mandates and orders were passed.

The CDC, state and local health officials strongly advise the use of masks or facial coverings in public spaces as a proven way to prevent the spread of Covid-19. To help keep Texans healthy, we've had several safety protocols in place since the early days of the pandemic, and until all Texans including our Partners have access to the Covid-19 vaccine, we will continue these efforts.

Throughout the pandemic, we are thankful that we've seen strong compliance with mask wearing at our stores. But we need the help of all Texans to ensure compliance continues. For those customers without masks we will give them one.

The ending of mask ordinances puts real pressure on retailers to enforce an emotional topic for many. We ask for kindness and understanding from our customers in our expectation of them to wear masks in our stores. Also, we understand some customers cannot wear a mask due to medical exceptions. We request all customers adhere to the Covid-19 protocols we have in place while shopping.
Regardless of whether your organization's policies align with federal or state restrictions, ensure you're communicating often, clearly and transparently about your COVID-19 safety measures—as well as expectations for all consumers and/or other stakeholders. Internal communicators should follow this advice for employee communications, too.
---
CONFERENCE ALERT
Social media and digital content is helping organizations across industries reach and engage with consumer and employee audiences looking to connect despite staying apart during COVID-19. The digital media landscape—and people's behaviors—are rapidly shifting, and yesterday's strategies won't stand out to those searching for brands to take a stand and promote DE&I initiatives, measure their efforts, produce valuable content, and more.
Learn how to stand out online at Ragan's Social Media & Digital Commmunications Virtual Conference on Tuesday, March 16.
Discover powerful insights and secrets from speakers at Dropbox, Chip and Joanna Gain's Magnolia, BET Networks, the Cleveland Cavaliers, AARP, Ketchum, LinkedIn, Oklahoma Aquarium, NAACP, Canon Europe, The Martin Agency and more.
---
WHAT YOU SAID
We asked if you use the Oxford comma in your PR and communications copy, and 58.5% said you follow AP style—which eliminates the serial comma. However, 41.5% of you are staunch supporters of the punctuation mark:
Are you brainstorming ways to overcome "Zoom fatigue?"

Weigh in below and share how you're breaking through to grab attention. We'll share in tomorrow's #DailyScoop.

— PR Daily (@PRDaily) March 4, 2021
As a reminder, the AP Stylebook continues to advise against use of the Oxford comma within a simple series:
We do not put a comma before the conjunction in a simple series: The flag is red, white and blue. #RaganChat https://t.co/eof8oUxuLA

— APStylebook (@APStylebook) June 21, 2016
It is the top question that the reference's editorial team receives, too (note using the "No. 1" instead of "#1"):
A7. We style it this way: The No. 1 question we get about AP style is on the Oxford comma.
We use the # only in hashtags. For example, we use the hashtag #APStyleChat for our Twitter chats about AP style. #ACESchat

— APStylebook (@APStylebook) April 15, 2020
Is there question you'd like to see asked? Please let us know under the #DailyScoop hashtag!
---
SOUNDING BOARD
Has your organization established a digital workplace for remote working during and beyond COVID-19?
Has your organization established a digital workplace for remote working during and beyond COVID-19?

Weigh in below and comment with your thoughts, and we'll share in tomorrow's #DailyScoop.

— PR Daily (@PRDaily) March 8, 2021
Weigh in below or share your insights on Twitter under the hashtag #DailyScoop. We'll share in tomorrow's roundup.
COMMENT
One Response to "Brands celebrate International Women's Day, Hollywood Foreign Press issues DE&I commitments, and 60% of Google searches are on a mobile device"
I found many brands of women's creatives based on regular concepts with motivating quotes with women's pictures. what I thought we failed to notice their hard work and sacrifices during COVID-19 pandemic. what about your thoughts guys?