Brands respond election results, Dixie Brewing changes moniker to 'Faubourg Brewing Co.,' and how marketers see the future of content
Also: Warner Bros. cuts ties with Johnny Depp, Bloomberg's new TV play, PR pros share their videoconferencing setups, gifts for the strong and influential women in your life, and more.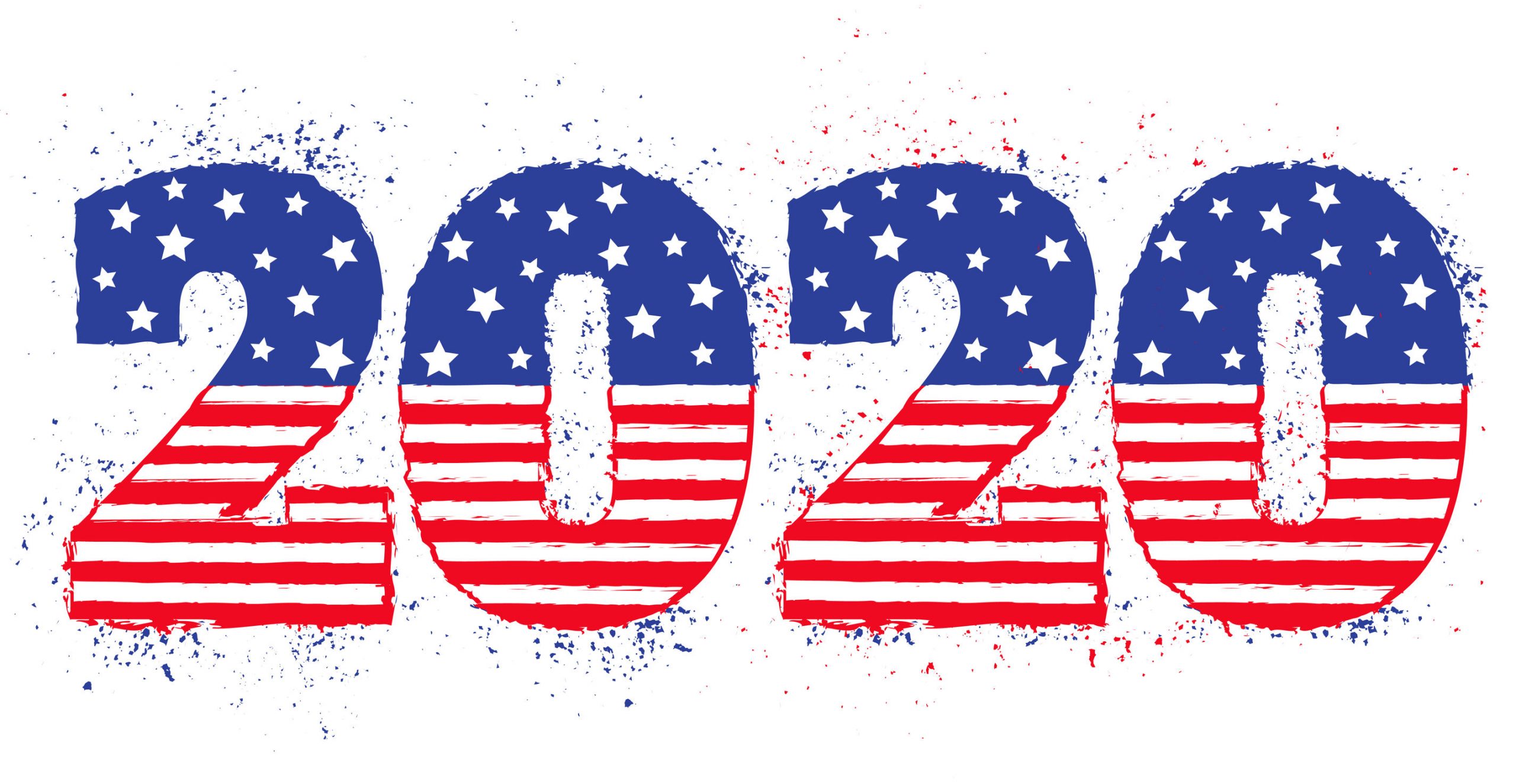 Hello, communicators:
President-elect Joe Biden and Vice President-elect Kamala Harris both gave victory speeches on Saturday night, and the winners of tumultuous presidential election called for unity, compromise and understanding.
Biden also launched his transition website over the weekend, at www.buildbackbetter.com.
The Washington Post's Matt Viser tweeted:
NEW: The Biden transition website is live and updated, with a list of priorities, an outline of the transition, and what he wants to do on Day One. https://t.co/bePtuKMqJA pic.twitter.com/Zr7BT9rafN

— Matt Viser (@mviser) November 8, 2020
The website lists priorities as well as steps Biden plans to take when he enters office—a great example of communicating an overall strategy.
Here are today's top stories:
Brands respond to 2020 election results
After media outlets called the election for President-Elect Joe Biden on Saturday, many brand managers broke their silence over what was a long wait for the final tabulation of results for the Nov. 3 contest for the highest office in the U.S. While some organizations—like Ryanair—were more willing to speak out on the election news early, others waiting until the final announcement over the weekend.
View this post on Instagram
Some brands went as far as to adopt the jubilant attitude of many who were celebrating in the streets in major metropolitan cities like New York, Los Angeles and Chicago.
It's a Double Stuf OREO type of day 👏

— OREO Cookie (@Oreo) November 7, 2020
milkshakes for lunch today!

— potbelly (@Potbelly) November 7, 2020
Why it matters: Getting in on the fun after a stressful election month might feel like a good idea for your organization, but caution is still advised. Brands would do well to remember that the U.S. is stil a deeply divided country and while Joe Biden received the most votes of any presidential candidate in history, Donald Trump got the second-most in the very same election.
---
TACTICALLY SPEAKING
Bloomberg just launched its streaming TV network, which it says will "reinvent news for a new world":
We have exciting news to share: Bloomberg Quicktake just launched its 24/7 streaming network to reinvent news for a new world.

Watch live global news and go deeper with original shows on business, technology, politics, and culture. Stream now for free: https://t.co/S9nVAlf2Vn pic.twitter.com/gUYoyv6DlH

— Bloomberg Quicktake (@Quicktake) November 9, 2020
Here's what's coming up this morning on Bloomberg Quicktake https://t.co/wT1vVB5wnA pic.twitter.com/kQjRwshM4o

— Bloomberg Quicktake (@Quicktake) November 9, 2020
The streaming channel is an extension of QuickTake, Bloomberg's social media brand, and will include lifestyle and general-interest stories, as well as business and market updates. The company is looking to attract younger viewers to compete with outlets like Cheddar.
The Wall Street Journal reported:
Meanwhile, Bloomberg is developing a solid business from selling $39.99-a-month subscriptions to its flagship news website. It now has 250,000 subscribers, some 40% of them outside the U.S., said Justin Smith, chief executive of Bloomberg Media.

"We have been building our digital presence and have been aggressively seeking to position our media company within the new media landscape," Mr. Smith said. He expects the site to generate over $100 million in subscription revenue by the end of next year.
---
MEASURED THOUGHTS
Demand Metric revealed in an infographic that 90% of organizations use content within their marketing strategies, and 78% of chief marketing officers see content as the future of marketing.
It's easy to see why, as 60% of consumers are inspired to seek out products after reading or watching related content, yet 44% ignore email promotions and 86% skip TV commercials. With more consumers buying online during COVID-19, content is becoming even more important: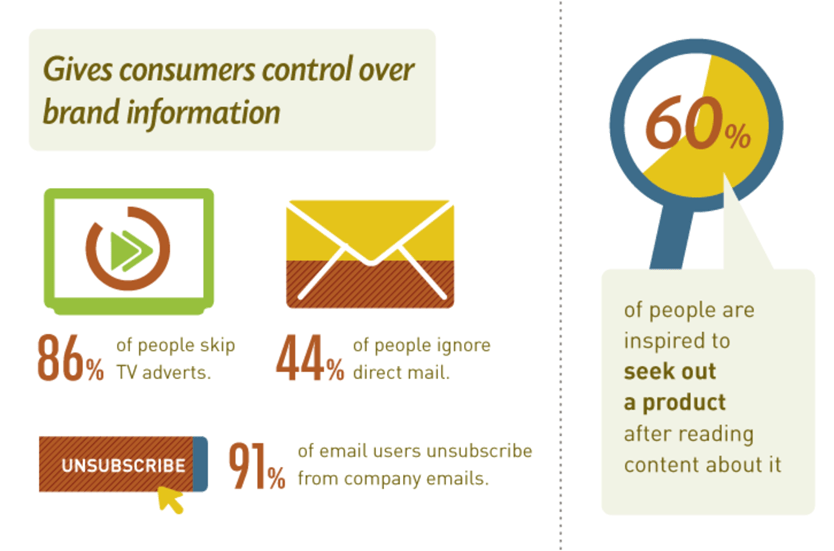 Image courtesy of Demand Metric.
You can view the entire infographic here.
---
CRISIS LEADERSHIP NETWORK
Looking for more insight on how to address the current global crisis and lead your organization into a strong recovery?
Join Ragan's Crisis Leadership Network to network and brainstorm with peers, get the latest intelligence and research and start to strategize for the future of your organization.
Learn more about this exclusive membership here.
Warner Bros. cuts ties with Johnny Depp
The studio announced it would recast the role of Gellert Grindelwald in its "Fantastic Beasts and Where to Find Them" series following Depp losing his libel case against The Sun, which published an article in 2018 claiming Depp was a "wife beater."
Depp posted an announcement on his Instagram account:
View this post on Instagram
Warner Bros.' statement was tight-lipped.
Warner Bros. said the third movie in the franchise is already in production. "We thank Johnny for his work on the films to date," a WB spokesperson said in an emailed statement. "The role of Gellert Grindelwald will be recast."
Why it matters: Many are lashing out at the studio for cutting ties with Depp, but keeping its relationship with Depp's ex-wife, Amber Heard, who is cast in the studio's "Aquaman" sequel. Organizations must consider potential crises with celebrity influencers when deciding to partner or maintain relationships, but care should be given when applying those standards to brands' partners across situations. Otherwise, you'll have to prepare for blowback when consumers argue unfair treatment.
---
TACTICALLY SPEAKING 
Dixie Brewing Co. is changing its name to Faubourg Brewing Co., following the organization's announcement it would retire its name following Black Lives Matter protests and several brands making similar moves.
Gayle Benson's @dixiebrewco becomes Faubourg Brewing Co.

More on @wdsu website and social platforms. pic.twitter.com/U8UAtmhsZX

— Fletcher Mackel (@FletcherWDSU) November 4, 2020
The brewer's owner, Gayle Benson, told Nola.com:
"When the team embarked upon this journey in June, we understood that our new name must encompass the spirit and diversity of all of New Orleans' unique neighborhoods," Benson said. "The Faubourg Brewing Co. is a celebration of our city, our people and our commitment to New Orleans. Our investments in New Orleans East will continue, and bringing jobs and economic opportunity to our community will remain at the forefront."
---
CATCH UP WITH OUR REPORT
More than half (57%) of social media managers say they plan to leave their current position within two years, according to a new survey from the Institute for Public Relations, Ragan Communications and the University of Florida. Though these managers are ambitious, the career path to social media leadership roles remains unclear.
The report sheds light on social media pros' career trajectory as well as the challenging lack of resources and employee burnout that's on the rise. Check out the findings here.
To learn more about how to prepare for the future of social media and more, join us at Ragan's Future of Communications Conference, Nov. 10-11.  You'll learn from PR, social media, marketing and internal communications experts about the top trends and what's on the horizon for the industry.
---
EDITOR'S PICKS
Vice President-Elect Kamala Harris inspired many on Saturday night during her acceptance speech, in which she acknowledged "all the women who have worked to secure and protect the right to vote for over a century," saying she "stand[s] on their shoulders." For many, the words were empowering—a feeling you can share with the women in your life by gifting empowering books, cards and more.
Consider these tokens:
---
WHAT YOU SAID
We asked what your video-conferencing setup is like as you work from home, and roughly 23% of you have extra equipment such as an external light or microphone to boost your presence on video calls and conferences, while nearly 17% want to get these tools. However, the majority of you (60%) are using your established work setup without additional tools:
Do you have video-conferencing equipment (such as a microphone or light) as you WFH?

Share your thoughts (and Zoom tips) below, and we'll share in Monday's #DailyScoop.

— PR Daily (@PRDaily) November 6, 2020
Is there a question you'd like us to ask in an upcoming poll? Let us know!
---
SOUNDING BOARD
Did your organization respond on social media to President-elect Joe Biden winning the election?
Did your organization respond on social media to President-elect Joe Biden winning the election?

Weigh in below and we'll share in tomorrow's #DailyScoop roundup.

— PR Daily (@PRDaily) November 9, 2020
Share your thoughts with us below and under the hashtag #DailyScoop, and we'll share in tomorrow's roundup.
Editor's note: Ragan Communications may earn a commission through our affiliate partnerships when purchasing items in our content.
COMMENT