Budweiser donates Super Bowl ad to COVID-19 campaign, 'Star Wars' denounces racism on Twitter, and Pinterest launches 'try on' feature
Also: Social media image guidelines for 2021, PepsiCo's clever response to President Joe Biden, how Orlando International Airport engages on Twitter, and more.
Hello, communicators:
A tweet from Tom Newton Dunn, chief political commentator for Times Radio, went viral recently after he announced that President Joe Biden had removed the "Diet Coke" button from the Oval Office:
President Biden has removed the Diet Coke button. When @ShippersUnbound and I interviewed Donald Trump in 2019, we became fascinated by what the little red button did. Eventually Trump pressed it, and a butler swiftly brought in a Diet Coke on a silver platter. It's gone now. pic.twitter.com/rFzhPaHYjk

— Tom Newton Dunn (@tnewtondunn) January 21, 2021
PepsiCo's social media team quickly responded with a tongue-in-cheek tweet:
Maybe he's more of a Pepsi kind of guy https://t.co/EHOQSQux6b

— Pepsi (@PepsiGlobal) January 22, 2021
It's another reminder to pay attention to trending news and conversations, so you can act swiftly when engagement and brand awareness opportunities arise.
Here are today's top stories:
Budweiser turns over Super Bowl ad time to COVID-19 vaccine efforts
The Anheuser-Busch brand announced that for the first time in 37 years, consumers won't see a commercial touting its beverages during this year's National Football League matchup between the Tampa Bay Buccaneers and the Kansas City Chiefs:
For the first time in 37 years, we aren't running a commercial during the Super Bowl. Instead, we're helping to safely bring America back together again soon. Watch to learn how. pic.twitter.com/vpfnqDoDMK

— Budweiser (@budweiserusa) January 25, 2021
Instead, the company will donate its airtime to the Ad Council and COVID Collaborative's COVID-19 Vaccine Education Initiative. Budweiser will also continue to air its commercial, called "Bigger Picture," on TV and across social media in the days leading up to Super Bowl LV.
For the first time in 37 years, @budweiserusa will not air a Super Bowl ad and instead is committing their support to our COVID-19 vaccine education initiative and other vaccine awareness efforts. We commend them on their generosity, powerful message & commitment to social good. https://t.co/MIc5yYG3Qn

— adcouncil (@AdCouncil) January 25, 2021
Monica Rustgi, vice president of marketing at Budweiser, said in a press release partially titled, "Trading One Tradition for Another":
Like everyone else, we are eager to get people back together, reopen restaurants and bars, and be able to gather to cheers with friends and family. To do this, and to bring consumers back into neighborhood bars and restaurants that were hit exceptionally hard by the pandemic, we're stepping in to support critical awareness of the COVID-19 vaccine. That's why Budweiser has joined together with long-time partner the Ad Council, along with COVID Collaborative, to donate airtime to increase awareness and education surrounding the vaccine.
Why it's important: Budweiser is the latest brand to announce they're sitting on the sidelines for this year's Super Bowl, following similar announcements from Coca-Cola and Avocados from Mexico. PepsiCo also announced it won't advertise Pepsi with a commercial, but instead will focus on its halftime show sponsorship and commercials for its Frito-Lay and Mountain Dew brands. Expect additional brand managers to follow suit with overhauled efforts or altered messaging to fit the rapidly shifting media landscape focused on the COVID-19 crisis and beyond.
---
SOCIAL BUZZ 
The social media team for the Orlando International Airport has been engaging with its Twitter followers with captivating visuals and clever greetings:
A little serotonin boost to start the week. #MondayMotivation pic.twitter.com/2Ps4ECYJyx

— Orlando International Airport (@MCO) January 25, 2021
"Hello
I've waited here for you
Everlong." 🎶☀️ #FridayFeeling pic.twitter.com/yyN64uBUYA

— Orlando International Airport (@MCO) January 22, 2021
On Wednesdays we wear pink. pic.twitter.com/VXcQtTcDSE

— Orlando International Airport (@MCO) January 20, 2021
You can take inspiration from the team's content. Think of ways you can better connect with your social media audiences, including sharing motivational messages and visuals. Though these messages should strengthen your brand and should fit with your brand's voice and tone (Orlando International Airport's features sky views and its terminal tram), drop the marketing messages and promotional copy.
---
MEASURED THOUGHTS
With a new year comes social media algorithm changes, new features and best practices—including updated image sizes. Hootsuite compiled a cheat sheet for visuals across Facebook, Instagram, LinkedIn, Twitter, TikTok, Pinterest and more: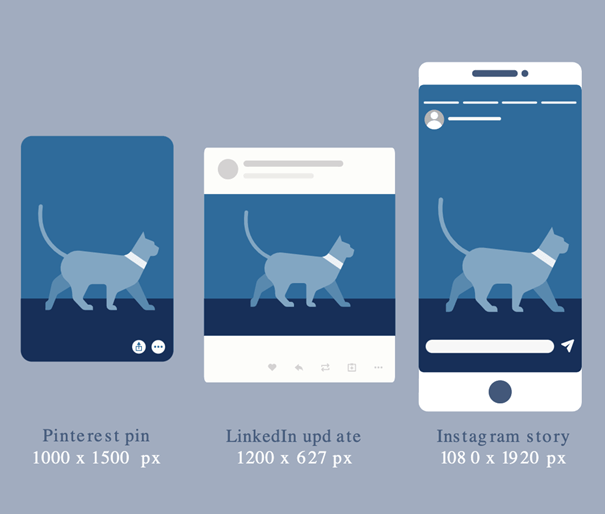 Following updated size requirements is a crucial element to crafting the proper visuals across your organization's social media presences, and communicators should ask themselves when they create content how these images and videos can be tailored and repurposed across platforms and channels.
It's also important to remember that for a single social media platform, such as Instagram, size requirements differ depending on the statement you want to make—as well as for different campaigns and efforts. For example, here's what a portrait, square and landscape image looks like on Instagram's main feed: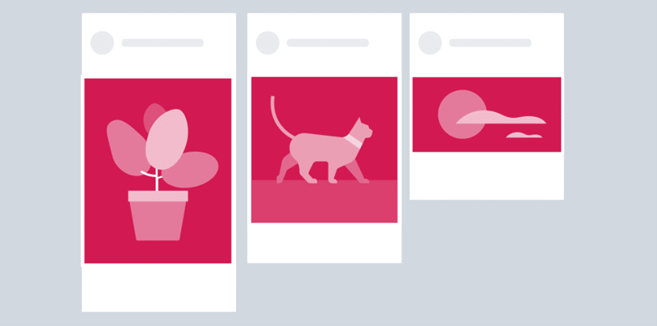 Though you can get by with an images of 1080 pixels wide and between 566 and 1350 pixels in length, you'll also want to question how these images will look as a thumbnail on your Instagram account—as well as whether certain visuals will work better as an Instagram Story (1080 pixels by 1920 pixels) or if you'll promote them with ads—which also have size requirements and optimal aspect ratios.
You can view the entire cheat sheet here.
---
SOCIAL BUZZ
Pinterest recently launched an augmented reality tool for the National Retail Federation, which enables consumers to use the "AR Try On" tool to see what beauty products look like from brands including Lancôme, Charlotte Tilbury and Urban Decay:
The tool, which enables users to snap a pictures of created looks and save them as pins for later shopping, also emphasizes a range of skin tones and makeup shades.
In a press release, Pinterest wrote:
As we focus on building inclusive products, we've integrated Try On with our skin tone range feature, so Pinners can see similar lip shades on skin tones that match their own. And with Try On, you won't find skin smoothing or image altering effects that make you look less like you (as you might see on some other AR technologies). We believe in celebrating you, and so our AR won't be augmenting your reality, but rather helping you to make happy and real purchases for your life.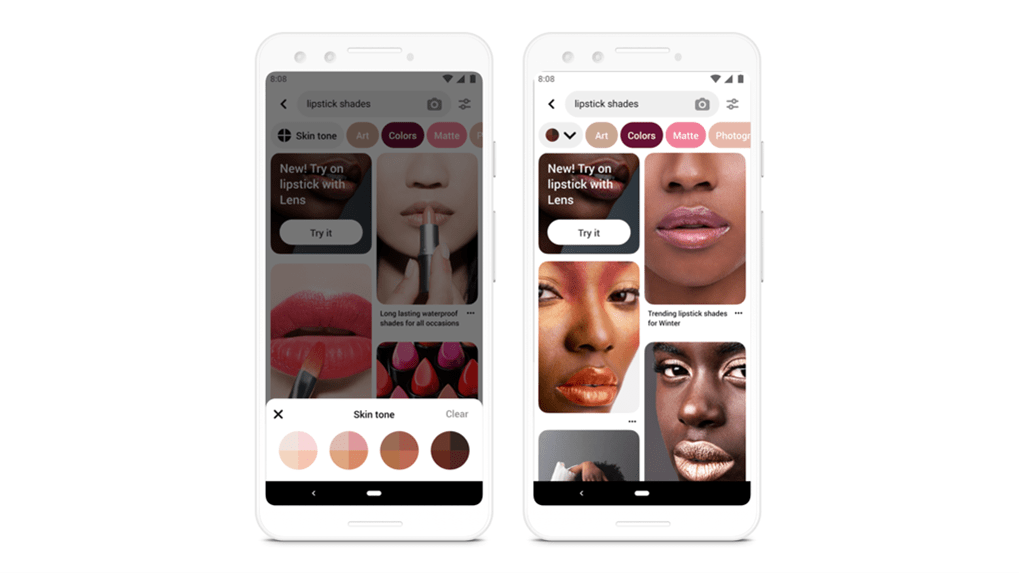 Pinterest said it's the shopping platform of choice for 48% of U.S. consumers, according to a recent Cowen and Company study, and its new feature embraces both e-commerce and more inclusive marketing efforts—both huge focuses for B2C brands this year and beyond.
---
CRISIS LEADERSHIP NETWORK
Looking for more insight on how to address the current global crisis and lead your organization into a strong recovery?
Join Ragan's Crisis Leadership Network to connect and brainstorm with peers, get the latest intelligence and research and start to strategize for the future of your organization.
Learn more about this exclusive membership here.
"Star Wars" Twitter account denounces racism and bullying
 Lucasfilm recently announced that actress and TV personality Krystina Arielle is the new host of its web series, "Star Wars: The High Republic." However, the company has been scrambling to respond to backlash over past tweets of Arielle's, in which she called out racism.
 After Arielle shared racist and abusive comments that Twitter users and trolls had recently sent, Anthony Carboni, host for several of Lucasfilm's TV series, immediately tweeted support for his colleague:
Hi. @krystinaarielle rules. She's a wonderful addition to the Star Wars family and I'm excited for her to be bringing us updates on all the very good High Republic news. Go say hi and give her a warm welcome today, would you? ♥️

— Anthony Carboni (@acarboni) January 22, 2021
The official "Star Wars" Twitter account soon joined Carboni in standing beside Arielle and denouncing racism and bullying:
Our Star Wars community is one of hope and inclusivity. We do not stand for bullying and racism. We support @KrystinaArielle.

— Star Wars (@starwars) January 23, 2021
Why it matters: The incident highlights the work ahead for Disney and Lucasfilm, as it continues to take a stand against racism and harassment. The immediate tweet is a solid first step, but it also underlines the need for communicators across organizations and positions to work closely besides diversity, equity and inclusion professionals, to ensure your organization's values and messaging are aligned and purpose-driven. Doing so can also help you better manage social media crises.
---
TAKE OUR SURVEY
The start of a new year brings more opportunities for communicators across roles, organizations and industries to develop effective strategies and efforts that can strengthen their brands amid continuing crises, including the COVID-19 pandemic.
Ragan's Communications Leadership Council has created The 2021 Communications Benchmark Survey, and wants to know your challenges, successes and needs as you navigate the rapidly shifting communications landscape and respond to unprecedented crises as well as new opportunities.
Please share your insights with us. As a thank you for your time and insights, you'll receive an Executive Summary of the report, packed with proprietary research that can help you better shape communications strategies in 2021. You'll also be entered to win one of five $100 Visa gift cards.
---
WHAT YOU SAID
 We asked what you think the biggest PR, marketing or social media trend is for 2021, and communicator Marina Melnychuk said data-driven efforts will be a huge focus:
Data driven PR and Marketing

— Marina Melnychuk (@MarinaUach) January 22, 2021
PR executive Mari Santana also said DE&I will remain a focus:
In 2021, there will be a bigger focus on diversity and inclusivity then ever before; our new administration is leading by example and brands will need to follow suit

— Mari Santana (@MarielenaSan) January 22, 2021
Is there question you'd like to see asked? Please let us know under the #DailyScoop hashtag!
---
SOUNDING BOARD
What gets you going in the morning, PR and marketing pros?
What gets you going in the morning, PR and marketing pros?

Share your daily routines with us below, and we'll share in tomorrow's #DailyScoop.

— PR Daily (@PRDaily) January 25, 2021
Weigh in below and on Twitter under the hashtag #DailyScoop. We'll share in tomorrow's roundup.
COMMENT