Burger King takes aim at methane emissions, Verizon and Google offer skills training, and ViacomCBS cuts ties with Nick Cannon over anti-Semitic remarks
Also: Why communicators should always give their best, nearly half the world's population will be on social media networks by 2023, Pfizer aces the Disability Equity Index, and more.
Hello, communicators:          
Tod Meisner, associate brand manager for Aflac, tweeted an inspiriational reminder for communicators of all stripes:
If you aren't living intentionally, you're wasting your gifts. Show up with purpose and bring your best everyday.

— Tod Meisner (@todmeisner) July 15, 2020
As many of you are working longer days and scrambling to address crises, Meisner's advice isn't always easy to implement, but it can also serve as a reminder of the value of your work. Savvy communicators who can reach and engage stakeholders, build trust and retain brand reputation are necessary now more than ever.
You can learn more insights from Meisner at Ragan's Measurement Workshop on July 29. He'll join speakers from Microsoft, Ketchum and more.
Here are today's top stories:
Burger King's climate change initiative focuses on cow emissions
The fast food chain is testing its "Cows Menu" at five restaurants in Los Angeles, Miami, Austin, and Portland, Oregon, which touts burgers made with "Reduced Methan Emissions Beef"—or, to put it simply, beef made from cows who aren't so gassy.
The initiative was unveiled with a video:
Burger King announced it had worked with scientists at the Autonomous University at the State of Mexico and the University of California, Davis to develop a new diet for cows that will reduce how much methane they produce. Cows' burps and farts are a significant producer of methane emissions, which trap heat in the atmosphere and contribute to temperatures rising globally.

Preliminary tests indicate that adding 100 grams of lemongrass to cow's diets helps them release roughly 33% less methane in the last three to four months of their lives.
Burger King also announced that the research is openly available and is encouraging other organizations in the fast food industry to follow its lead:
the best kind of change is the kind everyone can be part of. that's why we're making our #CowsMenu open-sourced, so farmers, beef suppliers and other brands can leverage this work. check how industry experts are teaming up to help make this idea a reality: https://t.co/kPCXpjfbGL pic.twitter.com/WzTZA0PVsc

— Burger King (@BurgerKing) July 15, 2020
Why it's important: Climate change solutions have been a big part of organizations' sustainability and corporate social responsibility efforts for a while, and more brands are ramping back up their campaigns to spread the word of what their doing, despite the continuing COVID-19 crisis.
Where Burger King truly shines is in its simple and fun explanation—which, along with the video, is also accompanied by graphics on its campaign page. By turning the conversation about sustainability and climate change into something more outrageous, the fast food chain easily grabbed headlines.
---
TACTICALLY SPEAKING
Verizon launched an iniative that aims to provide training to 10 million young people by 2030.
The company's chief corporate social responsibility officer, Rose Stuckey Kirk, explained on "Cheddar Live":
.@Verizon has launched a new program to provide digital skills training for 10 million youths by 2030.

Chief Corporate Social Responsibility Officer @RoseStuckeyKirk explains the new initiative. #CheddarLive pic.twitter.com/Yx4JThqyf9

— Cheddar🧀 (@cheddar) July 14, 2020
Google announced it will offer 100,000 scholarships to help people complete its Google Career Certificates, which include courses in data analytics, project management, IT support and user experience design:
We will be offering 100,000 scholarships to help learners complete any of the Google Career Certificates on @Coursera so they can start new career paths in:
📈 Data Analytics
⏲️ Project Management
📲 User Experience (UX) Design
🖥️ IT Supporthttps://t.co/FUC7aHnITM pic.twitter.com/XxNhbjiNou

— Google (@Google) July 13, 2020
Google also said it would consider the certificates as degrees for anyone applying to a job within the company, it said in a blog post.
The initiatives showcase the efforts many organizations are focusing on in terms of education and skills training. Even if education isn't one of your corporate social responsibility aims, consider ways you can help employees with additional skills and training.
---
MEASURED THOUGHTS
Buy Shares recently reported that nearly half of the world's population will be using social media networks within the next three years—amounting to roughly 3.43 billion users across online platforms.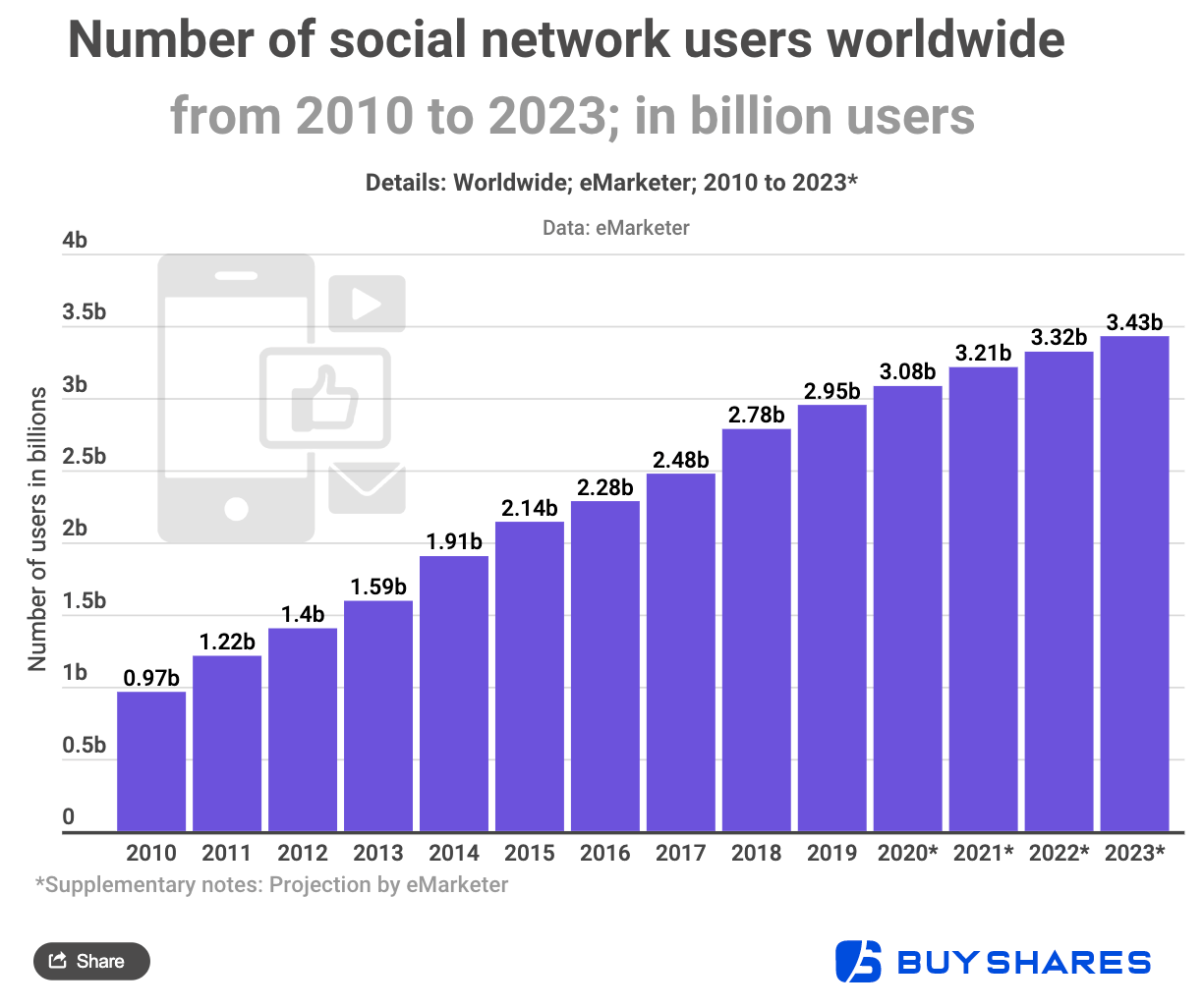 Growth has been increasing steadily over the past decade as well. This and additional data collected by Buy Shares can be used to get buy-in from executives and to prove the power of social media.
---
CRISIS LEADERSHIP BOARD
Looking for more insight on how to address the current global crisis and lead your organization into a strong recovery?
Join Ragan's Crisis Leadership Board to network and brainstorm with peers, get the latest intelligence and research, and start to strategize for the future of your organization.
Learn more about this exclusive membership here.
ViacomCBS cuts ties with Nick Cannon over anti-Semitic remarks
The media company announced it had fired former TV host Nick Cannon following anti-Semitic remarks he made on a podcast discussing racial bias. Though the episode was reportedly filmed in 2019, it was published roughly two weeks ago.
The Associated Press reported:
"ViacomCBS condemns bigotry of any kind and we categorically denounce all forms of anti-Semitism," the company said in a statement Tuesday. It is terminating its relationship with Cannon, ViacomCBS said.

… "We have spoken with Nick Cannon about an episode of his podcast 'Cannon's Class' on YouTube, which promoted hateful speech and spread anti-Semitic conspiracy theories," ViacomCBS said.

"While we support ongoing education and dialogue in the fight against bigotry, we are deeply troubled that Nick has failed to acknowledge or apologize for perpetuating anti-Semitism, and we are terminating our relationship with him," the company said.
Why it's important: Comments made by employees, partners or influencers promoting your products and services reflect on your brand and can damage its reputation just as quickly as one of your executives misstepping during an interview. Make sure you're monitoring the quickly moving conversations, especially surrounding COVID-19 and Black Lives Matter, so you can quickly distance your organization from behaviors and remarks that don't align with your values.
---
BOOST YOUR SKILLS
Learn how to tell your brand's story to help you thrive in our "new normal" at Ragan's Brand Storytelling During a Crisis Virtual Conference, Aug. 4-5.
Speakers from Con Edison, Google, Experian, Minnesota Timberwolves, Crayola, Marriott International, Girl Scouts of the USA, Cleveland Clinic and more will share takeaways for building and maintaining trust through storytelling, along with ways to reimagine your brand narratives during COVID-19.
---
TACTICALLY SPEAKING
Pfizer recently scored a 100% on the Disability Equality Index, along with a host of other organizations including Adobe, Dell Technologies, Delta Airlines, 3M, Meijer, The Coca-Cola Company, Kroger, PepsiCo, Target, Bayer, Amazon and more.
The Associated Press reported:
–Top participating industries include: technology, financial services, and healthcare. –85% of businesses with a company-wide written statement of commitment on diversity and inclusion specifically call out "disability." –70% of businesses have an accessibility expert to resolve accessibility/compatibility issues necessary for people with disabilities to use technology systems.
Pfizer celebrated the news, but followed up with an announcement that it has much more to do in terms of its diversity and inclusion efforts:
There is more work to be done to ensure that individuals with disabilities have the same access to meaningful employment and career opportunities. Pfizer is committed to doing that work and, we hope, to inspire other companies to join us. https://t.co/3Y0yGP4Z3G pic.twitter.com/q0bBCg560U

— Pfizer Inc. (@pfizer) July 15, 2020
You can take a nod from the move and celebrate your victories, but don't forget to underline your other diversity, equity and inclusion commitments—along with an update on the progress you're making with them, so you can be accountable.
---
WHAT YOU SAID
We asked if you're measuring your employee engagement efforts, especially as the COVID-19 crisis continues, and 25% of you are (and were before the pandemic). An additional 17% are now measuring employee interaction. However, nearly 42% aren't measuring employee engagement at all, and 17% don't measure outside of employee surveys.
Are you measuring your employee engagement efforts, especially during COVID-19?

Share how you're keeping your fingers on the pulse of internal and employee communications below and under #DailyScoop.

— PR Daily (@PRDaily) July 14, 2020
---
SOUNDING BOARD 
What type of visuals do you use the most in your digital content?
What type of visuals do you use the most in your digital content?

Share your most-used formats (and why) below and under #DailyScoop.

— PR Daily (@PRDaily) July 15, 2020
Share your most-used formats (and why you use them) below and under #DailyScoop hashtag.
COMMENT