Burger King UK apologizes for offensive tweet, Unilever drops 'normal' from beauty product branding, and Google adds context to news stories
Also: Lowe's launches CSR initiative for its 100th birthday, only 41% of men are ready to tackle gender inequality, Taco Bell joins the NFT bandwagon, and more.
Hello, communicators:
Taco Bell has jumped on the non-fungible token (NFT) train by offering 25 tokens for what the brand called "iconic and original artwork inspired by our tacos at the easily digestible price of our menu items."
Our Spicy Potato Soft Tacos can now live in your hearts, stomachs and digital wallets. https://t.co/IC8b45lmd9 pic.twitter.com/FJUcuwCuyy

— Taco Bell (@tacobell) March 8, 2021
In its listing, the fast food chain wrote:
Now fans can own their favorite tacos and hold them in their hearts and digital wallets. All profits will be donated to the Taco Bell Foundation.

While we appreciate the kind gestures, we are not accepting gifts at this time.

100% of the profits earned from this sale will be donated to Taco Bell Foundation, Inc. to empower youth to discover and pursue their career and educational pathways.
As PR and marketing pros consider how NFTs might fit within their strategies and campaigns, add bulking up donations and supporting purpose-driven initiatives to the list of ideas.
Here are today's top stories:
Burger King UK apologizes for International Women's Day tweet
On Monday, the fast food chain's United Kingdom social media team tweeted: "Women belong in the kitchen." Backlash was swift as many consumers criticized the brand for its tone-deaf tweet, published aginast the backdrop of International Women's Day.
However, that tweet was the first in a thread, which many Twitter users didn't see—especially after it went viral.
Fernando Machado, global chief marketing officer for Restaurant Brands International, tweeted a print version of Burger King's campaign, which goes on to say that only 24% of chef positions in the United States are occupied by women—and women deserve opportunities inside the kitchen, if they want to work in the restaurant industry. The campaign is meant to highlight Burger King Foundation's culinary scholarship program, which aims to increase the number of women in leadership positions.
Only 24% of chef positions in US are occupied by women.

That's why the BK Foundation launched a culinary scholarship program to bring more women to leadership positions in the industry.

Women belong in the kitchen if they want to work there. And hopefully in leadership roles. pic.twitter.com/ITwnTJQpDp

— Fer Machado (@fer_machado123) March 8, 2021
At first, Burger King U.K.'s team doubled down on its series of tweets, embracing the hate as a sign that the stunt had sparked conversation.
This bait-and-switch approach has probably done wonders for the account's engagement, but it's also generated a lot of backlash—backlash that the person managing the Twitter has decided to deal with by responding to lots and lots of angry people with self-satisfied retorts. When told it "[belongs] in the trash," Burger King UK replied, "What belongs in the trash is lack of female representation in our industry, that's why we've created a scholarship to do something about it." When a reply said it was weird that these tweets managed to clear the company's management, stalwart Burger King UK responded, "We think it's weird that women make up only 20% of chefs in the UK restaurant industry" and plugged its scholarship again. Surrounded by enemies now—including, of course, KFC Gaming—the account managers continue to sweatily defend the campaign by elaborating on a "thought process" that even they themselves puts quotation marks around.
However, the team walked back its thread as criticism grew, deleting the tweets and issuing an apology, promising to "do better next time":
We decided to delete the original tweet after our apology. It was brought to our attention that there were abusive comments in the thread and we don't want to leave the space open for that.

— Burger King (@BurgerKingUK) March 8, 2021
Why it's important: Opinions regarding Burger King's move and the subsequent backlash are split. For example, Lauryn Bayley, PR and content development intern at Flackable, called it "a failed attempt at going outside of the box," while Katie Delahay Paine, founder and chief executive at Paine Communications, said it was "brilliant" for focusing people's attention on a real issue.
Aside from mixed reactions to Burger King's controversial messaging, the Twitter thread's backlash highlights the importance of providing context across social media platforms. The chain's U.K. team could have avoided some of the backlash had it included its initiative and the additional wording within the first tweet. Alternatively, it could have tweeted a graphic of the entire message, ensuring that those sharing it got the entire story. Don't assume that social media users will dig further to discover your entire message. Going for shock value is a risk, but providing the proper context can minimize potential reputational damage.
---
TACTICALLY SPEAKING
Lowe's is celebrating its 100th birthday with the launch of "100 Hometowns," the home improvement chain's initiatiave that will award 100 grants in towns across the United States for "deserving community projects."
To celebrate our 100th birthday, we're launching #100Hometowns – a $10M commitment to complete 100 impact projects that give back to the communities we serve.

Explore the possibility in every neighborhood by nominating a project in your hometown today!

— Lowe's (@Lowes) March 9, 2021
In a press release, Lowe's wrote:
As communities come together and regain their footing, Lowe's invites people nationwide to nominate a hometown project in need of restoration, sharing their hometown stories and helping to demonstrate the possibility all neighborhoods hold. Lowe's will award 100 grants in June to help recipients complete projects to build, repair, beautify, inspire and improve 100 communities across America. The projects are expected to be completed this year.

"For generations, serving the community has been a core part of Lowe's culture and values," said Marvin R. Ellison, Lowe's president and CEO. "In approaching our centennial and particularly in the wake of such a challenging period for our country, we decided to commemorate this milestone by taking on 100 community improvement projects, with local associate volunteers lending a hand across the nation. We believe in the power of possibility and have an unwavering commitment to making homes better for all, now and for the next 100 years."
---
CRISIS LEADERSHIP NETWORK
Looking for more insight on how to address the current global crisis and lead your organization into a strong recovery?
Join Ragan's Crisis Leadership Network to connect and brainstorm with peers, get the latest intelligence and research and start to strategize for the future of your organization.
Learn more about this exclusive membership here.
---
MEASURED THOUGHTS
Though many brands took part in International Women's Day—and aside from Burger King, most fared well—there's much work left to do for gender equality.
Lewis and UN Women's HeForShe movement teamed up on a report that examined gender inequity across 13 countries, revealing that though 98% of women want men to get more involved in reducing this inequality, only 41% of men said they were ready to tackle these issues.
Gender inequality has been put under a magnifying glass with workplace shifts during COVID-19, too, with 45% of women respondents reporting that their jobs were affected by the pandemic. Regardless of current crises, 67% said men and women are treated equally at work, but 33% of women reported that they have been overlooked for a promotion because of their gender.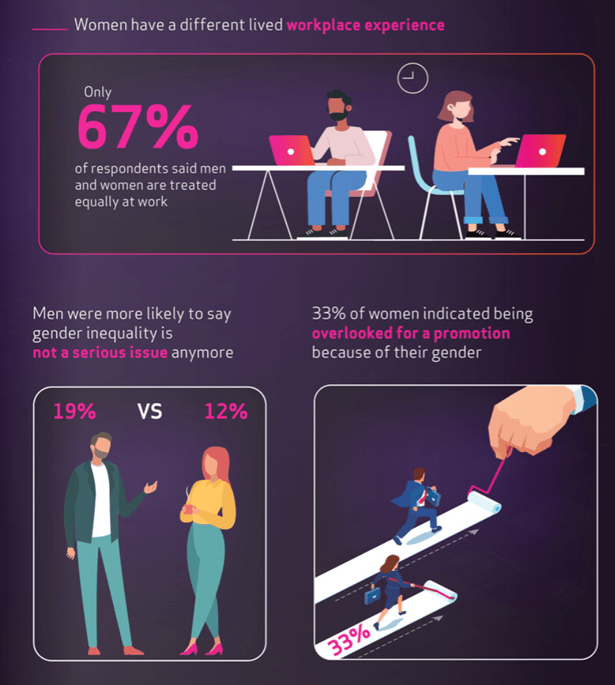 You can read the entire report here.
Unilever drops 'normal' from products to be more inclusive
The company that owns Dove, Axe, Rexona and more announced that it's getting rid of the word "normal" on its beauty and personal care products:
What is Positive Beauty?

It's brands that not only do less harm, but also do more good for people and the planet.

That's why we're saying #YesToPositiveBeauty, and our beauty brands are removing the word normal from ads and packs all over the world.https://t.co/mmHwMSFx8q pic.twitter.com/64g1mdufmQ

— Unilever #StaySafe (@Unilever) March 9, 2021
We're saying #YesToPositiveBeauty

Brands that don't just do less harm, but also do more good for people and the planet.

Saying no to 'normal' in ads and on packs across all our beauty brands is just one way we're taking action.https://t.co/mmHwMSnVJQ

— Unilever #StaySafe (@Unilever) March 9, 2021
Part of Unilever's Positive Beauty strategy, the company surveyed 10,000 consumers across nine countries and found that 56% said the beauty and personal care industry can make people feel excluded, and 70% said the industry "must broaden its definition of beauty."
In a press release, Sunny Jain, president of Unilever Beauty & Personal Care, said:
With one billion people using our beauty and personal care products every day, and even more seeing our advertising, our brands have the power to make a real difference to people's lives. As part of this, we are committed to tackling harmful norms and stereotypes and shaping a broader, far more inclusive definition of beauty.

We know that removing "normal" from our products and packaging will not fix the problem alone, but it is an important step forward. It's just one of a number of actions we are taking as part of our Positive Beauty vision, which aims not only to do less harm, but more good for both people and the planet.
Why it matters: Raising awareness and normalizing conversations surrounding DE&I, social justice and mental health and wellbeing are crucial first steps for organizations looking to make a positive change in the world.
Tying those efforts to measurable action is just as important, however. In its announcement, Unilever outlined three commitments, which includes advertising and education initiatives that aim to "[shatter] stereotypes" and supporting a global ban on animal testing for cosmetics by 2023. Unilever is also donating to its Climate & Nature Fund and aiming to regenerate 1.5 million hectares of land, forests and oceans by 2030—also promising that by 2025, all of its plastic will be recyclable, reusable or compostable.
---
TACTICALLY SPEAKING
Google announced that its moving a feature of its "News" tool to its search function, to better help readers find additional context behind news articles and trending stories.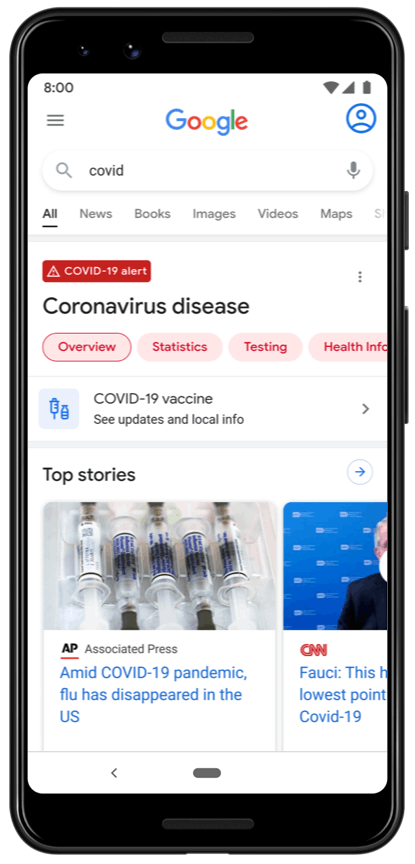 In a blog post, Itamar Snir, product manager for Google News, wrote:
This past year has reminded us that the most important news stories are often complex and ever-evolving. Stories like the COVID-19 pandemic and the U.S. elections played out over many months, with myriad threads and developments all happening at once. People are hungry for context that helps them break down and understand these complicated stories from multiple perspectives.

… When you're searching for information on a timely topic, you see a carousel of articles at the top of your Search results highlighting relevant news. Now for big, developing news stories, you can tap into a Full Coverage page after scrolling to the end of the top stories carousel or by selecting "More news on…" right below the carousel.
---
CONFERENCE ALERT
Social media and digital content is helping organizations across industries reach and engage with consumer and employee audiences looking to connect despite staying apart during COVID-19. The digital media landscape—and people's behaviors—are rapidly shifting, and yesterday's strategies won't stand out to those searching for brands to take a stand and promote DE&I initiatives, measure their efforts, produce valuable content and more.
Learn how to break out online at Ragan's Social Media & Digital Commmunications Virtual Conference on Tuesday, March 16.
Learn powerful insights and secrets from speakers at Dropbox, Chip and Joanna Gain's Magnolia, BET Networks, the Cleveland Cavaliers, AARP, Ketchum, LinkedIn, Oklahoma Aquarium, NAACP, Canon Europe, The Martin Agency and more.
Attendees will learn how to produce compelling social media posts and digital content across TikTok, Twitter, YouTube, Instagram, Facebook, Clubhouse and intranet channels—and glean inspiration on incorporating digital media strategies such as SEO, email marketing, paid ads and employee ambassadorship to make your efforts soar.
---
WHAT YOU SAID
We asked if your organization is using a digital workplace for remote employee engagement, and roughly 33% of you already had tools in place before COVID-19, while 11% created digital workspaces as your teams became remote. Nearly 28% use tools to assist employees as they work from home, despite not having a formal digital workplace, but almost the same amount (28%) don't have anything established:
Has your organization established a digital workplace for remote working during and beyond COVID-19?

Weigh in below and comment with your thoughts, and we'll share in tomorrow's #DailyScoop.

— PR Daily (@PRDaily) March 8, 2021
Is there question you'd like to see asked? Please let us know under the #DailyScoop hashtag!
---
SOUNDING BOARD
Do you use slang terms and phrases within your PR, marketing and social media campaigns?
Do you use slang terms and phrases within your PR, marketing and social media campaigns?

Weigh in below and we'll share your responses in tomorrow's #DailyScoop.

— PR Daily (@PRDaily) March 9, 2021
Weigh in below or share your insights on Twitter under the hashtag #DailyScoop. We'll share in tomorrow's roundup.
COMMENT