CDC stresses caution with new relaxed travel guidelines, Facebook deals with resurfaced data leak, and Florida issues state of emergency over waste water leak
Also: Feds require Johnson & Johnson to oversee vaccine production at partner facility, Instagram shares tips for influencer marketing, LinkedIn releases guide to crafting thought leadership content, and more.
Hello, Communicators:
Johnson & Johnson will now directly oversee vaccine production at the Baltimore facility run by partner company Emergent BioSolutions, where workers mistakenly contaminated 15 million doses of J&J vaccine last week. The Biden administration ordered the oversight, calling on J&J to assume "full responsibility" for the production site.
"A senior government health official said the Department of Health and Human Services and the Food and Drug Administration have now determined it is 'most appropriate' for the facility to produce only one vaccine," reports NPR. "J&J confirmed over the weekend that it will take a more hands-on approach at the Baltimore facility, and will increase 'the number of manufacturing, quality and technical operations personnel to work with the Company specialists already at Emergent.'"
Communicators should work with internal stakeholders to anticipate what regulators in your industry will demand from your business. Conduct your own oversight and craft messaging that addresses your internal resources for oversight before regulators are even encouraged to step in.
CDC navigates delicate messaging around relaxed travel guidelines
The Centers for Disease Control and Prevention announced updated travel guidance last Friday, stating that those who are fully vaccinated can travel at low-risk without having to take COVID-19 tests. At the same time, CDC director Rochelle Walensky urged people not to travel unless necessary and acknowledged the seeming contradictions in her own messaging.
"I want to acknowledge today that providing guidance in the midst of a changing pandemic, and its changing science, is complex," Walensky went on to say. "On the one hand, we are telling you we are worried about rising cases, to wear a mask and to avoid travel."

At the same time, she pointed out, her agency was giving people the license to travel, in a seeming countermand of her own insistent warnings, which some have criticized as overly dire.
Some experts have pointed out the precarious balancing act that Walensky must navigate in her messaging between being optimistic and pragmatic at the same time.
"[Walensky] is quite a compelling and clear communicator, but it's a challenging set of messages to try and get out there," said Chris Beyrer, a professor of epidemiology at Johns Hopkins Bloomberg School of Public Health.

Glen Nowak, director of the Center for Health and Risk Communication at the University of Georgia and a former CDC media relations director, said Walensky's candor helps establish credibility.

"She has embraced the fact that credibility comes from being transparent and honest and genuine about your fears and your concerns," Nowak said.
Why It Matters:
Communicators should remember that crisis communications seldom unfold in a clean, consistent way. Remain transparent in your messaging by communicating early and often. Always anchor any changes in your messaging around data and insights, and be sure to set a precedent that your messaging may change again as a situation progresses.
---
TAKE OUR SURVEY
We are running a short survey to find out how we can better serve readers like you. Your feedback will help us plan new editorial initiatives, direct our resources for industry research and analysis, and let us know what parts of the site are most valuable. Your answers will be held confidential.
Please take this 3-minute survey by Thursday, April 8. As a thank you, you will receive a $150 voucher to apply to a Ragan/PR Daily event and you'll be entered to win one of five $25 gift cards from Amazon.
Take the survey here.
We look forward to learning more about the PR community and how PR Daily can best serve your needs, interests and career growth. Thank you in advance for your time and feedback.
---
SOCIAL BUZZ
Instagram has partnered with branded content marketplace Tribe to produce a video tips guide for those getting started in influencer marketing:
For starters, Tribe founder Jules Lund recommends that you tap into customer creativity by making use of user-generated content. "This content is authentic, from real people, and so it performs—because who better to create content that customers love, than customers themselves," he says.
Lund's advises creators to focus on happy customers with good stories to share, then reach out to them to turn their story into a branded promotion.
He encourages the use of branded content ads to maximize the personal, connective reach of the messaging using social media's targeting tools.
---
CRISIS LEADERSHIP NETWORK
Looking for more insight on how to address the current global crisis and lead your organization into a strong recovery?
Join Ragan's Crisis Leadership Network to connect and brainstorm with peers, get the latest intelligence and research and start to strategize for the future of your organization.
Learn more about this exclusive membership here.
---
CRISIS COMMUNICATIONS
On Saturday, Florida Governor Ron DeSantis declared a state of emergency in Manatee County after a 'significant leak' at a phosphate processing plant forced hundreds of residents to evacuate their homes over Easter weekend.
While the governor on Sunday blamed the situation on HRK Holdings, the company that owns the site, and said it will be held accountable for the incident, [Manatee County administrator Scott Hopes] indicated that the latest leak is the result of officials not acting on past failures.

"It could have been resolved two decades ago," Hopes said. "What I've seen in the past four days from the governor's office is that all agencies and entities are now committed to a permanent resolution."

On Thursday afternoon, Jeff Barath, a representative for HRK Holdings, appeared emotionally distressed while briefing the Manatee County Commissioners about the situation.

"I'm very sorry," he said. He told commissioners he had only slept a few hours that week because he was trying to fix the situation, and through tears, said he first noticed "increased conductivities within the site's seepage collection system" 10 days prior on March 22.
The incident is a reminder that rushing toward a quick fix when facing a crisis will often cause the problem to resurface later with a vengeance. Instead of rushing to resolve a matter, work with internal stakeholders to take a deeper look into why the crisis happened in the first place and address the core root of the issue in any communications.
---
MEASURED THOUGHTS
In its guide, "The Business of Thought Leadership," LinkedIn found that 56% of professionals surveyed said that a business professional's presence on social media channels positively influences their purchasing decisions. Meanwhile, 66% said they would be more likely to recommend a person or brand if they followed a company executive on social media.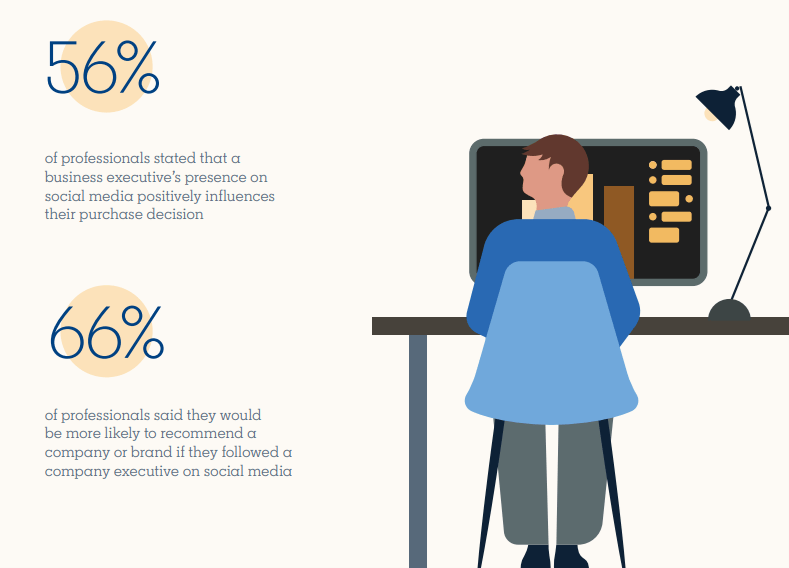 Remember that thought leadership content can take many forms depending on the audience or customer you are hoping to reach. Communicators should work directly with leaders, either through ghostwriting or editing their own words, to craft content that both solidifies leadership's expertise and reinforces company values.
Facebook criticized for messaging about resurfaced data leak
A data leak from 2019 became news once again on Saturday after the information was reposted online. The leak exposed the personal information of 533 million Facebook users, including phone numbers, full names, locations, birth dates and some email addresses.
"This is old data that was previously reported on in 2019," a Facebook spokesperson wrote in an email statement. "We found and fixed this issue in August 2019."

At the time, the company addressed a flaw in its technology that allowed the information to leak out. However, once such data escapes from Facebook's network, the company has limited power to stop it from spreading online.
Many felt that Facebook's above response minimized the severity of the resurfaced leak:
Fixed it how? Clearly the data is still out there.

— Radical Alarmist (@RadicalAlarmist) April 3, 2021
How do I change my date of birth?

— Chris Williams (@ChrisNJWilliams) April 3, 2021
You're head of Communications for @Facebook and this is your response!? How about "we're deeply sorry for your data being exposed for a second time. Please contact our CS team and we'll help you restore and protect your account."
Just try harder!

— stays72 (@stays72) April 3, 2021
Why It Matters:
Communicators should stay mindful that your external stakeholders may still be feeling the effects of a crisis long after it seems to be resolved internally. Any subsequent post-crisis messaging should contain just as much empathy as the initial crisis response. Align with your external stakeholders, and explain in detail what you are doing to remedy the situation.
---
CONFERENCE ALERT
As the news cycle continues to rapidly shift and communicators grapple to create strategies that overcome content exhaustion and misinformation, it's crucial to embrace new best practices grounded in measurement, data and insights that can both build engagement and boost brand awareness.
Learn how to build stronger relationships with journalists to tell your story, and measure the results at Ragan's Media Relations & Measurement Virtual Conference on Wednesday, April 7.
Attendees will discover new and smart opportunities to overcome crisis challenges, pitch stories that reporters crave, better understand and deliver to target audiences through analytics and insights, enhance media relations efforts through the PESO model and brand journalism, prove the ROI of your efforts, and more.
Learn powerful insights and secrets from speakers at organizations including NAACP, PepsiCo, Goodwill, Pfizer, Hilton and Britannica Group.
---
WHAT YOU SAID
On Friday, we asked if many of you plan on leaning into the warmer weather by taking many half-day Fridays this spring and summer. A solid 55% of you said yes, which makes us confident that most respondents are putting though into their work/life balance. Meanwhile, 25% of you do not plan on starting the weekend early anytime soon. Another 20% of you said that it depends on your ability to travel.
Now that spring is here and summer is right around the corner, do you plan on taking many half-day Fridays, PR pros and communicators? #DailyScoop

— PR Daily (@PRDaily) April 2, 2021
Is there a question you would like to see asked? Let us know by tagging it with #DailyScoop!
SOUNDING BOARD
Do you follow up your pitches to journalists on Mondays, PR pros and communicators, or wait until later in the week?
Do you follow up your pitches to journalists on Mondays, PR pros and communicators, or wait until later in the week? #DailyScoop

— PR Daily (@PRDaily) April 5, 2021
Let us know under the hashtag #DailyScoop. We'll share the results in tomorrow's roundup.
COMMENT