Brands tone down April Fools' Day gags, Microsoft and others speak out against Georgia voting law, and Johnson & Johnson loses 15 million vaccines
Also: New York's message on legalizing cannabis centers racial equity, trust in leadership declines, Hasbro's job opening for TikTok expert goes viral, and more.
Hello, communicators:
New York Governor Andrew Cuomo signed a bill legalizing recreational marijuana use for the Empire State yesterday after the bill passed with majorities in both the state Senate and General Assembly.
Though retail sales are not expected to start for 12-18 months, the decision will result in a large tax boom for the state, which has taken a substantial loss in tourism revenue over the past year due to the pandemic.
In his messaging, Gov. Cuomo explicitly tied the law to racial equity and stated that the program will prioritize helping communities who have been impacted most by the War on Drugs. He also said that 40% of recreational cannabis tax would fund education:
NY's adult-use cannabis program will use tax revenue to invest in communities that have disproportionally suffered under failed marijuana prohibition.

Get the details on New York's adult-use cannabis legislation: https://t.co/cHShOIEkou pic.twitter.com/42XSuAmh9G

— Andrew Cuomo (@NYGovCuomo) March 31, 2021
Communicators should also take note that listening to what your community wants and trusting the data when composing messaging around purpose-driven initiatives ensures those initiatives will be well received. Also, bolstering the initiatives with specific, measurable goals creates accountability for internal stakeholders to make good on those commitments.
Brands offer muted April Fools' Day gag campaigns after a year of loss
Several brands and companies are celebrating April Fools' Day by launching new gag campaigns and promotions, signaling a return of humor in messaging and storytelling that was largely absent last year during the height of the pandemic.
Still missing are the more cynical approaches of the past, with some executives wondering if this is the new normal.

"We've all seen what happens when brands try to be deceptive or cruel in order to gain attention; they end up with angry responses or unfollows," Alexis Madison, associate director, digital strategy at Deutsch NY told Adweek. "Considering all we've gone through in the last year, consumers are looking for lightheartedness and a good laugh. If your creative idea can't provide that, then just sit this one out."

More than half of Americans (54%), by the way, think April Fools' Day should be cancelled because there were too many surprises in 2020, according to a study from Affirm.
 While Volkswagen angered audiences by releasing a "Voltswagen" April Fool's Day campaign that touted its focus on electric vehicles just days after concluding a five-year-long investigation into its emissions scandal, most brands are looking to execute slightly less cynical April Fools' Day pranks.
In one example, TGI Fridays shared a press release with PR Daily announcing that its CEO Ray Blanchette would resign to join the circus. The gag announcement doubled as a plug for the restaurant chain's new "Under the Big Top" campaign, which aims to promote outdoor dining and offers a new circus-themed menu. The press release ends with a plug to follow Blanchette's LinkedIn profile to see where he winds up next.
Digital task platform TaskRabbit shared a press release with PR Daily announcing that its gig workers will show up to do a job with a literal rabbit in tow to keep customers company while the task is completed. The press release ends with a promise that every task booked on April 1st will be donated to a nonprofit rabbit rescue organization.
Why It Matters:
While April Fool's Day has long been an opportunity for communicators and marketers alike to have some fun with stakeholders, only brands that can avoid mean-spirited, condescending efforts to hoodwink audiences have had success in recent years. When composing a holiday or seasonal angle for your campaign, always consider how it will be received as part of a wider cultural conversation.
---
TAKE OUR SURVEY
We are running a short survey to find out how we can better serve readers like you. Your feedback will help us plan new editorial initiatives, direct our resources for industry research and analysis, and let us know what parts of the site are most valuable. Your answers will be held confidential.
Please take this 3-minute survey by Thursday, April 8. As a thank you, you will receive a $150 voucher to apply to a Ragan/PR Daily event and you'll be entered to win one of five $25 gift cards from Amazon.
Take the survey here.
We look forward to learning more about the PR community and how PR Daily can best serve your needs, interests and career growth. Thank you in advance for your time and feedback.
---
CRISIS COMMUNICATIONS
Johnson & Johnson confirmed that 15 million doses of its COVID-19 vaccine were contaminated when workers at a Baltimore manufacturing plant run by its partner, Emergent BioSolutions, mixed up ingredients that were meant to go in the AstraZeneca vaccine.
The mistake is a major embarrassment both for Johnson & Johnson, whose one-dose vaccine has been credited with speeding up the national immunization program, and for Emergent, its subcontractor, which has faced fierce criticism for its heavy lobbying for federal contracts, especially for the government's emergency health stockpile.
"This quality control process identified one batch of drug substance that did not meet quality standards at Emergent BioSolutions, a site not yet authorized to manufacture drug substance for our COVID-19 vaccine," Johnson & Johnson said in a statement. "This is an example of the rigorous quality control applied to each batch of drug substance. The issue was identified and addressed with Emergent and shared with the United States Food & Drug Administration (FDA)."
As mounting global challenges require communicators to partner with other companies and organizations, this situation reminds communicators that they shoulder equal responsibility for the crises and blunders that befall their brand partners. After sharing the reasons why a crisis occurred, be sure to share how the incident has been rectified so that stakeholders are satisfied that it will never happen again.
---
CRISIS LEADERSHIP NETWORK
Looking for more insight on how to address the current global crisis and lead your organization into a strong recovery?
Join Ragan's Crisis Leadership Network to connect and brainstorm with peers, get the latest intelligence and research and start to strategize for the future of your organization.
Learn more about this exclusive membership here.
---
SOCIAL BUZZ
Hasbro recently posted a job listing calling for a new 'Nerf Chief TikTok Officer' who will serve as a TikTok content creator and influencer for its Nerf brand of foam dart guns. The listing says that selected candidate will create 10-12 pieces of Nerf content on TikTok per month and meet weekly with the global Nerf marketing team to brief them on TikTok trends.
Applicants are instructed post a Nerf TikTok video with the hashtag #NerfApplication through 4/2, as the timing suggests a potential April Fools prank even though the job posting looks real. The listing is signed, "Sincerely, Desperate Millennials Trying to Appeal to Gen Z."
The job is part of an engagement strategy for the brand on TikTok:
Whether this job posting turns out to be real or not, the hashtag-bolstered campaign is an innovative marketing stunt for Hasbro that plainly states the terms of its influencer partnership agreement in the posting.
As the influencer marketing space continued to grow, communicators will be increasingly needed to make the terms of influencer agreements transparent and easy to follow.
---
MEASURED THOUGHTS
Edelman recently published its annual Trust Barometer study, revealing an annual decline in the trust of societal leaders to do what is right. Trust in journalists declined the most, decreasing to 44%, while trust in religious leaders decreased to 42%. Trust in CEOs (of other companies than those that employed the respondents) decreased to 48%, while trust in government leaders decreased to 41%.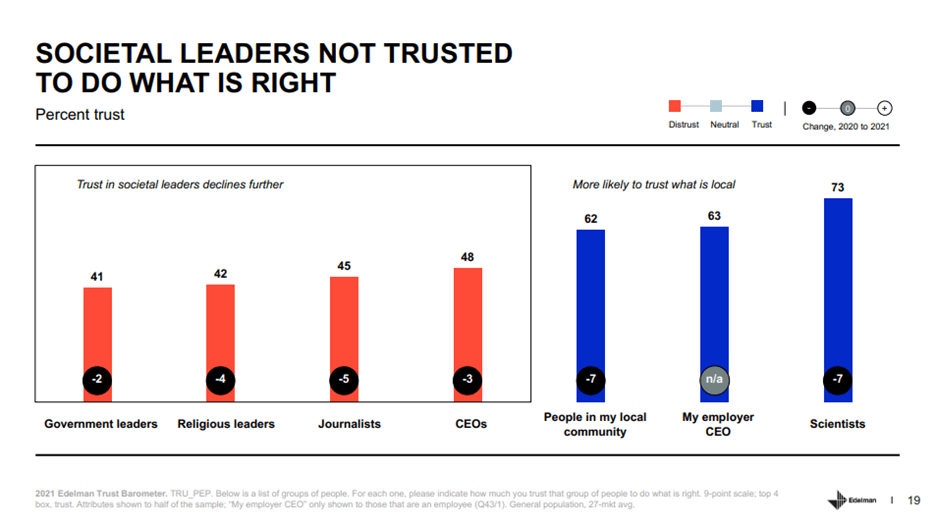 Interestingly, respondents trust local leadership much more. They rated their own employer's CEO at a stable 63% trust rating, indicating no shift from 2020's Trust Barometer. Scientists remain the most trusted leaders at 73%, while 62% trust local community leaders.
These results remind us that trust is much easier to achieve, and maintain, when your company leaders engage with their local community—including internal stakeholders, geographic neighbors and others working in your industry.
Microsoft, Delta and Coca-Cola leaders decry Georgia voting law
Top executives are speaking out in opposition to Georgia's controversial new voting law after mounting pressure from several Black executives and billboards placed around Georgia in the week leading up to the vote on the bill.
Delta Air Lines, Georgia's largest employer, had made only general statements in support of voting rights last week and had declined to take a position on the legislation. That muted response drew fierce criticism, as well as protests at Hartsfield-Jackson Atlanta International Airport and calls for a boycott.

But on Wednesday, Ed Bastian, Delta's chief executive, made a stark reversal. "I need to make it crystal clear that the final bill is unacceptable and does not match Delta's values," he wrote in an internal memo that was reviewed by The New York Times.

Coca-Cola, another of Georgia's largest companies, which had also declined to take a position on the legislation before it passed, made a similarly worded statement.

"I want to be crystal clear," said James Quincey, Coca-Cola's chief executive. "The Coca-Cola Company does not support this legislation, as it makes it harder for people to vote, not easier."
Microsoft President Brad Smith went one step further with a blog post outlining the company's multiple concerns about the election law while reminding the public that it has invested substantially in Atlanta.
Microsoft's statement reads, in part:
As I announced together with Georgia's Governor and Atlanta's Mayor, our company is making significant investments that will put Atlanta "on the path toward becoming one of Microsoft's largest hubs in the United States in the coming decade, after Puget Sound and Silicon Valley." We are creating thousands of new jobs, and we are proud to become a rapidly growing member of Atlanta's important business community.

That's why we are concerned about many aspects of Georgia's new "Election Integrity Act." Two things are clear to us. First, the right to vote is the most cherished aspect of democracy. And second, this new law has important provisions that unfairly restrict the rights of people to vote legally, securely, and safely. That's why we voiced concern about this legislation even before it was passed.

We are concerned by the law's impact on communities of color, on every voter, and on our employees and their families. We share the views of other corporate leaders that it's not only right but essential for the business community to stand together in opposition to the harmful provisions and other similar legislation that may be considered elsewhere.
Why It Matters:
When your brand or organization takes a stand on a controversial issue, tying your values back to the bottom line will remind stakeholders that the political and social implications of your decisions are being considered with utmost concern for the stability of the business. Moreover, emphasizing the financial impact of purpose-driven initiatives increases the likelihood of buy-in from leadership who may be otherwise unmotivated to act.
---
CONFERENCE ALERT
As the news cycle continues to rapidly shift and communicators grapple to create strategies that overcome content exhaustion and misinformation, it's crucial to embrace new best practices grounded in measurement, data and insights that can both build engagement and boost brand awareness.
Learn how to build stronger relationships with journalists to tell your story, and measure the results at Ragan's Media Relations & Measurement Virtual Conference on Wednesday, April 7.
Attendees will discover new and smart opportunities to overcome crisis challenges, pitch stories that reporters crave, better understand and deliver to target audiences through analytics and insights, enhance media relations efforts through the PESO model and brand journalism, prove the ROI of your efforts, and more.
Learn powerful insights and secrets from speakers at organizations including NAACP, PepsiCo, Goodwill, Pfizer, Hilton and Britannica Group.
---
WHAT YOU SAID
Yesterday we asked when and how often you take breaks to avoid burnout. A solid 39% of you take the time you need to stay productive during the day with short breaks and a dedicated lunch, while 34% said you do not even fathom the concept of a break—a testament to how much harder everyone is working these days. Meanwhile, 15% of you take at least solid lunch break each day and 12% of you are satisfied with multiple short breaks.
What's your strategy for taking work breaks to avoid burnout, PR pros and communicators?

Let us know how you pace out your day under the hashtag #DailyScoop. We'll share the results in tomorrow's roundup.

— PR Daily (@PRDaily) March 31, 2021
Is there a question you'd like us to ask? Let us know by tagging it with #DailyScoop!
---
SOUNDING BOARD
Has your company issued any guidance and/or provided any resources to ensure employees that have time and access to receive a vaccine?
Has your company issued any guidance and/or provided any resources to ensure that employees have time and access to receive a vaccine?
As a reminder, your response is totally anonymous. We'll share the results of the poll in tomorrow's #DailyScoop.

— PR Daily (@PRDaily) April 1, 2021
We'll share the results of the poll in tomorrow's #DailyScoop.
COMMENT
One Response to "Brands tone down April Fools' Day gags, Microsoft and others speak out against Georgia voting law, and Johnson & Johnson loses 15 million vaccines"
Ronald Levy

says:

Beautiful. This is how it should be: Instead of waiting until the weak are screwed by the strong, come out—as Microsoft, Delta and Coca-Cola have done—with a persuasive push for morality in government.

Years ago Citicorp brought to New York a PR exec also named Brad Smith and at lunch with him I wondered why Citi would have someone not in the DPR job who is this bright and expensive. Almost any top company would have paid him big bucks.

Then I understood. It came out that activists were threatening to burn down Citi branch offices! But Citi's PR chief, whom I knew from his days at a top PR firm, brought in Brad Smith to fix things BEFORE trouble. Without Smith giving more than well justified, the threatened trouble never came.

The poor got what was fair, the rich got richer, and I'd guess Brad Smith joined a very top PR firm where he could help (and get paid by) many companies rather than one.

Money goeth to him or her who is worth it which is why the PR Daily courses and groups are so popular. There's sometimes not that much difference between the super paid and those who are not paid or employed at all. It's often training and cultivated instinct.