Communicators stress action over words in Asian-American solidarity, Teen Vogue's incoming top editor resigns, and Peloton's CEO addresses fatal treadmill incident
Also: Goldman Sachs employees conduct internal survey on burnout, NASA and SpaceX demonstrate collaboartion, Hootsuite's cheat sheet for social media image sizes, and more.
Hello, communicators:
Goldman Sachs' junior investment bankers say they are are burning out after being subjected to 100-hour work weeks and demanding bosses, according to an internal survey conducted by first-year analysts.
"The [study], replete with color-coded charts and formatted in the official style of an investment banking pitch book, was created after a group of disgruntled analysts banded together to survey their colleagues, according to the people," reports CNBC.
Spokeswoman Nicole Sharp told CNBC that the company "recognize(s) that people are very busy, because business is strong and volumes are at historic levels." She added that the company is "listening to their concerns and taking multiple steps to address them."
Nowhere in Sharp's statement, however, does she describe what those multiple steps actually are, serving to remind communicators that any crisis response should include specific, actionable details on what your brand or organization is doing to remedy the problems.
The fact that this data was obtained only after the employees themselves conducted an internal survey, then leaked to the press, also reminds us that internal communicators shouldn't wait for employees to band together out of desperation in order to have an accurate read on employee sentiment.
Comms leaders tout action above words in stand against anti-Asian hate
Racist attacks against Asian Americans and Pacific Islanders (AAPI) have increased in the past year, coming to a head on March 16 when a racially-motivated assailant killed eight people at three Atlanta spas. In the prior few months, several marketing and communications leaders have spoken out about the difference between gestural statements of support for the AAPI community and meaningful action.
Several marketing leaders came together for Facebook's "Forward, Together: Addressing Anti-Asian Hate and Systemic Racism" event to discuss how brands can use their platforms to enact real, lasting change in their communities.
"It's not so much just 'put up a post in solidarity,' it's also about making sure that we're supporting the right organizations," [Christine Ngo Isaac, consumer engagement director, Hennessy at LVMH] said. "We can't wait until there is a crisis to show our support. That empathy needs to happen every single day."
A litany of brand communications tagged with #StopAsianHate have flooded social media in recent months amid previous reports of Anti-Asian violence.
Fashion and apparel brands Tommy Hilfiger, Nike and Converse have put out independent statements on the issue. "To our Asian community, we respect you, we are with you," a video posted by Nike noted. "Nike condemns racism."

Meanwhile, Converse put out a tweet that said: "Hate towards one of us is hate towards all of us. We stand in solidarity with our Asian community and teammates.#StopAsianHate."
Hate towards one of us is hate towards all of us.

We stand in solidarity with our Asian community and teammates. #StopAsianHate pic.twitter.com/GbvFNzBrC0

— Converse (@Converse) February 19, 2021
Why it matters:
We can't be part of the solution unless we are actively engaging with the AAPI community.
"[H]ow can a company credibly proclaim support and solidarity to a group they have virtually no relationship with?" writes Telly Wong, senior vice president and chief content officer of IW Group and the founder of #WashTheHate, in a piece published last week on PR Daily.
Wong offers five tips on crafting a thoughtful and meaningful statement, all of which include some form of action and accountability from a brand beyond the words themselves. He advises communicators to start with learning the history of AAPI discrimination in the United States in order to gain an understanding that it was a problem long before the pandemic.
You can read the full strategy here.
---
TACTICALLY SPEAKING
NASA and SpaceX have signed a unique agreement to share information in order to avoid collisions with Starlink, SpaceX's onboard constellation designed to provide satellite Internet access.
For NASA's part, it'll be providing detailed and accurate info about its planned missions in advance to SpaceX so that they can use that to properly program Starlink's automated avoidance measures whenever a mission is happening where NASA assets might cross paths with the constellation. It'll also be working directly with SpaceX on improving its ability to assess and avoid any incidents, and will be providing technical support on how SpaceX might better mitigate "photometric brightness," or the reflectivity of its Starlink spacecraft.

Meanwhile, SpaceX will be responsible for ensuring its Starlink satellites take "evasive action" to "mitigate close approaches and avoid collisions with all NASA assets."
This unique agreement reminds us that even competitive orgnaizations do well to collaborate when coexisting in an emerging industry or (literal) space. Entering into a partnership with seeming competitors to solve larger problems that plague you both can be accomplished by clearly identifying each player's disinct strengths, then applying those strengths to a thoroughly-explained set of responsibilities.
---
CRISIS LEADERSHIP NETWORK
Looking for more insight on how to address the current global crisis and lead your organization into a strong recovery?
Join Ragan's Crisis Leadership Network to connect and brainstorm with peers, get the latest intelligence and research and start to strategize for the future of your organization.
Learn more about this exclusive membership here.
---
MEASURED THOUGHTS
In its 2021 guide to sizing images for social media, Hootsuite collected optimal dimensions for posting images on just about every platform.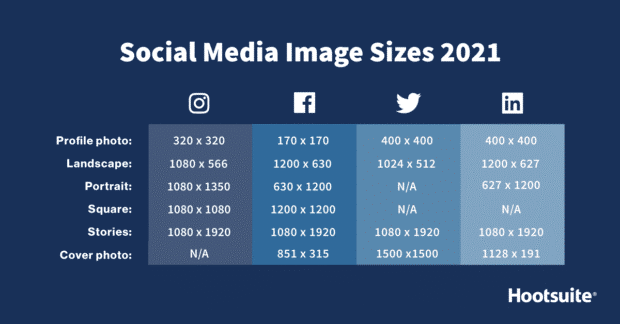 Keeping these dimensions handy, or using dimension presets in a simple graphic design tool like Canva, can help your social media team produce thumbstopping, clickable posts that appear beautiful whether your audience is viewing on mobile or desktop.
You can read the entire guide here
---
CRISIS COMMUNICATIONS 
In a letter to members, Peloton CEO John Foley announced that a young child had died following an accident with the company's newly released treadmill, urging Peloton members to keep their kids away from the exercise equipment.
"As a reminder, especially during a period when families remain at home due to the pandemic, anyone using the Tread+ should follow the safety instructions and   keep children and pets away at all times," the company told Gizmodo. "Additionally, when the Tread+ is not in use, members should continue to follow the safety instructions by storing the safety key, which keeps the Tread+ from operating, away from the Tread+ and out of reach of children."

Foley said that Peloton was "aware of only a small handful of incidents involving the Tread+ where children have been hurt; each one is devastating to all of us at Peloton, and our hearts go out to the families involved." The company said that it would not be providing additional information about the incidents out of respect for the families.
When a tragedy occurs that's tied to your brand or organization, it's always a best practice to speak directly to the community first. Make sure you have conversations with leadership so they are ready to communicate difficult messaging should the need ever arise.
Teen Vogue shares statement on resignation of incoming editor-in-chief
Alexi McCammond resigned as editor-in-chief of Teen Vogue on Thursday in response to decade-old homophobic and anti-Asian tweets that recently resurfaced. The resignation comes just two days after a series of shootings at Atlanta-area spas killed eight people.
Condé Nast, which owns Teen Vogue, The New Yorker, and other popular magazine titles, was aware of McCammond's tweets prior to her hiring, the company's Chief People Officer, Stan Duncan, revealed in an email to staff on Thursday announcing the news. He wrote that McCammond was "straightforward and transparent about these posts during our interview process and through public apologies years ago."

McCammond's tweets also cost Teen Vogue one of its largest advertisers last week, when beauty supply store chain Ulta Beauty announced it was temporarily suspending its seven-figure contract with the publication.
CBS News reports:
"Diversity and inclusion have always been core values at Ulta Beauty," a company spokeswoman said in a statement Thursday. "We stand against racism in all forms and as we've publicly shared in our social channels, we stand in unity with the [Asian American and Pacific Islander] community. We believe it's important that our partners share our values. Our discussions with Conde Nast are actively underway as we seek to better understand their next steps and determine ours."
This is not Condé Nast's first incident of hiring editorial leaders with a problematic, racially insensitive digital footprint. This past June, a very public crisis at the publisher's food publication Bon Appétit resulted in the ousting of its editor-in-chief and the exit of several employees of color.
Why it matters:
Communicators and HR should always work together to vet who their company hires, and understand that, in today's social climate, an apology seldom mitigates a lurking crisis. Understanding that nothing truly ever vanishes on the internet, any problematic information that comes up during the background vetting of that prospective employee should be discussed between HR and comms with regard to the reputational impact on the company should that information ever resurface, before an offer is extended.
---
CONFERENCE ALERT
As the news cycle continues to rapidly shift and communicators grapple to create strategies that overcome content exhaustion and misinformation, it's crucial to embrace new best practices grounded in measurement, data and insights that can both build engagement and boost brand awareness.
Learn how to build stronger relationships with journalists to tell your story, and measure the results at Ragan's Media Relations & Measurement Virtual Conference on Wednesday, April 7.
Attendees will discover new and smart opportunities to overcome crisis challenges, pitch stories that reporters crave, better understand and deliver to target audiences through analytics and insights, enhance media relations efforts through the PESO model and brand journalism, prove the ROI of your efforts, and more.
Learn powerful insights and secrets from speakers at organizations including NAACP, PepsiCo, Goodwill, Pfizer, Hilton and Britannica Group.
---
WHAT YOU SAID
We asked what PR term you considered to be the most overused jargon. In a close race, 36% of you think that "circle back" is used far too often. Meanwhile, 29% of you will be just fine if you never hear "leverage" again. A solid 25% of you hear "go viral" far too much, too, while 11% of you think "move the needle" is the most overused jargon in communications.
What's the most overused term of industry jargon, PR pros and communicators? #DailyScoop

— PR Daily (@PRDaily) March 18, 2021
Is there a question you'd like to see asked? Please let us know under the #DailyScoop hashtag!
---
SOUNDING BOARD
Where is your mind at as you finish out another week, PR pros and communicators?
Where is your mind at as you finish out another busy week, PR pros and communicators?

Share your Friday mood below, in GIF form, under the hashtag #DailyScoop. We'll share top responses in Monday's roundup. pic.twitter.com/mJEyHPPJG4

— PR Daily (@PRDaily) March 19, 2021
Share your Friday mood in GIF form under the hashtag #DailyScoop. We'll share top responses in Monday's roundup.
COMMENT
2 Responses to "Communicators stress action over words in Asian-American solidarity, Teen Vogue's incoming top editor resigns, and Peloton's CEO addresses fatal treadmill incident"
Ronald Levy

says:

Yes but consider what CLIENTS need and what GOLDMAN needs. In finance, medicine, law and PR, your top consideration may be not what's best for you but for those who depend on you.

Soldiers not only fight until exhausted but sometimes die! After an exhausting+ Frazier fight, Muhammad Ali said it was the closest he could imagine to death.

In Washington PR I'd guess almost every Sr. VP and above has worked over 100 hours a week–and gladly!—to win a contest or help survive an investigation.

Years ago for nuclear people, after weeks of work-every-hour-for-weeks until you CAN'T anymore, I bought a Puerto Rico condo where I could go and leave the phone off the hook. But we won. A doctor may work all night after working all day sometimes for almost NO money. (And sometimes without getting survival.)

The champions of finance, which Goldman Sachs people certainly are, like champions of medicine, law and PR, work like that (what people in other fields may see as working "like crazy") because people NEED us and surprisingly to some because we LOVE it!

Ronald Levy

says:

They fired Alexi McCammond, a gifted editor, because human resources people tend to employ who's safe, not necessarily who's best qualified. So it makes a lot of sense to take PR Daily courses and join PR Daily groups realizing that when the pandemic lifts, who are the HR people going to hire most eagerly—those who have taken the courses and joined the groups or those who have not? Excellent job opportunities and money along with new friendships will be there for those who are excellently prepared.