Costco reinstates pandemic purchase limits, small businesses refuse to automate customer service, and Delta looks to ban unruly passengers
Also: Unilever launches Hispanic Heritage Month initiative across brands, how to tell sustainability stories with subtlety, and Apple pushes back against EU USB-C push.
Hello, communicators:
Unilever is launching a company-wide purpose initiative for Hispanic Heritage Month, which runs Sept. 15-Oct. 15. The company says that this initiative, "Nos Inspiras Tú," (You Are Our Inspiration)," will drive change across the organization and advance social impact work that connects with the U.S. Hispanic community.
As part of the initiative, Unilever's Dove skincare brand has partnered with Dr. Marisol Perez, a psychology professor at Arizona State University, to create a new tool as part of the Dove Self-Esteem Project specifically for Hispanic youth. Unilever says that new curriculum will be unveiled in 2022 and launched alongside fellow Dove partners like Boys & Girls Clubs of America.
Unilever's Hellman's condiment brand will also partner with Hispanic families to help reduce food waste.
"As a Latino myself, I am proud of the Nos Inspiras Tú commitment, rooted in purpose and accountability, for the largest multicultural segment in the United States," Unilever North America president Fabian Garcia said in a press release.
Much like Travelocity's Hispanic Heritage Month campaign, Unilever's initiative wisely tethers its work to proprietary insights and communicates the intentions of this work through the perspectives and lived experiences of Garcia. By acknowledging the wide scope of issues relevant to Hispanic consumers, and connecting those issues to individual brands depending on the industry focus, Unilever also illustrates how to make purpose work relevant to your brand identity.
Costco explains purchase limits on toilet paper and cleaning supplies
Costco CFO Richard Galanti announced on an earnings call that the company will be reinstating purchase limits on essential items including toilet paper, cleaning supplies and bottled water to meet an uptick in demand during recent COVID-19 surges. He explained that while there is more supply than during the initial months of the pandemic, delivery issues persist.
The Motley Fool shared a transcript of the call:
"Domestically, anecdotally rather, from—even on the domestic side, various major brands are requesting longer lead times, some cases, difficulty in finding drivers and trucks on short notice. Lead times on ingredients and packaging have been extended in some cases. So planning is crucial, which I feel we—our people have done a great job with that over the last several months. Also, we're putting some limitations on key items, like bath tissues, roll towels, Kirkland Signature water, high-demand cleaning-related SKUs related to the uptick in Delta-related demand.

"Containers, trucks and drivers all are impacting the timing of deliveries and higher freight costs. Despite all these issues, we continue to work to mitigate cost increases in a variety of different ways and hold down and/or mitigate our price increases passed on to the members. We've also chartered three ocean vessels for the next year to transport containers between Asia and the U.S. and Canada."
What it means:
Galanti's words to stakeholders distinguish how Costco's reimposed purchase limits are different from the rationing that took place during the start of the pandemic, which serves as a reminder that a re-emerging crisis offers an opportunity for your brand or organization to show lessons learned. In this case, that means Costco is sharing steps taken to keep prices down and bolster its supply chain.
---
MEASURED THOUGHTS
A new study by Skynova found that 3 in 5 small business owners are planning to automate at least one function of their business in the near future, while 56% of small business owners believe for ethical reasons that customer service should never be automated. Fifty-five percent believe the same where HR is concerned. The study includes an infographic that highlights the most automated functions of small businesses.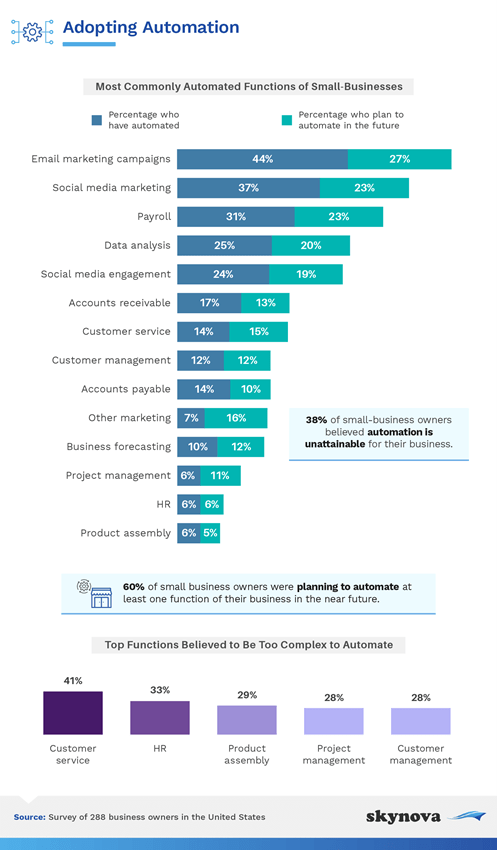 These numbers, and the fact that customer service, customer management and HR are so far down on the list of automated functions for small businesses, highlight the extent to which human judgement, discretion and tact are still considered essential to all functions that involve direct customer or employee engagement.
---
CRISIS COMMUNICATIONS
Apple has responded to a push from the European Union (E.U.) to mandate that USB-C ports become standard on portable electronic devices, including smartphones, to reduce e-waste by eliminating the need for consumers to buy multiple cables and instead re-use the accessories that they have as they acquire new devices. The new proposal would also give consumers the option to purchase new products without also buying a new charger.
Are your chargers piling up in a drawer?

We propose a common charger for mobile phones and other similar electronic devices.

A single charger will be more convenient for people and will reduce electronic waste.

Read more: https://t.co/hkspfjwlhu #DigitalEU pic.twitter.com/ZhWZ8xSGKH

— European Commission 🇪🇺 (@EU_Commission) September 23, 2021
Apple pushed back against the proposal. "We remain concerned that strict regulation mandating just one type of connector stifles innovation rather than encouraging it, which in turn will harm consumers in Europe and around the world," the company said in a statement. It also voiced concerns about the 24-month transition period for companies to comply with the legislation once it is adopted.
Because Apple's response directly avoids addressing the EU's primary concern of e-waste that underscores the push, the company's message comes off as evasive and its stated concerns for stifled innovation "harming customers in Europe around the world" could fail to convince some consumers. Moreover, Apple also misses a chance to highlight its substantial sustainability efforts, which include carbon neutral and recycling benchmarks.
TACTICALLY SPEAKING
Sustainability expert Ursula Heise and filmmaker Eva Orner spoke to The Washington Post about Hollywood's problems addressing environmental issues, such as climate change, in film and television. The conversation offered plenty of takeaways for communicators looking to send ESG messages to stakeholders.
"Most climate-change films fall into the didacticism-or-disaster trap," said environmental-culture expert and UCLA professor Ursula Heise, who teaches at the school's Institute of the Environment and Sustainability and chairs its English department. She said viewers either feel lectured to, as with a documentary, or anesthetized, as with a big-budget action film such as "The Day After Tomorrow."

"People are resistant to didacticism, and disaster is a spectacle — the genre is so established it puts a barrier between you and the consequences," she said. "You just get used to these images." She suggested it might be more effective to embed realities subtly, as the Hugh Jackman film "Reminiscence" did when it casually showed people in the future moving around Miami Beach in gondolas.

"Films about climate change are tricky for audiences because it's a tough world and people want escapism," (filmmaker Eva) Orner said. "You have to guide people through stories with characters, not bash them over the head telling them what to do."
As more brands and consumers demonstrate sustainability concerns, consider these storytelling tactics and best practices as applicable to your organization's own ESG and purpose storytelling. Be wary of taking an alarmist tone with your efforts lest they resonate with audiences as desensitizing, overexaggerated and insincere.
Avoid didactic calls to action and instead tell a story with real people, real communities and real environments to increase the likelihood of your message resonating with authenticity and sincerity.
---
TAKE OUR SURVEY
If you're looking for benchmark data to show your bosses the next time you ask for a raise, lend us a hand—and help yourself and your peers while you're at it. Participate in Ragan's Salary & Workplace Culture Survey, a comprehensive look at salaries, benefits, culture, bonuses and other aspects of the job in a fast-moving industry.
Both internal and external communicators are encouraged to participate.
By taking part, you will receive a $150 discount to a Ragan virtual conference of your choice and be entered to win one of five $50 gift cards. All who complete the survey will receive a full report on the findings. Responses are anonymous.
Delta encourages airlines to create a national no-fly list for unruly passengers
Delta has written a memo urging other airlines to join the company in creating a national no-fly list of ill-behaved travelers. The list would be different from the government's no-fly list, which is maintained by the F.B.I. and monitors those convicted or suspected of terrorism. While the memo did not get into specifics about what the list would contain, it did point to a congressional hearing last week that sought to address the rise of passenger disruptions and proposed a similar, airline-maintained list.
"We've also asked other airlines to share their 'no fly' list to further protect airline employees across the industry—something we know is top of mind for you as well," wrote Kristen Manion Taylor, Delta's senior vice president of in-flight services. "A list of banned customers doesn't work as well if that customer can fly with another airline."

During the hearing, Sara Nelson, the president of the Association of Flight Attendants union, testified that the F.A.A. had logged 4,284 "unruly passenger reports" since January. About three-quarters of them were related to wearing masks on planes, she said; 61 percent of disruptive passengers also used racist, sexist or homophobic slurs, she said. "If we continue at this rate, there may be more incidents in 2021 than in the entire history of aviation," Ms. Nelson said.

From 2015 to 2020, the F.A.A. initiated 789 investigations into unruly passenger behavior.
Why it matters:       
Delta's memo is an example of how a company can demonstrate industry leadership by urging cooperation to rally around a shared crisis..
Communicating shared goals with competitive brands strengthens not only strengthens the likelihood of those goals being met, but reminds your competitors you see the value that their expertise and resources provide.
COMMENT
2 Responses to "Costco reinstates pandemic purchase limits, small businesses refuse to automate customer service, and Delta looks to ban unruly passengers"
Ronald N Levy

says:

Unilever could learn from this proverb showing the wisdom of Hispanic culture: "el musico pago no toca bien" (the musician who has already been paid doesn't play well).

Now that store owners of all religions have stocked Unilever products and paid Unilever a lot of money including for products Ben & Jerry's ice cream and Hellman's Mayonnaise, and consumers of all religions have given business to Unilever, the company has announced it is boycotting Jews in the West Bank but not people of other religions there. But judge whether Unilever has a problem if it thinks that Hispanics may not be intelligent enough to realize that discrimination against one minority can be a tip-off to all minorities.

I am a Puerto Rican. I have a home there and I pay taxes there. I am also Jewish
and my common sense warns me about the values of a company that boycotts
people of any minority.

Unilever, tell the truth. Stand up and tell what you believe in. If you believe it's okay to boycott a minority, say so. If you believe it was a mistake, apologize and announce what you do believe in now.

TRUTH, Unilever. That's what two top Omnicom execs writing for PR Daily called the core of successful PR, and many Hispanics see truth as at the core of morality. So stand up Unilever and tell the TRUTH about what you believe in.
If you believe it's okay to boycott some people on the basis of their minority status, don't be surprised if Hispanic consumers and store owners and other minorities boycott Unilever.

Ronald N Levy

says:

It's fascinating to see how top accounts retain great PR firms, get advice from sometimes the top people at those firms and then ignore the advice! Many of us are no better when our doctors advise us to lose weight or get more exercise.

Multibillion dollar Unilever is so huge it competes with Procter & Gamble! Part of the Unilever account may be guided by mighty Omnicom whose top people (seven figure earners) have written for PR Daily that TRUTH is at the core of successful PR. So is Unilever either (a) admitting the truth about the boycott of Jews, or else (b) reconsidering the boycott policy so the truth will be different? We're not seeing either "a" nor "b" happen.

Ditto abroad. The prince running Saudi Arabia has had the nerve to impose Western-style morality on government and commerce over there, leading much of the Arab world into more affluence plus deeper friendships with America. So okay, he's honest and our buddy, and he retains some of our topmost PR firms. His country NEEDS the safety of membership in the NATO mutual defense pact which would protect America as well as protecting the Saudis against more powerful Iran.

Almost beyond question is that his brilliant and costly PR firms are counseling a huge health research or climate protection program for like $1 billion over ten years so 150 million Americans will love the Saudis and want them as allies who'll keep paying for the research.

So is it happening? Are Saudis giving a zillion for research to to the genius doctors at America's Memorial Sloan Kettering Cancer Center? No, it seems like Unilever. We can see the PR need, and we can guess at the likely and classic PR guidance. We can even guess that the PR wisdom is discussed
not only in the office but on weekends because the peril is so big and the protective remedy expensive. But is it happening?

On the good side at least some of us can get a much better hourly rate than doctors. And even if our clients don't take our advice and lose their thrones, the clients at least won't get beheaded by the Iranian clergy. Plus for enough sheckels, the Jews can get ice cream elsewhere.