Costco tightens mask policy, Deutsche Bank suggests WFH tax, and YouTube ditches its annual 'Rewind'
Also: Ticketmaster clarifies reports of vaccine requirements, JetBlue prepares to book middle seats, Stove Top offers 'stuffing-inspired' fashions, and more.
Hello, communicators:
A pinned tweet from Rachel Moskowitz, audience development manager for USA Today, can serve as a reminder of the importance of work/life balance and wellbeing as communicators scramble to respond to continuing crises and uncertainty:
Hey you.

The one scrolling.

Take your PTO. Sick days. Mental health days. Lunch breaks.

Do work during work hours and on work days. "Turn it off" otherwise.

Spend time with your family. Read a book. Explore nature.

You work hard. And 2020 is crazy.

You deserve a break.

— Rachel Moskowitz (@RachMoskowitz) August 21, 2020
How are you taking time to refresh? Share your thoughts and experiences with us under the #DailyScoop hashtag.
Here are today's top stories:
Costco tightens mask policy and Ticketmaster clarifies COVID-19 stance
Starting Monday, Costco is requiring all customers and employees to wear face masks or shields, regardless of medical conditions. Now, only children under 2 years of age will be able to sidestep the policy.
"If a member has a medical condition that prevents them from wearing a mask, they must wear a face shield at Costco," Chief Executive Craig Jelinek said in a letter to members Thursday.

… "This updated policy may seem inconvenient to some, however we believe the added safety is worth any inconvenience," Jelinek said. "Our goal is to continue to provide a safe shopping environment for our members and guests, and to provide a safe work environment for our employees."
Ticketmaster is also looking at its COVID-19 protocols as it prepares for live events again, and recently tweeted a statement after headlines claimed the company would require viewing vaccination status before issuing tickets.
We know there's been some incorrect information being reported around safety/entry requirements and want to ensure everyone has all the facts. To clarify, there is absolutely no requirement from Ticketmaster mandating vaccines/testing. Full details here: https://t.co/PxVjbcz0ao

— Ticketmaster (@Ticketmaster) November 13, 2020
In its newsroom, Ticketmaster wrote: 
There is absolutely no requirement from Ticketmaster mandating vaccines/testing for future events. Unfortunately, this has been widely reported and is incorrect. Ticketmaster does not have the power to set policies around safety/entry requirements, which would include vaccines and/or testing protocols. That would always be up to the discretion of the event organizer, based on their preferences and local health guidelines.

We are exploring a number of safety features for event organizers to utilize as they look to welcome fans back to events. This includes tools from Ticketmaster's recently announced SmartEvent suite like social distanced seating, contactless entry and more (read more info on SmartEvent here).  Again, the event organizer will determine what, if any, of these measures are implemented at their individual event, not Ticketmaster.
Why it's important: As organizations continue to adjust to the changing consumer and workforce landscapes during COVID-19, communicators should issue information in clear, simple terms and provide consistent updates and reminders to both consumers and employees. You should also watch for brand mentions, headlines and social media conversations more than ever before to spot potential misinformation or other potential crises.
---
SOCIAL BUZZ
YouTube is canceling this year's "Rewind"—the video platform's annual compilation of trends and moments from content creators. It's the first time since Rewind's 2010 launch that YouTube won't offer it.
In a statement, YouTube said: "2020 has been different. And it doesn't feel right to carry on as if it weren't."
About Rewind this year. pic.twitter.com/oVayH8iyqG

— YouTube (@YouTube) November 12, 2020
However, the move might signal the end for an effort that in recent years brought backlash and criticism instead of kudos and engagement. YouTube's 2018 Rewind became the most disliked video on the platform, and its 2019 video racked up more than 2.3 million downvotes in less than 24 hours.
---
MEASURED THOUGHTS
In a Deutsche Bank Research report titled, "What we must do to rebuild," the bank's team suggested a work-from-home tax following a return to the office after COVID-19. The proposed 5% tax would be levied outside of government-advised WFH policies and recommendations, and would be paid by employees who enjoy the benefit of remote work.
Deutsche Bank wrote:
The sudden shift to WFH means that, for the first time in history, a big chunk of people have disconnected themselves from the face-to-face world yet are still leading a full economic life. That means remote workers are contributing less to the infrastructure of the economy whilst still receiving its benefits.
The tax would also take advantage of the growing number of employees who said they wish to remain remote at least one or two days a week following COVID-19 and could also potentially make up for the dip in productivity: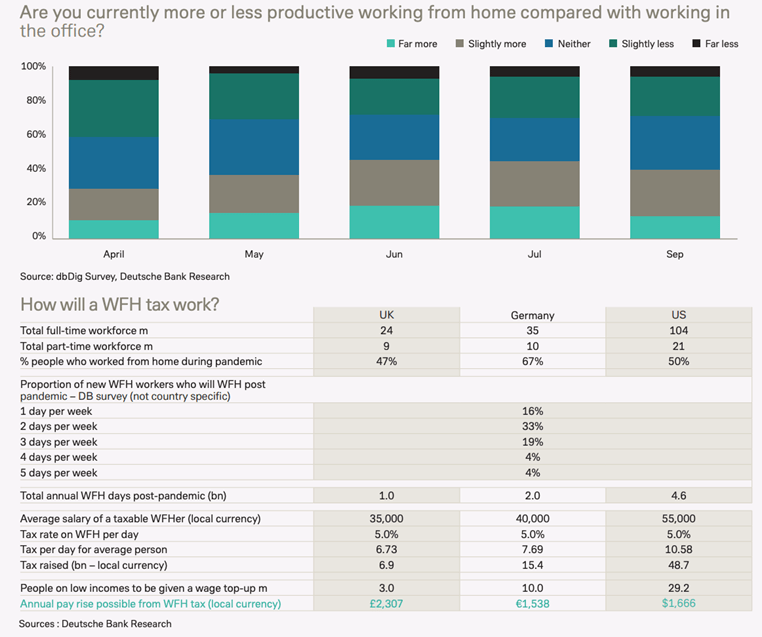 Image courtesy of Deutsche Bank.  
What do you think of the idea? Share your thoughts with us under the #DailyScoop hashtag.
You can read the entire report here.
---
CRISIS LEADERSHIP NETWORK
Looking for more insight on how to address the current global crisis and lead your organization into a strong recovery?
Join Ragan's Crisis Leadership Network to network and brainstorm with peers, get the latest intelligence and research and start to strategize for the future of your organization.
Learn more about this exclusive membership here.
JetBlue to stop blocking seats in January
The airline announced the change following competitors' decisions to book the middle seats of aircrafts, starting in January 2021. JetBlue's wording focused on its commitment to safety when laying out the strategy.
The airline will make all seats available for sale starting Jan. 8, JetBlue President Joanna Geraghty said Thursday in a memo to employees. The decision follows a similar move by Southwest Airlines Co., which will sell the entire cabin after November. Delta Air Lines Inc. and Alaska Air Group Inc. plan to bar some seats through at least Jan. 6.

… "Our phased approach has offered a thoughtful path forward while giving us the time needed to understand the science and stay true to our No. 1 priority—safety," Geraghty said.
Regardless of the change and whether it will ruffle travelers' feathers, JetBlue has been highlighting its lack of change or cancelation fees, along with its focus on safety:
This holiday season, we're waiving change and cancellation fees on all flights through 2/28/21. Learn more about how we're taking Safety from the Ground Up at https://t.co/b85FfIGkRw. pic.twitter.com/XAnt6rfp0l

— JetBlue (@JetBlue) November 7, 2020
Why it matters: As organizations across industries prepare to re-open, communicators must take care to relay policies, instructions and brand values quickly and clearly—while also remaining flexible. As the many changes during 2020 revealed, the COVID-19 crisis could change at a moment's notice, so be prepared to change more than once as we navigate the remainder of the year and prepare for 2021.
---
TACTICALLY SPEAKING
Stove Top Stuffing has launched a line of limited-edition, "stuffing-inspired" merchandise, including a red velvet dinner jacket with stuffing lining, themed cuff links, a reversible shawl adorned with Stove Top images, a headband and a handkerchief.
What's that intoxicating aroma? It's the unmistakable scent of sartorial sophistication. This Thanksgiving, make your guests truly grateful with the synesthesia inducing #LetsGetStuffy fashion collection, available in limited quantities on 11/17! https://t.co/iPvUr0xJIN pic.twitter.com/LCT7xUAgua

— Stove Top Stuffing (@StoveTop) November 12, 2020
In a press release, Juliet Levine, brand manager for Stove Top, said:
Let's face it: the sweatpants fatigue is real, and people are looking for any excuse to get dressed up this year. We hope our STOVE TOP Stuffy Thanksgiving Collection makes people look and feel their very best this Thanksgiving.
The collection goes on sale on Nov. 17 at 12 p.m. Eastern time at www.LetsGetStuffy.com. Stove Top is also donating 50,000 meals to Feeding America in connection to the PR and marketing effort.
---
WORKPLACE WELLNESS
As communicators face unprecedented challenges around crisis management, shifting consumer behaviors and more—and as many work to connect, engage and support their employees as the workplace landscape dramatically changes—well-being has become an important focus.
That's why we launched Ragan's Workplace Wellness Insider. Our new offering is a treasure trove of research, guidance and insights for wellness, employee communications and HR pros. Get the help you need through our website, newsletter, Slack group, research, complimentary reports and more showcasing trends and revealing how organizations are addressing and managing their employees' wellbeing.
Subscribers also receive discounts on workplace wellness conferences, award entries and Ragan webinars, for additional takeaways and insights to help power your initiatives and strategies.
---
EDITOR'S PICKS
Employees are crucial to your organization, and now more than ever, communicators should look for ways to connect with them, listen, offer support and show their appreciation. This can boost both morale and loyalty—especially when it comes to retaining talent when the job market is on the rise again.
Consider these gifts:
---
WHAT YOU SAID
We asked which channel was the most effective for interacting with reporters, and nearly 64% of you rely on email, with roughly 19% using Twitter or a messaging app, such as Signal or WhatsApp. Nearly 17% of you pick up the phone and engage that way.
What's the best channel for reaching and engaging with journalists?

Share your secrets to success with us, and we'll dish in tomorrow's #DailyScoop.

— PR Daily (@PRDaily) November 12, 2020
Is there a question you'd like us to ask in an upcoming poll? Let us know!
Editor's note: Ragan Communications may earn a commission through our affiliate partnerships when purchasing items in our content.
COMMENT