Country Time bails out lemonade stands, Headspace offers first Snapchat 'Mini,' and KFC prepares for 3D-printed chicken
Also: Bud Light celebrates sports' return, Red Bull shares a fan's love, how to organize your crisis response, and more.
Hello, communicators:          
Bud Light's new ad is a version of "Take Me Out to the Ball Game," with a COVID-19 spin:
Whenever there's a game to watch, there's a Bud Light there. pic.twitter.com/ozBRETWTnE

— Bud Light (@budlight) July 21, 2020
The video is a humorous look at consumers' current experiences staying at home, featuring modified exercises, bread making, couch sitting, hobbies and more. However, you don't have to produce an official ad to relate to your audience. Ask your online community to share their new hobbies, or create simple graphics and messages that speak to relatable moments to increase engagement.
Here are today's top stories: 
Country Time offers lemonade stand 'bailouts'
Kraft Heinz's drink made headlines in previous years for offering small business loans to children entrepreneurs operating lemonade stands. This year, Country Time is taking a different tack by offering $100 to children whose stands has been closed due to COVID-19. To enter, your child must be 14 years or younger and reside in the United States.
On its website, the brand writes:                            
We know this will be a rough summer for lemonade stands. And if the big guys are getting bailed out, why shouldn't we help the littlest entrepreneurs get the same treatment?

That's why Country Time has created The Littlest Bailout. An economic relief program to help the smallest of small businesses: lemonade stands.

Stimulus checks* to help kids preserve the values of lemonade stands, honest work, and entrepreneurship, while putting a little juice back into the economy.
"When life gives you social distancing, make lemonade," Country Time declares in its video.
Why it's important: By offering a timely update to a previous campaign, Country Time is acknowledging the struggle for organizations across the U.S., while keeping its message light. You can tailor your campaigns with the same goal in mind, but make sure you're not inappropriately referencing social justice initiatives or difficult decisions (such as layoffs).
---
TACTICALLY SPEAKING  
KFC announced that it's partnering with 3D Bioprinting Solutions research laboratory to create chicken "meat" using chicken cells and plant material. It's part of the fast food chain's "restaurant of the future" intiative, which aims to create its products while decreasing affects on the environment.
In a press release, KFC wrote:
The idea of ​​crafting the "meat of the future" arose among partners in response to the growing popularity of a healthy lifestyle and nutrition, the annual increase in demand for alternatives to traditional meat and the need to develop more environmentally friendly methods of food production. The project aims to create the world's first laboratory-produced chicken nuggets. They will be as close as possible in both taste and appearance to the original KFC product, while being more environmentally friendly to produce than ordinary meat. Receiving a final product for testing is already planned for the fall of 2020 in Moscow. 

… According to a study by the American Environmental Science & Technology Journal, the technology of growing meat from cells has minimal negative impact on the environment, allowing energy consumption to be cut by more than half, greenhouse gas emissions to be reduced 25 fold and 100 times less land to be used than traditional farm-based meat production.
---
MEASURED THOUGHTS
Databarracks created an infographic that showcases how to communicate during crises, which divides messages into six categories, then matches them to the proper spokesperson, audience, channel and format: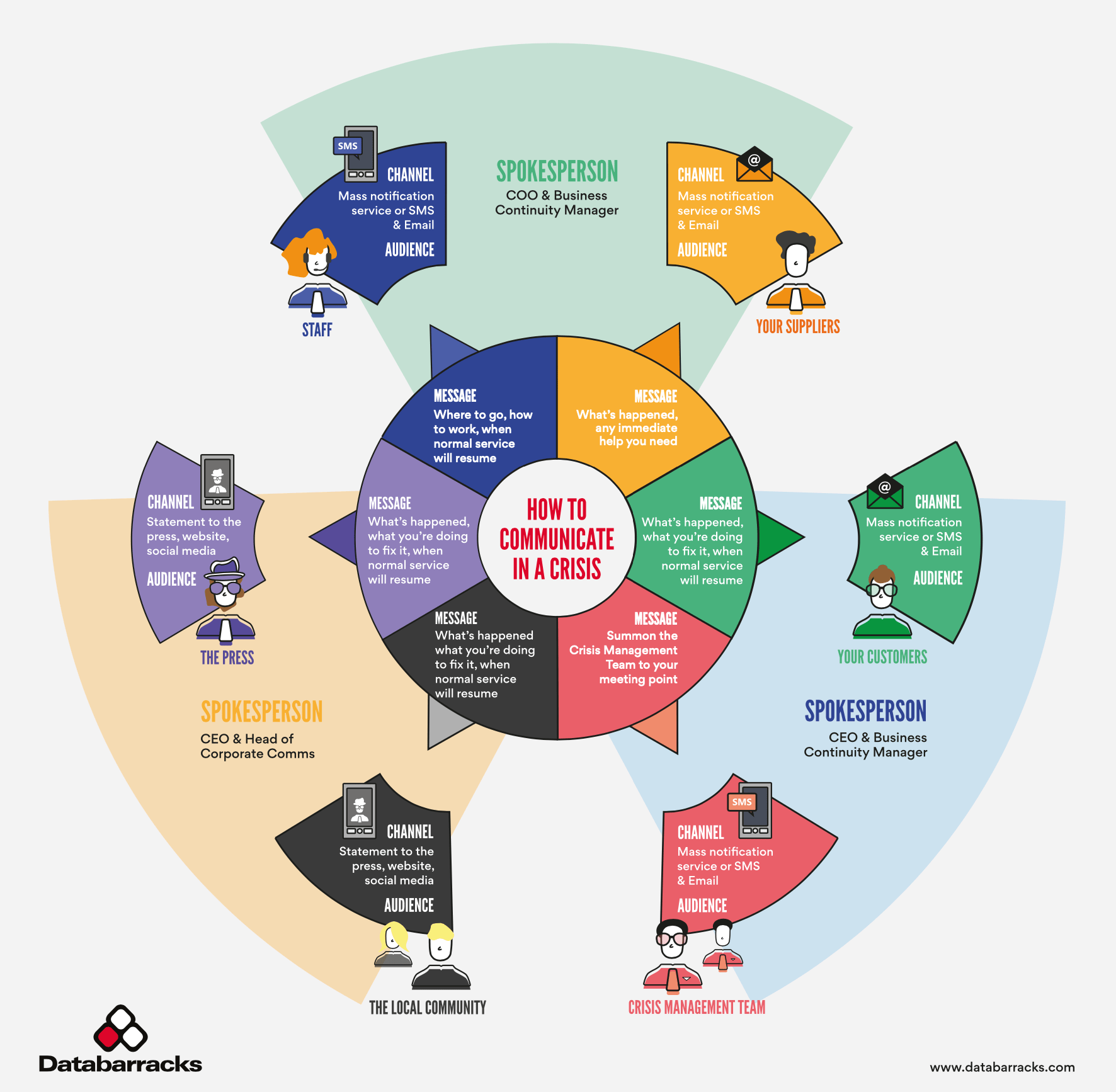 Image courtesy of Databarracks.
It's a visually compelling way to understand the importance of tailoring your messages to your audience, including your crisis management team, customers, journalists, employees and other stakeholders. It also highlights the importance of assigning crisis response roles within your organization ahead of time.
How does your crisis strategy match up with this infographic? Share your thoughts under the #DailyScoop hashtag on Twitter.
---
CRISIS LEADERSHIP BOARD
Looking for more insight on how to address the current global crisis and lead your organization into a strong recovery?
Join Ragan's Crisis Leadership Board to network and brainstorm with peers, get the latest intelligence and research, and start to strategize for the future of your organization.
Learn more about this exclusive membership here.
Snapchat debuts first 'Mini' feature with Headspace  
The meditation app is the first to use Snapchat's newest feature, which enables brands to offer their services to users without them leaving the platform:
Mindfulness in a Snap 👻. Check out our new Minis in the Snapchat app where we've got short meditation and mindfulness exercises to help you get some Headspace. pic.twitter.com/0YC3V6CfD9

— Headspace (@Headspace) July 20, 2020
One of the standout parts of the Headspace Mini is that the typically solo activity of meditation is, in this iteration, social. Snapchat says that's by design. The in-chat meditations are one way it's trying to encourage supportive friendships, while also easing the fear of trying a new, vulnerable activity like meditation by making it something friends can do "together."

Snapchat users don't have to have the Headspace app or even be Headspace subscribers to access the meditations because the Headspace Mini lives within Snapchat itself.
The simplified versions of organizations' apps not only make it easier for Snapchat users to find and use the services, but it also increases engagement, both for Snap and the partnering organization.
Why it's important: Whether or not you're thinking of creating a Snapchat "Mini," consider ways you can reach younger audiences with slimmed-down versions of your products, services and campaigns. This might mean creating bite-size videos and other content, or experimenting with app filters to increase interaction and retention.
---
TAKE OUR SURVEY
Have your storytelling efforts shifted during COVID-19 and as your organization responds to the nationwide movement for racial equality and inclusion? We want to hear how you're telling your brand's story, including what messages you're using and the content formats and channels you're focusing on to strengthen your reputation and effectively reach stakeholders.
Please take our survey here. All responses are confidential and anonymous.
Survey findings will be released at Ragan's Brand Storytelling During a Crisis Virtual Conference, Aug. 4-5. You can hear the results—and learn how to tell your brand's story to help you thrive in our "new normal"—with speakers from Con Edison, Google, Experian, Minnesota Timberwolves, Crayola, Marriott International, Girl Scouts of the USA, Cleveland Clinic and more.
---
SOCIAL BUZZ
Red Bull recently shared a fan's tweet in which he stares lovingly at his can of the energy drink:
an unbreakable bond 💙 https://t.co/5eWdi0xt1u

— Red Bull (@redbull) July 21, 2020
The light-hearted image shows off a brand ambassador and is an authentic way to highlight brand affinity without using PR and marketing copy.
Especially as consumers stay at home and turn to social media to share their thoughts, listen to the conversations and interact when possible. By highlighting members of your community, you stand to gain both kudos and new relationships.
---
WHAT YOU SAID
We asked if you've offered new products and services during the COVID-19 crisis, and half of you said yes. Almost 13% have focused on digital sales and tactics for existing products and services:
Have you offered new products and services due to COVID-19?

Share how your organization's offerings have changed to meet changing consumer behaviors below and under #DailyScoop.

— PR Daily (@PRDaily) July 20, 2020
Is there a question you'd like us to ask in an upcoming poll? Let us know!
---
SOUNDING BOARD
Are you offering employees/does your workplace offer digital wellness resources?
Are you offering employees/does your workplace offer digital wellness resources?

Share what you and your employees value the most as you work from home during COVID-19. #DailyScoop

— PR Daily (@PRDaily) July 21, 2020
Share what you and your employees value the most as you work from home during COVID-19 below and under the #DailyScoop hashtag.
COMMENT